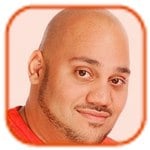 Posted by Andru Edwards Categories: Warner Bros, Action, Adventure, Remakes, Science Fiction, Celeb News, New Releases,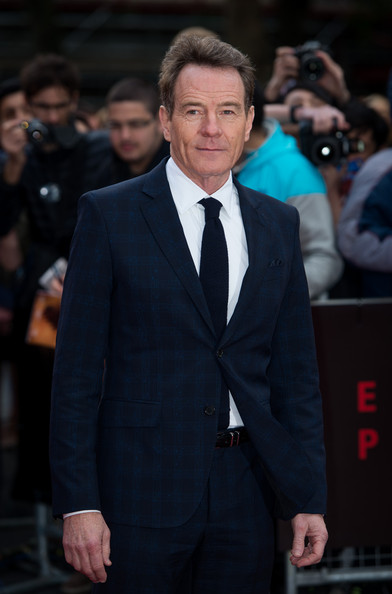 Bryan Cranston thinks that Godzilla would be "horrible" at making crystal meth.
The Breaking Bad actor, who sold the drug as Walter "Heisenberg" White in the series, joked about the monster not being able to make it at the premiere of his new movie at the Odeon in London's Leicester Square last night. "I think Godzilla would be horrible at making crystal meth. You've got to be very refined to be able to make it. He's a monster, you know, they have a very destructive nature," he said.
The 58-year-old actor, who stars alongside Aaron Taylor-Johnson and Elizabeth Olsen in the film directed by Gareth Edwards, also claims his character, nuclear scientist Joe Brody, is more like him than Walter White or Hal, who he played in Malcolm In The Middle: "They're all pretty different. I'm not like hal and I'm nothing like Walter White. Maybe this guy in this movie is most like me."
Click to continue reading Bryan Cranston: Godzilla Couldn't Make Meth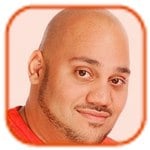 Posted by Andru Edwards Categories: Music, Engagements, Photos,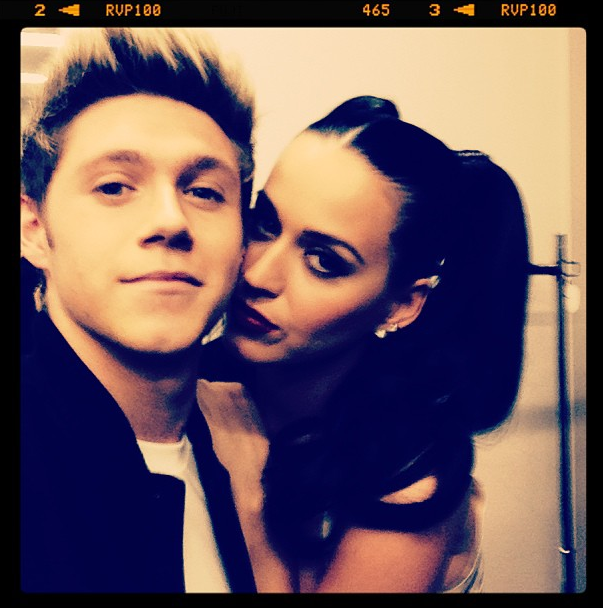 Niall Horan and Katy Perry have joked they are engaged.
The One Direction hunk took to his Instagram account to post a picture of himself and the "Roar" hitmaker - who is dating John Mayer - and quipped she had accepted his marriage proposal. "She said yes ! It's happening! Haha [sic]," she wrote.
The picture sees Katy with her arm draped over the 20-year-old Irish star in a loving way after they met up in Tokyo. Niall is in the Japanese city ahead of the final two shows on the group's huge 100-date Take Me Home world tour, while the 29-year-old brunette is promoting her latest single "Roar."
Click to continue reading Niall Horan and Katy Perry "Get Engaged"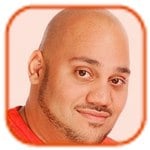 Posted by Andru Edwards Categories: Movies, Music, Weddings, Videos,
Justin Timberlake is "deeply sorry" to anyone who felt offended by a "joke" wedding video for his and Jessica Biel's nuptials. The 31-year-old singer-and-actor has slammed the "distasteful" clip, which appears to mock homeless people, and while he insists the footage was not actually shown at the couple's wedding in Italy last Friday, he says the person responsible, who is thought to be his close friend Justin Huchel, will be made to do "at least 100 hours of community service."
The "unsavory" tape starts by saying, "Greetings from your Hollywood friends who just couldn't make it," and cuts to several homeless people, transsexuals and street musicians wishing them well with apologies for missing the big day.
In an excerpt from an apologetic letter posted on his website, Justin wrote:
Click to continue reading Justin Timberlake "Deeply Sorry" for Wedding Video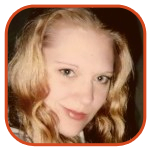 Posted by K.C. Morgan Categories: Television, Meltdowns, Rumors,
Gilbert Gottfried is attempting to do some damage control now that he's been fired as the voice of the Aflac Duck and offended an entire nation of people. The actor made a dozen offensive jokes about the tragedy in Japan recently, sparking a firestorm of controversy… and he's still trying to dig himself out of the rubble.
Click to continue reading Gilbert Gottfried Apologizes, Aflac Doesn't Budge
Read More

| TMZ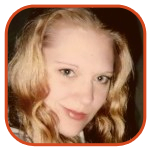 Posted by K.C. Morgan Categories: Television, Where Are They Now?,
Winning! Gilbert Gottfried is currently walking the Charlie Sheen path toward success -- he just got fired from his TV gig. No longer will Gottfried power the grating voice of the Aflac duck, and you've got Twitter to thank for it.

The comedian went one laugh over the line when he cracked a dozen jokes in a 24-hour period, all of them about the massive catastrophe that occurred in Japan, via Twitter. Some of his ill-timed, tasteless cracks include: "Japan is really advanced. They don't go to the beach. The beach comes to them," and "I just split up with my girlfriend, but like the Japanese say, 'They'll be another one floating by any minute now.'"

Aflac didn't think any of it was very funny, apparently. In a statement, the company said, "Gilbert's recent comments about the crisis in Japan were lacking in humor and certainly do not represent the thoughts and feelings of anyone at Aflac." They also promised not to rest on their laurels, adding "Aflac will immediately set plans in motion to conduct a nationwide casting call to find a new voice of the iconic Aflac Duck."
Gilbert Gottfried could not be reached for comment about the situation. Stay up-to-date on all the celebrity gossip -- follow VIP Breakdown on Twitter.
Read More

| TMZ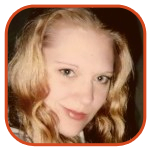 Posted by K.C. Morgan Categories: D-List, Television,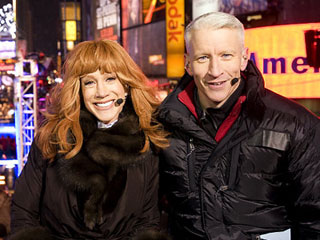 "I've already gone for Sarah, Todd and Bristol obviously, but I think it's Willow's year to go down. In 2011, I want to offend a new Palin."
Kathy Griffin was her usual energetic self on New Year's Eve -- minus loads of foul language -- when she co-hosted CNN's New Year's Eve broadcast. Her plan for the new year? To make Willow Palin regret using Facebook.
Griffin explained: "She's called people a f----t on Facebook a couple of times. You don't throw around the f-word without hearing from me about it."
Read More

| Perez Hilton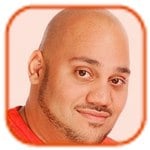 Posted by Andru Edwards Categories: Movies, Music, Break-ups, Child Stars, Drugs, Drunk, Legal Issues, Rivalries,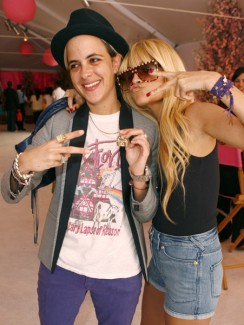 Samantha Ronson has defended Lindsay Lohan after a scathing online attack by Joan Rivers.
The DJ, who was in an on-off 16-month relationship with the troubled actress from the start of 2008, took to her Twitter account to support her former lover after the 77-year-old comedienne left a series of comments laughing at the star's personal problems and upcoming jail sentence.
"Hey Joan Rivers - you have collagen older than Lindsay, pick on someone your own age, oh wait, I guess people that old can't hear. #bully (sic)"
Lindsay, 24, later thanked her former girlfriend for sticking up for her, Tweeting, "@samantharonson thank you I love yams x (sic)"
Last Tuesday, Lindsay was sentenced to a 90-day jail term, followed by 90 days in rehab for violating the probation terms of her 2007 driving under the influence (DUI) charge. Since the hearing, it emerged Lindsay had "F**k You" written in tiny handwriting on one of her nails as she sat in front of Judge Marsha Revel.
Click to continue reading Samantha Ronson Leaps to Lindsay Lohan's Defense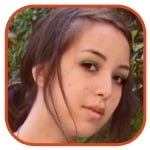 Posted by Robin Paulson Categories: Movies,
"Depends on what you call beating up. She performed the musical Cats for our parents, and she made me lick milk from a bowl while she sang, which was, in a way abuse."
- Prince of Persia
star
hunk Jake Gyllenhaal, when asked if big sister Maggie beat him up during their childhood.
(Make sure to check out our other notable quotes.)
Read More

| People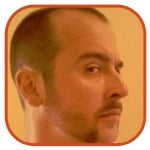 Posted by Finnian Durkan Categories: Accessories, Mods / Hacks, Toys,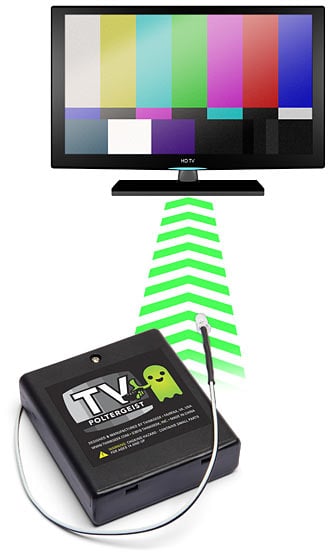 Want to piss off your friends with more than just your abrasive personality and obnoxious hygiene habits or complete lack thereof? Yes, it is rude to clip your toenails in someone else's living room, genius; what are you, five? If you feel the need to step up your toxicity—to neutron bomb your friendships, poisoning the landscape for decades to come and leaving behind a barren landscape of people hating the very mention of your name in your wake—then look no further: the TV Poltergeist is the gadget for you. The TV Poltergeist is a battery-powered and easily hide-able palm-sized piece of hardware with a tiny, flexible LED that you can point towards the TV of your intended victim. Once you turn it on the TVP will randomly emit a signal via the LED and shut your future ex-friend's TV off. Works on just about any TV—CRT, Plasma, LCD—just not your Gramma's 30 year-old knob-operated Zenith, though if you pull this stunt on your Gramma a) you're an a$$ and b) expect to get written out of the will and hit with a cane. That woman lived through 5 wars and walked 40 miles to kindergarten everyday. Show some respect!
Read More

| TV Poltergeist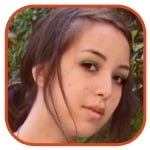 Posted by Robin Paulson Categories: Movies, Dating, Rumors,
It seems that the infamous picture of Kristen Stewart and Robert Pattinson holding hands has received so much attention that their New Moon co-star Peter Facinelli decided to make a big joke of all us gawkers.
"Co-stars caught holding hands. Guess this picture proves everything," Facinelli writes on his Twitter page, next to a linked image and a curious tag that reads "#pellan."
Wow, a confirmation from a veritable source!
Click to continue reading New Moon Co-Star Jokes About Hand-Holding Picture
Read More

| E! Online

© Gear Live Inc. – User-posted content, unless source is quoted, is licensed under a Creative Commons Public Domain License. Gear Live graphics, logos, designs, page headers, button icons, videos, articles, blogs, forums, scripts and other service names are the trademarks of Gear Live Inc.