Posted by Chris Pereira Categories: Hot Deals, Internet, PC,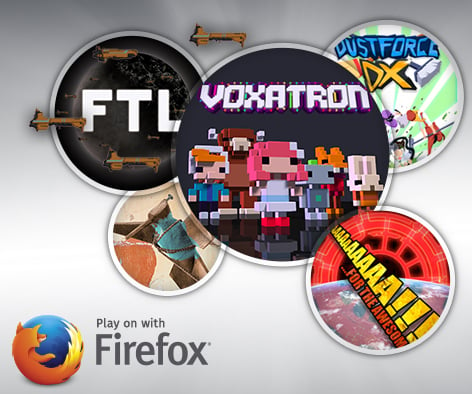 Humble Bundles are nothing new; for several years now, they've let you pay whatever you want to get a handful of DRM-free PC games. The frequency with which these bundles are offered has made them less of a must-buy than they used to be, but the latest bundle is too intriguing to pass up.
The Humble Mozilla Bundle available now offers a selection of excellent PC games, five of which you can get at any price you wish. (Three others require you to beat the current average--$5.64--and one asks that you pay $8 or more.) But as the Mozilla in the name suggests, this bundle involves your browser. More specifically, each of the games has been designed to be playable without leaving your browser.
Provided you pay over $1, you'll get copies of these games on Steam, but it's the ability to play them in a browser that makes the bundle especially interesting. Despite this being a Mozilla bundle, I've found Chrome works just as well as Firefox. And while it's not the first time I've ever played a non-Flash game in a browser, I can't help but be impressed--as well as worried about having instant access to a game like FTL in a browser tab right alongside the work I'm supposed to be doing.
Click to continue reading Humble Mozilla Bundle lets you play awesome games without leaving your browser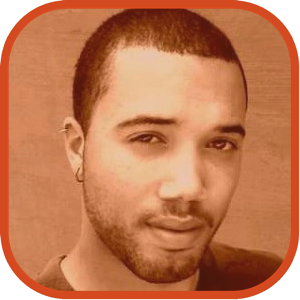 Posted by John Kilhefner Categories: PC / Laptop, Software,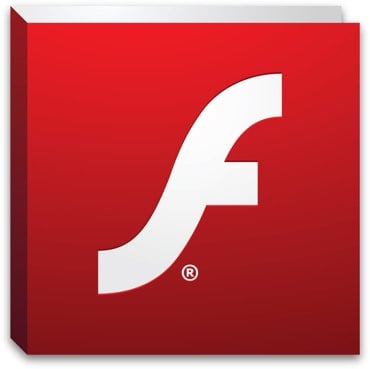 A new patch by Adobe Systems fixes the two Flash player vulnerabilities currently under attack. The attacks install malware and targets both Macs and PCs. The targets all seem to be Flash versions for OS X and Windows. The patch, however, is also available for Linux and Android.
The exploits target Safari as well as Firefox, of which the vulnerability is classified as CVE-2013-0634. The vulnerability is also reportedly tricking Windows users into opening Word documents containing the Flash content.
The bug, according to Adobe, was discovered by members of the Shadowserver Foundation, Lockheed Martin's Computer Incident Response Team and MITRE.
Read More

| Adobe via Ars Technica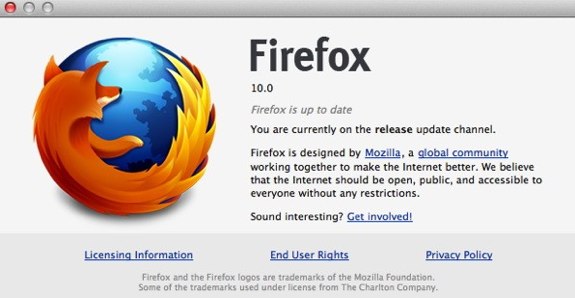 If you haven't already realized, Firefox 10 is now available, and we definitely recommend that you upgrade. As far as the UI is concerned, the most notable change is to the "forward" button. That is that there isn't one, at least unless you hit the "back" button first. New APIs allow for Anti-aliased WebGL graphics, full screen viewing of apps, and a few other nifty features. CSS 3D transitions are now supported as well.
Of course with all new things there are bound to be a few problems, and with Firefox 10 on OS X, Silverlight videos don't load and there are some jerky Gmail scrolling problems (as well as general trackpad scrolling issues) that Mozilla needs to get sorted out.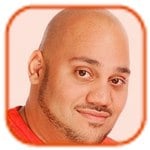 Posted by Andru Edwards Categories: Internet, PC / Laptop, Software,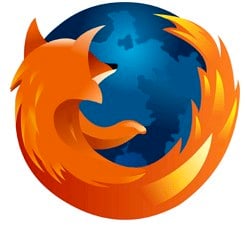 In its emulation of Google Chrome's quick release schedule, version 7 of Firefox has already appeared in Mozilla's Aurora incubation channel, while version 6 has moved to beta.
Neither version brings the kind of major changes we've become used to in full version number upgrades of Firefox, but they do add welcome performance boosts, standards support, and minor interface and functional tweaks.
Under Mozilla's new Rapid Release calendar, new versions of Firefox will come out every six weeks; this way you'll know it's time for a haircut when a new Firefox version appears. Firefox 6 is scheduled to be ready for release on August 16, while version 7 will move to the beta channel on the same day. Version 7 then moves to the release channel on September 27, at which time Version 8 goes to beta. You get the picture.
Note that the release dates pertain to Firefox for Android as well to the Windows, Mac, and Linux desktop versions, though the mobile browser gets different features than the desktop version in each release.
Click to continue reading Firefox 7 in early Aurora testing, Firefox 6 now in beta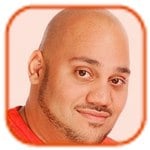 Posted by Andru Edwards Categories: Corporate News, Internet, Software,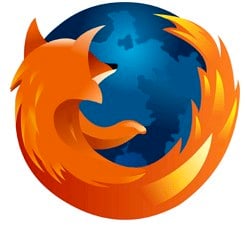 No, you aren't crazy, Firefox 4 did just launch a week ago.
Mozilla is borrowing a page from Google Chrome and speeding up the development cycle for Firefox releases, setting new iterations of the browser for fixed time periods and bulldozing over features that just aren't ready to make it into a new browser release.
And if Mozilla sticks by its newly proposed plan, that means that we'll be seeing Firefox 5 on June 21—following a shortened 13-week development cycle instead of the proposed 18-week cycle for all future Firefox builds.
Within this 18-week cycle comes a new development stage that adds on to Mozilla's three previous update channels: Nightly, or builds created from the mozilla-central-repository that are highly unstable, but incorporate the latest texts and fixes; Beta, which ups the quality demands of features and tweaks added via the nightly builds; and Release, which becomes the version of Firefox that most consumers are used to using.
Mozilla's new stage, Aurora, will be a nightly update that splits the difference between the chaos of the company's Mozilla-central build (or Nightly build), and its Beta build.
Click to continue reading Mozilla Firefox switched to 18-week dev cycle; Firefox 5 coming June 21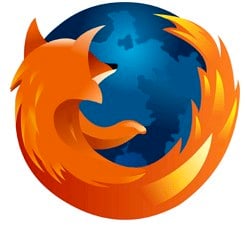 Mozilla's popular open-source, community-developed browser has been updated to Firefox 4.0 today. Users can now download the significantly overhauled software in 75 languages from www.firefox.com. Versions are available for Windows (including the popular XP, shunned by the also-new Internet Explorer 9), Mac OS, and Linux.
The new browser version was announced on the Mozilla blog in a post lengthily titled "Mozilla Launches Firefox 4 and Delivers a Fast, Sleek and Customizable Browsing Experience to More Than 400 Million Users Worldwide."
The browser that pushed Internet Explorer to stop resting on its laurels after years of stagnation has now been pushed by Google's newer Chrome browser to do just the same. Not that Firefox had been stagnating the way that IE had been before the Mozilla browser's debut. But Chrome has served as inspiration for the new version of Firefox in more ways than one—improved speed and a simplified interface are standout examples of this.
Gary Kovacs, CEO of Mozilla, commented, "Mozilla is very proud of Firefox 4, created by our community of thousands of volunteers worldwide. It truly is the browser for tomorrow's Web. The Internet has become the most important connection mechanism in our society, which is why we've focused on making users' Web experience as fast, modern, safe and intuitive as possible."
Click to continue reading Firefox 4 is here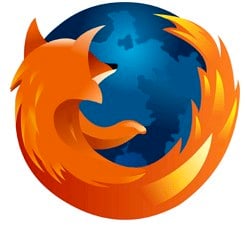 Mozilla on Wednesday released the Firefox 4 release candidate, the final update before the company formally unveils its next-generation browser.
Those who have been testing Firefox 4 will be automatically upgraded to the RC. Mozilla said it has fixed more than 8,000 bugs since the first beta release of Firefox 4, but encouraged RC users to test this latest release as well and provide feedback.
Mozilla executives expect the final Firefox 4 to be released later this month.
Firefox 4 is a major upgrade for Mozilla. It will feature a revamped plug-in architecture called JetPack, a redesigned minimalist interface, faster JavaScript performance, and greater support for HTML5, including Google's WebM HTML5 video format.
Mozilla has streamlined the user interface, collapsing the full menu bar into a small "Firefox" drop-down option on the top left. The tabs are front and center, with the URL and search bars underneath.
Click to continue reading Firefox 4 release candidate now available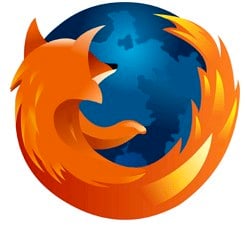 Mozilla has finally released the first Firefox 4 beta, and you can download it now. Firefox 4 is a major step up from the previous version, with a redesign of the user interface, greatly improved HTML5 support, hardware-accelerated HD video playback, better add-on support, and a bunch of other new features. Luckily, the Mozilla team has pulled everything together in a blog post to fill you in on all the fun. With Google Chrome gaining on Firefox marketshare, you can bet Mozilla is gonna be pushing the new hotness found in 4.0 hard. You can download Firefox 4 beta 1 now.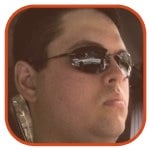 Posted by Dan Hughes Categories: Google, Internet, Software, Videos,
Google announced Monday that its Chrome browser's 4th version has gone Beta. Most important feature in my eyes: Bookmark syncing.
Back when I was an Firefox fanboy, Delicious' method of syncing bookmarks was magic to me, and was the epitome of the internet experience. When Chrome was released, its speed sang to me, and I willingly sacrificed my bookmark sync to Chrome's seductive quickload times. Now, Google makes everything magical again as Google announced Monday that its Chrome browser's 4th version has gone Beta, including with it Bookmark Sync.
According to the announcement, XMPP is used to keep your browser in touch with your Google Account, which will keep track and sync down your bookmarks.
In a side note: Google also claims to have increased performance by a brain-spanking 30%!
Read More

| Google Chrome Blog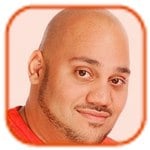 Posted by Andru Edwards Categories: Internet, Microsoft, Music, Software,
One of the main gripes we've had with Microsoft as it pertains to the Zune platform is that they have stubbornly decided to keep it to a PC-only experience, leaving those of us who live in OS X out in the cold. Well, starting today, that changes. Kind of.
You see, the Zune Marketplace is now a part of Zune.net. Aside from having the largest audio and video podcast streaming directory, Zune now allows you to log in and listen to music from the Marketplace in any browser that supports Silverlight 3. Technically, Microsoft says that this experience is officially supported in Internet Explorer and Firefox, but we will have to give it a shot in Safari. Anyhow, the caveat here is that you can log in as a Zune Pass subscriber and stream music. This doesn't solve the problem that those on a Mac have where they can't sync their Zune hardware or download music. Still, though, it's a step in the right direction, and a nice bonus for Zune Pass subscribers to be able to access and stream music, including Smart DJ playlists, on the fly. This basically turns any computer running IE or Firefox into a terminal for you to log in and crank those Zune tunes, and we like it.
For those wondering, any activities you do with Zune.net stream will also be reflected in your Zune account and Zune Card. How cool is that?
© Gear Live Inc. – User-posted content, unless source is quoted, is licensed under a Creative Commons Public Domain License. Gear Live graphics, logos, designs, page headers, button icons, videos, articles, blogs, forums, scripts and other service names are the trademarks of Gear Live Inc.