Author: Chris Cardinal
Gilbert, AZ

Posted by Chris Cardinal Categories: Features, PC / Laptop
We're live in Berlin, Germany at the HP Connecting Your World event. During yesterday's keynote, Voodoo PC, HP's enthusiast line, announced what's essentially a competitor to the MacBook Air: The Voodoo Envy 133. The Envy 133 is just 0.7" thick throughout; the same thickness as the most thick points on the Air. (Just slightly under, actually.) It's sheathed in a carbon fibre casing that allows them to bring down the weight to just 3.4 lbs. It …

Continue reading Exclusive Hands On with the Voodoo Envy 133, MacBook Air Killer


Posted by Chris Cardinal Categories: Misc. Tech
It's not exactly gadgets-related, but I've written up a piece with advice for increasing web readability and how to keep people from skimming your carefully crafted content. It's over on my company's web development blog and it covers some basic, generally obvious (and a few not-so-obvious) tips to get the most bang for your buck per reader. As you're almost certainly aware, it's a pretty significant challenge to hold someone's attention on the web for any …

Continue reading On Web Readability & Formatting


Posted by Chris Cardinal Categories: HDTV, Home Entertainment
Some channels were reporting earlier that Paramount was looking to bail from the HD boat, enabled by a clause in their contract that cited Warner Bros. departure as grounds to themselves switch. Paramount is now denying these claims, their spokesperson saying "Paramount's current plan is to continue to support the HD DVD format." Warner's switch resulted in a full 70% of movies now produced by Blu-Ray studios and Blu-Ray booth folk were yesterday claiming that they've …

Continue reading HD DVD vs. Blu-ray Paramount Denies Rumors of Defection from HD DVD


Posted by Chris Cardinal Categories: CES, CES 2008
We're camped out at the CES 2008 Bloghaus sponsored by Seagate. It's a swanky suite at the Bellagio with the best internet in the city and an open bar. We'll be using this as our base of operations to edit and push up all of our exclusive video but we're getting ready to watch Bill Gates' last CES keynote real soon now.
You can see us live on the CES Bloghaus website. Woo.
...
Continue reading CES 2008: Live From BlogHaus

Posted by Chris Cardinal Categories: CES, CES 2008, Toys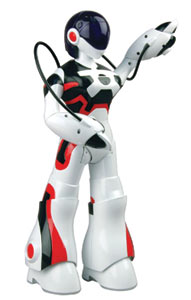 Not one to be left behind by Ugobe's recently released, highly lifelike Pleo robotic dinosaur, Wowwee's fired back with their announcement of their 2008 product line. Mr. Personality, pictured, features a full color LCD screen that portrays "personality" through animated facial features displayed on the screen. He's also expandable, by virtue of USB or a media card. Wowwee also announced the plasticky, bellbottom-donning FemiSapien …

Continue reading CES 2008: Wowwee Announces New, Plasticky Robotic Things


Posted by Chris Cardinal Categories: CES, CES 2008, HDTV

Billed as being "thinner than last month's Wired magazine" and similarly thinner than an iPhone, Pioneer unveiled their Kuro HDTV concept model at their press conference today. The 50-inch plasma weighs in at a relatively paltry 41 lbs and just 9 mm thick. They also claim they've "made contrast ratios irrelevant" by eliminating ALL idling luminance, producing completely true blacks. We'll see how it looks later this week, as …

Continue reading CES 2008: Pioneer Kuro HDTV Concept: 50-inch, 9mm Thin Plasma


Posted by Chris Cardinal Categories: CES, CES 2008, Home Entertainment
Warner Bros. announced they were becoming an exclusively Blu-Ray studio this weekend, apparently completely pulling the rug on the HD-DVD camp. Said a Toshiba press release:
TOKYO, Jan. 4 /PRNewswire/—Toshiba is quite surprised by Warner Bros.' decision to abandon HD DVD in favor of Blu-ray, despite the fact that there are various contracts in place between our companies concerning the support of HD DVD. As central members of the DVD Forum, we have long maintained a close …

Continue reading CES 2008: Warner Drops HD-DVD, Lone Tear Streams Down Toshiba's Face


Posted by Chris Cardinal Categories: Peripherals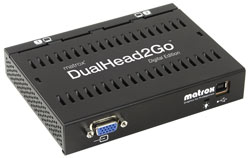 It's easy to become addicted to the beauty of more screen real estate on your machine. Once you've used two displays, you really hate to go back to a single anemic, constrained display. I tend to work with an extremely fractured workflow, with dozens of windows open at any point in time. Being able to, for instance, keep code on one screen and Firefox …

Continue reading Matrox DualHead2Go Digital Edition Reviewed (Verdict: Spot-on)


Posted by Chris Cardinal Categories: Apple, CES, CES 2007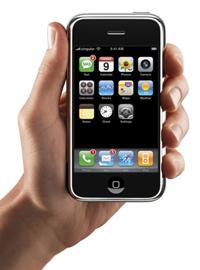 Cisco, who holds the trademark on the iPhone product name (and already sells an eponymous product) has decided to sue Apple in federal court for use of their trademark. This, after much discussion of Cisco and Apple coming to an agreement.
"Cisco entered into negotiations with Apple in good faith after Apple repeatedly asked permission to use Cisco's iPhone name," said Mark Chandler, Cisco senior …

Continue reading CES 2007: Cisco Sues Apple Over iPhone Name

© Gear Live Inc. – User-posted content, unless source is quoted, is licensed under a Creative Commons Public Domain License. Gear Live graphics, logos, designs, page headers, button icons, videos, articles, blogs, forums, scripts and other service names are the trademarks of Gear Live Inc.