Find Our Latest Video Reviews on YouTube!
If you want to stay on top of all of our video reviews of the latest tech, be sure to check out and subscribe to the Gear Live YouTube channel, hosted by Andru Edwards! It's free!
Tuesday March 16, 2010 11:30 am
SXSW 2010: Evan Williams Twitter keynote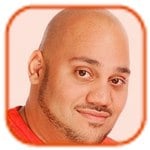 Tweet
Posted by Andru Edwards -
Categories: Editorial, Features, Internet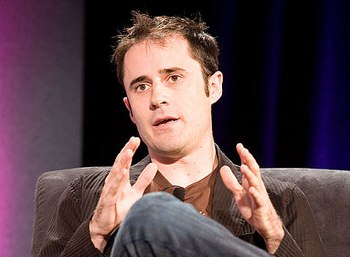 Three years after the Twitter 2007 launch at South by Southwest, Evan Williams announced @anywhere pages at SXSW 2010. This service allows web publishers to enable OAth Twitter logins, much like the Facebook Connect strategy. They are not the first web service with hundreds of millions of users to attempt this tactic. Hotmail users were able to use that log on on other sites via the Microsoft Passport service, after the software giant bought the first web mail provider in 1997. This account was used across all Microsoft platforms like Expedia and even shopping sites like Buy.com until it was ultimately removed from service in 2009. Today, Facebook Connect allows their 300+ million users to log on and make comments on thousands of sites and blogs. Twitters user base is much lower and they are a bit late to this strategy so it will be interesting to see how many sites will employ the service.
With a 10's wide and thousands deep line to get in, the SXSW day three keynote of Evan Williams, one of the founders of Twitter was off to a rocky start. He started with an awkward announcement their latest service offering via a video demo and audio problems with the mic of the moderator Umar Haque.
Umair who is a consultant and writer for Harvard Business Review did not ask Evan what his business model was, but why he is trying different business models. Ev says, "Whatever you assume when you start out, you are wrong." Being able to create value and the right product is most important, and that requires experimentation. Evan
says they are concentrating on creating the best product for businesses and users. Since businesses use Twitter already, their goal is to make it the best and easiest service use.
When asked What is Twitter; Evan said that they think of it as an information network, not a social network that many think it to be. Users can use it to see what is going on in the world that is important to them. You can follow and receive information, or push information. It's your choice as a user of the service. Increasing the signal to noise ratio and giving people stuff with as little effort as possible is on their short list of goals. With the content creators, if you are sharing information, how can you do that as easy as possible. Personally, I use tools like Twitter's SMS gateway rather than a Blackberry or iPhone Twitter client to quickly get posts to the service.
Evan spends half of his time working on the "nitty-gritty" of the user experience, and the other half of his day working on corporate issues like scaling the company and defining the characteristics that he wants the company to be. Openness is a big value, and the open exchange of transparent information is important as well.
Transparent teams are as important to Evan as transparent code. Openness for him is just as important as transparency. He goes onto say "A window lets people see into something, but a door lets them enter it." Their analogy given was that the users of the service created hash tags, advertising methods and other developers have
created whole new experiences around this. Openness give Twitter a survival tactic to let them see that it is OK to not know or even be wrong, because of smart people outside of the company can build things that the internal team never thought of.
With being open, the question was asked that by sharing your data openly, is that giving the golden goose away? For example Microsoft Bing and Google were allowed access to the full public stream of data. Both of the partners were able to index and allow searching through the data. This could be targeted with advertising which allows the search companies revenue that Twitter might not be able to monetize. They went with the sharing of the data because the valuable data could be shared ultimately with users, which goes toward creating a better user experience.
Rather than try to make money on search, Twitter is trying to provide greater value to its users. This decision was made after great debate, and now the data is being shared with Yahoo and even smaller companies. With so many things that can be done with the data, their objective is to not limit it. The most exciting things to Evan within
the ecosystem are core experiences that fill holes, like sharing photos and shortening the length of URLs. Twitpic and Bit.ly are examples of such services that grew around the 140 character limit of Twitter messages. Additionally, clients for the iPhone, Blackberry and even Linux has been achieved by third party developers.
Evan talked about business customer support interfaces by HootSuite and CoTweet who are focusing on building a great interface for the business as the Twitter web interface was not a good tool for this. CoTweet was purchased by a larger company who wishes to take this to a larger market. Organizations like SAP and Salesforce.com are integrating Twitter ties into their Customer Relationship Management CRM systems.
However, "That openness can be used against you," Evan says, "and must be managed." For example, having an open API makes it easy for applications to spam via Twitter. They send cease and desist letters every day to people who create the ultimate "find followers, message spamming tools."
He believes that they need to let their next generation of users to understand and make the tool easier for them to use. The White House press secretary is now using the service to communicate in ways that have not typically been used for official communication from the government. As the most profound use of the Internet is communication, this is the wave to allow people to communicate and the democratization of information, with low barriers to access it.
Forty minutes into the session, Ev was noticeably nervous, with his fingers twitching on the end of the chair arms he was holding. He had placed both of his phones on the table in front of him, so he was not privy to the raw and unhappy conversation that was taking place on his very service, the audience disappointment in the caliber of the
interview. Perhaps this is because they hit the high notes of the conversation halfway through. Much like the ballyhooed Sara Lacy and Marc Zuckerberg Facebook interview of 2008, there was a line to exit the keynote 50 minutes into the session. Twitter traffic stated that they would rather have seen Evan talk on his own, and Umair was interviewing himself on the stage. Twitter user @abfdc said "I don't need to be snarky about this keynote. Y'all are taking care of it for me. #ev #sxsw"
And so the people have spoken on the open platform Evan and his team created, and this story comes to an end. Maybe the openness of Twitter does have some downfalls. Take a look at the hashtags #mondaykeynote @ev #sxsw" to see the snarkiness.

Dave Mathews @ggdm is an inventor, broadcaster and consultant who has helped such companies as RadioShack, Sling Media and boxee. You can find more of his content at www.davemathews.com.
© Gear Live Inc. – User-posted content, unless source is quoted, is licensed under a Creative Commons Public Domain License. Gear Live graphics, logos, designs, page headers, button icons, videos, articles, blogs, forums, scripts and other service names are the trademarks of Gear Live Inc.