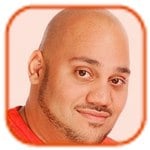 Posted by Andru Edwards Categories: Trends, Strange Food, Condiments, America,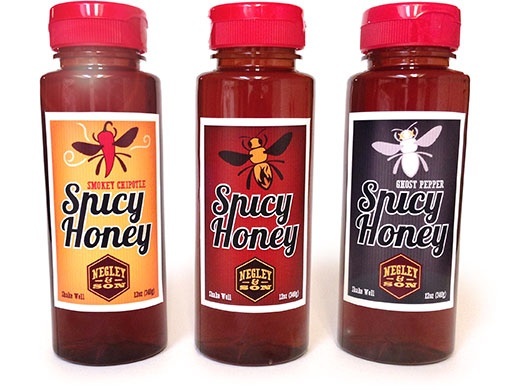 Set your beloved Sriracha aside, and prepare to hit your mouth with some bold, spicy sweetness from Negley & Son. The company offers three distinct flavors, all three of which aim to give your food a perfect kick. You have Classic Spicy, which is made from a secret blend of seven different peppers. Then you have the Smokey Chipotle, which adds smoke-dried jalapenos into the mix. Then, Ghost Pepper--flavored with one of the hottest peppers cultivated on the planet, the Bhut Jolokia. Yep, they've got our attention, too. We'll be looking to check it out soon, and will report back with our thoughts.
Read More

| Negley Honey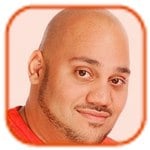 Posted by Andru Edwards Categories: Dinner, Comfort Food, Recipes, Beef, Condiments, Meat, Far East, Braising,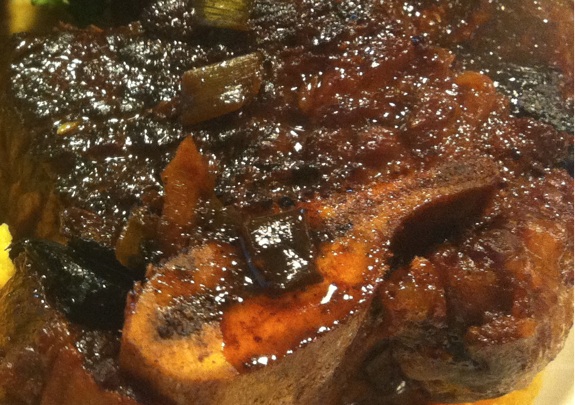 I am a big fan of short ribs, and also enjoy a good marinade. There's just something about the way a few key ingredients can totally enhance the flavor of meat after leaving it to sit for a while in the fridge. Korean short ribs are a prime example. Typically, the marinade has a handful of ingredients, and you can taste each one in the end result. Here's a recipe for Korean-style short ribs, with a great marinade, that tastes absolutely delicious:

INGREDIENTS

Marinade:
1/4 cup reduced sodium soy sauce
2 Tablespoons brown sugar
4 stalks chopped green onion
1 tablespoon olive oil
2 tablespoons sesame oil
3 garlic cloves, minced
2 tablespoons rice vinegar

Short Ribs:
1.5 pounds beef short ribs
8oz chicken or vegetable stock
Click to continue reading Recipe: Korean Short Ribs with Marinade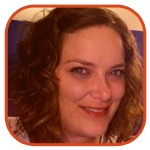 Posted by Jenny Lewis Categories: Dinner, Features, Site Announcements, Holiday Cooking, Summer Cooking, Condiments, Soda, Barbecuing, Grilling,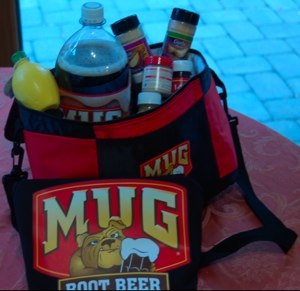 We're less than a week out from Father's day, and I can smell the charcoal already. While some may head out to a nice steakhouse for a special dinner for Dad, tons of us will be gathered around a grill doing it ourselves. My friends at Mug Root Beer want to help make all of this summer's BBQs a culinary triumph for you.
From today until Sunday at 8:00 PM Eastern, comment on this entry about your most memorable "Dad" moment. Did your dad show up to the aforementioned steakhouse in a Hawaiian shirt and flip flops? Maybe your friend's dad stepped in to save the day when a road trip went bad, or your uncle's BBQ went up in a blaze of meat glory. I want to hear about it! I'll be choosing five of the most memorable BBQ stories that you all share and the winners will each receive a prize pack, containing the fantastic recipe for MUG Root Beer Southern Specialty Brew-B-Q sauce (and the sauce is awesome - I was given a copy of the recipe and made some last night) and all of the ingredients to boot, in an insulated MUG bag with a MUG apron.
Lay'em on me guys - I want to hear your Dad stories!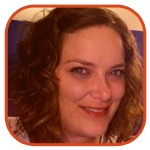 Posted by Jenny Lewis Categories: Appetizers, Side Dishes, Snacks, Holiday Cooking, Recipes, Condiments, Vegan, Vegetables, Vegetarian,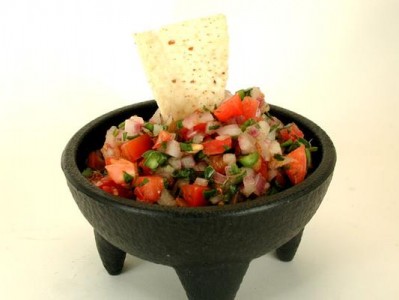 Pico de gallo, spanish for "rooster's beak," is a great fresh condiment that is made from fresh ingredients and a little fruit juice. It's also quick to make, and fits into an Cinco de Mayo celebration.
Ingredients:
2 large tomatoes, seeded and chopped
1/2 to a whole small onion
1 or 2 seeded chopped jalapeño peppers
Chopped cilantro to taste
Lime juice to taste
Salt to taste
Preparation:
Put the tomatoes, onion, and peppers into a bowl. Add the cilantro and stir to combine. Sprinkle the lime juice and salt on top and stir again. Done!
Be sure to check out our other Cinco de Mayo recipes!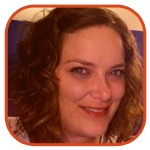 Posted by Jenny Lewis Categories: Appetizers, Side Dishes, Snacks, Holiday Cooking, Recipes, Beef, Condiments, Meat, Pork, Vegetarian,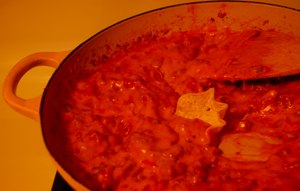 Continuing with the dips for Cinco de Mayo, Chorizo con Queso is a classic.
Ingredients:
1/2 pound spicy chorizo
1/2 cup chicken broth
1/2 small can diced green chiles
1 can diced tomatoes, drained
1/2 small onion, diced
2 cloves of garlic, minced
2 cups cheddar
1 cup Monterey jack
1/4 cup milk (if desired)
Preparation:
Squeeze the chorizo out of its casing and fry on medium in a shallow pan. Once it's done, remove it with a slotted spoon and set aside to drain, retaining as much of the rendered fat in the pan as possible. Pour the chicken broth into the pan to deglaze it - scrape the browned bits from the bottom. Add the chiles, tomatoes, onion and garlic and heat until bubbling. Add the chorizo back to the pan and stir until well incorporated. Add the cheese and stir until melted. If the dip is too thick for your taste, add the milk. Serve hot with chips or warmed tortillas.
PS - if you're feeling crazy, you could always deglaze the pan with tequila instead of chicken broth for an extra kick of Mexican flavor.
Be sure to check out our other Cinco de Mayo recipes!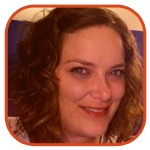 Posted by Jenny Lewis Categories: Appetizers, Side Dishes, Snacks, Holiday Cooking, Recipes, Condiments, Vegetarian,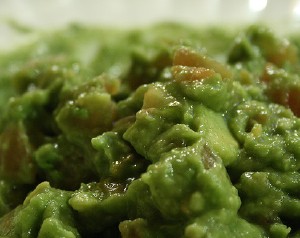 Dips are a tasty way to get a party started. Today I have three dips for Cinco de Mayo that taste great with veggies, chips, or warmed tortillas. Classic, customizable guacamole is a cool foil to a hot chorizo con queso dip, and pico de gallo is chunkier than a traditional salsa but still packs a ton of flavor. Also, it's so incredibly simple that once the ingredients are chopped, you're pretty much done with the entire thing. Let's start with the guacamole:
Ingredients:
2 ripe avocados
1 Tablespoon lime juice
1 teaspoon salt
2 tablespoons chopped cilantro
Preparation:
Scoop the flesh from the avocados into a bowl. Add the lime juice, salt and cilantro. Mash until creamy.
This is the most basic of recipes for guacamole, and there are plenty of ways to add to it. If you're feeling a little kicky, add some pico de gallo or a little bit of salsa. Add more cilantro if you feel like it, or don't add any at all. Maybe sprinkle some cumin on top or add some ancho chiles. The guac possibilities are literally endless.
Be sure to check out our other Cinco de Mayo recipes!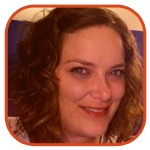 Posted by Jenny Lewis Categories: Dinner, Summer Cooking, Condiments, Meat, Pork, Poultry, Vegetables, Vegetarian, South America, Barbecuing, Grilling,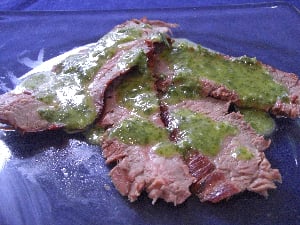 How's the weather, everyone? Summer made its debut in my neighborhood over the weekend, which means one thing: GRILLING. And lots of it. And one of the very best condiments for a nicely grilled piece of meat is definitely chimichurri. Originating in Argentina, chimichurri is a vibrantly hued sauce that is packed full of flavor, and as a bonus in the warm weather, it doesn't require an iota of heat to make!
Ingredients:
2 garlic cloves, peeled
3/4 teaspoon dried crushed red pepper
1 cup (packed) fresh Italian (flat leaf) parsley
1/4 cup (packed) fresh cilantro
1/2 teaspoon ground cumin
1/2 teaspoon salt
1/2 cup olive oil
1/4 cup red wine vinegar
Preparation:
In a food processor, chop the garlic. Add the red pepper, parsley and cilantro and process until the herbs are finely chopped. Add the cumin, salt, olive oil and vinegar. Pulse until the mixture has emulsified and the sauce is bright green. Serve immediately on whatever you just took off the grill.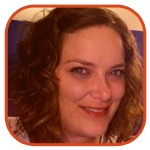 Posted by Jenny Lewis Categories: Appetizers, Snacks, Recipes, Condiments, Dairy, Mediterranean,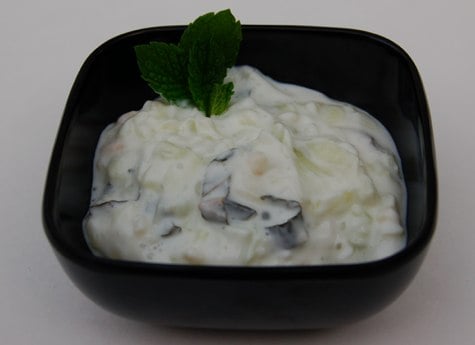 I can't even come up with words to properly convey my feelings for tzaziki. Cool, creamy, and fantastic with everything from vegetables to steak. It's incredibly easy to make, and incredibly easy to customize to your own taste.
Ingredients:
2 cups plain yogurt (this can be regular yogurt or Greek yogurt, fat free or as fatty as you'd like, as long as it's plain)
1 cucumber, peeled and seeded
1 or 2 pinches of salt
1/4 cup fresh mint
3 cloves of fresh garlic or 1 tablespoon of pre-minced garlic from a jar
Click to continue reading Recipe: Tzaziki

Posted by Jenni Burns Categories: Quick Meals, Recipes, Condiments,
My friend Becky gave me this vinaigrette recipe - I tried it, and it was delicious! I love vinaigrette dressing for salad, they are light and tasty. She got the recipe from "America's Test Kitchen Family Cookbook."
Basic Vinaigrette
Makes about 1 cup
Prep Time 10 minutes
INGREDIENTS:
3/4 cup extra-virgin olive oil
3 Tablespoons vinegar (I usually use basalmic, but the recipe calls for red or white wine vinegar)
2 teaspoons minced shallot or red onion (sometimes I'll even use a bit of a mild yellow onion instead)
2 teaspoons Dijon mustard
1 1/2 teaspoons minced fresh herbs (thyme, oregano, basil, tarragon, parsely, rosemary or a combination, also you can use about 1/2 teaspoon dried thyme, rosemary or oregano)
1 garlic clove, minced
1/2 teaspoon salt
1/4 teaspoon pepper
DIRECTIONS:
Shake all of the ingredients together in a jar with a tight-fitting lid. The dressing can be refrigerated for up to 7 days. When you want to use the dressing, remove from the refrigerator a couple hours ahead of time and bring to room temperature, then shake vigorously to recombine before using. If you are going to use the dressing in a few days you can just leave it out.
Posted by Janie Franz Categories: Lunch, Recipes, Summer Cooking, Condiments, Salad, America, Southern, Parties,
These tea sandwiches are spicy and make a great addition to a summer tea. They are based on the New Orleans favorite Muffuletta, a garlicky olive salad. You can also add thinly sliced meats to the cheese if you wish.
Ingredients:
1 pkg. steak buns (6) (with sesame seeds if possible)
Olive Salad - Recipe Below
12 slices Havarti Cheese, sliced paper thin
Herb Butter - Recipe Below
Olive Salad
1/3 cup green olives, pitted, minced
1/3 cup kalamata olives, pitted, minced
2 garlic cloves, finely minced
1/4 cup parsley, finely minced
½ tsp. oregano, finely minced
1/4 tsp. pepper
1/4 cup olive oil
2 drops green pepper sauce
Preparation:
Mix all ingredients together.

Herb Butter
1/4 cup butter, softened
1 tsp. garlic, minced finely
1 tbsp. roasted red bell pepper, minced
2 tsp. parsley, minced
1/4 tsp. lemon juice
3/4 tsp. Dijon mustard, coarse stone ground
1/4 tsp. each, marjoram, chives, oregano, tarragon (or any combination of fresh herbs), finely minced
Preparation:
Mix all ingredients into the softened butter.
Slice buns, if they aren't pre-sliced. Butter inner side of each bun. Spoon 1 tsp. of Olive Salad on the bottom halves of the buns. Top with 2 slices of cheese each and the buttered bun tops. Slice into quarters. Let the Muffuletta sit for at least an hour and then serve.
© Gear Live Media, LLC. 2007 – User-posted content, unless source is quoted, is licensed under a Creative Commons Public Domain License. Gear Live graphics, logos, designs, page headers, button icons, videos, articles, blogs, forums, scripts and other service names are the trademarks of Gear Live Inc.