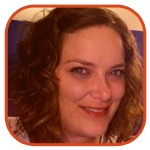 Posted by Jenny Lewis Categories: Dinner, Lunch, Quick Meals, Recipes, Summer Cooking, Poultry, Salad, Vegetables, Mediterranean,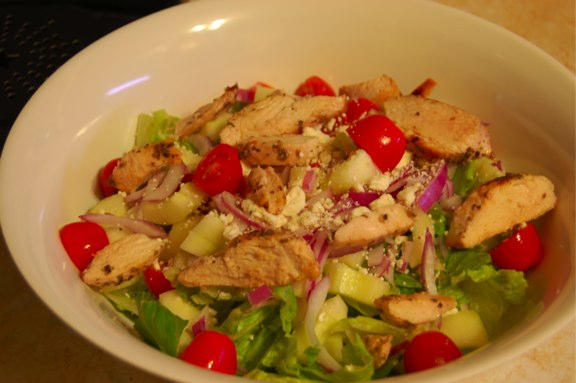 At home one night with plenty of nicely marinated chicken but no pita to be found, I had an epiphany - if souvlaki is basically an undressed Greek salad with chicken on a pita, why couldn't I eat it as a DRESSED Greek salad with chicken without a pita? And thus my new summer standby meal was born - the chicken souvlaki salad. This recipe will feed two very well and leave four wanting more (I suggest getting some baklava for dessert).
Vinaigrette Ingredients
:
1/2 cup plus 2 Tablespoons olive oil
5 Tablespoons red wine vinegar
1 teaspoon lemon juice
1 teaspoon thyme
1 teaspoon oregano
1/4 teaspoon black pepper
Salad Ingredients
:
2 boneless skinless chicken breasts
1 head of Romaine lettuce or 2 hearts of Romaine
2 tomatoes, diced
1 small red onion, diced
1 large cucumber, peeled and de-seeded
2 Tablespoons crumbled Feta cheese
Preparation:
Mix the marinade. Reserve half to dress the salad, and combine the other half in a zipper bag with the chicken. Marinate the chicken for 4 to 24 hours.
Grill (or saute) the marinated chicken breasts. Slice thinly. Prepare the salad vegetables. Top with the chicken and cheese, then the reserved vinaigrette. If you're feeling really saucy, you can use tzaziki as a dressing instead of the reserved half of the vinaigrette. Or you could just use both.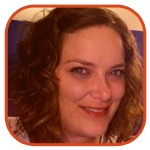 Posted by Jenny Lewis Categories: Appetizers, Side Dishes, Snacks, Holiday Cooking, Recipes, Condiments, Vegan, Vegetables, Vegetarian,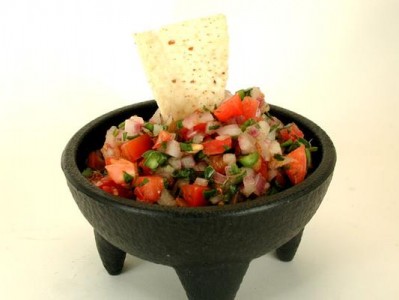 Pico de gallo, spanish for "rooster's beak," is a great fresh condiment that is made from fresh ingredients and a little fruit juice. It's also quick to make, and fits into an Cinco de Mayo celebration.
Ingredients:
2 large tomatoes, seeded and chopped
1/2 to a whole small onion
1 or 2 seeded chopped jalapeño peppers
Chopped cilantro to taste
Lime juice to taste
Salt to taste
Preparation:
Put the tomatoes, onion, and peppers into a bowl. Add the cilantro and stir to combine. Sprinkle the lime juice and salt on top and stir again. Done!
Be sure to check out our other Cinco de Mayo recipes!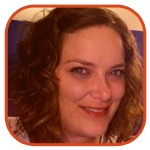 Posted by Jenny Lewis Categories: Dinner, Summer Cooking, Condiments, Meat, Pork, Poultry, Vegetables, Vegetarian, South America, Barbecuing, Grilling,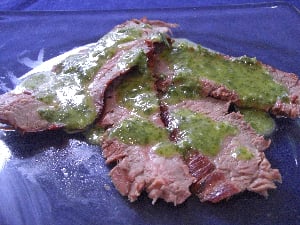 How's the weather, everyone? Summer made its debut in my neighborhood over the weekend, which means one thing: GRILLING. And lots of it. And one of the very best condiments for a nicely grilled piece of meat is definitely chimichurri. Originating in Argentina, chimichurri is a vibrantly hued sauce that is packed full of flavor, and as a bonus in the warm weather, it doesn't require an iota of heat to make!
Ingredients:
2 garlic cloves, peeled
3/4 teaspoon dried crushed red pepper
1 cup (packed) fresh Italian (flat leaf) parsley
1/4 cup (packed) fresh cilantro
1/2 teaspoon ground cumin
1/2 teaspoon salt
1/2 cup olive oil
1/4 cup red wine vinegar
Preparation:
In a food processor, chop the garlic. Add the red pepper, parsley and cilantro and process until the herbs are finely chopped. Add the cumin, salt, olive oil and vinegar. Pulse until the mixture has emulsified and the sauce is bright green. Serve immediately on whatever you just took off the grill.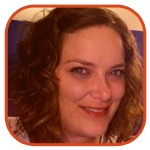 Posted by Jenny Lewis Categories: Dinner, Lunch, Side Dishes, Quick Meals, Recipes, Summer Cooking, Fruit, Salad, Vegetables, Vegetarian,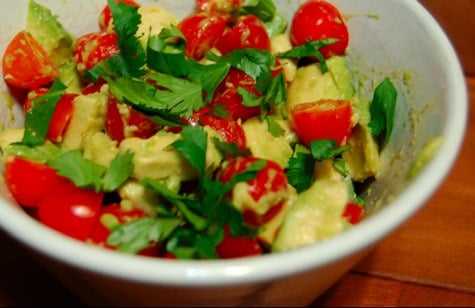 It's summer, and the food lobe of my brain turns to one thing when the weather starts warming up - avocados. Being on the East Coast, avocados are definitely my favorite summertime-only indulgence, and they are well worth the wait in all of their forms. Another recipe from Clean Eating magazine, these Avocado Salad Wraps are fantastic as a light lunch or, when paired with some bread or tortillas, a stove-free dinner on a hot day.
Ingredients:
2 T Dijon mustard
1 medium ripe avocado, diced
1 medium ripe tomato, chopped into pieces the same size as the avocado
1/4 cup cilantro
lime juice (optional)
4 big lettuce leaves (romaine works great)
Preparation:
Combine the first four ingredients in a bowl. If the wraps aren't going to be eaten right away, toss some lime juice into the bowl with the salad.
Divide the salad between the 4 lettuce leaves, wrap and enjoy! Or, if you're like me, eschew the lettuce altogether and eat the salad straight out of the bowl.
Read More

|
Clean Eating Magazine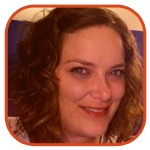 Posted by Jenny Lewis Categories: Dinner, Lunch, Side Dishes, Recipes, Summer Cooking, Cheese, Salad, Vegetables, Vegetarian,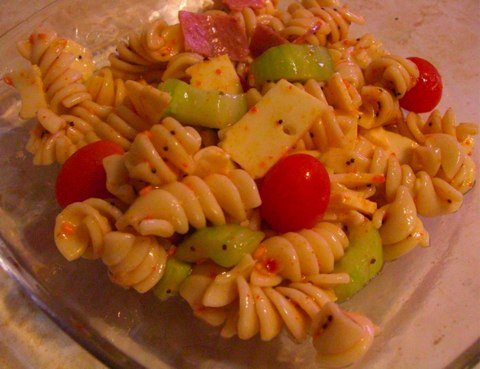 This pasta salad is one of my favorite potluck contributions. Because of the fact that the pasta has to be completely cool - at most room temperature - before assembling the salad, it's a great dish to start at night and finish the next day. Here's a recipe for a great Summer Pasta Salad:
Ingredients:
1 Lb smallish, shaped pasta (rotini, farfalle, macaroni, anything small and easily fork-able)
1/2 bottle of Italian dressing (not creamy)
4 T Salad Supreme
1 12 to 14 inch cucumber or two smaller ones, peeled and seeded
1 pint cherry or grape tomatoes, washed and halved
4 ounces Provolone cheese (this is usually 4 slices of prepackaged sliced cheese)
4 ounces salami (again, usually 4 slices of prepackaged sliced meat, but this can also be 4 ounces from a whole salami)
Click to continue reading Recipe: Summer Pasta Salad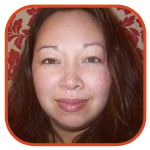 Posted by Monica Edwards Categories: Dinner, Side Dishes, Recipes, Salad, Vegetables, Vegetarian, America,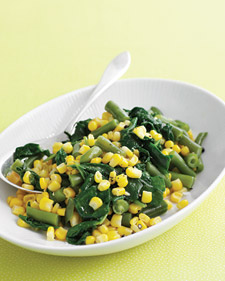 I prefer to have vegetables prepared with every dinner that I serve my family, so it is nice to come across a recipe that is easy to prepare while the entree is cooking away. True, the kids may pick and choose which veggie is their favorite, as my 4-year-old would, but I enjoy all three as I hope your family will. This recipe calls for frozen vegetables to save time, but I always love to use fresh when given the choice…up to your preference.
Ingredients:
1 tablespoon olive oil
1 pkg. 10 oz. frozen corn kernels
1 pkg. 10 oz. frozen cut green beans
5 oz. fresh baby spinach
1/4 teaspoon dried thyme leaves
2 teaspoons white wine vinegar
coarse salt and ground pepper
Preparation:
Heat oil in a large skillet over medium-high, add corn and green beans, and cook about 4-6 minutes, until green beans are warmed through. Next add the thyme and spinach, seasoning with salt and pepper. Toss until spinach is wilted, about 1-2 minutes, then stir in the vinegar. Season to taste with salt and pepper. Serve in a bright dish for added pizazz.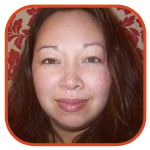 Posted by Monica Edwards Categories: Dinner, Lunch, Side Dishes, Quick Meals, Recipes, Salad, Vegetables, Vegetarian, America,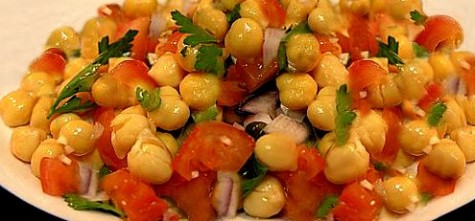 I absolutely love salads, so when I come across a new recipe, I have to share it with everyone - we all could use more veggies in our diets. This recipe is quite simple and tasty, as well as pleasing to the eye—because I am a huge believer in that we first eat with our eyes, before our mouths.
Ingredients:
3 ounces baby arugula
2 scallions, thinly sliced
1 15 oz. can of chickpeas, rinsed and drained
1 cup halved cherry tomatoes
1/4 cup walnuts, toasted if desired(my preference)
2 TB red wine vinegar
2 TB olive oil
coarse salt and ground pepper to taste
Preparation:
In medium bowl, layer the first 5 ingredients and set aside. In separate tightly lidded container, combine vinegar, oil, salt, and pepper; shake until blended. Pour directly onto salad and toss.
Enjoy a fresh, quick salad.

Posted by Jenni Burns Categories: Side Dishes, Recipes, Salad, Vegetables, Vegetarian, America,
My friend Crystal is a creative cook, and she came up with this salad dressing recipe when we were over for dinner the other day. It was amazing! I was so glad when she shared the recipe with me. We enjoyed this dressed over a lush bed of greens tossed with candied pecans and dried cranberries, the salad was to die for! I plan to share a pasta recipe from Crystal later this week.
BLACKBERRY DRESSING

Ingredients:
2 cups blackberries
1 tsp vanilla
1/2 cup maple syrup
1/2 tsp onion powder
1 tsp salt
1/4 tsp pepper
1/2 tsp dry mustard
1/2 -3/4 cup olive oil
1/2-34 cup apple cider vinegar
Directions:
Puree, douse a bed of delicious greens, and enjoy.

Posted by Jenni Burns Categories: Dinner, Recipes, Beef, Meat, Vegetables, America, Roasting, Slow Cooking,
There is something wonderful about the smell of a roast cooking for hours on a cool autumn day. The spices and juices from the meat fill the house with a lovely inspiring smell. This wafting scent will lure even your pickiest child to the dinner table, to taste of the labors of your hard working oven. I was excited to see that this recipe from All Recipes called to use a Dutch oven because I had not used one before. I used mine for the first time a few days ago, and I was extremely impressed with how well it worked. A worthy investment if you don't have one.
Click to continue reading Pot Roast with Vegetables Recipe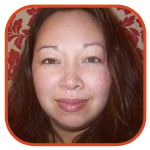 Posted by Monica Edwards Categories: Side Dishes, Health, Recipes, Fruit, Salad, Vegan, Vegetables, Vegetarian, America,
My husband Andru has come to the realization that a lot of the food we eat on a daily basis contains a lot of sodium. Not because I have chosen to dash everything we consume with a bit of salt here and there, but because some foods come into our home with so much added salt through processing. He was fuming about how he had chosen to purchase some soup simply because the label said "Organic" because in our mind set "organic" is supposed to mean good for you, but that is not necessarily true so he went off in a tirade after reading the label and seeing that in a one cup serving of this "good" soup there was 980 mg. of sodium, 41% of the sodium we need for the day in one cup of delicious death. He was very concerned that this percentage was in relation to an adult's body mass, not a 3 year-olds tiny frame. How much sodium can a toddler take before a salt-induced coma? Anyway, to alleviate his worries, he is on a mission to eat more foods that are "living", meaning less meat and processed foods and more fruits and vegetables.
In order to support his new found revelation, I decided one night to come up with a raw fruit and vegetable salad that is delicious despite not being smothered in dressing—and I aptly named it Rainbow Fruit & Veggie salad because after all was said and done, I threw in so many different colors of fruits and veggies, it became a taste sensation for the eyes. I was very tempted to add a touch of sugar to the natural dressing mixed in, but then thought, well that defeats the whole purpose, so instead added some strawberries for that touch of sweetness. Voila…a new recipe was born, and Andru loved it and the kids seemed to like it also, thank you strawberries. It is a great side dish and the recipe can be varied in so many ways, I added raw zucchini when I made it a second time and it was a hit at our Fellowship meal after church. I hope it pleases your taste buds also!
Click to continue reading Recipe: Diced Rainbow Fruit & Veggie Salad
© Gear Live Media, LLC. 2007 – User-posted content, unless source is quoted, is licensed under a Creative Commons Public Domain License. Gear Live graphics, logos, designs, page headers, button icons, videos, articles, blogs, forums, scripts and other service names are the trademarks of Gear Live Inc.