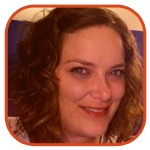 Posted by Jenny Lewis Categories: Dinner, Features, Site Announcements, Holiday Cooking, Summer Cooking, Condiments, Soda, Barbecuing, Grilling,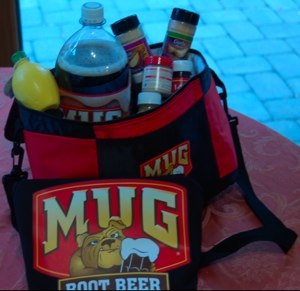 We're less than a week out from Father's day, and I can smell the charcoal already. While some may head out to a nice steakhouse for a special dinner for Dad, tons of us will be gathered around a grill doing it ourselves. My friends at Mug Root Beer want to help make all of this summer's BBQs a culinary triumph for you.
From today until Sunday at 8:00 PM Eastern, comment on this entry about your most memorable "Dad" moment. Did your dad show up to the aforementioned steakhouse in a Hawaiian shirt and flip flops? Maybe your friend's dad stepped in to save the day when a road trip went bad, or your uncle's BBQ went up in a blaze of meat glory. I want to hear about it! I'll be choosing five of the most memorable BBQ stories that you all share and the winners will each receive a prize pack, containing the fantastic recipe for MUG Root Beer Southern Specialty Brew-B-Q sauce (and the sauce is awesome - I was given a copy of the recipe and made some last night) and all of the ingredients to boot, in an insulated MUG bag with a MUG apron.
Lay'em on me guys - I want to hear your Dad stories!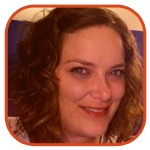 Posted by Jenny Lewis Categories: Dinner, Lunch, Quick Meals, Recipes, Summer Cooking, Poultry, Salad, Vegetables, Mediterranean,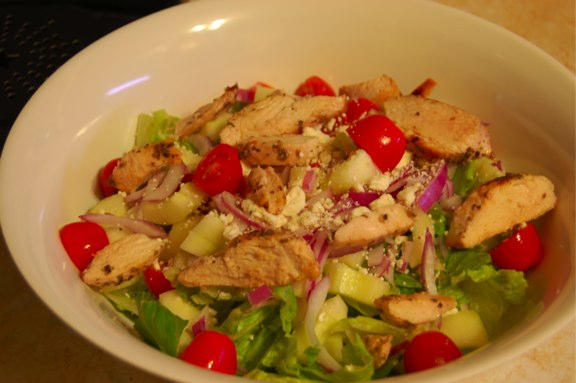 At home one night with plenty of nicely marinated chicken but no pita to be found, I had an epiphany - if souvlaki is basically an undressed Greek salad with chicken on a pita, why couldn't I eat it as a DRESSED Greek salad with chicken without a pita? And thus my new summer standby meal was born - the chicken souvlaki salad. This recipe will feed two very well and leave four wanting more (I suggest getting some baklava for dessert).
Vinaigrette Ingredients
:
1/2 cup plus 2 Tablespoons olive oil
5 Tablespoons red wine vinegar
1 teaspoon lemon juice
1 teaspoon thyme
1 teaspoon oregano
1/4 teaspoon black pepper
Salad Ingredients
:
2 boneless skinless chicken breasts
1 head of Romaine lettuce or 2 hearts of Romaine
2 tomatoes, diced
1 small red onion, diced
1 large cucumber, peeled and de-seeded
2 Tablespoons crumbled Feta cheese
Preparation:
Mix the marinade. Reserve half to dress the salad, and combine the other half in a zipper bag with the chicken. Marinate the chicken for 4 to 24 hours.
Grill (or saute) the marinated chicken breasts. Slice thinly. Prepare the salad vegetables. Top with the chicken and cheese, then the reserved vinaigrette. If you're feeling really saucy, you can use tzaziki as a dressing instead of the reserved half of the vinaigrette. Or you could just use both.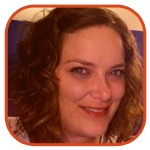 Posted by Jenny Lewis Categories: Beverages, Milk, Holiday Cooking, Recipes, Summer Cooking, Dairy, Parties,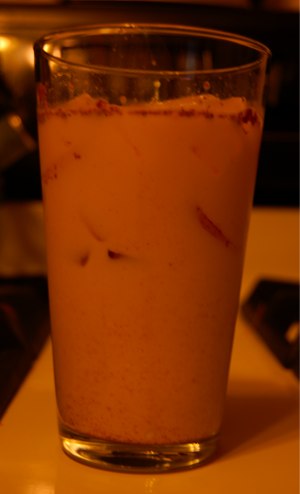 Cinco de Mayo is here! And if you're not hip to the actual reason the fifth of May is celebrated, let me clue you in! On May 5, 1862, 4,000 Mexican soldiers defeated the French army and an army of traitor Mexican soldiers to regain control of the country in Puebla.
Anyone can go to their local Mexican joint to celebrate. But WHY? Over the course of today, I'm going to lay out easy recipes to cover your celebration, from drinks to dessert. First up, horchata!
Click to continue reading Cinco de Mayo drinks: Horchata recipe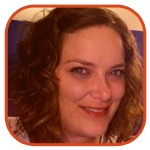 Posted by Jenny Lewis Categories: Dinner, Summer Cooking, Condiments, Meat, Pork, Poultry, Vegetables, Vegetarian, South America, Barbecuing, Grilling,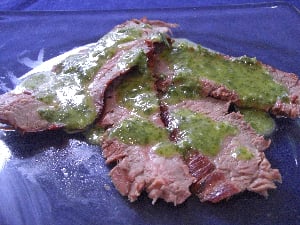 How's the weather, everyone? Summer made its debut in my neighborhood over the weekend, which means one thing: GRILLING. And lots of it. And one of the very best condiments for a nicely grilled piece of meat is definitely chimichurri. Originating in Argentina, chimichurri is a vibrantly hued sauce that is packed full of flavor, and as a bonus in the warm weather, it doesn't require an iota of heat to make!
Ingredients:
2 garlic cloves, peeled
3/4 teaspoon dried crushed red pepper
1 cup (packed) fresh Italian (flat leaf) parsley
1/4 cup (packed) fresh cilantro
1/2 teaspoon ground cumin
1/2 teaspoon salt
1/2 cup olive oil
1/4 cup red wine vinegar
Preparation:
In a food processor, chop the garlic. Add the red pepper, parsley and cilantro and process until the herbs are finely chopped. Add the cumin, salt, olive oil and vinegar. Pulse until the mixture has emulsified and the sauce is bright green. Serve immediately on whatever you just took off the grill.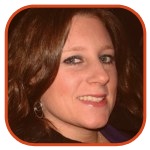 Posted by Vicky Lane Categories: Appetizers, Dinner, How To, Quick Meals, Recipes, Summer Cooking, Shellfish, America, Carribean, Broiling,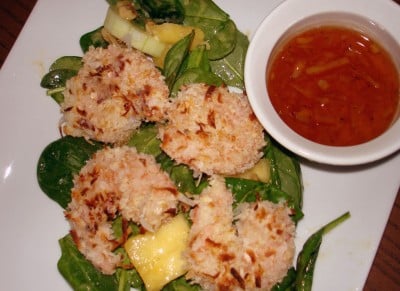 Yesterday in Chicago the weather was sunny and 65… in the middle of February! It was spectacular. I was inspired by the warm weather to create something that reminded me of summer or my favorite warm weather place, the Caribbean.
The first time I ever tried coconut shrimp was at a restaurant I worked at in college. They fried them up and served with a sweet plum sauce. I absolutely loved them and ordered them almost every shift I worked. My version requires no frying and it so easy and quick to make. I also borrowed a great broiling technique from Ellie Krieger from the Foodnetwork, which works every time.
Some people say they are not fans of the texture of coconut, which I can kind of understand. A great tip for flaky coconut is to throw it in the blender or food processor before using, this helps the coconut blend in well with the breading. I did not do this as me and Husband love coconut in any form.

Prep Time : About 15 minutes
Cook Time: 5 minutes
Serves 4
Ingredients
1 pound peeled and deveined shrimp (this just makes life easier)
1/2 cup all purpose flour
1/2 cup shredded coconut, I used sweetened and used a heaping 1/2 cup
3/4 teaspoon salt
1/4 teaspoon pepper
3 egg whites
3/4 panko crumbs (japanes style breadcrumbs, found in almost every grocery store in the Asian section)
1 teaspoon ancho chili powder (which is a milder chili powder)
2 tablespoons canola oil
Nonstick cooking spray
Click to continue reading Recipe: Coconut Crunchy Shrimp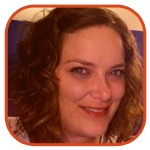 Posted by Jenny Lewis Categories: Dinner, Lunch, Side Dishes, Quick Meals, Recipes, Summer Cooking, Fruit, Salad, Vegetables, Vegetarian,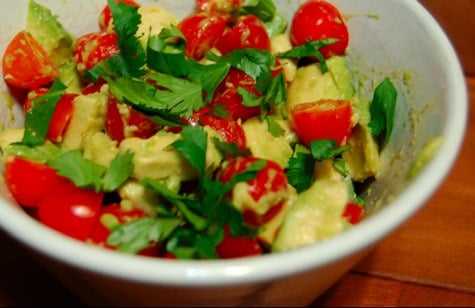 It's summer, and the food lobe of my brain turns to one thing when the weather starts warming up - avocados. Being on the East Coast, avocados are definitely my favorite summertime-only indulgence, and they are well worth the wait in all of their forms. Another recipe from Clean Eating magazine, these Avocado Salad Wraps are fantastic as a light lunch or, when paired with some bread or tortillas, a stove-free dinner on a hot day.
Ingredients:
2 T Dijon mustard
1 medium ripe avocado, diced
1 medium ripe tomato, chopped into pieces the same size as the avocado
1/4 cup cilantro
lime juice (optional)
4 big lettuce leaves (romaine works great)
Preparation:
Combine the first four ingredients in a bowl. If the wraps aren't going to be eaten right away, toss some lime juice into the bowl with the salad.
Divide the salad between the 4 lettuce leaves, wrap and enjoy! Or, if you're like me, eschew the lettuce altogether and eat the salad straight out of the bowl.
Read More

|
Clean Eating Magazine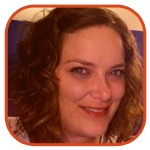 Posted by Jenny Lewis Categories: Dinner, Lunch, Side Dishes, Recipes, Summer Cooking, Cheese, Salad, Vegetables, Vegetarian,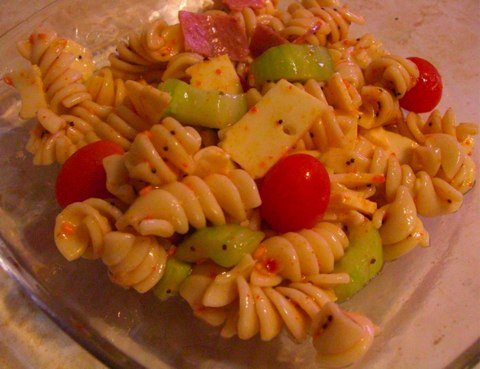 This pasta salad is one of my favorite potluck contributions. Because of the fact that the pasta has to be completely cool - at most room temperature - before assembling the salad, it's a great dish to start at night and finish the next day. Here's a recipe for a great Summer Pasta Salad:
Ingredients:
1 Lb smallish, shaped pasta (rotini, farfalle, macaroni, anything small and easily fork-able)
1/2 bottle of Italian dressing (not creamy)
4 T Salad Supreme
1 12 to 14 inch cucumber or two smaller ones, peeled and seeded
1 pint cherry or grape tomatoes, washed and halved
4 ounces Provolone cheese (this is usually 4 slices of prepackaged sliced cheese)
4 ounces salami (again, usually 4 slices of prepackaged sliced meat, but this can also be 4 ounces from a whole salami)
Click to continue reading Recipe: Summer Pasta Salad

Posted by Jenni Burns Categories: Breakfast, Summer Cooking, Fruit, Vegetarian,
One of the things I really look forward to come summer is all the wonderful fresh produce that we have available to us. During the summer I usually buy most of my produce at open market on the corner of Burlington Blvd and Hwy 20. They seem to have the best prices and the produce is fresh and local. My kids have enjoyed sitting down to a bowl full of nice juicy watermelon for breakfast at least once a week. It's so refreshing to eat just fruit for breakfast, and to be able to eat enough of it to fill you up, you can afford it now because the prices are so good. Take advantage of these opportunities now because in just a few short weeks we are going to be heading (gasp!) into the fall season! Can you believe it?! Well, I'm heading tonight to pick up some of that wonderful juicy watermelon for breakfast tomorrow.
Tip on picking a good watermelon: I was always told that a good tip is to put your ear close to the melon and knock on it. If it is hollow sounding you know that it is juicy. Here is a discussion on choosing a good watermelon. Enjoy!

Posted by Jenni Burns Categories: Summer Cooking, Cheese, Dairy, Fruit, Vegetables, Festivals,
In my searching for lemons the other day I came across something that I thought was really interesting. The Eat Local Challenge, is a 30-day challenge to eat from your local foodsheds as well as preserving September's harvest for the winter months. There is nothing better than eating fresh produce that was grown and picked this week at the farm down the road, except maybe growing it yourself! Another aspect of The Eat Local Challenge is to get the message out about the farmers in your area. You can help advertise locally by blogging about what you've enjoyed and you can add photos you've taken to the flickr Eat Local Pool.
My family and I love to visit our local Farmer's Market on Saturday to drool over all the delicious fruits, vegetables, freshly baked breads, and wonderful cheeses, as well as all the beautifully handcrafted pieces! Then we usually sit down to enjoy a crepe or two while the kids dance to the country music. It's a lot of fun, hopefully we will make it this coming weekend and will post some photos! There is something great about community. I think what I love the most about the local markets is that you can shake the hand who planted the veggies you are going to take home to prepare a delicious meal for your family. So this is just a reminder, go and support your local farmers this September, shake their hand and tell them how much you appreciate all their hard work, because without them most of us would go hungry!
Posted by Janie Franz Categories: Lunch, Recipes, Summer Cooking, Eggs, Parties,
These delicate sandwiches were inspired by a friend who made an egg salad and caviar pie for her guests. The delicate egg salad is a good foil for the tang of the caviar.
Ingredients:
4 eggs, hard-cooked, peeled
1/4 cup mayonnaise
salt and pepper to taste
1 1/2 tsp. dill, finely minced
3 tbsp. butter, softened
1 small jar of black caviar
5 tbsp. yogurt
10 slices bread
Preparation:
Slice peeled eggs into a bowl and mash with the back of a fork. Add mayo, dill, and salt and pepper. Mix until well blended.
Trim the crusts from the bread and spread one side of each slice with butter. Put 2 tbsp. egg salad on five of the buttered slices. Spread 1 tbsp. of yogurt over the egg mixture on each sandwich. Top with a half tsp. or so of caviar for each sandwich and spread carefully. Cover with the remaining buttered bread slices. Cut into triangles.
© Gear Live Media, LLC. 2007 – User-posted content, unless source is quoted, is licensed under a Creative Commons Public Domain License. Gear Live graphics, logos, designs, page headers, button icons, videos, articles, blogs, forums, scripts and other service names are the trademarks of Gear Live Inc.