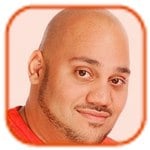 Posted by Andru Edwards Categories: Productivity, App Updates, iPad Apps, Free Apps,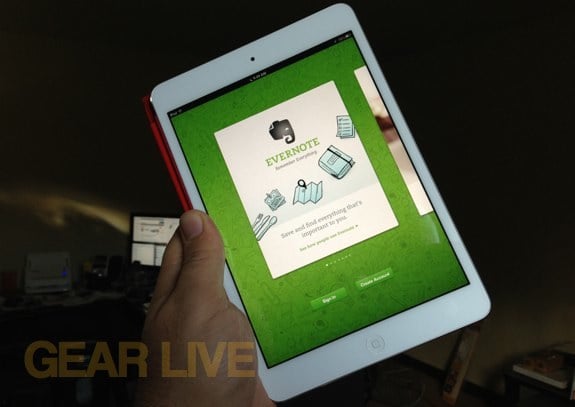 Evernote has just released a radical new design for its iOS apps, with both the iPhone and iPad versions picking up the new look. What's changed in Evernote 5.0? Well, for starters, the home screen is now full much easier to navigate, allowing you to find the notes you want very quickly, as opposed to the older saved-search method. The tabs you'll find on the home screen include All Notes, Notebooks, Tags, Places, and Premium Features. Tap on a tab and you are brought into a full screen experience.
On the whole, things are just laid out in a much more intuitive and efficient way, making Evernote 5.0 a much better experience from a productivity standpoint. Grab it now from the App Store.
Read More

| Evernote 5.0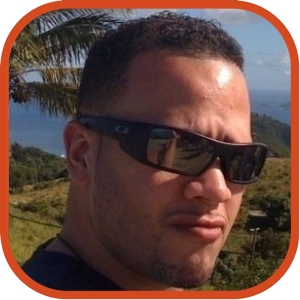 Posted by Jason Diaz Categories: Games, iPad Apps, $0.99, Free Apps,
If you like games like Words with Friends and Draw Something, then you're going to get addicted to Letterpress. The game creator is none other than Atebits; the maker of the wildly successful Tweetie app, which Twitter ended up buying. The game centers around random letters displayed in grids, with the objective of making words out of letters. Sounds simple enough, however, the game becomes increasingly more complex as your opponent has the ability steal letters, thus, altering the score. The game ends when the colors on four sides becomes solid.
Letterpress is Game Center-ready and is a universal binary app, which means it works with all iOS devices natively. The best part is that the game is free to play, but for an extra 99 cents, you can add more functionality such as the ability to keep a record of words previously used, choose new color themes, and have a bunch of games going at once. We highlight recommend it.
Read More

| Letterpress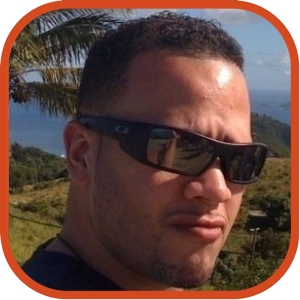 Posted by Jason Diaz Categories: Photography, App Updates, iPad Apps, New Apps, $0.99,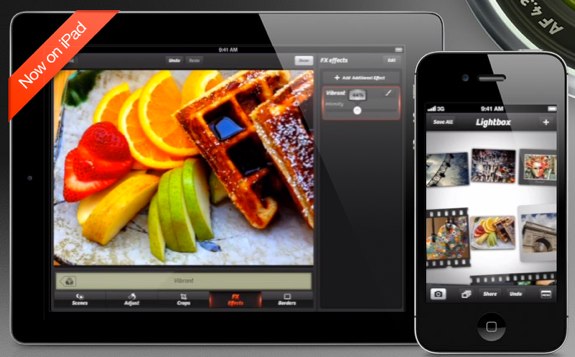 One of the most popular photo editing apps in the App Store, Camera+, has now been updated to support iOS 6 and iPhone 5, as well as a new version for the iPad. One major new feature is the addition of iCloud Sync for the Lightbox. Go grab the update and if you haven't purchased it we highly recommend it, only 99 cents for all this goodness: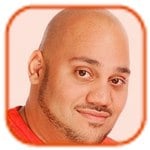 Posted by Andru Edwards Categories: Social Networking, App Updates, iPad Apps, Free Apps,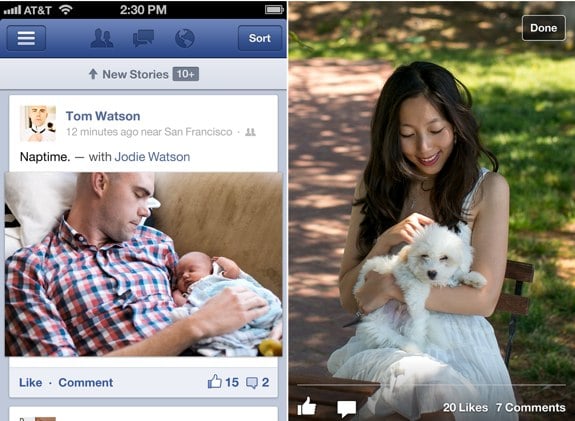 Facebook has (finally!) released its updated iOS app that's been rewritten from the ground-up in native iOS dev code. That means that instead of being HTML5 based (and super-slow,) it's now twice as fast. There are other visual tweaks, but they're relatively subdued. You can scroll faster in the News Feed, pictures are a bit larger, there are nicer animations, and Timeline profile pages can now be viewed on the iPad app. All nice, but make no mistake about it, the star here is the fantastic speed of the app. You can download Facebook 5.0 for your iPhone, iPad, and iPod touch now, for free on the App Store.
Read More

| Facebook 5.0 for iPhone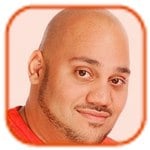 Posted by Andru Edwards Categories: Music, App Updates, iPad Apps, Free Apps,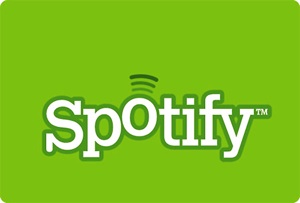 The most recent Spotify update has appeared in the App Store with iOS 6 support in tow. Typically, Apple rejects app releases that mention compatibility with beta versions of iOS until they put out to official call. Spotify is what we'd consider a high-profile app, so we thought it was interesting to mention. Aside from iOS 6 support, Spotify 0.5.4 also brings the ability for iPad users to show more channels at once, fixes Facebook login issues, and improves app stability. You can get it now. iOS 6 launches in the fall.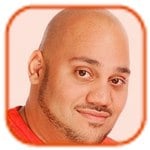 Posted by Andru Edwards Categories: Entertainment, iPad Apps, Video Apps, Free Apps,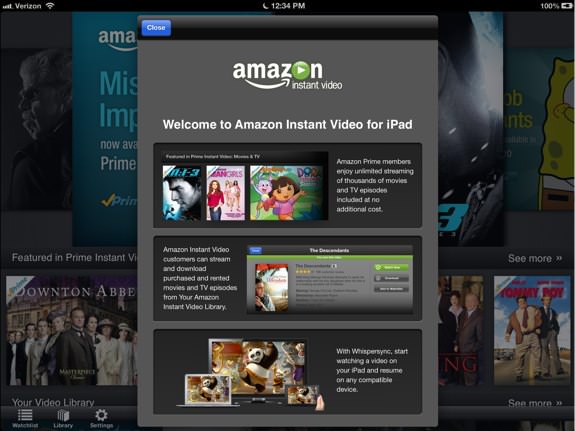 Today Amazon has released its long-awaited Instant Video iPad app on Apple's App Store. If you're an Amazon Prime member, this means that you have access to the entire Prime Instant Video catalog, but anyone can access purchased content on-demand as well. We've been playing with it this morning, and it works just as you'd expect it to, with badges indicating which pieces of content are available for free to Prime members.
One nice bonus is that the app supports AirPlay, essentially bringing Amazon Instant Video to your Apple TV. Sure, it's not built-in like Netflix or the newly-added Hulu Plus, but it still allows you to enjoy Amazon's streaming catalog on your television if you own an Apple TV. You can download the free Amazon Instant Video app now.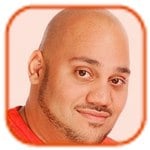 Posted by Andru Edwards Categories: Productivity, iPad Apps,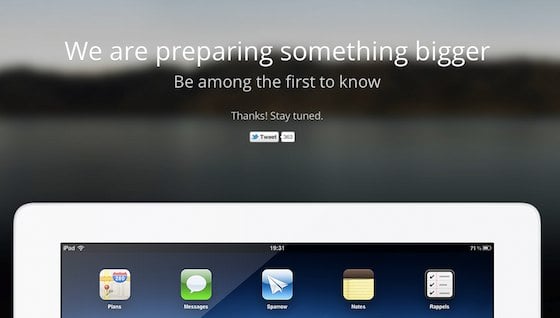 Sparrow, the ridiculously popular email app for Mac and iPhone, is set to receive the iPad treatment in the very near future. When visiting the Sparrow homepage, you're now greeted with the cryptic message "We are preparing something bigger". When you sign up for an email update, an iPad slides in to view, sporting the Sparrow app icon. A larger, native iPad version of Sparrow is something that many an iOS user has been clamoring for, and it's nice to see the company has heard those cries. Now, if they can just get push working...
Read More

| Sparrow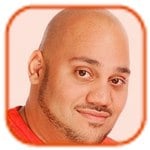 Posted by Andru Edwards Categories: Lifestyle, iPad Apps, Free Apps,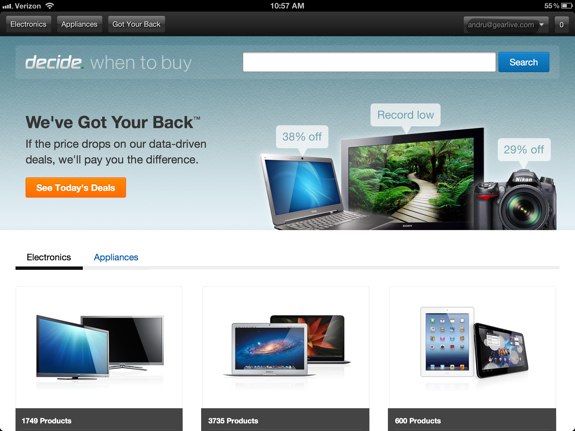 We're always on the hunt for a good deal, which is why we're fans of Decide. The site finds the best deals on electronics and appliances, and through its algorithm, predicts when you should buy things based on price trends. Recently, Decide launched its "Got Your Back" feature, which suggests 10 products at bargain basement prices. If you buy one and the price drops within the next two weeks, Decide will pay you the difference, for free.
Today the company continues its roll with the release of the Decide iPad app. It's basically everything you already love about Decide (and if you don't use them, you should,) optimized for the iPad. Yes, that includes high-resolution Retina display graphics as well. It's a beautiful app, and it's available now on the App Store for free.
I spent some time at the Decide offices earlier this week--great people over there, and we look forward to what the future holds for the company.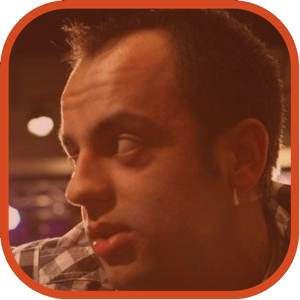 Posted by Andrey Malskiy Categories: Entertainment, iPad Apps, Reviews, Free Apps,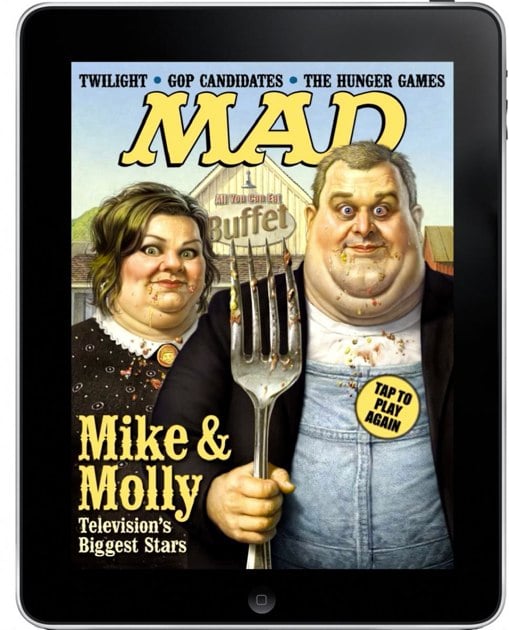 MAD Magazine is now available on an iPad near you. The iPad app will allow users to interact with the standard magazine content, as well as access to exclusive stuff specific to the app. The app is free to download, and has free teaser content from the current issue.
MAD Editor John Ficarra jokingly stated, "We're delighted to bring MAD to the iPad. We think the MAD app may be just the thing to turn the struggling iPad around and make it successful –though most experts think it may be just the thing that kills it altogether."
The MAD app will feature interactive and animated versions of all currently issues, along with a library of back issues and books. Prices of the content will range from $1.99 for back issues to $4.99 for the current issue--however, if you subscribe to the magazine, the price drops to $1.99 per issue, or $9.99 for a full year (six issues.) Aside from the actual magazine, the app will allow users to access MAD's blog "Idiotical."
Read More

| MAD Magazine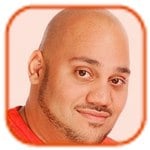 Posted by Andru Edwards Categories: Games, iPad Apps, New Apps, Videos, $0.99,
Hey, all you Angry Birds lovers out there. We know that it's been a while since a new version has dropped, and that you've probably moved on to Draw Something, but it's time for you to take a another look, because Angry Birds Space is now available on multiple platforms. Space? Yes. The confines of the gravitational pull of the Earth no longer apply here, so your birds can get their space physics on while trying to destroy evil pigs. Here are the links to grab your copy:
Hit us with your thoughts in the comments. Oh, and if you're wondering what the heck the birds are doing in space in the first place, the video above should do a fine job at explaining that one.
© Gear Live Media, LLC. 2007 – User-posted content, unless source is quoted, is licensed under a Creative Commons Public Domain License. Gear Live graphics, logos, designs, page headers, button icons, videos, articles, blogs, forums, scripts and other service names are the trademarks of Gear Live Inc.