Find Our Latest Video Reviews on YouTube!
If you want to stay on top of all of our video reviews of the latest tech, be sure to check out and subscribe to the Gear Live YouTube channel, hosted by Andru Edwards! It's free!
Wednesday September 26, 2012 8:31 pm
iPhone 5 review: This is the iPhone we've been waiting for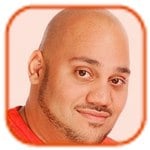 Tweet
Posted by Andru Edwards -
Categories: Apple, Cell Phones, Features, Handhelds, Product Reviews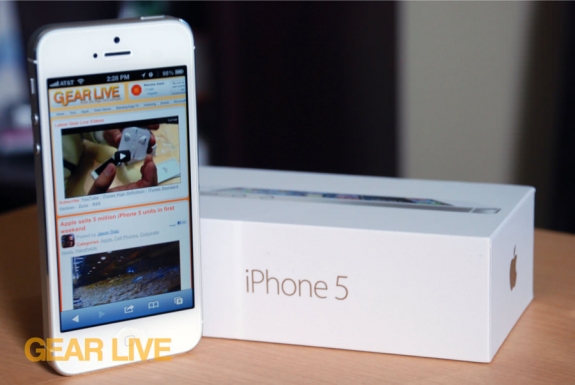 Apple unveiled the iPhone 5 to the world on September 12th, and just 9 days later, the smartphone launched. Pre-sales hit over 2 million in the first 24 hours alone, showing that there was massive demand for the newly redesigned iPhone. According to Apple, it's the best iPhone it's ever made, but does it live up to the hype? More importantly, os it worth your hard-earned cash? We've had a few days to use the iPhone 5 (as well as its built-in operating system, iOS 6,) and we're ready to break it all down in our iPhone 5 review.
iPhone 5 UNBOXING VIDEO

INITIAL IMPRESSIONS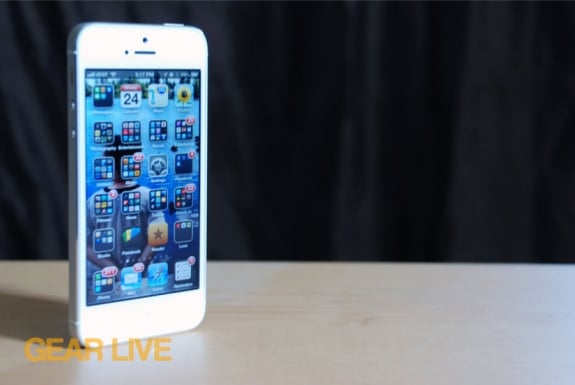 When you first look at the face of the new iPhone 5, it's easy to mistake for the iPhone 4 and 4S. That's the beauty of the iPhone line of smartphones--an Apple logo isn't required on the face of the device for the average person to recognize that it's an iPhone. Upon further inspection, however, there are many design changes, both visual and under the hood.
Starting the the outside, the phone sports a new 4-inch display, up from the 3.5-inch displays that we've seen on all iPhone models prior. It's also thinner than it's predecessors. Depending on which color you select, you now have a choice between white and silver or black and slate. The white model spots the familiar silver antenna band around the device, as well as the unibody metal back plate. The black model does away with the silver colored band altogether, and instead has a matte black antenna frame with matching anodized aluminum unibody back. The band on each is chiseled to a bezel, which makes the phone more comfortable to hold than the sharp-egded iPhone 4 and 4S design.
When you look at the bottom of the device, you find that Apple has done away with the 30-pin dock connector, and has replaced it with it's new Lightning connector, a much smaller 8-pin solution. This makes room for the headphone jack, which has been relocated to the bottom of the device as well.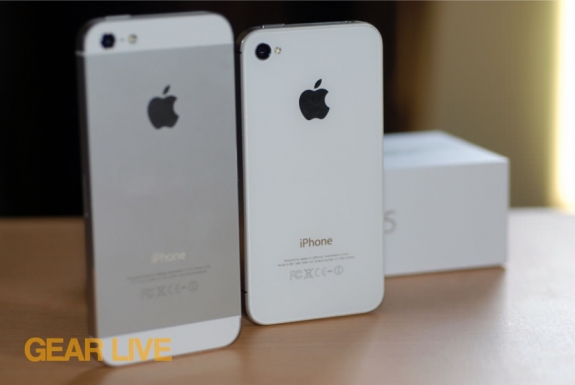 The FaceTime camera, now supporting high definition video chat and much-improved optics, has been moved above the earpiece, making it truly centered.
All of these changes by themselves may seem small (save for the new, larger display,) but in aggregate they make for a much more pleasant look and feel. The fit and finish on the iPhone 5 is unparalleled, and so far we've only addressed the external changes. On the inside, Apple has built the iPhone 5 from the ground up, and every internal component has been changed or redesigned for the new model.
One word of caution--we picked up a black & slate iPhone 5, as well as a white & silver model. When we opened the black version, we immediately saw that there was a large paint chip on the back plate. Apparently the anodized backing is susceptible to scratching. If you buy an iPhone in-store, be sure to open it up there and inspect it. We had Apple process an immediate replacement.
Gallery:
LTE
Let's talk a bit about the major hardware changes found in the iPhone 5, starting with LTE. In case you're unfamiliar, LTE (Long Term Evolution) is the new, much faster cell technology that brings broadband speeds to mobile devices. It's the true successor to 3G, regardless f what AT&T and T-Mobile try to tell you. For the first time, Apple has brought LTE to the iPhone, and it flies. Of course, you'll need to be in an area covered by LTE to take advantage of those higher speeds, and that's where you carrier comes in. Verizon Wireless definitely has the largest LTE network in the US, with AT&T doing its best to catch-up (it recently launched 10 new LTE markets prior to the iPhone 5 launch.) Sprint also carries the iPhone 5, but has yet to deploy LTE in a meaningful way in more than a few cities.
That said, we tested the iPhone 5 in Chicago, Illinois and in Seattle, Washington, two places where AT&T LTE is live, and the speed is just incredible.
Since LTE isn't deployed nationwide yet, it may help in your decision-making to know that when you leave an LTE area, you fall back to 3G. With AT&T this means you fall back to its still-speedy HSPA+ network, while with Verizon you are bumped down to the much slower EVDO.
DISPLAY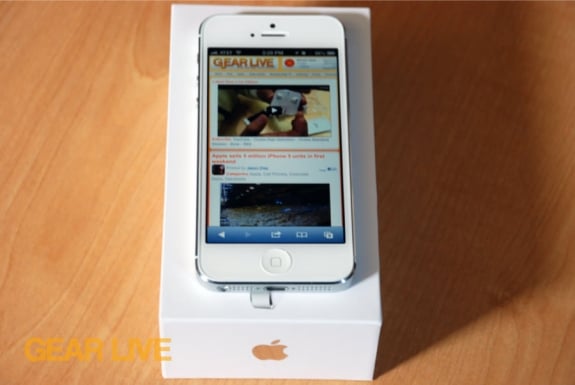 The iPhone 5 has the best-looking display we've ever seen on a smartphone, period. The new 4-inch 1136x640 Retina display is just gorgeous, and Apple has taken great care to ensure that the increased size isn't a detriment to user experience and hand comfort.
What do we mean by that? Well, there are plenty of larger phones out there now. With the proliferation of LTE and previous chips being so large, manufacturers were forced to build larger phones that could house both the LTE chip and a battery big enough to last through the day. End result: bigger devices with larger screens. The problem with many of them, though, is that they are so big that they've gotten uncomfortable.
Apple has minimized this issue by lengthening the iPhone 5 to 1336 pixels in height, up from the previous 960 pixels, and keeping the width at the same 640 pixels. The result is a larger 4-inch display that is no wider than the 3.5-inch display that came before it. That means that holding the iPhone 5 in one hand and operating it is pretty much the same as its always been, and that is fantastic news. That also means that the portrait keyboard remains the same, and there's no need to re-train yourself on how to use it accurately (in fact, I'm typing up this review using iA Writer on the iPhone 5--so far, so good!)
Gallery:
The larger display allows for more visual data to he seen at once. More emails, more of an iMessage or text message conversation, more of your documents, more rows of apps, and more of your video content without the need for letterboxing, thanks to the new 16:9 aspect ratio. It may not sound like much, but it's a stark improvement that actually took a couple of hours to get used to.
Downsides? All existing apps will need to be updated to fit the larger display. Until they are, they'll be centered between the top and bottom of the display and letterboxed. It's not horrible, but it's definitely an annoyance, as it moves things like navigation, menu buttons, the keyboard, and the status bar from their typical positions on the screen. Apple has already updated all of its first-party apps (with the exception of the discontinued Texas Hold 'Em and MobileMe iDisk apps, for obvious reasons,) so if those are what you live in, you are good to go. Developers are rushing to update their apps to support the iPhone 5 display, with new ones hitting the App Store daily.
All-in-all, the iPhone 5 display is a big step up from previous models, where things started feeling a little cramped after the release of the iPhone 4. Apple has given us something that is bigger as better, rather than bigger and worse. You can still operate the iPhone with one hand, and you can still fit it comfortably into your pocket. Exactly what you'd expect from a mobile device that you use on the go.
A6 PROCESSOR
There's no need to get into a bunch of technical jargon here, so we'll just touch on the A6 SoC (silicon on a chip) briefly. It's fast. You get twice the performance that you were getting on the iPhone 4S. Games and graphics are fast. Loading apps is fast. Multitasking from app to app is fast. Launching the camera and snapping photos is ridiculously speedy when compared to previous iPhone models. Paired with the faster LTE data that we talked about earlier, the iPhone 5 blows away every other smartphone that we've tested to date in terms of speed.
Gallery:
BATTERY LIFE
When Apple announced the iPhone 5, it was sure to mention that all of these new features do not come at the expense of battery life. This is why Apple took forever to put out an LTE iPhone--the battery life would have been abysmal. We are happy to report that we were able to squeeze out 14 hours of regular usage on a single full charge. Granted, many of these hours the iPhone 5 sat idle while we slept, but that is real-world usage rather than a random benchmark. With the iPhone 4S, we'd have to hit up a charger after about 8 hours, otherwise battery anxiety would set in.
LIGHTNING CONNECTOR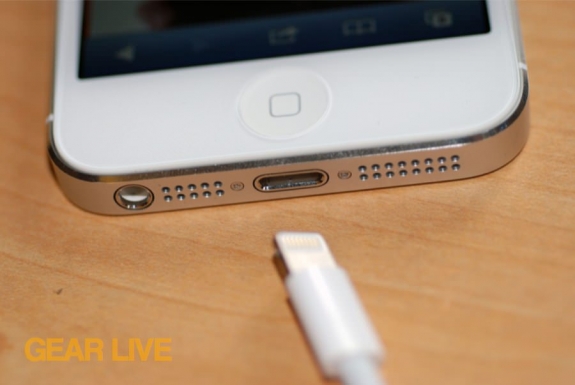 For the first time since it's debut, Apple has done away with the 30-pin dock connector, a mainstay in the world of iOS devices since 2007, and in the iPod half a decade earlier than that. It's replacement? The Lightning connector. We can almost hear the collective groans of the masses, but, really, it was time for the 30-pin connector to fade into the sunset. We just wish that Lightning had a bit more juice behind it.
The positives are many: the Lightning port is smaller. Much smaller. In fact, it's close to the size of the typical micro USB port, and that's a welcome change. It can also be connected in either orientation, unlike the 30-pin connector and unlike micro USB, both of which can only be plugged in one way. It feels more solid and less fragile.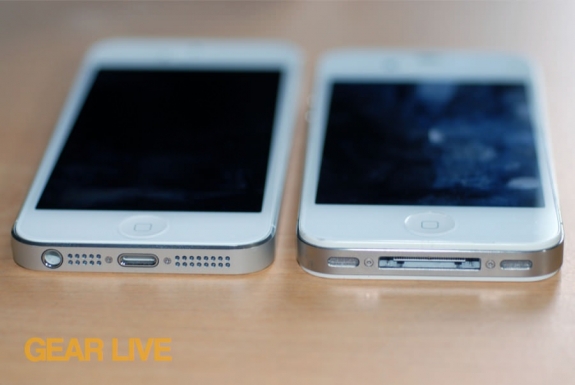 What's wrong with Lightning? Well, while we don't necessarily begrudge Apple for the change, many will complain about the lack of compatibility with iOS accessories. Chargers, speaker docks, extra cables, and anything else that fit into the 30-pin Dock Connector no longer works with the iPhone 5, unless you buy a $29 adapter. That's our problem. That adapter shouldn't cost more than $9, so the price really does feel like Apple is just trying to capitalize on its users for further profit.
Also, what's up with the name? Lightning implies speed, just as Thunderbolt does, so why doesn't the Lightning connector on the iPhone 5 support USB 3.0? The new MacBooks have it built in, and we are sure that the next iMac and the upcoming 13-inch MacBook Pro with Retina display will undoubtedly support USB 3.0 as well. We are left scratching our heads as to why the faster speeds aren't supported out of the gate. Maybe next year?
CAMERAS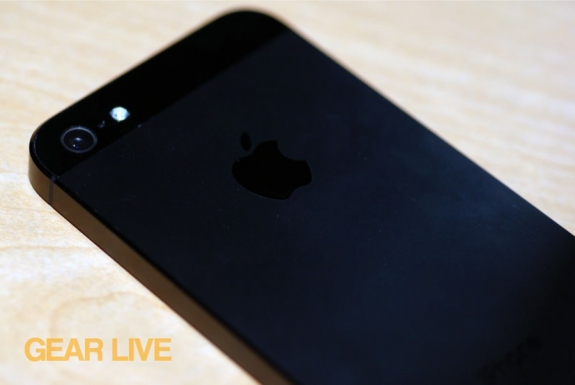 The iSight camera on the iPhone 5 is very similar to what you'd find on the iPhone 4S when all is said and done. It's been made thinner to fit in the new, slimmer enclosure, and the lens cover is now made of crystal sapphire, which greatly increases durability and ups the scratch-proof factor. In our testing we did find that low light pictures are improved, thanks to the backside-illuminated sensor, and you have a tiny bit of a wider angle with the f/2.4 lens. Unexpectedly, Apple also redesigned the camera app, since there is extra space in there due to the larger display. The software shutter button is much easier to press, and the iPhone 5 takes images quickly and efficiently--much faster than even the 4S before it. You can also use the volume up button to snap images as well.
What we are even more excited about is the fact that the iPhone has picked up a much better FaceTime camera, the first update to the front camera since it was introduced on the iPhone 4. It's now a FaceTime HD camera, allowing for 720p video chats and video recording. Even better, the still images are greatly improved and no longer have that horrible grainy look that front camera images on the iPhone 4 and 4S exhibited.
Apple has added a new Panorama mode to the camera in iOS 6, which we found to be the easiest implementation of the feature we've seen on any smartphone or within any app. The camera will guide you along your scene, and directs you on how to keep things level and in line to ensure you get a shot free of artifacts.
iOS 6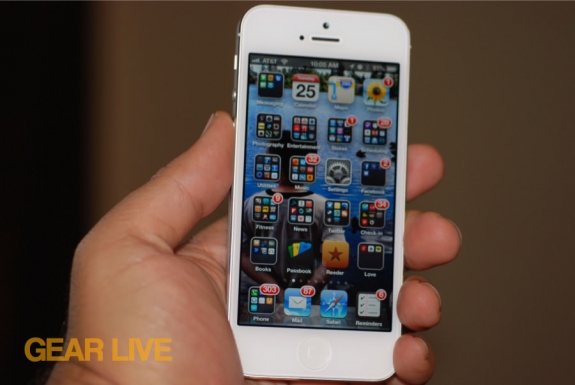 As with every new iPhone release, the iPhone 5 ships pre-loaded with Apple's latest version of iOS. This time, it's iOS 6, a highly-refined version of Apple's mobile operating system. Refined in many ways, perfecting a lot of the little things. One thing that isn't perfect, though, is Maps. Apple has replaced Google Maps with its own in-house solution that has been the bane of many an iOS 6 user. Don't get me wrong--the maps look great, and the new turn-by-turn direction functionality is nice. It's just that it's definitely taken us on the more scenic route a few times rather than getting us directly to our destination in the most time efficient way possible. Apple has an uphill battle ahead of it to make improvements to its map data, but it's an essential change that had to be made.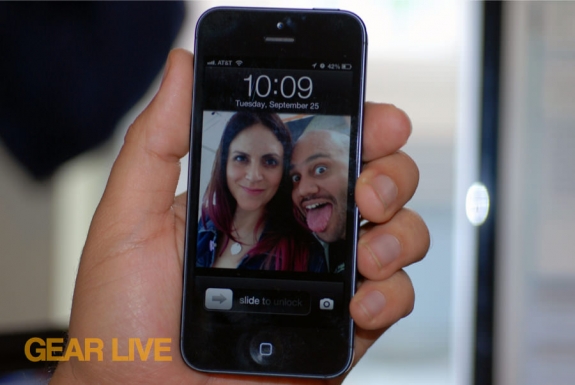 Apple Maps also lacks common features that iPhone users have been used to for years, like Street View and transit directions. Thankfully, it will link you to transit apps in the App Store (but right now, there are none,) and it's a shame that Google Maps has yet to hit Apple's popular software store.
Another major iOS 6 feature is Passbook, and it also suffers from feeling half-baked. There aren't many apps yet that support Passbook, which is odd because of how much Apple was touting this new feature as an iOS cornerstone. You'd think they'd make sure that there were at least 25 major players ready when iOS 6 launched. On your initial launch, you get directed to the App Store to find Passbook apps, but once you add one, you can never get back to this App Store section from Passbook. That just doesn't make any sense. We tried out Passbook with our United Airlines boarding pass, and it didn't work as advertised. The pass worked and we were able to get through security and board the plane at O'Hare, but the digital ticket never updated me with gate information like Apple's demo proudly showed off. We also tried it with Target mobile coupons, which worked as expected. We're hoping that many more companies and services jump on the Passbook bandwagon.
Gallery:
Passbook is similarly incomplete. This is Apple dipping its toes into the virtual wallet space, providing the ability for companies to write custom apps that will slot in here and provide access to things like movie tickets and value cards. But, as few major players have pledged to deploy their services here, this serves as a framework for something that will be cool rather than something that actually is right now. We're expecting good things.
The new Shared Photo Streams feature, however, is a welcome addition. Here you can select a few pictures from your roll, or indeed a new picture you just snapped, and share it with one or more friends -- or post it in the public for all to see. New photos added to the stream popped up within about 30 seconds and, while it isn't quite as seamless and fun as Google+ Events, it's a nice way to share photos with friends.
In general, iOS 6 has seen some nice nips and tucks where it needed it. iCloud integration is tighter, Safari is better and the overall experience is more polished. But, it isn't a major step forward in any regard. Suffice to say, conservative iPhone users won't have to worry about anyone moving their cheese, but if you didn't like iOS before, you still won't today.
FINAL THOUGHTS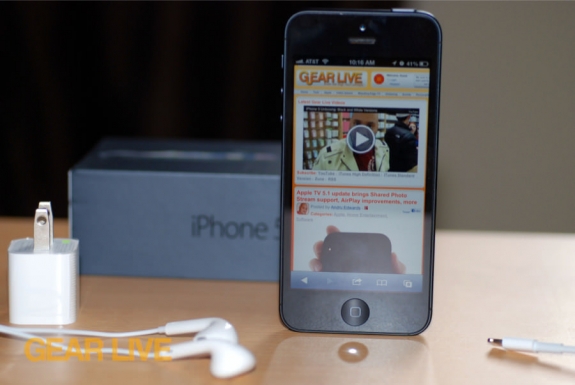 Apple says that the iPhone 5 is the best iPhone it's ever released. They claim that it's two times faster than last years iPhone 4S. They say it's the most beautiful device that the company has ever created. You know what? They're right. After using the iPhone 5, there is no denying that it's the most significant iPhone update in the history of the product line. Apple rebuilt the iPhone from the ground up, and the end result is a fast and snappy smartphone with a beautiful display that is still easy to operate with one hand and just as pocketable.
If you are in the market for a new smartphone, do yourself a favor and check out the iPhone 5. If you're an Android or Windows Phone user, you'll might come away impressed by how a device so thin and light can also be so powerful and responsive. If you're an iPhone user, the iPhone 5 is simply the best iPhone you'll have used to date. Not by a little bit, but by leaps and bounds.
Related Tags:
a6, a6 processor, adslice, apple, apple iphone, apple iphone 5, apple maps, att, black and slate, facetime, facetime hd, icloud, ios, ios 6, iphone, iphone 5, iphone 5 camera, iphone 5 review, iphone 5s review, lightning, lightning connector, lte, passbook, review, reviews, shared photo streams, sidefeatured, smartphones, sprint, verizon, videos, white and silver, youtube
© Gear Live Inc. – User-posted content, unless source is quoted, is licensed under a Creative Commons Public Domain License. Gear Live graphics, logos, designs, page headers, button icons, videos, articles, blogs, forums, scripts and other service names are the trademarks of Gear Live Inc.