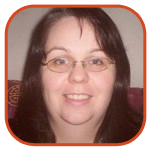 Posted by Colleen McKie Categories: Celebrities,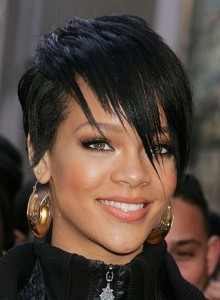 Rihanna is served
Rihanna has been subpoenaed to testify against Chris Brown in his June 22nd trial. For a while it was thought that Rihanna would refuse to testify against Brown. But now that she has been seen out and about snuggling with Canadian rapper and actor Aubrey "Drake" Graham I have a feeling that she's a lot more open to testifying.

Paris Hilton takes the cheesy way out
Paris Hilton has broken up with boyfriend Doug Reinhardt. Or rather, Hilton's publicist has. The heiress decided to take the tacky road and reportedly had her publicist end the relationship. And then released an official statement to People magazine.
Hey, at least she didn't dump him on Twitter.

Michael Lohan okay with Daughter's reconciliation for now
Seems like Lilo's dad Michael is okay with her getting back with Sam Ronson.
Bet that's a load off her mind.

Pete Doherty arrested
Sometime musician and constant coke head Pete Doherty has been arrested for DUI and drug possession in Gloucester, England. This follows last Friday's arrest in Switzerland for doing heroin on a plane.
You going for some kind of record, Pete? Why not try staying sober for more than a day?

Alba without a spine
Jessica Alba was caught on camera plastering shark posters all over Oklahmoa city as part of a protest of some kind of protest. Shortly after the actress issued a formal apology.
"I got involved in something I should have had no part of. I realize that I should have used better judgment, and I regret not thinking things through before I made a spontaneous and ill-advised decision to let myself get involved with the people behind this campaign."
Way to protest, Jessica. For a second there I thought you were more than an actress whose main concern his how much money she makes. My bad.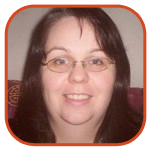 Posted by Colleen McKie Categories: Celebrities,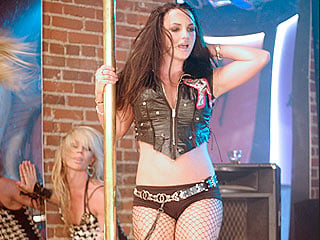 Brit should just cover up
The photographer responsible for those topless Britney Spear's pics says that the singer knew about the pics and actually requested them. In a bid to help the star continue to clean up her crazy act, Daddy Dearest was trying to block the topless photos from hitting the Internet.
So it's okay to let your daughter star as a topless stripper in her video as long as her boobies don't show? That's what, Rule #2 of how to be a great Dad?

Melody staying catty
Looks like at least one Pussycat Dolls refuses to keep quiet about trouble within the group and is quite happy to keep her claws out.
Melody Thornton is once again bitching about fellow Doll Nicole saying, "Nicole's always had extra things going on as opposed to the rest of us, but we have aspirations as well. It's definitely a huge misconception that we are just chilling and happy to just be members of the group."
So, does this mean that the band could be splitting up? Noppers. Thorton also said, "I don't think we're breaking up any time soon. As long as this thing is moving, we're all still here."
In other words? As long as people are dumb enough to buy their crappy music, they'll be around.

Rocker in need of a walker
Prince is in need of a double hip replacement, but refuses due to religious beliefs.
Too bad your religion didn't forbid wearing 9 inch heels, eh Prince? Then maybe you wouldn't need the surgery.

Adam Lambert announces he's gay
Well, duh.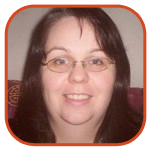 Posted by Colleen McKie Categories: Celebrities,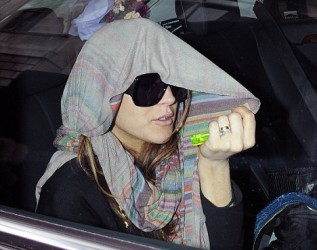 Lilo getting married?
Well, according to rumors (and Lindsay Lohan's twitter account) Lilo has gotten back together with ex girlfriend Sam. The duo reportedly came into Heathrow together and Lindsay was flaunting some serious bling on her wedding finger.
Ah, it's so nice to see all of her crazy stalking has paid off.
Impatient Pete
Pete Doherty was arrested in Geneva for heroine consumption during a plane trip from London. It seems Pete shot up during the hour and forty minute flight.
You couldn't have waited until you landed Pete? I've held pee in longer than that.
Nothin' but a misstep
Poison's Bret Michaels had a bit of a mishap at the Tony Awards. After performing Nothin' But a Good Time with the cast of Rock of Ages, Michaels walked offstage only to be taken out by a piece of scenery.
Seems he missed his mark. And judging by his hair and facelift, in more ways than one.
We're tortured, why shouldn't they be?
Looks like viewers aren't the only ones being tortured by I'm a Celebrity …Get Me Out of Here!. If Spencer Pratt is to be believed, he and wife Heidi were thrown into some kind of torture chamber where they had to spend 24 hours with only water, beans, rice and each other.
Spencer emerged angry and Heidi came out throwing her guts up with a suspected stomach ulcer.
24 hours alone with only your thoughts and Spencer will do that.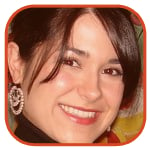 Posted by Katie Gutierrez Painter Categories: Celebrities, Editorials, Fashion,
Alright, granted—I'm from a place that gets hotter than much of the country. Hundred-degree summer days are the norm. Sweating while walking from the car to the grocery store is expected. It's still effing scorching at eight in the evening. So maybe, just maybe, that's why I'm so annoyed by the summer scarf trend. But maybe not. It just doesn't make sense. It's hot, people! Why are you wrapping extra fabric around your neck? Why not just mummify yourself while you're at it? Wrap bandages around your face. Let your eyes peer out at the hot summer days. At all the people walking around with blissfully bare necks.
I'm calling it now: Opera gloves are the next summer It item. Maybe they'll be refashioned from these inexplicable scarves.
What do you think? Do you buy the scarf-as-necklace trend? If so, tell the truth—are you dying under there??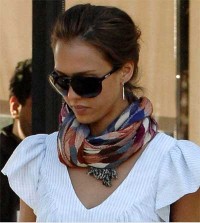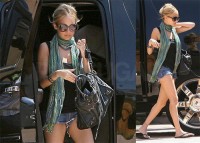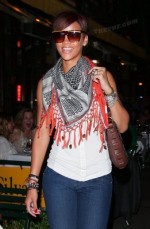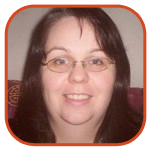 Posted by Colleen McKie Categories: Celebrities,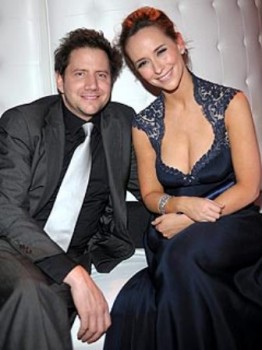 Hewitt predicts own engagement
While Jennifer Love Hewitt is denying that she and boyfriend Jamie Kennedy are engaged, she has given him an ultimatum of sorts.
"By this time next year, if we're not planning something, then there's a situation."
Nothing says love like a forced engagement, Jennifer. .

Classy Katy
Katy Perry tells Seventeen magazine that she's not the kind of girl to hook up. She refused to kiss boyfriend Travis McCoy until they went out on a date.
Only in Hollywood would not being a tramp make the news.

Hudson's sprint
At the recent Veuve Clicquot's Manhattan Polo Classic in New York horses weren't the only thing running. When Kate Hudson caught wind that Madonna was on her way, she took off at high speed. Kate is rumored to be dating Madonna's rumored ex A-rod, so I guess she didn't want to risk a confrontation with the Material Girl.
And here I thought she was an actress, not an 8th grader.

I'm not a scorned wife…but……
Eddie Cibrian's wife, Brandi Glanville is claiming that LeAnn Rimes is "stalking" Eddie. Seems the country singer refuses to face the fact that her affair with Cibrian is over.
In an interview with US weekly the ticked of wife says that "LeAnn is so desperate for fame she has left her self-respect in the gutter and doesn't care who she hurts to get what she wants. She's hurting my family and messing with the wrong mom."
Interesting. And here I thought she was messing with your husband.

Once a quitter, always a quitter
So it seems that the third time is, indeed, a charm. Or, in the case of the other contestants on I'm a Celebrity … Get Me Out of Here! a relief.
The public pukefest known as Speidi has once again quit the reality TV show, but this time for good. In fact the show has already added another Baldwin to the cast, with Daniel replacing Spencer Pratt. Heidi Montag's replacement has not been announced yet, but unless they get the bag lady from down the street that pees on herself, the new contestant won't be as nauseating or annoying as Heidi.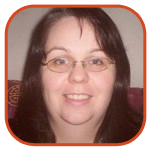 Posted by Colleen McKie Categories: Celebrities,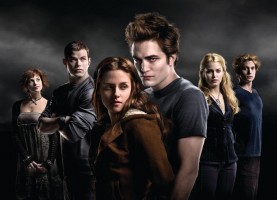 At least there will be barf bags
With Twilight kicking ass at the recent MTV movie awards and a full on convention dedicated to all things Twilight set for later this summer, what else is there left for this mega movie to do?
Hey, I know! How about a cruise!!
Yeppers, there is a Twilight cruise set to sail in 2010. The ship will leave from Washington and suck through Alaska and British Columbia. Yeah, when I think cheesy romantic vampire movie I totally think of Alaska and BC.
You can even bump elbow with stars of the film. Ashley Greene and Kellan Lutz will be on the cruise.
Yeah, I don't know who they are either.

Glamorous outing
So it seems that American Idol runner up, Adam Lambert, is planning on coming out in the next issue of Rolling Stone.
What? He's gay? I supposed Clay Aiken is, too.

Mel Gibson flaps his sugar lips
Ticked off at all the gossip about him, Mel Gibson laid down the law at his church. He recently went on a rant, telling members of the congregation, including a couple of priest and a bishop that if the gossip about his marriage breaking up and him knocking up some Russian while still technically married doesn't stop, he'll shut the church down.
Really, Mel? You'll shut the church down? I thought you only had the power to make extremely long period movies.

Heathers II
With the flurry of 80s movie remakes and sequels, it should come as no surprise that the cult classic Heathers is slated to get its own sequel, complete with Christian Slater.
Winona Ryder, who co-stared in the original with Slater, recently said "Christian [Slater] has agreed to come back as a kind of Obi-Wan character."
And what's your role Winona? Lipstick stealing soccer Mom?

And baby make 4. Or possibly 5
Nicole Kidman and hubby Keith Urban are all set to adopt a Vietnamese child. Seems they are anxious to give ten month old Sunday Rose a sibling.
Nicole has two adopted children with ex Tom Cruise and she is reported to be pregnant again.
If you want to catch up to Madonna and Angelina, Nicole, better get a move on it.
At least Paris Hilton only collects puppies.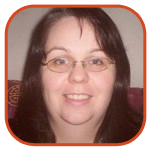 Posted by Colleen McKie Categories: Celebrities,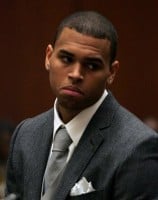 Brown nosing
As his court date approaches, Chris Brown has decided to concentrate on his music. Robert Allen, a friend of Brown's says, "Chris is focused. He knows how to deal with whatever is going on and is willing to do what he has to do to please his fans. He wants this to be his masterpiece. He's predicting this will be his biggest album."
Hey, Chris, if you want to please your fans how about owning up to the smack down you put on Rihanna?

Party like a thirteen year old
It seems that Angel and Kings, Pete Wentz's New York City bar has been shut down for serving alcohol to minors. And it seems that it's the third violation for the bar.
Might want to check what Petey is putting in that baby bottle, Ashley.

Drunk Petty
Actress Lori Petty has been arrested for DUI after hitting a skateboarder with her car while drunk.
Hey, at least she wasn't driving a tank.

I'm a douchebag…get me out of here!
Two days into filming on the reality TV show, I'm a Celebrity ….Get me Out of Here! Heidi Montag and Spencer Pratt have quit the show, not once but twice.
Seems they didn't know what they were signing up for. Really? It's being filmed in the jungles of Costa Rica. What in the heck were they expecting? If we're lucky these two will drown. Well, maybe Spencer will. Heidi's boobs will keep her afloat.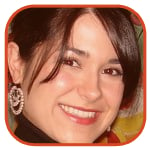 Posted by Katie Gutierrez Painter Categories: Celebrities, Editorials, Entertainment, Fashion,
So… Is MTV really still doing that movie awards show? I didn't watch it. (Although maybe I would have had I been home, but that's neither here nor there.) However, that doesn't keep me from passing gleeful judgment on the show's attendees! Without further ado…
BEST
I've said it before. I think few women in Hollywood have better natural style than Sienna Miller. Take her green Swarovsky-encrusted Twenty8Twelve—the label she designs with her sister—backless minidress. With the beachy waves and low-key makeup—along with the faaabulous Nicholas Kirkwood sandals—the whole look is fun, glamorous, and effortless.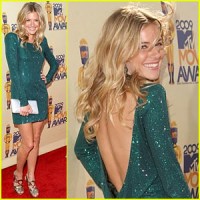 I was pleasantly surprised by Ashley Tisdale, who managed to look both chic and edgy in an Elise Overland leather sheath dress, embellished belt, and sky-high gladiator stilettos. I thought the dusky lavender looked great with her skin and chestnut hair, though I did think the extensions were a little much.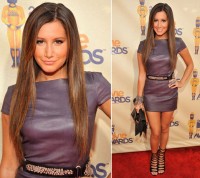 A bit of an odd choice for the MTV Movie Awards, I'll admit, but I dug Malin Ackerman's flawless white suit and sexy bustier top. Kind of refreshing amid a sea of overexposed starlets, no?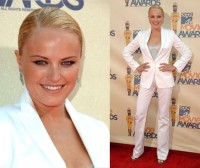 WTF?
Okay, I hated—hated, hated—Megan Fox's hair. The severely slicked back front with the attempt at loose, retro waves in back? Reminiscent of scary man-mullets at hick town bars. I also didn't dig her D&G metallic jacquard dress, which really reminded me of hotel drapery and/or bedspreads.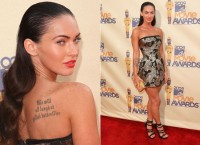 It pains me to do this, because I was originally all for the newly blonde Leighteon Meester's more daring Emilio de la Morena dress. Then I saw the back. Do my eyes lie? Can you actually entirely see through the rear of her dress? Now I'm no prude, but no matter how awesome your derrière is, showing it in public just seems tacky. Thoughts?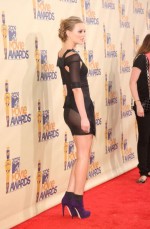 Ohh, Lauren Conrad. LC, if I may. Why? Nothing flattered about this Moschino rose-printed bubble hem dress, accessorized with ratty, bleachy extensions and deep red lips. The whole look was the opposite of youthful summer style. Enough said, I think.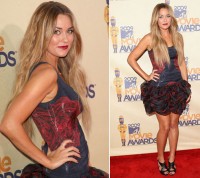 So, do tell. Agree, disagree with my choices? Who else should be on this list?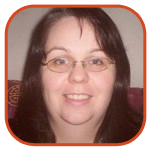 Posted by Colleen McKie Categories: Celebrities,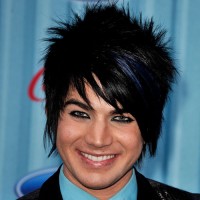 Glambert being coy
Even though Idol is over for another season and Adam Lambert didn't walk away with the crown, seems people are still curious about whether or not he wears one.
And his answer to all those questions about his sexuality?
"Calm down… keep speculating."
Eyeliner, eye shadow, nail polish and more hair product than Ryan Seacrest? Don't think a lot of speculation is needed, folks.

Susan Boyle's potty mouth
Seems that Britain's Got Talent's Susan Boyle let loose not once but twice in the same day, cursing her badly coifed head off. Could the pressure be getting to her? Or maybe she's just got a potty mouth. Either way, her outbursts – one involving passing police calming her down and the other as a result of praise another contestant received – won't endear her to anyone.
Afterall, it takes years to achieve enough of a diva status to pull off bad public behavior – just ask Whitney Houston.

Brown in doo-doo again
Chris Brown is once again at the center of an assault case. A photog is claiming that Chris' bodyguards gave him a little smack down when he took a pic of the singer playing basketball at the gym. Chris himself was not directly involved.
I guess it was a male photographer.

Amy Winehouse is just lonely
According to Mama Winehouse, her daughter is a lush because she's lonely and bored in St. Lucia's.
"Two of her closest friends are going over to try to calm her down a bit. I think it will make a big difference because in the past few weeks she's been bored. "
Bored? In St. Lucia's? Sun and sand, yeah I'd totally be bored too.
Hmm…. maybe if she sobered up she could do something totally fun, like show up for gigs. That would take care of an hour or two of her day.

So I guess she's into boys this week
Okay, this is tacky, even by her standards. Reality star Tila Tequila has tweeted that the reason she's been so sick lately is that she's knocked up.
"I'm gonna tell y'all something REAL FAST, then delete it ok?… Since nobody is awake… reason why I've been feeling sick on and off lately is because yes, I am pregnant!"
Uh huh. Then the class act proceeded to threaten her baby daddy by outing him if he didn't "step up".
"You should at least step up to the plate or I'm gonna have to put you on blast in the media…and I'M SURE that's not what you want do you?."
And just in case we didn't realize it, the sperm donor is a Hollywood big wig.
"I'm talking about someone very very very very very f-ing famous! He is like A-list famous and you follow him on Twitter too."
Honey, I don't even follow YOU on Twitter.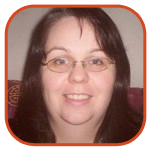 Posted by Colleen McKie Categories: Celebrities,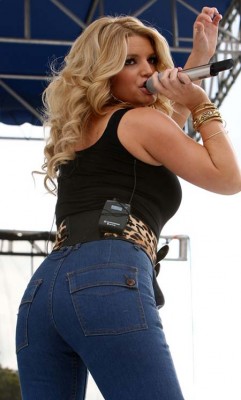 Aren't her 15 minutes up, yet?
In a desperate bid to hold on to even a smidgen of her celebrity, Jessica Simpson is slated to appear in another reality TV show. Apparently the new show, Price of Beauty, will have Jess and a friend travelling the country looking for beautiful people and what makes them beautiful.
The idea for the show came form Jess' recent weight struggle. Just one more travesty caused by high-waisted Mom jeans.

Lindsay's dad still a douche bag
Michael Lohan was arrested earlier this month for threatening to kill fiancée Erin Muller and then himself when she tried to put an end to the relationship.
Guys like this tick me off. Why not do us females a favor and forget about the first part of the threat? We really don't care about the second part all that much.

White wedding
Meg White from the White Strips married boyfriend Jackson Smith. Also married were Dead Weather and the Raconteur bassist Jack Lawrence. The weddings took place at the Nashville home of Jack White, Meg's band mate and ex husband. Benjamin "Swank" Smith officiated.
What was there no minister named Jack available?

Kanye is SMRT
Despite the fact that he has "written" a book, Kanye West doesn't believe in reading.
"I am not a fan of books. I would never want a book's autograph. I am a proud non-reader of books. I like to get information from doing stuff like actually talking to people and living real life."
Just for the record Kanye? Books don't give autographs, authors do.
© Gear Live Media, LLC. 2007 – User-posted content, unless source is quoted, is licensed under a Creative Commons Public Domain License. Gear Live graphics, logos, designs, page headers, button icons, videos, articles, blogs, forums, scripts and other service names are the trademarks of Gear Live Inc.