Friday February 8, 2008 11:02 am
'Lipstick Jungle' Premiere

Tweet
Posted by Jacci Lewis Categories: Drama, Prime Time, ABC, Cable, HBO, NBC, Editorial,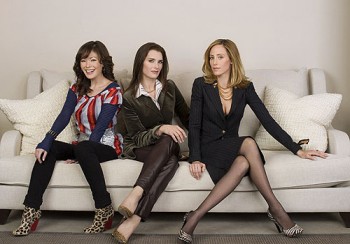 Remember those perfume ads back in the 1980's for Parfums decoeur 'Designer Imposters'? They went something like "if you like Giorgio you'll love Primo!, if you like Opium you'll love Ninja" or the more recent enticement, "If you like Juicy Couture you'll love Yeah Baby." It's human to want a whiff of luxury at a bargain price - too bad the end result usually stinks.
NBC's Lipstick Jungle reminds me of those 'Designer Imposters'. The show, starring Brooke Shields, Kim Raver and Lindsay Price, premiered last night.
If you're confused and could have sworn Lipstick Jungle stars Lucy Liu and two other chicks, you're only half wrong. That show is on ABC and is called Cashmere Mafia.
Lipstick Jungle has the right pedigree. It's based on a novel by Sex and the City author Candace Bushnell and its parallels to that hit HBO series are unmistakable until you scratch the surface.
Lipstick's plot centers around three powerful Manhattan women who tread in dangerous waters of sex, lies and betrayal. At least, I think that's what the plot is supposed to be. What I saw seemed more like a Lifetime movie for women than a glossy Primetime sex drama.
Suddenly Susan star Brooke Shields plays Wendy Healy, a movie executive for fictional Parador Pictures. I like Brooke Shields, so this is really nothing personal, but I questioned through the entire show why she was cast in this role. Her movie executive is more likely to hug it out with a wayward director than to fire him. She admits she is a "hugger" and that she doesn't have to be nasty to seem in charge. The show would have been a bit more interesting if she could have been a bit more snarky. Sure you catch more flies with honey, but does that make for interesting TV?
Wendy's character struggles to balance motherhood, marriage, a high-profile job and time to scarf shop with her two best girlfriends. No wonder her character looks so bedraggled at times. I get the feeling the lighting, hair and makeup budget on NBC's Lipstick Jungle has not kept up with New York City inflation.
Kim Raver, who has had recurring roles on 24, The Nine and Third Watch, plays Nico Reilly. Nico is the somewhat brittle editor-in-chief of the fashion magazine, "Bonfire". Her character struggles with a boring marriage to a bookish college professor and a boss, played effectively by Julian Sands, who tells her things like he is afraid to promote her because she is of the age where her biological clock might lead her to… gasp… have a child!
Nico gives in to the not-so seductive charms of 25-year old Kirby (Robert Buckley) who entices her at a media event by writing his phone number on her thigh with a Sharpie. Yes, a Sharpie. Apparently that is all it takes to convince her to throw her marriage into the bonfire and take up with a frat boy. We learn in next week's promo that Kirby also works for her as a photographer. Still not interesting.
Then there is Victory Ford, a fashion designer played by Lindsay Price. Price is one of those actresses who you've probably seen in countless shows but can't remember her name. She's been on Pepper Dennis, Coupling and Beverly Hills 90210.
Victory is a once-hot fashion designer whose latest collection sent her to the out list. Her character tries to be feisty but also admits she is a "cryer". Her storyline focuses on a budding relationship with oddball billionaire Joe Bennett, played by 80's heartthrob Andrew McCarthy Perhaps it is my lingering crush from McCarthy's Pretty in Pink days but I'd say he was the best thing about this otherwise forgettable first episode. What isn't believable is why his character has taken an interest in the shallow, insipid Victory.
After years of watching and loving Sex and the City, I can't help but compare the two. Even in their ridiculously expensive clothes, shoes and apartments Carrie, Miranda, Charlotte and Samantha seemed real. Their flaws were like ours, their struggles in relationships familiar and their bond as friends undeniable.
Lipstick Jungle is all surface. For a female friendship drama, these characters don't seem like they've known each other long and at times. They seem more like suburban ladies who lunch than sexually liberated creatures in a big, flashy city. Manhattan, such an important character in Sex and the City feels like an afterthought. The ladies of Lipstick Jungle could be in any mid-sized city in America.
This concept of powerful women who forge strong bonds of friendship is still a sellable one, but there is something outdated about Lipstick Jungle's version. Like those Designer Imposters perfumes, it only seems like the real thing until the smell starts to wear off. I fear this mid-season replacement will not last long and this show will be yet another short credit on these otherwise good actors IMBD.com list.
For now, Lipstick Jungle airs on Thursdays at 10 pm on NBC. The big-screen movie version of Sex and the City arrives in theaters May 30.
Related Tags:
80's heartthrob, abc, andrew mccarthy, bonfire magazine, brooke shields, candace bushnell, cashmere mafia, designer imposter perfumes, female friendship drama, giorgio, hbo, juicy couture, julian sands, kim raver, lifetime movie, lindsay price, lipstick jungle, movie, nbc, ninja, opium, parador pictures, parfums decoeur, pretty in pink, primo, reviews, robert buckley, sex and the city, sidefeatured, victory ford
© Gear Live Media, LLC. 2007 – User-posted content, unless source is quoted, is licensed under a Creative Commons Public Domain License. Gear Live graphics, logos, designs, page headers, button icons, videos, articles, blogs, forums, scripts and other service names are the trademarks of Gear Live Inc.