Monday October 31, 2005 6:52 pm
Desperate Housewives: They Asked Me Why I Believe in You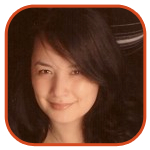 Tweet
Posted by Veronica Santiago Categories: Comedy, ABC, Desperate Housewives, Features,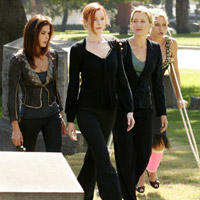 I don't know about you—- but if I was a mother of four children, I'd be more than happy to have an excuse to get a few drinks after work. "But honey – my boss made me do it." Apparently Lynette doesn't feel the same way I do, and she was growing very resentful that her boss, Nina, was dragging her to bars every night. Unfortunately, Lynette only had herself to blame since she was the one who opened up Pandora's box. Who knew that trying to help out her boss would go so wrong?
In an effort to help her unwind, Lynette threw in the towel and offered to buy Nina a drink. Unbeknownst to Lynette, her boss was a wildcat repressed in a hard management shell. After scoring a few drinks and an eventual score, Nina comes back to work in old clothes and a new attitude. Not wanting the good times to end, Nina pressures (a.k.a. blackmails) Lynette to come out with her again…and again…and again. After all, it's fun going out with someone who's married – you don't have to compete for the male attention. Fed up doing Nina's man-bidding, Lynette finally decides to end the fun once and for all. With a new look and new attitude, she works the bar for herself. After stealing the spotlight from Nina, Lynette wins her freedom back. Apparently going back home to a husband and four kids is a real victory for some.


Susan's storyline was a snoozer in comparison. Her book agent, Lonny Moon (actor Wallace Shawn), made a house call to ask her a big favor. After being accused of embezzling from his old agency, he was hoping that Susan would follow him to his new one. Recognizing that Lonny had been there for many big milestones in her life, Susan had a soft spot for the lug. Ironically, Mike is concerned about Lonny and questions whether Susan should be supporting a felon. Susan says that this is one of those times when you find out who your real friends are, and decides to sign with him.
Unfortunately, despite giving Lonny the benefit of the doubt – Susan eventually learns the real truth. Not only did Lonny touch her money (only to quickly put it back), he mistook her kindness for affection. Feeling betrayed and weirded out, Susan walks away from him. Of course, had he been as good-looking as her other felon, Mike, she might not have run off so quickly.
Still working to get her husband out of jail, Gabrielle introduces Carlos to their new attorney. Unfortunately Gab's reputation with good-looking men reignites Carlos' jealousy and he turns the polished David Bradley away. Seems he can't trust lawyers who look like 'underwear models'. Gabrielle begs David to go back and convince Carlos that they can be trusted. He agrees to help, but only after hitting on her again.
David Bradley, a master of getting what he wants, taps into Carlos' insecurities to win him over. When asked, David admits that he wants to sleep with Gabrielle…and will if he's turned away. But as long as he's Carlos' lawyer, everything would remain professional. Gabby is insulted and thinks that David is crazy, but Carlos feels differently. He heard exactly what he needed to hear and hires David immediately.
NOTE TO PRODUCERS: Kudos for the Adrian Pasdar addition. He's definitely a breath of comedic fresh air and huge improvement over weird eyebrow boy.
No matter how any episode is going, you can always count on Bree to bring it on….and this week was no exception. After putting up a fight for her husband's body, Det. Barton gives up on Bree's demands too easily. Relieved, Bree moves forward with her plans for the reburial and asks the ladies at poker to be there for her. By the way – the poker games just aren't the same without Lynette there any more. Why did she have to go and get a job?
After arriving to pick up her husband's body, Bree is astonished to find out why she has been a suspect in Rex's death. Det. Barton made a point of giving Bree his death note in hopes gaining a confession from her. Well, instead of startling her, he only went and angered her…leading to the best scene of the week.
Channeling Sally Field in Steel Magnolias, Bree gave one hell of a burial plot scene. Emoting anger and hurt, Bree was astounded that Rex could honestly believe that she would try to poison him after 18 years together. How dare he say that he forgave her—she has nothing to be forgiven for! Thankfully, she knew exactly what her husband deserved and she was going to give it to him. She told the ladies that Rex did something to upset her and now she wants him gone. Refusing to lay for an eternity next to someone who thought she was a murderer, Bree found him a brand-new burial plot. I mean really—anyone who checks his husband for back acne deserves much better treatment than that.
Ironically, what was to be the biggest shocker of the week was actually the biggest let down. Who was Betty Applewhite locking up in her basement? Why, that would be her other son, Caleb, an alleged killer. Apparently her son may have murdered a young high school student in a state of confusion. Afraid that no one would care how slow Caleb is, Matthew and Betty vowed to hide him away. Unfortunately, after another man is arrested for the girl's murder, Betty is regretful and contemplates turning her son in.
Now – after all these weeks of buildup, that was all it was: a secret, murdering son? Now if you were to tell me that he was the one who killed Mary Alice—then maybe we'd have something to talk about.
Oh – and by the way, Paul Young is back…
© Gear Live Media, LLC. 2007 – User-posted content, unless source is quoted, is licensed under a Creative Commons Public Domain License. Gear Live graphics, logos, designs, page headers, button icons, videos, articles, blogs, forums, scripts and other service names are the trademarks of Gear Live Inc.