Thursday April 17, 2008 2:13 am
America's Next Top Model Cycle 10: For Those About to Walk, We Salute You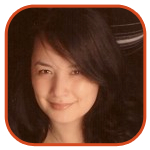 Tweet
Posted by Veronica Santiago Categories: Prime Time, Reality, The CW, America's Next Top Model, Editorial, Features,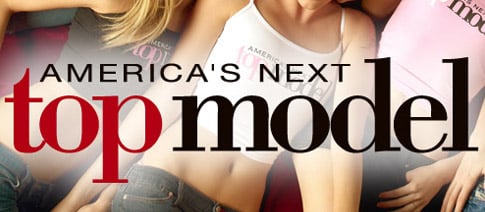 After a week break, America's Next Top Model: Cycle 10 returned to business as usual with the remaining seven contestants – seven less than the show started with.
Having reached the halfway point, it was time for the girls to prove they were more than just pretty faces. As potential future spokesmodels, these ladies had to learn how to represent themselves in public. Who proved they could survive the paparazzi—and who failed to bring much to the party? Read on!
Realizing what stage they were now at in the game, Dominique speculated that they would be heading overseas soon. (For ANTM newbies, the girls eventually take a trip to some foreign country.) The prospect of traveling anywhere made Fatima quite nervous. Since she was considered a refugee and not an American citizen, it was important that she have the proper paperwork to go anywhere outside the US. Unfortunately, the Somalian lost her travel documents a while back and was desperately working to get her stuff replaced. If her lawyer couldn't resolve the situation quickly, she knew she could be eliminated by default.
Later, the ladies received a surprise home visit from judge Paulina Porizkova. The former supermodel was there to teach the girls how to best showcase themselves. Learning how to speak on their feet was an invaluable skill they could apply to future interviews and social situations.
To test their abilities, Paulina tried out two different scenarios. In one situation, she was an industry VIP the models were meeting at a party. In the second example, she was a reporter asking your run of the mill questions. Sadly, most of the girls failed to give their coach the answers she was hoping to hear. Lauren completely choked under the pressure, Whitney responded like a Miss America contestant, Dominique (as usual) couldn't keep her comments short and sweet and Stacy-Ann came off sounding like a like a kiss ass.
A season of America's Next Top Model would not be complete without at least one trip to an emergency room. For Cycle 10, the lucky victim was Lauren. While trying to cook potato pancakes with Whitney and Anya, the awkward gal managed to slice off a part of her thumb while chopping onions. A partial nail removal and several stitches later, she returned to the house with an unsightly large bandage.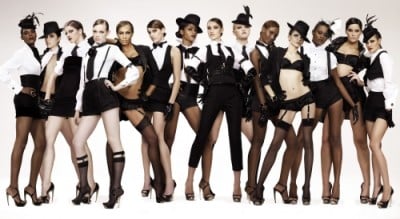 The next day, the ladies woke up to find a large gold box waiting for them. Inside was an invite to a cocktail party hosted by designer Jay Godfrey and sponsored by 7UP. Although they were nervous about putting their new lessons to use, the girls were excited to find out that dresses, hair and makeup came with the announcement.
On their way into the party, the contestants first had to navigate a line of photographers and an awaiting Lara Spencer. The co-host of The Insider put them all on the spot and threw out a list of standard red carpet questions. While you would have thought these girls would have been better prepared, some shocked their interviewer with their unpolished responses. When asked who she was wearing, Dominique said, "Jay GIORGIO." (Cue eye rolls.) When pressed to reveal why she should be chosen the winner, Lauren said, "I could kick the ass out of those girls anytime." (Alrighty.)
Inside the event, the ladies were forced to mingle while being observed. During one conversation, Whitney told some men she had a lot of family in Texas. When asked where, she said she had no idea because she had never been there. (Nigel was not impressed.) Stacy-Ann, who believed she was good at this social thing, kept dishing out the same "I'm from Miami" story over and over again. (She then followed all that up with some weird posing in the corner.) Lauren, surprisingly, looked extremely relaxed and felt comfortable enough to strike up conversations with the likes of Ric Ocasek. Meanwhile, Anya worked the room and even thought to seek advice from April from ANTM's Cycle 2.
When the night was over, Lara Spencer and Jay Godfrey offered up their critiques about what they had observed. They weren't pleased about Dominique's earlier designer gaffe, they thought Lauren needed to clean up her potty mouth and they felt Stacy-Ann failed to wow them. In the end, they chose Anya as the challenge winner. They said she was charming, poised and refined. For her win, the model got to do another au naturale shoot – this time for sponsor 7UP. She also got a nice bonus. After posing in a bunch of lemons, limes and leaves, she received a $10,000 check from the company. (I do believe that it is a show first.)
That night, Fatima had her umpteenth phone conversation with one of the ANTM producers. He told her that her lawyer had managed to arrange a last minute appointment at the consulate. If she was going to try and get this paperwork matter settled, she had to be on time at the 9 A.M. meeting the next day. Later, the stressed-out model was temporarily distracted by the latest piece of Tyra Mail. The girls were told to 'pack up fast' or they'd miss their connection. Fatima was so excited that she stupidly forgot she didn't have her paperwork yet. While she was trying to figure out how she was going to manage her next day, the rest of her roomies were furiously trying to gather their things in time for their upcoming venture.
Very early the next morning, the ladies were picked up by a cab and transported to an airfield. At this point, the giddy women still had no idea where they were heading, but they really didn't care. (As for why Fatima bothered getting into the vehicle, I don't know. She had only 3 hours before her consulate appointment.) After dragging their luggage to a private jet, they found Jay Manuel waiting for them. Turns out they weren't going anywhere at all. The girls were going to use their 'props' for a shoot on the tarmac. Instead of individual pics, the models were going to participate in their first group photo. The theme? Trying to catch a plane.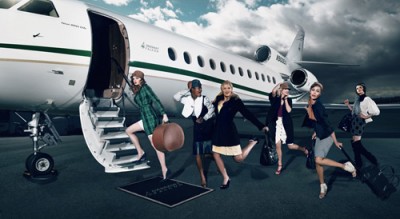 Unfortunately, Fatima realized there was no way she could even begin the session and told Jay that she had to leave to take care of her issue. Weirdly enough – he seemed a bit thrown off by the news. (I'm confused – didn't the producer who was working with Fatima tell Jay that this was going to happen??) He said they would do their best to wait for her, but they had to wrap up the shoot by 3pm.
Although the girls each had a chance to be featured, some of the ladies were thrown off by the group setting. Whitney produced shots worthy of pageant award. Dominique pulled some Remedial Modeling 101 tricks out of her bag. Lauren – determined to get out of the Bottom Two – almost worked too hard. Meanwhile, Stacy-Ann tried overcoming the eye-irritating winds by going into pose mode. Dab eye here, dab eye there.
When the shoot was over, the models moved inside one of the hangars and found all of the judges already waiting for them. Their next elimination was going to happen right there and then. And as a bonus – creative director Jay Manuel was going to personally contribute to the conversation.
Even though Fatima managed to successful get her travel documents secured about 2 hours prior, she reached the airfield just after the photo session had concluded. When she entered the judges' panel, a slightly peeved Tyra Banks made a point of lecturing the nervous woman before she could move on. (Again – how did Tyra not know that this was going on?)
When it finally came down to the evaluation, the judges chose Anya as this week's winner. The panel loved that she stood out from amongst the other girls. They felt that she was secretly doing well in the competition. Lauren with her "stunning" 1940's-esque pic came in second while Dominique with her "fun" and "friendly" result came in third.
Falling in the Bottom Two were Fatima and Stacy-Ann. Since the judges didn't have anything to evaluate the Somalian on this week, they had to compare the two women based on their whole body of work. Although she was clearly beautiful, the judges feared Stacy-Ann had plateaued. They weren't sure if her pics were as good as they were going to get. Meanwhile, they didn't like that Fatima's legal snafu caused her photo to come up completely blank.
In the end, the judges realized that Fatima – who came in first last week – was at least moving in some direction. LOSER: Stacy-Ann. (Next week: The ladies head to Rome!)
(You can review last week's episode here.)
(You can read next week's episode here.)
Related Tags:
americas next top model, americas next top model cycle 10, antm, anya, atalya, cw, cycle 10, dominique, fatima, jay godfrey, jay manuel, judges, katarzyna, lara spencer, miss j, miss j alexander, models, nigel barker, paulina porizkova, photo shoots, reality, recap, ric ocasek, sidefeatured, the insider, tyra banks
© Gear Live Media, LLC. 2007 – User-posted content, unless source is quoted, is licensed under a Creative Commons Public Domain License. Gear Live graphics, logos, designs, page headers, button icons, videos, articles, blogs, forums, scripts and other service names are the trademarks of Gear Live Inc.