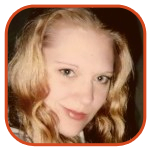 Posted by K.C. Morgan Categories: Music, Prime Time, Reality, FOX, American Idol, Features, Video,
Wednesday night was Simon Cowell's last moment with American Idol, and the night belonged to him much more than the two contenders for the ninth Idol crown. Lee DeWyze and Crystal Bowersox performed ably on Tuesday night, but only the votes would determine which would walk away with the winning title. The show will undoubtedly crash and burn now that Cowell is walking away…but that is talk for another time.
The Top 12 Idols - including Crystal and Lee, of course - danced out on stage to deliver "School's Out for Summer." While Orianthi jammed out on the guitar, Casey James suddenly announced a surprise appearance - Alice Cooper. This was an exciting guest star, but honestly, he sounded quite bad. And I'm a fan.
The evening started out with a fairly lackluster vibe…but there was much, much more to come.
Click to continue reading American Idol 9: The Finale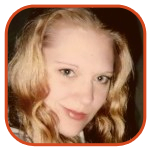 Posted by K.C. Morgan Categories: Music, Prime Time, Reality, FOX, American Idol, Video,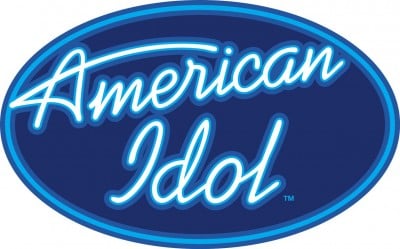 At the top of the Idol Gives Back spectacular, host Ryan Seacrest immediately introduced the President of the United States and his First Lady, Mr. and Mrs. Barack Obama. Two praised the Idol Gives Back event and urged viewers to contribute to the cause. In his typical contemporary fashion, President Obama then gave a message to the Idol contestants: "As Randy Jackson says, you're all my dogs."
Ryan then reappeared on stage to introduce the judges and hype up the crowd. Queen Latifah served as the host of the event at the Pasadena Civic Auditorium, which was filled with a screaming crowd.
The Top 12 were brought back together for the first group performance of the night, an incredibly weak number. The only big moment in the song was given (predictably) to Crystal Bowersox. Could this show please make it more obvious that they want her to win? I'm not sure the astronauts on the space shuttle have managed to get the message yet - they're so far away, and all.
Click to continue reading American Idol 9: Idol Gives Back, Top 7 Results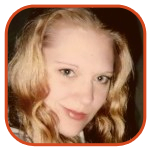 Posted by K.C. Morgan Categories: Comedy, Music, Reality, Video,
Former American Idol contestants Kristen MacNamara, Nick Mitchell (aka Normund Gentle) and Tatiana Del Toro have united to form the new reality series Takin Over Hollywood, which already sounds like a smash hit. Tatiana Del Toro, the drama queen with the giggle from Season 8? Just give me a channel and I'm there.
A new YouTube video has premiered which shows a trailer for the series. All three contestants perform the opening number. Kristen, now billed as K-MAC, will be featured as she pursues her career as a singer. Normund will work on his comedy, and Tati (Del Toro) hopes to become a successful actress.
Read More

| My Idol News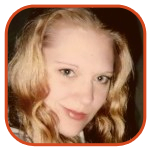 Posted by K.C. Morgan Categories: Music, Prime Time, Reality, FOX, American Idol, Rumors, Spoilers,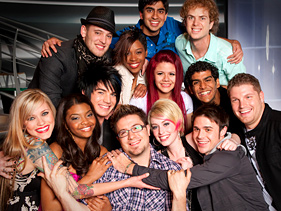 Vote for the Worst was so upset over the decision to exclude Tatiana Del Toro from the American Idol 8 competition, they've offered up more spoilers for us to enjoy. The popular Idol-themed site suggests that viewers will soon be treated to a Grand Ole Opry week…in fact, they've even got the list of songs.
Ya wanna see?
Click to continue reading American Idol 8: More Spoilers
Read More

| Vote for the Worst

The Wild Card round of American Idol opened with three stools and eight singers who all hoped to fill them. With eight singers, four judges and one host - not to mention a performance round and an elimination round in a single episode - Idol had to move things along pretty quickly. There was little time for recap or reintroduction. Each contestant had a sort of hurried interview that played for a few moments while they rushed to the stage. It was actually sort of poorly done, not to put too fine a point on it.
At any rate, Idol viewers were given a rare treat - instant gratification. Usually, results have to wait an entire day…but not on this Wild night.
Click to continue reading American Idol 8: Wild Card Round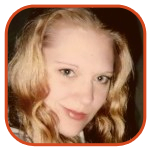 Posted by K.C. Morgan Categories: Music, Prime Time, Reality, FOX, American Idol, Gossip, Rumors, Video,
The third group of Top 36 performers had to wait the longest to find out whether they would be moving on…or going home. At the top of the American Idol Wednesday hour, they all gathered to - finally - learn their fate.
"I think we have an amazing start of a Top 12 going on. I'm very proud of all of them," Paula Abdul said of the contestants. Speaking of the Top 12, the first half (the six contenders who were voted in over the preceding two weeks) looked on from the sidelines as they, too, waited to hear who would join them in places of Idol honor.
The twelve performers of the week performed an upbeat version of "Hot and Cold," yet another unrecognizable song performed by the Top 36 over the last three weeks. Despite somewhat lackluster choreography, they delivered what is arguably the best of the three group performances we've seen from the 36 semifinalists.
Click to continue reading American Idol 8: Third Group Results
Read More

| American Idol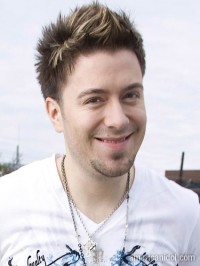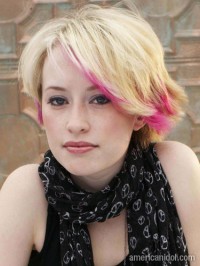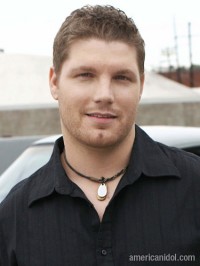 American Idol 8 is underway, replete with live performances and suspenseful eliminations. But for the next two weeks, three contestants can breathe easy. Alexis Grace, Danny Gokey and Michael Sarver have made it all the way to the Top 12.
What do they think of that?
Alexis Grace recently spoke to reporters about her size ("I might weigh ninety-nine pounds. Maybe ninety-eight. And I would say I'm five feet tall"), her song choice ("I knew I could sing in that range, and I feel connected to her music, so I went with it!") and being among the first to make it into the Idol dozen.
Click to continue reading American Idol 8: First Winners Speak
Read More

| TV Guide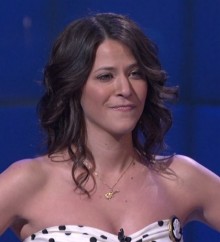 American Idol likes to change things ever so slightly every single year, just to keep us off-balance. This year, we've been presented with a Top 36 instead of the usual 24 - and more contestants calls for what we love: more eliminations. The first part of round one aired last night, a group of twelve singers who will very shortly be whittled all the way down to three.
It's cutthroat, and it's fabulous.
After three contenders from three groups of twelve are chosen for the Top 12, three more previously-expelled singers will be brought back for the Wild Card round. But we're not quite there yet. Tuesday night, American Idol 8 truly began, replete with live stage performances and bitingly harsh judges' comments. Finally, the show has arrived.
And it began with Jackie Tohn, 28, who professionally entertains even when she's not competing for FOX. She chose a song I thought would be horrible - "A Little Less Conversation" - and an outfit which really was. But despite the odd fashion and somewhat less-than-stellar vocals, Tohn delivered a rollicking performance that kick-started the evening. She was energetic, bluesy and Tohn's got a lot of charisma. "Way to start season 8 off," Randy Jackson cried. "You can work a stage, girl," Kara DioGuardi complimented her. "You got me up dancing," Paula gushed, "you are a true performer." But Simon Cowell wasn't ready to make nice with Ms. Tohn. "I think you actually played the clown," right between the eyes. Cowell called her performance "ungainly" and "gimmicky" and he hated her outfit. Tohn is obviously not a favorite of the show. When asked by Ryan Seacrest if she had any regrets, Jackie flippantly answered "no, dude."
Click to continue reading American Idol 8: Round 1 Performances, Part 1
Read More

| American Idol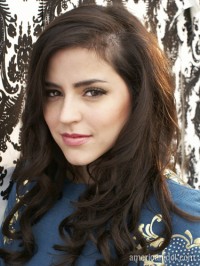 She's bubbly, she's attractive, she's got a strong voice - and she annoys judge Simon Cowell to no end. She's Tatiana Del Toro, one of the heavily-featured American Idol 8 contestants, and she's got the might of Vote for the Worst behind her.
Del Toro emerged early as a favorite for the popular Idol-themed site, which prides itself in picking the "worst" contestants every season and encouraging viewers to vote. VFTW has previously sponsored contenders like Sanjaya Malakar, Taylor Hicks and Kristy Lee Cook. Generally, VFTW waits until the singing episodes of Idol start - but this year there's just no need. Tatiana of the dramatic behavior, endlessly annoying giggle and strange fashion choices is their pick.
Will she be yours, too? Del Toro will be performing live tonight on the Idol stage - but will she really be bad enough to win the love of VFTW readers?
(You can find all the American Idol 8 posts here.)
Read More

| Vote for the Worst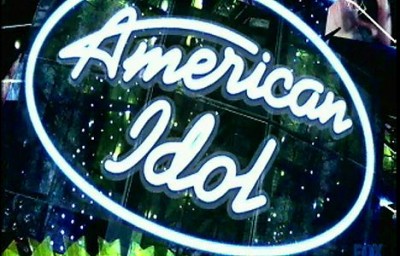 Fifty-four sat in the holding room of a "mansion" - or set - in Los Angeles last night on American Idol. Only thirty-six would leave the judging area with smiles on their faces. A few would be made to sing one last time, but all would have to make the long walk through the gardens and down to the throne room where their fate would be decided.
Anoop Desai was the first to make the stroll. "Anoop is in the house," Randy Jackson cried, after Kara DioGuardi told Desai he'd made it into the competition.
Things started to move fairly quickly after that.
Click to continue reading American Idol 8: Top 36 Announced
Read More

| American Idol

© Gear Live Media, LLC. 2007 – User-posted content, unless source is quoted, is licensed under a Creative Commons Public Domain License. Gear Live graphics, logos, designs, page headers, button icons, videos, articles, blogs, forums, scripts and other service names are the trademarks of Gear Live Inc.