Tuesday January 10, 2006 11:45 pm
A Look At The Best of TV 2005
Tweet
Posted by Rhys Alexander Categories: Comedy, Drama, Reality, Commercials, Talent, Editorial, Features,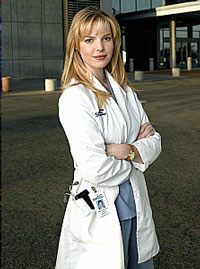 Now that the worst is over, we move on to the best. We take a look at the various events and situations that made us turn our heads this year.
And be sure to stay tuned for our Golden Globes picks! Full article after the jump.


Best New Show: Tie between My Name Is Earl and Everybody Hates Chris. Unexpected sweetness and poignancy delivered along with the expected laughs make these two deserving of the title.
Best Renewal: Arrested Development. Showtime's announcement resulted in a cheer heard 'round the world.
Best New Couple: Doctors Christina Yang and on Preston Burke on Grey's Anatomy. This pairing of opposites never fails to be interesting…and passionate.
Best Villain: T-Bag on Prison Break. When was the last time someone so effectively gave you the creeps?
Best Remake: Battlestar Gallactica. Though it technically premiered in 2004, this 1970s remake really hit its stride in 2005, showing that the second time around can indeed be better.
Most Appealing Character: Katherine Heigl as Izzie Stevens on Grey's Anatomy. WHEN will they give the adorable, kind-hearted Izzie her own show…or at least, a giant storyline?
Best Unnamed Character: Known only as 'the janitor,' Scrub's Neil Flynn provides some of the funniest, smartest quips on television.
Best TV Voice: Hugh Laurie from FOX's House. If you didn't know any better, would you ever guess Hugh is British? His American accent is dead-on, and that sexy, modulated voice—in either accent—is a joy to listen to.
Most Desirable Guest Star Stunt: Arrested Development's replacement of 'Fonzie' with 'Chachi.' Truly inspired!
Best Casting: Jamie Pressly on My Name Is Earl. Well, she was in a Jerry Springer-themed movie. She makes 'White Trash' lovable again, and looks like she's having fun doing it.
Best Cancellation: A tie between The Apprentice: Martha Stewart and Reunion. The first was unforgivably boring; the latter wasted a brilliant concept.
Best Married Relationship: Allison and Joe DuBois on Medium. Even in a show touted for its supernatural elements, family life remains the focus, and the DuBoises' supportive, caring, teamwork-approach marriage is always a inspiration.
Most Appealing Kids: Ariel, Bridgette, and Marie DuBois from NBC's Medium. None of that sickly-sweet fakeness usually found in Hollywood brats. These delightful young girls are as real as it gets.
Most Improved Show: Entourage. The show has evolved from a mere amusement to truly witty, poignant entertainment.
Best Reality Show, Existing: Made. Stories of people pushing themselves far beyond their limits to accomplish what seemed to be impossible is always inspiring. But when are we going to get the adult version?
Best Reality Show, New: Dancing With the Stars, for the positive glow it left with the viewers. Breaking Bonaduce, for the train wreck factor. It doesn't get more 'real' than Bonaduce…at least, I hope not.

Best Exploitation of a Concept: 'Trying to survive on an island,' courtesy of Lost. This show takes the premier disaster cliché and runs it even further into the ground…and the viewers love it.
Best of the 30,000,000 law shows on TV Now: Law and Order: SVU. The brilliant Elliot Stabler and Olivia Benson solve the crimes, but even better, they let their true selves—both the good and the ugly—show. There has never been a more captivating partnership in cop show history.
Best Commercial: January's Starburst commercial. While Lionel Richie sings romantically in the background, a high school boy proudly brings the girl he has a crush on into the art room…to show her the life-sized sculpture he's made of her head, entirely out of Starburst candy.
The girl leaves, disgusted, but this doesn't worry the guy: he begins to make out with the sculpture, then eat its nose! I like when a company has the nerve to get weird.
Best TV Trend: Embarrassing Celebrities. Okay, so it's not exactly new, but 2005 added to the mix (Dancing With the Stars, My Fair Brady) and really pushed the advertising on existing favorites like The Surreal Life and Celebrity Fit Club. The only thing better than envying a celebrity is pitying them.
Best Best Friends: Turk and J.D. on Scrubs. It doesn't get any funnier—or sweeter—than this.
Agree? Disagree? Please leave your picks in the comments.
© Gear Live Media, LLC. 2007 – User-posted content, unless source is quoted, is licensed under a Creative Commons Public Domain License. Gear Live graphics, logos, designs, page headers, button icons, videos, articles, blogs, forums, scripts and other service names are the trademarks of Gear Live Inc.