Find Our Latest Video Reviews on YouTube!
If you want to stay on top of all of our video reviews of the latest tech, be sure to check out and subscribe to the Gear Live YouTube channel, hosted by Andru Edwards! It's free!
Wednesday April 11, 2012 3:53 pm
Nokia Lumia 900 review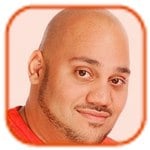 Tweet
Posted by Andru Edwards -
Categories: Cell Phones, Features, Handhelds, Microsoft, Product Reviews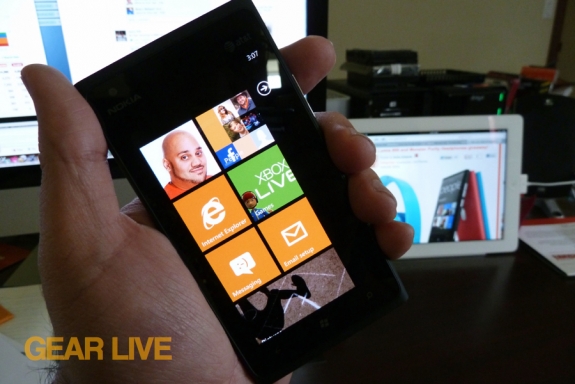 With the Lumia 900, three companies are hoping for a runaway success. You've got the carrier, AT&T, launching the first LTE Windows Phone device (and one of the first AT&T LTE smartphones, period.) You've got Nokia, the manufacturer, hoping that the device leads to a revitalization and resurgence of the popularity that it once commanded just a few years ago. Then, you've got Microsoft, the software provider, which is in a position that's much the same as what Nokia's in. A behemoth that had the crown, got cocky, and due to its inability to be nimble in a quickly-changing mobile landscape, got surpassed. The Lumia 900 represents hope for all three of these companies.
What you get in the Lumia 900 is the perfect mixture of Microsoft's Windows Phone 7 (or, really, Windows Phone 7.5 Mango,) Nokia's incredible hardware design, and AT&T's (late) entrance into the LTE realm with a smartphone that people are paying attention to. Even better? You get it all at a $99 price point with contract. In the smartphone world, we'd call this one a steal.
With all of that said, the question still remains: is the Nokia Lumia 900 worth your time? Can it really stand in firm in place of popular iOS and Android devices, giving them a run for their money? These are the questions we aim to tackle in our Lumia 900 review.
DESIGN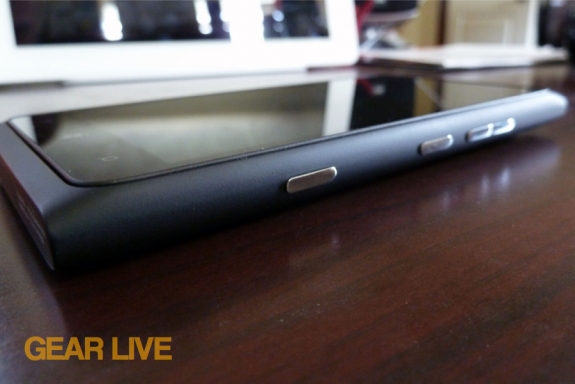 Right off the bat, we've gotta say it. The Lumia 900 is straight up luxurious. This is a gorgeous smartphone, and it shows just how great Nokia is at design. In our opinion, it's really a toss-up between the Lumia 800 and the iPhone 4S when you're talking about the best-looking phone available today, but the Lumia 900 is right behind them.
What you get in the body of the Lumia 900 is a smooth bar of high-test polycarbonite, accented with silver buttons on the right side, 8 megapixel camera with dual LED flash on the rear, speaker grille on the bottom, SIM tray, micro USB port, and headphone port on top, and a nice, large display on front. It's definitely unique, looking nothing like all the other smartphone options out there. The device is available in a few colors: black, white, and cyan. In our opinion, the cyan color is striking, and the white one is gorgeous as well.
The dimensions of the Lumia 900 are 2.7-inches by 5.03-inches at 0.45-inches thick. Thanks to the smooth curves of the device, it's not hard to hold, despite its size.
Nokia has done a great job creating a captivating peice of hardware in the Lumia 900.
HARDWARE
The Lumia 900 is powered by a single-core 1.4GHz Snapdragon processor. With that, it packs in 512 MB RAM and 16 GB of internal storage, with no ability to add any additional storage space. As we've said, it's an AT&T LTE device, but also has radios for GSM, Bluetooth 2.1+EDR, and Wi-Fi.
We made mention of the large display earlier. This is a 4.3-inch "ClearBlack" AMOLED 800 x 480 screen, covered by Corning Gorilla Glass for toughness. The display is raised a bit from the body of the Lumia 900, which is okay, but we preferred the clean lines found on the Lumia 800 where the display was in line with the rest of the phone. While the display is large, and therefore easy to see, the fact that it's only 800 x 480 when so many other phones out there have higher resolutions (like the 720p Android devices, or Retina display iPhone 4S) makes it a little disappointing. Text and images just aren't as sharp as they appear to be on competing devices. Now, we think that the average consumer wouldn't mind this, but for those looking for the best display, you simply aren't going to find it here.
Being that this is an AMOLED screen, we knew going in that the colors were gonna be vibrant. They were. In fact, they were oversaturated. The thing is, though, that this is something you've just gotta expect when using an AMOLED display. The difference here is that Windows Phone 7 uses a lot of bright colors on black or white backgrounds, so things can feel a little harsh in that respect.
The hardware may seem a bit…unimpressive…what with the single-core processor and low-res display, but Windows Phone 7.5 is optimized and generally quick, so you won't really feel anything negative in terms of slowness. As for the display though, we wish it were higher resolution.
Gallery:
USING THE LUMIA 900
One thing we've disliked about pretty much every LTE smartphone we've used (with the exception of the Motorola Droid RAZR MAXX) is that the battery life is just bad. It's no wonder, though, as LTE chipsets simply draw more power. We're happy to report that, with the Lumia 900, things are better than we originally anticipated--however, the caveat there is that Gear Live HQ is located in Seattle, Washington, and out here, there's no AT&T LTE coverage (despite the fact that we're bathed in seemingly endless Verizon LTE in both the city and the suburbs.) This would explain why our Lumia 900 can go a couple of days between charges, but since we couldn't test it ourselves, we've asked some of our journalist contacts and have found that, even on LTE, the device can go a full day with "normal use" just fine.
While we rarely use our smartphones to make actual phone calls, the ones we performed in our tests sounded great. In fact, it was noticably better than other phones, like the iPhone 4S and Samsung Galaxy Nexus that we have in the labs. That's nice for people who actually are on the phone with any regularity, but that isn't us. Oh, and the speakerphone was just alright. It serves its purpose, but even turned all the way up, it was still just a tad too quiet. Compare this to the iPhone 4S, where we usually have to turn the phone down when using the speaker, since it can get loud.
All in all, using the phone is usually a delight when you're not trying to do something that it outside the realm of what it allows you to do. In other words, stick with what Windows Phone 7 allows you to do and don't go trying to do too much, and the phone is a pleasure. That means that 90% of people won't have any complaints about it. Windows Phone 7 is very, shall we say, strict about what you can do and when, and because of that, the devices never get overworked.
CAMERA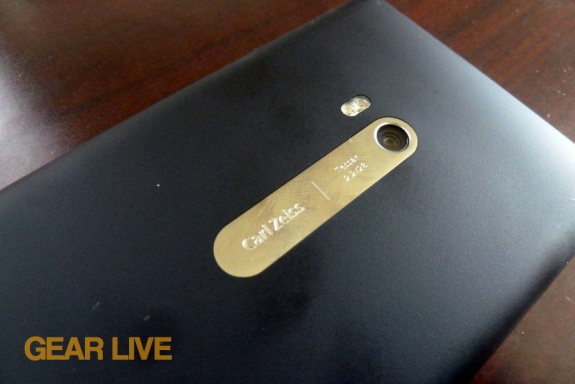 Here's where things get, uh, ugly. The Lumia 900 packs in an 8 megapixel f2.2/28 camera with Carl Zeiss optics, which sounds impressive. The problem is, in real-world use, it's more underwhelming than anything else. Let us explain.
With most smartphones that we use, there isn't much to using the camera. You launch it, focus, and snap. You don't have to mess around with camera settings or anything like that. Using this standard method, some phones have cameras that take fantastic images (like the iPhone 4S,) some take okay images (like the Droid RAZR,) and some take subpar photos (like the Samsung Galaxy Nexus.) Unfortunately, with the standard point-and-shoot way of taking pictures, the Lumia 900 falls into the subpar category. Images are sometimes washed out, other times grainy, and can exibit an odd pinkness to them when you are taking images of bright white objects.
Now, if you are a tinkerer and know what you are doing with camera settings, you can go in and make some tweaks to the camera app (things like white balance, exposure value, ISO, metering mode, and more,) and we did find that this improved pictures a bit. Still, it didn't end up making them look great, which is what we'd been hoping would be the case here. It's too bad. Windows Phone 7 (as in, the software itself) is great at handling the camera app, to the point where all Windows Phones have a dedicated camera button on them that allows you to go right into taking pictures with the quickness. A great camera would have been a welcome addition here. That said, some may see this as nit-picking on our part. Truth be told, we don't think that many people will truly notice, and even if they do, they won't care all that much. Heck, millions are already degrading their images with Instagram filters anyway, right? We just wanted to point out the flaws that we found in our tests, but this is in no way a deal-breaker as far as the Lumia 900 is concerned.
SUMMARY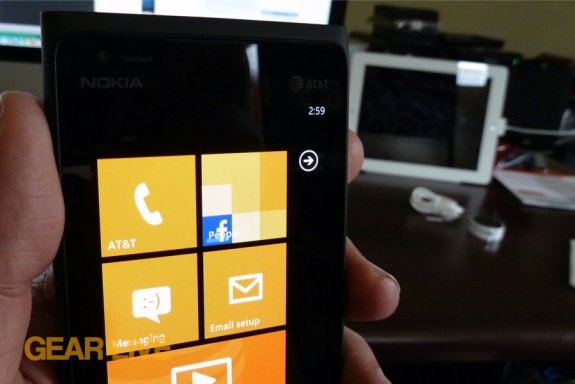 Okay, so we're at the end of our review, and we've had a lot to say about the Lumia 900, and now we have to sum it up. If we had to make it short and sweet, we'd say that the Lumia 900 lives up to the hype on the hardware front, but the software really has some catching up to do. You can just do more with Android and iPhone smartphones. Microsoft needs to really ramp up the pace at which it updates and iterates Windows Phone software if it wants to stand a chance in this game.
Nokia did almost everything right here. Our only real hardware gripe is with the camera, and the fact that we think the display should have been 720p for a device that got this much fanfare. Still, you can't argue with the cost. $99 (with two-year contract) really is a steal for a phone like the Lumia 900 (and if you pick one up by April 21, you'll get a $100 credit, making it free!) That makes the camera and display issues a lot easier to swallow.
For the masses, this is a great phone. It just is. It's easy to use, with many functions and features clearly marked. It looks great, it's inexpensive. If you live in one of the 32 currently-covered AT&T LTE markets, it's hard to find a better bargain than this. For more advanced users, though, we think there are more than a few frustrations that'll crop up with extended use of the Lumia 900, mostly due to where Windows Phone 7.5 stands as a product.
Related Tags:
1.4ghz, 4g, 4g lte, adslice, amoled, att, clearblack, clearblack amoled, lte, lte phone, lumia, lumia 800, lumia 900, lumia 900 review, microsoft, nokia, nokia lumia, nokia lumia 900, polycarbonate, review, reviews, sidefeatured, single core, smartphones, video, video, windows phone, windows phone 7.5, windows phone 7.5 mango, windows phone mango, wp, wp7
© Gear Live Inc. – User-posted content, unless source is quoted, is licensed under a Creative Commons Public Domain License. Gear Live graphics, logos, designs, page headers, button icons, videos, articles, blogs, forums, scripts and other service names are the trademarks of Gear Live Inc.