Find Our Latest Video Reviews on YouTube!
If you want to stay on top of all of our video reviews of the latest tech, be sure to check out and subscribe to the Gear Live YouTube channel, hosted by Andru Edwards! It's free!
Tuesday July 31, 2012 11:25 am
Google Nexus 7 review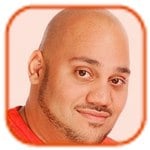 Tweet
Posted by Andru Edwards -
Categories: Features, Google, Handhelds, Product Reviews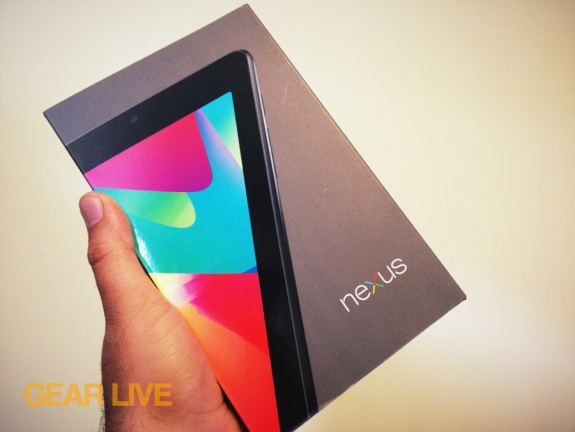 Google unveiled the Nexus 7 tablet at Google I/O 2012 (watch the keynote here,) making it the very first device to launch with Android 4.1 Jelly Bean. Many were waiting for Google to compete directly in the tablet space, and the 7-inch Nexus 7 is the answer. The specs show that it's a powerhouse, and the sales have been off the charts, resulting in the 16 GB Nexus 7 being sold out briefly (it's back now.) Still, many consumers have the iPad on their mind when thinking about tablets, regardless of how hard companies like Amazon and Google are pushing their alternatives. Does the Nexus 7 have a place in the marketplace, meeting needs that other tablets can't? Join us in our full review as we explore Google's first tablet.
NEXUS 7 UNBOXING VIDEO
INITIAL IMPRESSIONS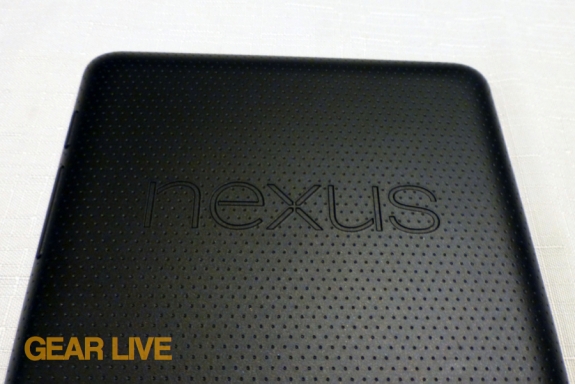 During the course of this review, we'll likely be mentioning the $200 price point of the Nexus 7 a few times. Why? Because in a bunch of key categories, it's hard to believe that Google was able to pull off selling this tablet at that price. The external hardware is a great example of this.
The Nexus 7 sports a familiar black bezel and glass display surrounded by a band of metallic plastic. Above the display on the front you also have a built-in camera. The back feels just luxurious, featuring perforated soft-touch material that feels similar to plastic (it's not.) When you feel it, it just settles right into your hand and the material on the back keeps the temperature of the device more neutral than you'd find with a metal enclosure.
Up on top of the rear casing you have a small hole where the microphone is. The Nexus logo is featuring near the top, with the ASUS logo near the bottom (they're the manufacturer of the Nexus 7.) Beneath the logo is the lone speaker grille on the device. On the bottom you'll find the microUSB port, as well as the headphone jack, while the power button and volume rocker are on the upper-right of the rear casing. The right hand side features a contact charging area that's likely for an accessory that has yet to be announced or released.
The Nexus 7 tablet weighs in at 0.74 pounds, which is lighter than the Kindle Fire by .16 pounds. It's 0.41 inches thick, just .04 inches thicker than the new iPad 2012, and it's 7.8-inches tall by 4.7-inches wide.
All-in-all, the hardware is beautiful and powerful. The Nexus 7 tablet feels great in the hand. With a tablet of this size, you appreciate when unnecessary heft is left out, and ASUS did a great job at keeping the Nexus 7 nice and light. For the $200 entry price, we don't think you'll find a more well-designed tablet out there.
HARDWARE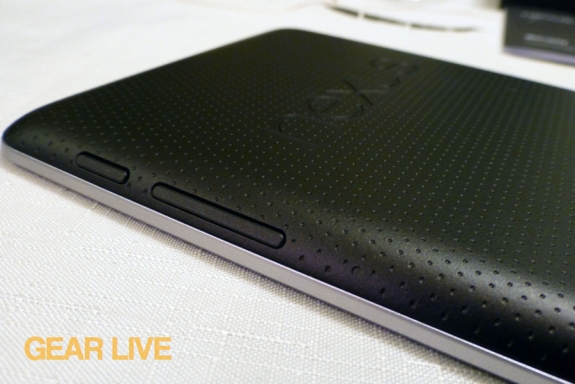 The Nexus 7 is as powerful on the inside as it is beautiful on the outside. At the center of it all is a quad-core NVIDIA Tegra 3 processor running at 1.15 GHz when all four cores are doing their thing, and 1.3 GHz when just one is doing the job. Partnering with the CPU is 1 GB RAM, and 8 GB of flash storage at the $199 price point, and 16 GB of storage for an additional $50, bringing that model to $249. Choose wisely, as you aren't able to expand storage with an sort of external flash card.
Rounding things out are wireless technologies like Bluetooth 4.0, 802.11b/g/n Wi-Fi, GPS, and NFC (which works great with Google Wallet.) It also has a built-in gyroscope, accelerometer, and compass.
Gallery:
The display is no slouch, either, with its 1280 x 800 resolution that's covered by Corning glass (seemingly just a reference to Gorilla Glass.) It's 216 ppi (pixels per inch) makes text and images look great. It's not quite Retina display quality, but that doesn't mean that things don't look great. It's an IPS panel, which means that viewing angles are impressive. That's nice, but we're not sure how many people are gonna be looking at the Nexus 7 display from an odd angle.
As loaded as the Nexus 7 is, we do have to point out that the lack of a cellular option is a bit disappointing. There's no 3G or LTE model available, and we're sure that some would have been happy to pay an extra premium to get it. In its current form, the Nexus 7 requires a Wi-Fi connection in order to function to its best abilities. That said, you can access any locally-stored content like books, magazines, videos, audio, and apps without requiring a data connection.
SOFTWARE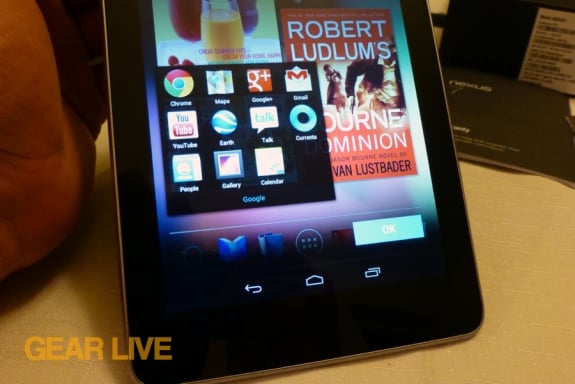 Similar to Nexus smartphones, the Nexus tablet provides a pure, unadulterated Google Android experience that lacks the often annoying third party custom interfaces and tweaks. It's also easy to modify as far as the bootloader goes.
As we made mention earlier, the Nexus 7 is the first device to ship with Android 4.1, also known as Jelly Bean. It's the latest Android release from Google, and was announced recently at Google I/O 2012. One of the main tentpoles of Jelly Bean is Project Butter, an initiative to make touch responsiveness more robust, scrolling more smooth, and animations more robust. It worked, as Android on the Nexus 7 is better than every version of Android we've used since the platform debuted. In fact, the sluggishness of scrolling and unresponsive touchscreens were a common complaint from us--not so with the Nexus 7.
Battery life is decent, if not average, on the Nexus 7. That's not to say that it was bad, but rather, it's exactly what we would expect on a device this size. Using all the default settings, and connected to Wi-Fi, using the tablet to browse the web, play some games, check Gmail, and read Google Play books resulted in about six hours of battery. Perfectly fine, but not amazing. Still, it's more than enough to get you through the day if you aren't using it non-stop for six hours straight.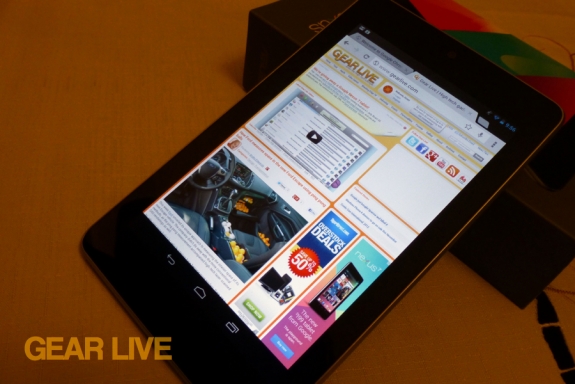 Generally, Jelly Bean is a much more refined Android release, and it's the first that we find to be a joy to use. Everything feels snappy and efficient (no doubt also due to the powerful Tegra 3 chip,) and apps respond the way you'd hope and expect them to. The notification improvements are also very welcome, allowing you to see and act upon the entire notification as opposed to a truncated view.
One big change is that dictation is now local to the device. This means that you can speak your words even if you aren't connected to the Internet. This is something you couldn't do on previous Android devices, nor is it something you can do on the iPhone, iPad, or iPod touch.
Chrome is now the default browser of choice, and it's great on the Nexus 7. Browser tabs sync across your Google account, making it easy to pick up from where you left off on other devices.
One last note on the software front: Google really needs developers to jump on board with dedicated tablet apps in a big way. While all of the official first-party Google Android apps have been optimized for the larger tablet display, the third-party tablet apps are severely lacking both in volume and in quality. Even the more notable apps, like Twitter, don't have an Android tablet version yet. It's almost an embarrassment, and we really, really hope that changes. iPad users have no such tablet app drought, and there's no reason that Android tablet users should suffer from a lack of quality software.
CONCLUSION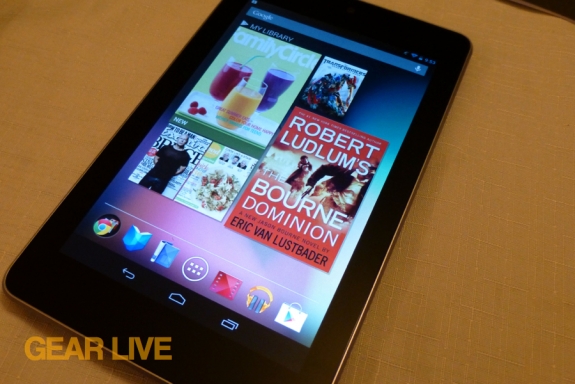 We started this review by talking about the $199 price point, and we think it's appropriate to drive that point home again here at the end. While the Nexus 7 is about half the size of the iPad, you're getting a whole lotta tablet for your money. When you compare it to the Kindle Fire (which sells for the same price,) the Nexus 7 just blows it out of the water. There's really no comparison. In fact, we really can't see any reason why one would choose the Kindle Fire over the Nexus 7, unless you really, really need access to the Kindle Lending Library and Prime video streaming.
Google and Asus have done a fantastic job at creating a product that feels good in the hand, is visually pleasing to the eye, and just has all-around great aesthetics that set it apart from all other products in its class.
That's the hardware part. The software platform is just as good, too. Jelly Bean pulls its weight well, and Google's apps all look and perform great. We're just waiting for third-party devs to jump in and provide even more great software. For the price, though, the Nexus 7 is well worth it, even with the lack of tablet apps.
If you're looking for a fantastic tablet with an inexpensive price tag, you aren't gonna find anything better in the current marketplace than the Nexus 7. It's that good.
You can buy the Nexus 7 from the Google Play store.
Related Tags:
16gb, 16gb nexus 7, 8gb, 8gb nexus 7, adslice, android, android 4.1, android 4.1 jelly bean, android tablet apps, android tablets, asus, asus nexus 7, bluetooth, bluetooth 4.0, corning glass, google, google io 2012, google nexus 7, google wallet, gorilla glass, jelly bean, kindle fire, nexus, nexus 7, nexus 7 review, nexus 7 software, nexus 7 unboxing, nfc, nvidia, nvidia tegra 3, project butter, reviews, sidefeatured, slates, tablets, tegra 3, unboxing, videos, youtube
© Gear Live Inc. – User-posted content, unless source is quoted, is licensed under a Creative Commons Public Domain License. Gear Live graphics, logos, designs, page headers, button icons, videos, articles, blogs, forums, scripts and other service names are the trademarks of Gear Live Inc.