Find Our Latest Video Reviews on YouTube!
If you want to stay on top of all of our video reviews of the latest tech, be sure to check out and subscribe to the Gear Live YouTube channel, hosted by Andru Edwards! It's free!
Wednesday September 19, 2012 11:23 am
Amazon Kindle Fire HD review (7-inch)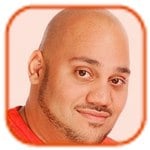 Tweet
Posted by Andru Edwards -
Categories: Features, Handhelds, Product Reviews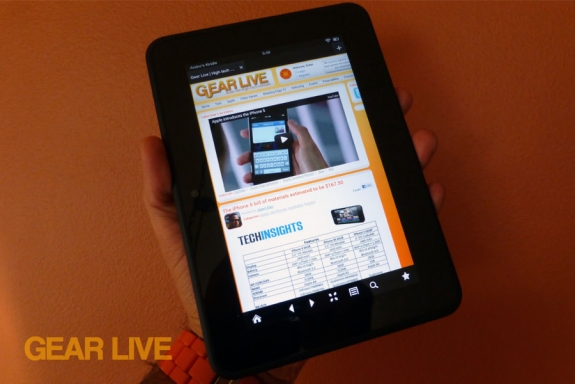 When Amazon announced the new Kindle Fire HD, it took a firm step into its transformation into a major player in the consumer electronics space. Jeff Bezos sold the fact that Amazon was in the unique position that allowed it to create a device that was about more than just the gadget itself--Kindle Fire is all about the services that are tied to it, and the Fire HD in particular is the cream of Amazon's tablet crop. Then the price was announced, and at $199 heads turned and ears perked. A high quality tablet that is completely tied in to Amazon's ecosystem with a great display, rock solid Wi-Fi, and stereo speakers for $199? Is it too good to be true, or is the Kindle Fire HD the king of the 7-inch tablet roost? Read on for our full Kindle Fire HD (7-inch) review.
AMAZON KINDLE EVENT
INITIAL IMPRESSIONS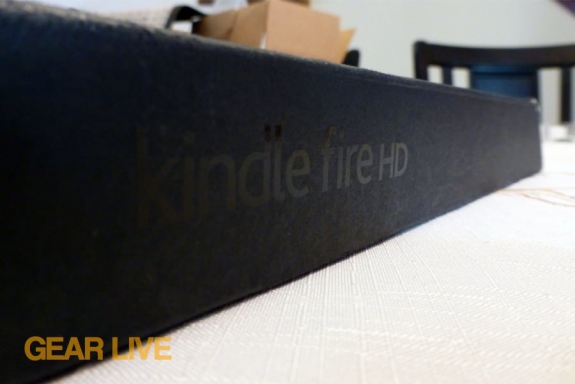 The Kindle Fire HD (7-inch) is a sturdy piece of hardware. After unboxing the Kindle Fire HD and taking it from the box, you get an appreciation for how it feels in the hand--especially the soft-touch material on the rear casing. The front is all about the 1280x800 display, and a small front camera in the bezel, placed at the top if you are holding the tablet in landscape mode, which we found a bit odd. You'll find the headphone jack, volume rocker, and power button on the sides of the device, with Micro USB and Micro HDMI along the bottom (again, in landscape mode.) On the back there's a metallic plastic strip that features the Kindle logo, with grilles on either side to cover the stereo speakers.
The Fire HD weighs in at less than a pound, and feels a lot better in the hand than last year's model. Put next to the Google Nexus 7, the Fire HD is imperceptibly thinner. It's not breaking any design molds at all, but that's okay. It's a 7-inch tablet that looks like almost any other 7-inch tablet when it's turned off.
HARDWARE
If you're talking about the Fire HD hardware, you've gotta start with the display. We're talking about a 1280x800 7-inch IPS display. It's nice. Really nice. In fact, it's the best 7-inch tablet display out there as of this writing. The new iPad with its Retina display is definitely better, that that is a device that costs more than twice as much as the Fire HD 7-inch. Amazon stressed during the introduction of the device that it worked hard on making the display as glare-free as possible, but to our eyes it didn't seem to exhibit any less glare than other tablet displays.
Other highlights of the Fire HD include its 1.2 GHz dual-core processor, 1 GB RAM, PowerVR GPU, and your choice of either 16 or 32 GB of internal storage (we are using the 16 GB model for the purposes of this review, but the two are otherwise the same.) The bezel camera is 720p, but doesn't seem to currently have the ability to be accessed directly. On the inside you also get a gyroscope, accelerometer, and light sensor.
Wi-Fi features multiple antennae, and takes advantage of MIMO technology. The goal here is to keep your Wi-Fi connection fast and stable. In our testing, we didn't find any different between the Kindle Fire HD Wi-Fi speed and any other device, but testing was performed on a solid network. We assume that if you were in an area where the signal was a bit weaker, that's when the MIMO antenna would shine.
Gallery:
The stereo speakers suffer from a similar problem. Amazon really focused on how great they would be, but in real world testing, there wasn't much to them. They sounded fine, and it was nice to have stereo sound, but Dolby Digital is a bit of a joke on these. Also, when you are in portrait mode, the stereo effect goes away.
Battery life is great, which is typical of all Kindle devices, Fire or otherwise. You can easily get through a full day without needing to stop in the middle to charge up.
Summarizing the hardware, it's good. It's not trend-setting or ground-breaking, but it's a solid effort by Amazon on making a 7-inch tablet that's light and comfortable to hold with a fantastic display.
SOFTWARE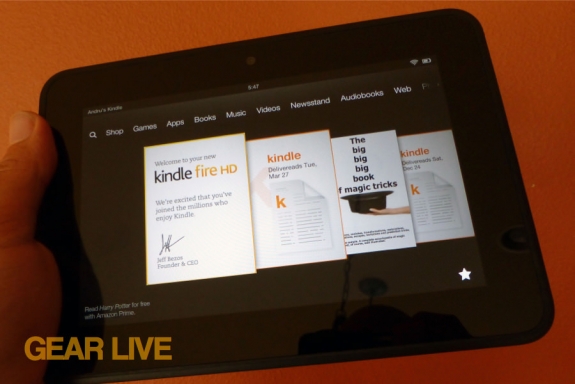 The Kindle Fire HD runs Android 4.0.3 Ice Cream Sandwich, but you really wouldn't know that unless someone told you. The OS is a heavily modified version of Android, similar to what we saw on the original Kindle Fire. Thankfully, though, it's much faster, and much less laggy than it was before. You still get the same carousel interface for launching stuff from the home screen, as well as the specific content-type category screens as well when you want to drill down.
When using the Fire HD, it becomes immediately apparent that, while this is a tablet used to enjoy the content you've purchased, it is equally a tablet that is used to sell you even more content. In fact, we were almost taken aback by just how much screen real estate at any given moment is dedicated to showing you items for sale that are similar to the content you already have. We aren't talking about the Special Offers lock screen (and we actually don't find that to be annoying at all,) but rather the different content silos when navigating on the device itself.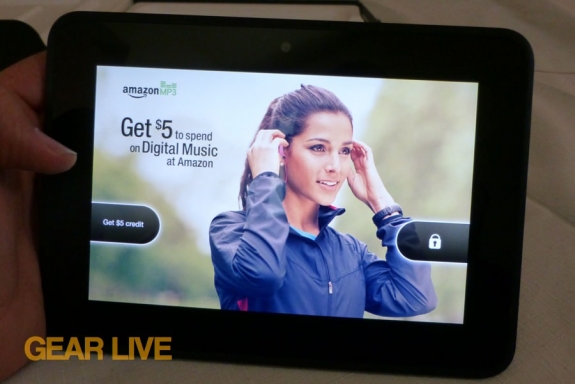 We mentioned that the UI is much less buggy and less laggy than the previous model--but that doesn't mean that the problem doesn't still persist. Throw too much at the Fire HD, and things will slow down a bit. Sometimes you'll think a tap didn't register and you'll do it again, only to find that you're waiting for whatever you wanted to happen to…well…happen. Still, that's a nitpick that we think most average consumers will easily overlook. Once you are in your ebook, movie, television show, music album, game, etc. things are pretty smooth.
The Silk web browser is still fine, but we still don't see the amazing benefits of Amazon's back-end cloud processing. It feels like using Chrome on the Nexus 7 as far as speed is concerned.
The email client that Jeff Bezos proclaimed to be the best email experience on any tablet did nothing but disappoint. It's not bad by any means, but when you say something is the best, you'd better mean it. Here, it's just passable.
The multiple account feature that you can set up through parental controls is fantastic. It allows you to set timers for your children, and you can even break those timers up by category. For example, I can allow my son to play games for up to 30 minutes per day, while allowing him to read books as much as he'd like with no limit. This is something we hope other tablet makers steal--it's that good.
THE BENEFITS OF AMAZON PRIME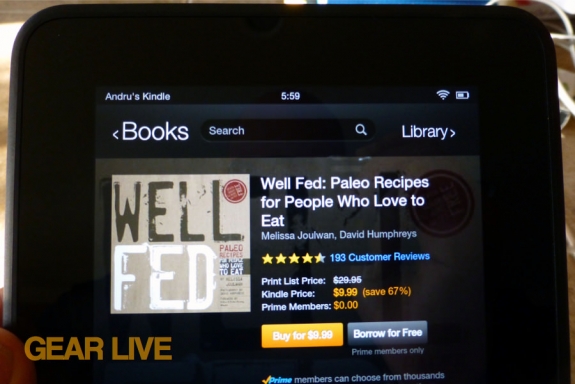 The one thing that we recommend any buyer to get that truly unlocks the full potential of the Kindle Fire HD is an Amazon Prime membership. Without it, the Fire HD is a lesser device. That's just how it is when you build a tablet around services.
Once you are a Prime member though, you get access to things like the Kindle Lending Library, where you get free eBooks to read. There's also a bunch of free movies and television shows you can access as well, all directly from the Fire HD, and all without having to sync any of this content from a PC or Mac. It's just ready and waiting for you, tied to your Amazon account, in the cloud. Whispersync makes it even better, because you can start something on your Fire HD, or elsewhere and pick up where you left off. That goes for books, movies, television, and even things like apps and games. It's a good thing too--the Amazon Appstore is an almost barren wasteland. Okay, it's not that bad, but it is nowhere near the breadth of what you'll find in Apple's App Store or even Google Play. With that being the case, Amazon Prime had to step in here to save the device, and it does so splendidly.
CONCLUSION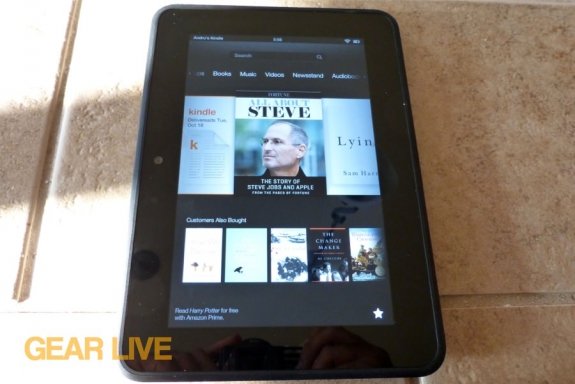 This is a device for consuming the products of Amazon's world. As a tablet that does anything other than that, the Kindle Fire HD kind of falls flat when compared to other products like the iPad and Google Nexus 7. That said, if you love Amazon and use its service with any regularity, then the Fire HD is a tablet to consider. It's a great little tablet for reading e-books, watching movies, and playing some casual games. If that is all you are looking for, then look no further, because the Fire HD 7-inch shines in that aspect, especially when paired with Amazon Prime.
However, if you're a techie looking for the best 7-inch tablet that your money can buy (or if you're just someone who doesn't care to dive head-first into the Amazon ecosystem,) then you'll probably want to go with a Nexus 7, despite the fact that it is $50 more expensive for a similar amount of internal storage.
You can pick up the Amazon Kindle Fire HD (7-inch) now for $199.
Related Tags:
7-inch, adslice, amazon, android, e book, e books, e reader, e readers, e-book, e-book, e-books, e-reader, e-readers, ice cream sandwich, immersion reading, kindle, kindle fire, kindle fire hd, kindle fire hd 2012 review, kindle fire hd review, kindle fire review, reader, reviews, sidefeatured, slates, tablet, tablets, video, video, whispersync
© Gear Live Inc. – User-posted content, unless source is quoted, is licensed under a Creative Commons Public Domain License. Gear Live graphics, logos, designs, page headers, button icons, videos, articles, blogs, forums, scripts and other service names are the trademarks of Gear Live Inc.