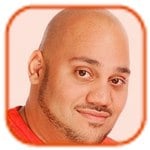 Posted by Andru Edwards Categories: Movies, Television, Kind Acts,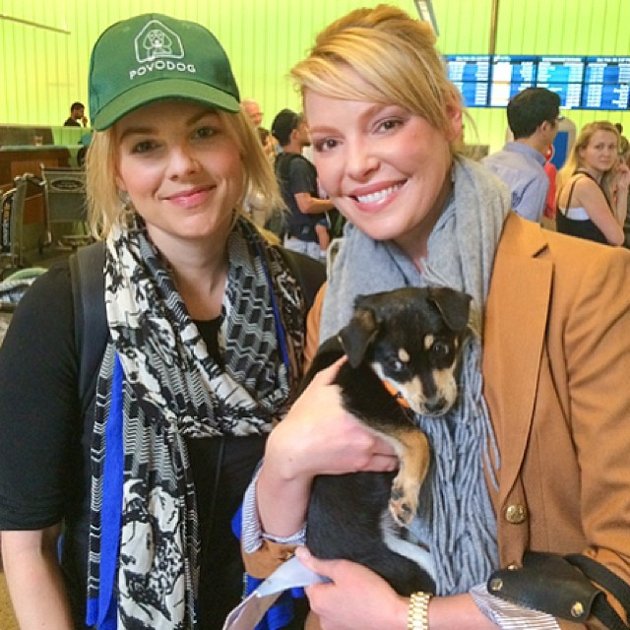 Katherine Heigl is helping two rescue dogs from Sochi, Russia find new homes in the US.
The 35-year-old actress picked up the two dogs, named Sochi and Adler, from former Bachelorette Ali Fedotowsky, who escorted them safely to Los Angeles from Sochi on Saturday, where she working was an Olympic correspondent for E! News.
The 27 Dresses star, who has seven dogs of her own and co-founded the Jason Debus Heigl Foundation, aimed at finding happy homes for shelter dogs, told PEOPLE.com that she was inspired to help after hearing officials in Russia planned to kill any stray dogs found near the Olympic Park, and was concerned that one of the animals had been very sick on the flight: "Sochi hasn't eaten in 15 hours and is throwing up so we are hoping that it's just from the travel. We haven't done this before. We haven't done a rescue from another country. I'm nervous for the dogs. It's an awfully long flight. I'm hoping it's the beginning of the good life to come."
Click to continue reading Katherine Heigl Helps Rescue Sochi Dogs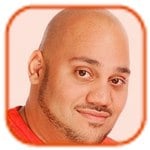 Posted by Andru Edwards Categories: Movies, Television, Celebrity Babies, Kind Acts,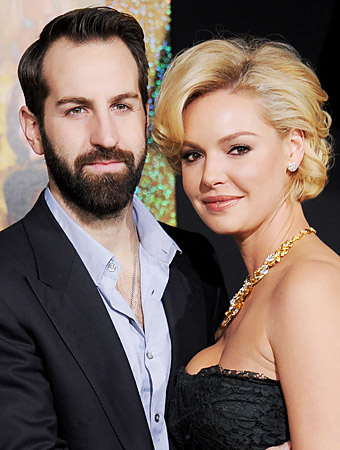 Katherine Heigl and Josh Kelley have adopted a second daughter. The couple - who already have three-year-old daughter Naleigh from South Korea - have welcomed another child, but a name is not yet known.
"Yes they have adopted a baby. No further details are available at this time," the couple's representative said.
In January, 33-year-old Katherine confirmed she was talking about taking on another child with her 32-year-old husband: "Josh and I started talking about it before we were even engaged. We have talked about having biological children as well but we decided to adopt first. I'd like to adopt again."
The Grey's Anatomy beauty previously claimed she felt like a "bad mother" when she first adopted Naleigh from South Korea in 2009 because she could not bond with her.
"I fought incredibly hard for my daughter to accept me as mother. Her rejection almost broke my heart. At first I blamed myself and thought I was a bad mother. It took a while before I could admit to myself that the lack of trust had nothing to do with me."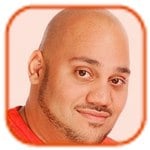 Posted by Andru Edwards Categories: Movies, Hook-ups,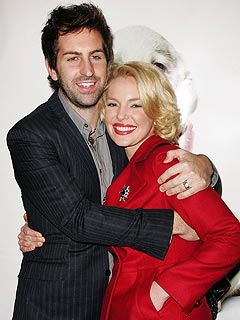 Katherine Heigl has never been tempted to cheat on husband Josh Kelley. The One for the Money actress says she could never have sex with another man because she needs to have an "emotional" connection.
Writing on her iVillage blog, Katherine - who has a three-year-old daughter, Naleigh, with Josh - said, "I have no desire to physically hook up with any man other than my husband and have been a serial monogamist from the moment of my first serious relationship at 20. I have never been able to connect with a man sexually without it becoming emotional, without giving a piece of my heart and soul to that connection. I understand that every human being on earth wonders if the grass might be greener in other pastures, but I could never imagine myself really going there or really wanting to. I guess the relationship I'm in is so consuming that the idea of a dalliance with another man sounds exhausting. It's hard enough to make one connection work. I can't imagine, even for four days, splitting myself between two!"
However, Katherine, 33, admits things aren't always perfect between her and musician Josh: "We've had some pretty explosive fights over the years trying to make our marriage work, but it's been worth it. I do not want to live my life without Josh in it and will do everything I can to make sure I don't have to - except give him the freedom to don a costume and mask and bang some other chick."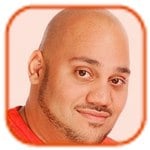 Posted by Andru Edwards Categories: Movies, Charity, Kind Acts,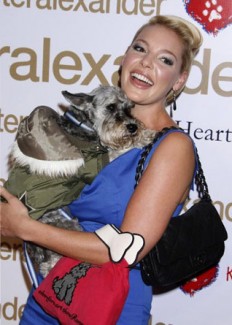 Katherine Heigl has donated $1 million to help animals in Los Angeles.
The Killers actress has pledged the enormous sum to the city as part of a new initiative to get animals spayed and neutered in honor of her late brother Jason Heigl - who died in a car accident in 1986 when he was a high school student.
"I said to my mother, 'I think it's a really grace-filled way to honor him.' My mother began the foundation in his name as a way of creating a legacy for this child of hers that didn't live long enough to do that himself and he also happened to be a real advocate for animals and children and the repressed so it works out beautifully. It'll never change how this day feels to us come September 23 every year. It has a significance now, of beauty, a grace to it, that we are grateful for."
The Jason Debus Heigl Foundation aims to stop the pet population crisis in the area with neutering schemes, but also through its support of training and obedience programs, rescue organisations, 'no kill shelters,' pet adoption schemes and programs which help move homeless animals away from shelters which intend to put them down.
Click to continue reading Katherine Heigl Donates $1 Million to Animals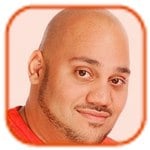 Posted by Andru Edwards Categories: Movies, Celebrity Babies,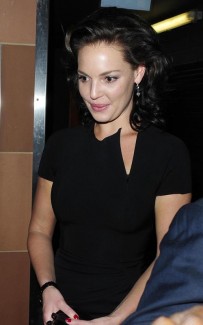 Self Emmy-submitter Katherine Heigl says it's difficult being a working mother.
The 31-year-old actress, who is married to Josh Kelley, found it hard to leave her adopted daughter, 18-month-old Naleigh, to go off and shoot her latest film Killers, which also stars Ashton Kutcher.
"It's difficult but it's like any working mom I think you have to make some compromises. It's easier said than done, but I knew that I wanted to keep working, I love what I do but it's really hard to leave her - I feel horrible," Katherine said at the London premiere of her film.
But when quizzed on whether she would like to add to her brood and adopt again, she nodded and said, "I hope to, yes."
Katherine also explained why she plans to stick to acting and never attempt to direct a big screen blockbuster: "I'm very grateful for the opportunity to produce but as far as directing - I can't imagine I'd ever do that. Because even at this stage, 20 years into it, I still don't really understand how that works and how all that part happens."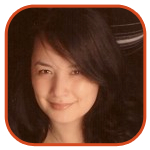 Posted by Veronica Santiago Categories: Movies, Television, Hair Styles,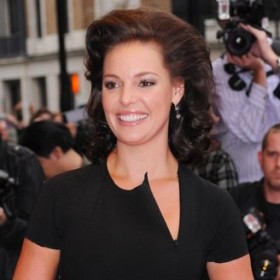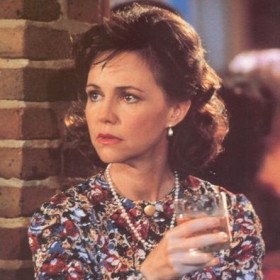 In today's installment, we have a brunette Katherine Heigl at Killers' London premiere on the left and Sally Field in Steel Magnolias on the right.
It appears M'Lynn Eatenton isn't the only one around with hair like a "brown football helmet."
(Make sure to check out more of our Celebrity Double-Takes here, here and here.)
Read More

| Just Jared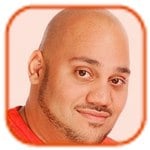 Posted by Andru Edwards Categories: Movies, Celebrity Babies,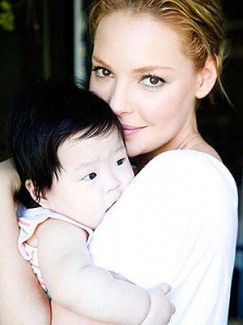 New mom Katherine Heigl can sleep a little easier, now knowing that her daughter is recovering well following heart surgery.
The actress and husband Josh Kelley adopted 17-month-old Naleigh from Korea last September and the tot recently went to the operating table to repair a congenital heart problem, but the little girl is now making good progress.
"Her heart is 100 per cent fine now. She has a scar, so she won't be wearing bikinis, which is fine by us."
The former Grey's Anatomy star also revealed how the adoption process was sped up for her and Josh because they were willing to have a child with health problems. She told Harper's Bazaar, "A lot of children don't find forever homes because they're on that special-needs list, even if it's because of something as simple as her mother smoked cigarettes for a month, not knowing she was pregnant. That's not so huge that you couldn't handle it."
Katherine is enjoying every moment of motherhood and is even willing to forgo some romantic time with Josh do that Naleigh has everything she needs: "If parent time interferes with sexy time, that's that. Now it's time to re-evaluate and grow up. Enough with the drama."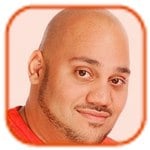 Posted by Andru Edwards Categories: Music, Television, Celebrity Babies,
Katherine Heigl's husband thinks that their adopted baby is "awesome." At least now we can rest assured that they don't plan on returning her.
Musician Josh Kelley gushed about Nancy Leigh, a 10-month-old Korean girl with special needs he and Katherine adopted earlier this month, during a concert on Ohio on Friday night.
On the verge of tears, Josh shouted, "We adopted a baby from Korea, me and my girl, and she's awesome, dude! This girl is the bomb!"
Earlier in the week, Josh sung a song he wrote about the baby—nicknamed 'Naleigh'—at a performance at Miami University. It included the lines, "Just to see you in mommy's arms is all I need."
Katherine, 30, was "thrilled" to welcome Nancy into her home, revealing that she has wanted to adopt a Korean baby since she was a child: "It's been a big part of my life and my family. My sister is Korean and my parents adopted her back in the 1970s and so I just always knew that this is something I wanted to do. I just wanted to make sure that I was marrying a guy who understands that this was going to have to happen. Not everybody is down with that, not everybody thinks that."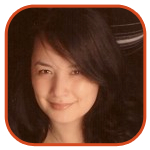 Posted by Veronica Santiago Categories: Movies, Television, Celebrity Babies,
Just a week after revealing their adoption plans, Katherine Heigl and husband Josh Kelley are showing off their new baby.
The 10-month-old girl, who came from Korea, has been named Nancy Leigh after the actress' mother (Nancy) and adopted sister (Margaret Leigh). Naleigh (their daughter's nickname) comes approximately a year after the couple began the adoption process.
The family photos were posted on the Jason Heigl Foundation's website. The organization, created in honor of Katherine's deceased brother, raises awareness of inhumane animal treatment in addition to providing medical and placement needs.
Click to continue reading Katherine Heigl Introduces New Daughter
Read More

| Entertainment Tonight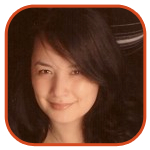 Posted by Veronica Santiago Categories: Movies, Television, Celebrity Babies,
UPDATE: You can preview Heigl's upcoming interview with Ellen after the jump.
Katherine Heigl's upcoming leave of absence is going to come in quite handy.
Late today, a rep of for the Grey's Anatomy star confirmed that Katherine and husband Josh Kelley will soon become first-time parents. No - Heigl isn't pregnant. The couple's simply adopting.
The little girl, who is reportedly named Nayleigh (they'll call her "Leigh"), will be coming from Korea. That's the same country Katherine's adopted sister Meg is from. The 10-month-old child should be joining the family sometime this week.
Heigl, 30, is expected to formally make the announcement on this Friday's taping of The Ellen DeGeneres Show.
The baby's arrival will come at a busy time for the actress. She begins filming Life As We Know It with Josh Duhamel next week.
Click to continue reading Katherine Heigl Adopting a Child
Read More

| Radar Online

© Gear Live Media, LLC. 2007 – User-posted content, unless source is quoted, is licensed under a Creative Commons Public Domain License. Gear Live graphics, logos, designs, page headers, button icons, videos, articles, blogs, forums, scripts and other service names are the trademarks of Gear Live Inc.