« Pod Shield Contest Results | Main | Gear Live 2004 Holiday Gift Guide »
December 17, 2004
SCOTTeVEST Solar Finetex Jacket Review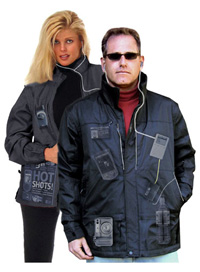 There comes a time in a manís life when you have so much gear, that a regular book bag would prove either too constraining, or too limited. There are also times when we find ourselves separated from a power source, and unable to charge said gear. ScottEVest provides a solution for all you gearheads on the go, and today Gear Live puts it through our field test. Come find out how the Solar SeV Finetex System fares in terms of storage, comfort, and charging functionality in our latest review, by clicking the link below.
INTRODUCTION
Most of you can relate to this experience. You have your MP3 player, which fits nicely in your regular jacket chest pocket. Plus you have your GBA, which fits snugly in your front jean pockets. Oh yeah, you also have your digital camera, which you can pop into the back pocket of your bag. But you want to read some magazines while youíre on a trip too. Hmm, I guess it can fit in the bag too, next to your glasses case, and your water bottle. Woops, almost forgot about the battery chargersÖoh yeah, and of course your PDA. Heh, how could I forget that? Dang, the cell phone too. Man, where are my earbuds going to fit without being damaged? The list goes on and on. Usually, I put everything in my book bag, and just lug it around all over New York City. Sometimes you want to keep you arms free though, or maybe the bag doesnít look so great on you when itís crammed with stuff.
If youíre familiar with ScottEVest, you know they offer pretty good solutions for people in this situation. The Solar SeV Finetex System on the other hand, is designed to enhance your gear experience even further. It includes of a flexible solar panel that connects to your jacket, and provides some juice to a black USB box, and to your USB gear. As crazy as this sounds, it really does charge your gear with just the power of the sun. You wonít need to worry about losing all the juice on your iPod, not at least for a while. Iím getting a bit ahead of myself though, mainly because as great as the system sounds on paper, there are a few shortcomings to the product when in actual use. Letís first look at what it does well.
STORAGE, STORAGE, STORAGE!
To start, this jacket has more pockets than youíll know what to do with. Seriously, every time you look a little closer, youíll discover something new. There are two pockets at both sides of the chest, both on the inside and out. Looking within the jacket, you will find numerous compartments, some of them with zippers, others with velcro linings, either to make them expandable or to keep them sealed.
There are pouches made for pens, glasses, music players, cell phones, chargers, PDAs, wallets, magazines, and even water bottles. There are even zippered pockets on both of the sleeves. In fact there are so many pockets that at first youíll be wondering where everything goes. ScottEVest obviously understood this. Included within most of the pockets are little informational cards that describe items that you might find appropriate for that specific area. I really appreciated these ideas.
Most likely you wonít even need every single pocket, as itís up to you to figure out where you feel things will be most comfortable. The beauty of the thing is flexibility and choice. One of the info cards recommended that I place my cell in one of the outer chest pockets, and a PDA on the opposite side. I found this to be pretty appropriate because I could answer my calls (and feel the vibration a little easier) and have quick access to my Palm at the same time, without having to open my jacket in colder weather.
COOL FEATURES
One of the chest pockets has an additional plastic pouch within it, which fit my Rio Carbon very nicely, and gave it a little more protection against the elements. Another interior pocket includes a cord with a clip on the end, which holds a cleaning cloth for your glasses. Handy! Both of the hand pockets include similar cords allowing you to clip your keys. Most pockets consisted of a strong black mesh that allowed you to see the items inside. They were large enough so that it didnít look like I was carrying all my gear with me, yet the jacket remained warm enough for me in the crisp weather I used it in.
There are a few more useful touches you may not notice at first. The collar of the jacket opens up to reveal an attached hood. The jacket also has some minimal reflective white lines, so that you and your gear are better protected against night traffic. The sleeves of the jacket can be zippered off during warmer weather, effectively turning it into a vest. There are elastic bands found within one of the larger front pockets to hold a water bottle within. Finally, there are small holes in several interior pockets to allow you to thread cords within, so that they can reach your head easier without tangles. All in all, this thing is just packed full of surprises.
NOT ALL ROSES
All this is well and good, butÖyou knew the gripes were coming. Letís look at where we found some issues. Iíll lay out the issues before you, and also explain how it affects the user, and what could have been doe differently. Iíll be constructive in what I share, because I truly believe ScottEVest is a good company, and its products generally provide us with functionality that you canít find anywhere else. Itís easy to tear something down, and a lot harder to build it up.
The first issue I had was with the exterior material used for the jacket. It actually scratches your skin a bit as you try to put it on, especially the arm-ends, which can come widen out easily with its velcro closure function. Once itís on, itís not so much of a bother, but my own personal jackets are a much softer and gentler material and itís never been a conscious issue for me. Perhaps this is the case because the jacket is water resistant. Still, I would think few people would run out with hundreds of dollars of electronics without an umbrella for protection. If this were softer, and a little easier to the touch, it would add comfort to the functionality.
Thereís more. The hand pockets are completely awkward. I donít know about you, but I like to walk with my hand in my pockets, especially in cooler weather. The design of these pockets is such that they are large, and will hold just about anything (remember, even water bottles) but hand insertion goes in at a weird, almost vertical angle, and I felt I was better off keeping my hands out of the jacket completely. If they were closer to the base of the jacket, and maybe smaller in the openings, this wouldnít have been an issue.
SOLAR PANEL
The solar panel is another area that I think needs some more work. First of all, the panel is pretty obvious when you wear it, as itís a deep purplish color, and lined with reflective material. This makes me feel uncomfortable walking down the street with it. Granted it can be removed, and used on its own, but thatís not what people are primarily looking for. It wouldíve been better to have the solar panel a black color so as to not stand out.
Additionally, it might have looked a bit more fashionable if it were embedded into the jacket, as opposed to something that the user has to strap on and have dangle from the backs of their shoulders. The bottom of the panel connects to the jacket via more velcro, but it wouldíve been nicer and even more convenient to have the panels sit flush with the jacket exterior itself.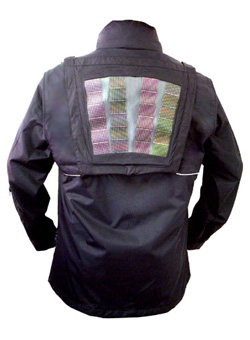 Speaking of the solar panel, it works, even though you are limited in the types of electronics you can use with it. The charger box that connects to the panel shows a little yellow light as it charges, and surprisingly I was even able to see it come on when I placed the panel directly under an interior light bulb. Connecting my USB compatible Rio Carbon to the box, I experienced no problems. There didnít seem to be a difference in charge time, from a regular charging using my wall-outlet USB adaptor. However, not all of our gear is USB chargeable. The jacket wouldíve been much more versatile if it allowed standard AC wall plugs to be used. That way I couldíve not only charged just my Carbon, but also my cell, my digital camera batteries, and my PDA.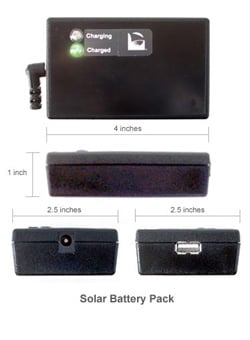 BE CAREFUL WITH IT
The next problem is a curious subtlety that comes out of the jacketís storage functionality. When I talked about this item with some friends, the only thing they could think about was what a huge theft target this jacket would be. This is a delicate issue, because ScottEVest has no control of how well you protect your own belongings, or the behaviors of other neíer-do-wells. Still, you have to think about keeping a close eye on this thing.
Itís not like a pair of pants, where youíll have a hard time losing it, along with the gear inside. This is something that is removable, and can hold thousands of dollars of equipment. I was actually worried about where I took this jacket off because if I wasnít careful, I would lose every expensive gadget I have amassed in the past couple years. This is just something to think about. Again, it is not SeVís fault, but the jacket requires an extra sense of vigilance when you take it off indoors, and that can be a big enough concern to detract people with substantial costly items stored inside.
FINAL VERDICT
My last concern is about pricing. $425 is a lot to pay for a marginally good product, even if it does store everything you will ever have. We take into consideration the overall value something offers to users, and this is a case where the prohibitive price sheds further negative light on the product. You do need to pay a premium for such innovative new concepts, but that becomes a problem when the concept stumbles in a few areas. The ScottEVest Solar Finetex jacket offers an unusual amount of storage space, but you also sacrifice some comfort, some looks (at least from the rear), and some versatility. Hopefully the problems discussed here are remedied in the jacketís next iteration. But for now, it leaves a little wanting.
PRODUCT INFORMATION
Product Name: Solar SeV Finetex System
Company: ScottEVest
Price: $425 (without fleece liner)
Posted by Hector at December 17, 2004 02:46 PM
RECENT GEAR LIVE STORIES:
Are Cell Phones Harmful?

Gear Live Giveaway: Three DVD's of Your Choice

Gamer Buys Virtual Island for $26,500

Gear Live 2004 Holiday Gift Guide

SCOTTeVEST Solar Finetex Jacket Review

Trackback Pings
TrackBack URL for this entry:
http://WWW.WRISTDREAMS.COM/mt/mt-tb.cgi/523
Comments
Post a comment