« Gear Live 2004 Holiday Gift Guide | Main | Gear Live Giveaway: Three DVD's of Your Choice »
December 20, 2004
Gamer Buys Virtual Island for $26,500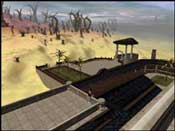 Just when you thought you had heard it all, someone goes and does something like this. Someone known only by his uber cool gaming name, Deathifier, decided to buy an island within the online RPG Project Entropia. Now, when I say buy, I mean with real cash. The island had an abandoned castle and "beautiful beaches which were ripe for developing beachfront property." Now get this - Deathifier sees it as an investment. He is now able to tax other gamers who wish to visit his island to go hunting, or mining for gold. Smart guy. It has been said that massively multiplayer online roleplaying games (MMORPGs) have a gross economic impact equivalent to the GDP of the African nation of Namibia. As for me, I would be pissed if I couldn't move into that abandoned castle after spending $26,500 on a game.
Read More | Technology Warriors
Posted by Andru at December 20, 2004 08:56 AM
RECENT GEAR LIVE STORIES:
Notebook Makers Moving to Slimmer Designs

Gear Live Holiday Music Guide 2004

Are Cell Phones Harmful?

Gear Live Giveaway: Three DVD's of Your Choice

Gamer Buys Virtual Island for $26,500

Trackback Pings
TrackBack URL for this entry:
http://WWW.WRISTDREAMS.COM/mt/mt-tb.cgi/526
Comments
Post a comment