« FreeiPods.com Is The Real Deal | Main | Microsoft Says Longhorn Will Support HD DVD »
July 25, 2004
Spider-Man 2 Soundtrack Review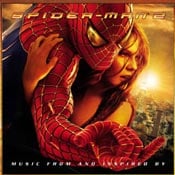 So, by now you've probably seen the movie. Twice. If you are considering purchasing the soundtrack, join Gear Live Music Columnist Greg Norton in his debut column, as he gives us an in-depth look at the Spider-Man 2 Soundtrack.
There are two categories of soundtracks in the modern era. The first type is basically a collection of singles, held together only by the fact that they were assembled on the same cd and wrapped in the same annoyingly difficult to open plastic wrap. The other type, the much more difficult type, attempts to convey the emotions of the movie's characters, attempts to fill in the characters in a way only music can, and above all else, it attempts musically convey the overall theme of the script's story. The Spiderman 2 soundtrack tries so very hard to fall into the latter category, but falls far short, finding itself classified as simply a collection of songs assembled on the same disc.
The more optimistic listeners will say to themselves that the soundtrack's producers attempted to pick bands that could capture the duality that is Peter Parker/Spiderman. Parker is obviously a tough presence on the outside, as Spiderman, seemingly invincible. Internally Parker betrays his tough image and is a sensitive teenage guy, pining after a girl that he just can never seen to have, eternally suffering. And there folks, is the exact description of the Emo bands that fill this disc.
Bands like Dashboard Confessional, intimidating with their tattoos and angry sneers, but singing about how their heart has been ripped out and stomped on. The more cynical listener will say that my previous sentences were crap, and that the producers were doing nothing but cashing in on the popularity of Emo music, and the modern rock spins of bands like Hoobastank, Jet, Lostprophets, Maroon 5 and Yellowcard. Either way, with such a stellar lineup of current rock tastemakers, this album can't be that bad can it? Well, it isn't that bad, but it is disappointing, given that with the talent on this record, it should have been much, much better.
Let's start with the bright side. There is a reason that Dashboard's "Vindicated" is getting tons of spins on the radio and video channels, it is a pretty damn good song. If you can ignore the thirty seconds that the line "let me slip away" is repeated at the end, "Vindicated" becomes one of Dashboard's better songs, and definitely their most radio friendly. Also on the high side is Jet's "Hold On", which is definitely a slower-paced acoustic departure from their day jobs as a Rolling Stones cover band. The song is actually very radio friendly, complete with a very catchy chorus that even has, gasp, two part harmonies. Who knew modern rock could actually be skillful?
Finally, sticking out like a sore thumb on this hard rocking disc is an exceptional song by piano playing crooner Jimmy Gnecco. Gnecco's track "Someone To Die For" should actually teach the other acts on this disc a thing or two about how to write some lyrics. All this talk about good songs, may lead you to believe this album is better than it is. So, as with a mountain, once you reach the peak, we must come crashing down on the low side.
There aren't really any dreadful songs on this cd, but it almost seems like a bunch of the bands just sent in b-sides so that they could say they were on the Superman 2 soundtrack. Hoobastank appears with an amazingly mediocre track "Did You", that sounds like it was written in about the same amount of time it takes you to suffer through the song. It seems like Maroon 5 simply remade "She Will Be Loved" from their album "Songs About Jane", and called it "Woman". And I would be amazed if you can actually tell the difference between the tracks by Smile Empty Soul and The Ataris. But the award for weakest song on the album goes to Ana for her dreadful song "We Are". If you ever want to know what someone is talking about when they say a song is overproduced, simply cue up this track.
So, we come to the end of our Spidey musical journey, and what are we left with? Since we are in the age of downloading (legal or illegally), I would say, grab the strong tracks, and forget the rest. This cd is simply a collection of songs, with no flow between tracks, so it is a cd, not an album. If I have to explain the difference, you have never heard Dylan's "Blonde on Blonde", but I digress. We are left with a few good songs, a bunch of mediocre songs, and so overall a 7/10.
Posted by Andru at July 25, 2004 10:19 PM
RECENT GEAR LIVE STORIES:
Are Cell Phones Harmful?

Gear Live Giveaway: Three DVD's of Your Choice

Gamer Buys Virtual Island for $26,500

Gear Live 2004 Holiday Gift Guide

SCOTTeVEST Solar Finetex Jacket Review

Trackback Pings
TrackBack URL for this entry:
http://WWW.WRISTDREAMS.COM/mt/mt-tb.cgi/127
Comments
Post a comment