« PlayStation 3 May Launch in March 2005 | Main | XBOX Media Center »
July 12, 2004
PlayStation 3 Displayed in May '05 - PSP US Launch in March '05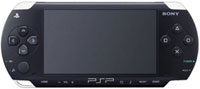 As a follow up to the previous story, it appears there was a misunderstanding regarding Sony's announcement. To clear it all up, the new Sony handheld console, the PlayStation Portable (PSP) will be the console to launch in March 2005.
At the same press conference, it was also revealed that the PlayStation 3 (PS3) will be on display in full working, playable form at E3 in May 2005.
Read More

| Reuters
Posted by Andru at July 12, 2004 12:00 PM
RECENT GEAR LIVE STORIES:
Are Cell Phones Harmful?

Gear Live Giveaway: Three DVD's of Your Choice

Gamer Buys Virtual Island for $26,500

Gear Live 2004 Holiday Gift Guide

SCOTTeVEST Solar Finetex Jacket Review

Trackback Pings
TrackBack URL for this entry:
http://WWW.WRISTDREAMS.COM/mt/mt-tb.cgi/98
Comments
Post a comment