« Wi-Bro: 50 Mbps Connection on the Go | Main | iPod mini Goes Global July 24th »
July 06, 2004
Apple Giving Away iPods, 10,000 Songs, and a Powerbook!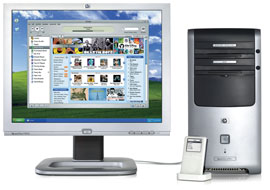 In honor of the upcoming 100 millionth song sold on the iTunes Music Store, Apple is running a promotion giving its users the opportunity to acheive the digital music motherlode. For every 100,000th song sold on iTunes, Apple will be giving away a 20 GB iPod - one to the purchaser of each 100,000th song downloaded between 95 million and 100 million songs. In addition, the person who downloads the 100 millionth song will receive a 17-inch Apple PowerBook, a 40 GB iPod, a gift certificate for 10,000 iTunes song downloads.
How many songs have been downloaded? Take a look:

Read More

| Apple
Engadget has a great article on how to enter the contest for free. Basically, instead of buying music, you can use the "Tell a Friend" feature. Instead of entering a friends email address, enter itunes100@apple.com. Hit send, and you just entered the contest.
Read More | Engadget
Posted by Andru at July 6, 2004 07:21 PM
RECENT GEAR LIVE STORIES:
Are Cell Phones Harmful?

Gear Live Giveaway: Three DVD's of Your Choice

Gamer Buys Virtual Island for $26,500

Gear Live 2004 Holiday Gift Guide

SCOTTeVEST Solar Finetex Jacket Review

Trackback Pings
TrackBack URL for this entry:
http://WWW.WRISTDREAMS.COM/mt/mt-tb.cgi/88
Comments
Excellent website, very informative. Keep up the excellent work
Posted by: absolute adds at July 9, 2004 05:45 PM
Post a comment