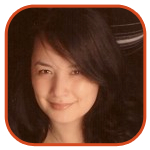 Posted by Veronica Santiago Categories: Comedy, Daytime, Drama, Music, Prime Time, Reality, ABC, Bravo, Cable, CBS, FOX, MTV, NBC, Showtime, The CW, America's Next Top Model, American Idol, Apprentice, The - Donald, Dancing With The Stars,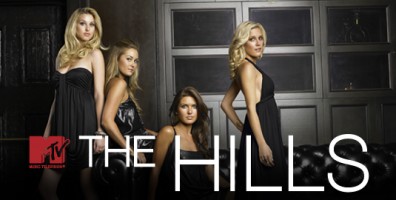 (You can view TV Envy's Post-Strike Television Schedule here.)
MONDAY (3/24)
How I Met Your Mother (CBS, 8:30): The overly-promoted Britney Spears cameo finally airs tonight. Let's just be happy the show is only 30-minutes long.
Pussycat Dolls Present: Girlicious (CW, 9pm): Nicole Scherzinger gives the girls tips on vocal expression. Sadly, advice on releasing solo albums is not something she can dish out.
CSI: Miami (CBS, 10pm): New episode. "A bride is murdered at her wedding. The investigation takes the CSIs to a strip club where the bachelor party took place." Strip club? This would be the perfect time for another Elizabeth Berkley appearance.
The Hills (MTV, 10pm): Season premiere. I wonder if LC wore any of her own designs in Paris. Doubt it.
Click to continue reading This Week on TV (3/24-3/30)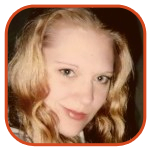 Posted by K.C. Morgan Categories: Reality, Specials, MTV, Gossip,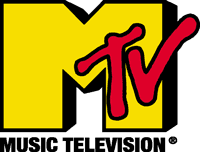 Veterans, MTV, and the Associated Press will all get together on Thursday to have a "candid discussion" (MTV) about the ongoing war in Iraq with the democratic Presidential hopefuls. Scheduled to last only one hour, the special will take up considerably less time than a standard democratic debate, and will air at the abysmal time of 6 pm EST (when it's almost certain only about twenty people will catch it). The broadcast will be shown on all MTV-named channels (too numerous to list) and will be streamed across almost two thousand Web sites.
The sit-down discussion with Senators Hillary Clinton and Barack Obama is part of the Choose or Lose effort, geared toward getting the 18 to 30 set to vote. The special will take place in Pennsylvania, where a primary will be held April 22. MTV research indicates that those aged from 18 to 24 are most concerned with Iraq, with 6 out of 10 in this group personally knowing at least one person who has actively served in the war.
The event is to be commercial-free, words which frighten me because I'm sure the product placement from MTV will be off the charts. John McCain was also invited to participate, but scheduling conflicts caused him to beg off.
Read More

|
MTV.com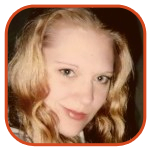 Posted by K.C. Morgan Categories: Reality, Specials, Cable, News,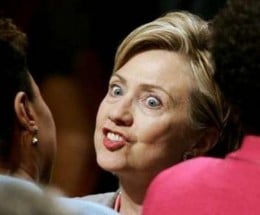 News networks scattered to bring the most up-to-date and intensive coverage. Promotional departments cranked out somewhat frightening ads making the day look like Armageddon. And they all geared up with a vengeance for this event the media has dubbed Super Tuesday. Now that the dust of news competition has settled, it's possible to get a look at the results of this apparently cataclysmic event.
The truth is, very few lives were changed by the election results. Far more were effected by the massive tornadoes which ripped through Arkansas, Tennessee, Missouri, Mississippi and Kentucky (where I personally live). Super Tuesday coverage began to fall by the wayside around two in the morning (EST) as the CNN news desk showed weather maps and gruesome footage of horrible damage.
Click to continue reading How Super Was 'Super Tuesday'?
Read More

|
VOA News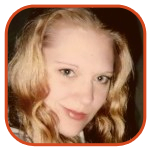 Posted by K.C. Morgan Categories: Prime Time, Specials, Cable, Editorial,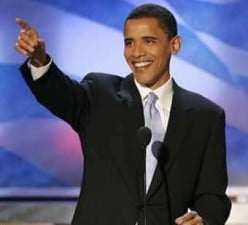 The only two Democratic Presidential contenders remaining sat down Thursday night to address the issues in the last Democratic debate before the colossal event dubbed Super Tuesday by the media. For those of you who didn't see it, the event was marked by two hours of hemming, hawing, and several pointless questions. In other words, it wasn't a huge departure from the other debates we've been treated to thus far.
Senator Barack Obama began with his opening statement, first thanking former competitor John Edwards in a very classy beginning parry. He made the prediction, to stirring applause from a group of voters which included famous directors Steven Spielberg and Rob Reiner, that either he or Hillary Clinton will be the next President of the United States. But let's not count the Republicans out yet.
Obama also referred to the fierce battle he and his fellow Senator are currently waging for the Democratic nomination, calling their race "competitive." Nice euphemism. Nobody's buying it, though. He also said it's time to take the country in a "new direction" and said this (the election) will be a "defining moment" in history.
Clinton, who was carefully neutral in a brown pantsuit which she erringly paired with some simply terrible turquoise jewelry, looked on with an ingratiating smile before beginning her own opening remarks. Sure to get her digs in, Clinton called Bush's "a failed administration" and predicted there will be a "heap" of problems to solve when either she or Obama makes it to the White House next January.
Click to continue reading Not-So-Super Debate for Super Tuesday
Read More

|
The Moderate Voice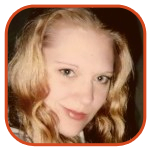 Posted by K.C. Morgan Categories: Reality, Gossip, News,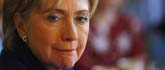 The first primary election of the year was held January 8, barely after the smoke from the Iowa Caucus cleared. The results are now in, offering surprises after the likewise astounding votes in Iowa. But the story doesn't begin with the voting polls, which opened January 8. Really, the outcome of the New Hampshire primary was dictated the day before.
Click to continue reading What Happened in New Hampshire?
Read More

|
Newsweek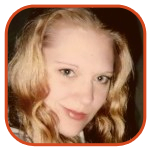 Posted by K.C. Morgan Categories: Reality, Specials, Cable, News,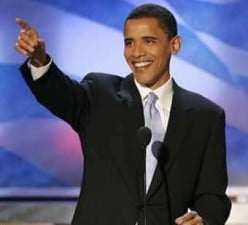 Even those who aren't politically savvy know about the Iowa Caucuses - perhaps that's why they were covered on three different cable networks Thursday evening. The results are in, the votes tallied, and the outcome of the Caucus is pretty surprising. On the strength of these results alone, two Presidential hopefuls have already completely dropped out the race. That's the strength of popular opinion…at least, in Iowa.
Republican Mike Huckabee was declared winner for his party early in the evening, with Mitt Romney and Fred Thompson falling well behind Huckabee in votes. Early Republican frontrunner John McCain had a dismal showing with only 14%, while former mayor Guiliani barely even registered on the poll.
On the Democratic side, Barack Obama leapt to an early lead and held on, becoming the party winner before the night was all said and done. Surprisingly, it was not Senator Hillary Clinton but John Edwards who fell into second place. Bill Richardson brought up the rear with a low 4%, while Democratic hopefuls Joe Biden and Chris Dodd - who have both since dropped out of the race - received 1% and 0% of the vote respectively.
Read More

|
FOX News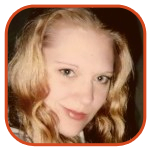 Posted by K.C. Morgan Categories: Specials, Cable, News,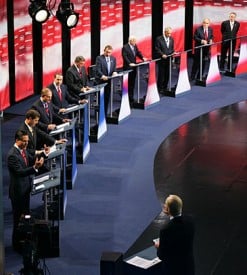 Get your DVR ready, set up the Tivo, or pop a tape into that antiquated VCR – because if you don't, you're probably going to miss the next round of Presidential Primary Debates. The writers' strike has changed everything about TV, and the democratic process is no exception. The Democratic debate scheduled for December 10 was canceled because the three front runners in that party (Clinton, Obama, Edwards) would not cross picket lines. But never fear, there's one scheduled for December 13 that will go on as planned. On the Republican side, the debate takes place on December 12. But odd time slots mean you're probably going to miss every bit of these two-hour arguments.
The December 12 debate (Republicans) and the December 13 debate (Democrats) will both air on the Fox News Channel (a partisan cable channel if ever there was one) at 2 pm. 2 pm? Yes, in the middle of the day (hence, the need for recording devices). The Democratic debates scheduled for December 17 and January 6 have been canceled, but these Presidential hopefuls will bump heads again on January 5, 21 and 31 (New Year's Eve – what a great addition to any party). Meanwhile, the Republican hopefuls (including Giuliani) will argue their sides on January 5,6, 10 and 30.
Click to continue reading Keeping Up With the Presidential Hopefuls
Read More

|
The Pre-Primary Period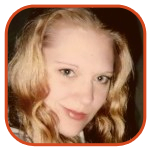 Posted by K.C. Morgan Categories: Editorial, News,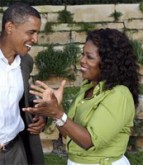 Barbra Streisand has recently made it known that she supports Hillary Clinton's bid for the Presidency, while Oprah has been on Barack Obama's bandwagon for some time now. Pro wrestler Ric Flair hearts Mike Huckabee and John Edwards recently toured Iowa with singer Bonnie Raitt in tow. Celebrities are citizens just like the rest of us, and the beauty of Democracy is that we all get to vote for whomever we please. But…is it okay for celebs to be so showy in their support for this candidate or that?
There's a lot of party politics out there, and sometimes the Democratic and Republican sides seem fairly cut and dry. But it's the people who remain "on the fence" that really turn the tide – the independents, the soon-to-be-registered voters, the people who claim a party but often vote against their own. What moves these people, what sways them? What might inspire them to go out there and cast a vote in favor of a particular politician?
Did the public reaction to Stephen Colbert's Presidential campaign not teach us anything? In less than one week after his announcement, Colbert shot ahead of other campaigners with a quick 2% jump – more than Chris Dodd and Mike Gravel have amassed in months and months of hard-core campaigning. Celebrities are on TV for one reason and one reason only – because they sell. They sell us everyday on entertainment, on their ideas, on their looks and their skills. So it's not an incredible leap of faith to assume they're going to try and sell us on their politics, too. But should they?
Click to continue reading Political Celebrities: Helpful or Hurtful?
Read More

|
Yahoo! News
via
Polling Report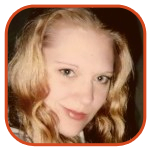 Posted by K.C. Morgan Categories: Daytime, Prime Time, Specials, Talk Shows, ABC, CBS, 24, Desperate Housewives, House, News,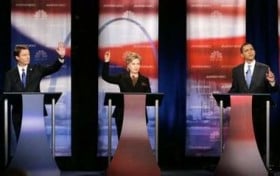 This is how it works. The Writer's Guild of America has gone on strike. For most of us, this means that shows like House, 24, Desperate Housewives and a whole host of others won't be on the air. But the writer's strike has a bigger effect, and not just on our TV watching. Not only will this strike begin to effect the economy, but now it's affecting the future of our nation. Because when party politics mixes with a writer's strike, no one gets to benefit.
Let's talk about Democrats. Support for unions is one of the bedrocks of the Democratic party – in fact, no self-respecting Democratic politician would ever be seen crossing a picket line. And right now, there are plenty of picket lines in front of TV studios. How does it affect you? If you've been looking forward to another Democratic primary Presidential debate (and there's one scheduled December 10), you may wind up disappointed. Hosted by CBS News, this particular debate was scheduled many months in advance. But the Democratic contenders who will appear in the debate absolutely will not cross a picket line. That's party politics.
Click to continue reading Party Politics and the Writer's Strike
Read More

|
Hollywood Reporter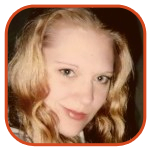 Posted by K.C. Morgan Categories: Prime Time, Reality, Specials, Cable, Editorial, News,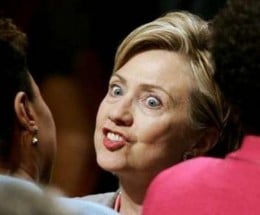 The Democratic contenders in the Presidential race will take the stage tonight in another primary debate. The University of Nevada will host the event, which will be captured for posterity (and our criticism) by CNN TV cameras. All the action begins at 8pm.
I've had the pleasure of watching the primary debates (for both opposing camps) from the beginning, and I must say there's simply no better TV on at all. Each new debate sees more pointed comments, more heated arguments and more political "outing" from the competitors. Everyone's policy is on the table for review, everyone's actions will be called forward and everyone is sure to be at each other's throats before it's all said and done. Now, that's entertainment.
CNN polls for the state of Nevada find Hillary Clinton in the lead by a huge margin (51%), proving to me that I am one of the few actually watching the debates. Barack Obama is in second place with 23% of the popular vote while John Edwards still in the running at 11%. Bill Richardson, surprisingly, has surged ahead of other competitors with 5% of the vote, followed closely by Joe Biden who has 4%. Both Mike Gravel and Dennis Kucinich have 1% of the popular vote, with 4% of those polled remaining undecided.
We all have to vote for one of these contenders, or one of the Republican debaters, fairly soon. Watch the debates.
Watch the debates
.
Read More

|
CNN
© Gear Live Media, LLC. 2007 – User-posted content, unless source is quoted, is licensed under a Creative Commons Public Domain License. Gear Live graphics, logos, designs, page headers, button icons, videos, articles, blogs, forums, scripts and other service names are the trademarks of Gear Live Inc.