« The Knowledgable Consumer Strikes Back | Main | Google To Release IPO Price This Week »
July 19, 2004
Archos GMini 220 Review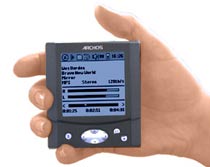 The Archos GMini 220 is another contender in the portable digital audio game. With all the focus on the iPod right now, we decided to contact Archos to take a closer look at their hard-drive based MP3 Player. Without giving too much away up front, we felt it performed well enough to be taken seriously. Find out why in our Archos GMini 220 Review.
Features:

20 GB Hard Drive: 300 hours MP3 at 128 kbps or 700 hours of voice recording at 64 kbps or 200,000 photos or 20 GB of data storage

2.5" gray-scale LCD with user-friendly graphical interface with icons

ARCLibrary to organize and synchronize your music

Formats supported: MP3, WMA and WAV

USB 2.0 High-speed (USB 1.1 compatible) plus CompactFlash reader -compatible with type I and II

INITIAL IMPRESSIONS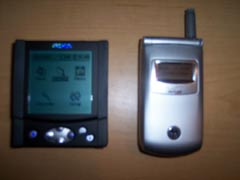 The GMini 220 is very compact. In fact, looking at its: 67.5 x 78 x 23 mm frame which weighs just 170 grams, it is hard to believe that the thing holds 20 GB of data. I have yet to find another hard-drive based digital audio player that fits in my hand so neatly. When you look at the build, you notice a few imperfections. While the casing is solid, the buttons feel "cheap". They could have made them a bit sturdier. Looking at the rest of the frame, though, you see rubberized ends which keep the unit still when on a surface, as well as protecting whatever it is resting on from scratches. The 2.5-inch 160x160 blue backlit screen is a little dark, but gets the job done. Again, the unit wastes no space. On the face of the unit there is just the screen, the navigation buttons (which are tiny), and a small Archos logo. Finally, there is a CompactFlash card port on the side of the unit, which is just genius.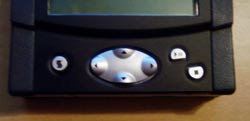 PERFORMANCE
The sound quality on the Archos GMini 220 really shines. It boasts MP3/WMA support at up to 320 kbps. Listening to multiple genres of music was fine using the default settings, however, the built in equalizer is what sets this apart. Forget about the equalizer on the iPod, this is where it's at. Archos did a great job at optimizing each genre for the best sound.
You have the option of supplementing the unit with an in line remote and FM tuner, available for US$39.95, which allows you to control the player and record FM radio directly into MP3. This unique remote control transforms the GMini 220 into an FM radio and remote with full MP3 recording capabilities. Record songs from the radio in MP3 format to listen at your convenience. With the ARCHOS patented retro-recording system, it is possible to record the radio after the song has already started. The LCD lets you do it all while keeping the player safely in your pocket.
The GMini's interface allows you to do a lot of things directly on the device. While they provide MusicMatch on a disc, there really is no need for it. The Archos GMini is a driverless device. There is no software to install to use it. Simply plug it in via USB, and drag your files to the device through Windows Explorer. It works flawlessly, and is very intuitive. Thank you Archos. In addition to all this, you can also remove, rename, and group your files directly on the device.
The microphone at the top of the GMini allows you to record and save it directly to the drive in MP3 or WAV format using any line in source (Stereo, SPDIF, Digital Input/Stereo Analog). You can then categorize this recording the same way you would any other music file.
The device also provides a very lackluster picture viewer. Yes, can view pictures on the GMini 220, but I would advise against it as it displays in monochrome and is not detailed at all. I found some pictures to even be unrecognizable. This would have been a great feature had this device included a color screen – in fact, that would have put this device leaps and bounds ahead of the game.
Lastly, that which I referred to as genius earlier is the Type 1/Type 2 Compact Flash card slot on its side. Although it is a bit slow, you can not only read off of the card, but you can also move files from the CF card to the Archos GMini hard drive. With 20 GB of storage, that is just amazing.

PROS:

Ultra-compact size makes this device one of the easiest to bring everywhere you go.

This is a driverless device. All that is required to use it is a USB 2.0 connection.

Being able to edit files and layout on the device itself is a feature that we have been waiting on for quite some time – the GMini 220 delivered.

CONS:

Navigation buttons feel "cheap"

While the picture viewer is nice, it is too lackluster to be more than an afterthought.

The GMini 220 provides only 8 hours of power per charge.
FINAL VERDICT:

The Archos GMini 200 line came into the digital audio player game with a wealth of unique features that truly separate it. Unfortunately, since a couple of these features can be viewed as forgettable (ie - the picture viewer), or are only available through purchased add-ons, it seems that they hurt the player more than they help it. Archos is definately on the right track with this device. I look forward to the next iteration in the GMini series.
Posted by Andru at July 19, 2004 11:21 PM
RECENT GEAR LIVE STORIES:
SCOTTeVEST Solar Finetex Jacket Review

Pod Shield Contest Results

iRiver H10 Surfaces

Nokia to Introduce Hologram Labels for Cell Phone Batteries

Sprint and Nextel Announce $36B Merger

Trackback Pings
TrackBack URL for this entry:
http://WWW.WRISTDREAMS.COM/mt/mt-tb.cgi/115
Listed below are links to weblogs that reference Archos GMini 220 Review:
» Archos GMini 220 Review from Player Blog
Gear Live has a new review of the Archos GMini 220 portable video player. With a striking resemblance to a 3.5" floppy disk with a LCD screen, the Gmini 220 has a 20GB capacity measures only 2.66"x3.07"x0.9". Related Links: Archos Gmini 220 Review... [Read More]
Tracked on July 20, 2004 02:05 PM
Comments
Post a comment