Monday February 12, 2007 9:18 pm
Has Robyn Troup Won American Idol: Season 6 Before It's Even Started?
Tweet
Posted by Rob Stevens Categories: Music, Prime Time, Reality, FOX, American Idol, Features, Gossip, Spoilers,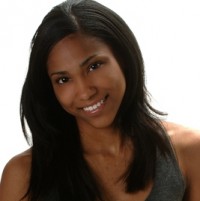 Anyone who knows me has probably heard me rail on the "parade of mediocrity" that is the audition process for American Idol. I'm just the kind of guy that thinks that to get your fifteen minutes of fame, you must be able to do something significant to contribute to ... something. Looking like a jackass and not being able to sing don't count.
But that's neither here nor there. Tomorrow starts the first round of hopefuls that were talented enough to get to the Hollywood stage of the competition, and this is normally where I start paying attention to the show. Idol has the ability to make stars out of even non-winners, and in fact, not winning could end up being a major opportunity for you. Kelly Clarkson notwithstanding, some of the biggest names to come out of Idol are Jennifer Hudson and her meteoric rise to capture a Golden Globe and probably an Oscar, and Season 5 finalist Chris Daughtry who's debut album just went platinum (and is a great rock album).
Which led me to have an interesting conversation with my wife last night. How is it that the audience has been getting it so wrong, since they are the ones making this decision? The voting should be roughly analogous to how sales should go, right? And yet, winner Ruben Studdard falters while Clay Aiken makes out like a bandit. What's going on?
My hypothesis is that only Season 1 of Idol was "pure", meaning that the producers and the judges themselves didn't try to steer the voting too much. In later seasons, the producers and judges learned to distrust the voting audience and tried to find ways to steer votes. Simon Cowell in particular makes his attempts to guide the voting rather transparent ... after all, he's the one with money on the line when he has to package the winner for a mass audience.
Unfortunately, the agenda with the vote steering could be completely unrelated to who will be the bigger star, or the most marketable personality. Anyone putting on a TV show knows that you need to deliver a story, and the better the story, the better the ratings. So how do you do that with a reality TV show? That's where all the "back home" and "behind the scenes" vignettes come into play. How else can you explain the inexplicable win of Fantasia Barrino, other than that the audience bought into her story and wanted to reward her. One might even suggest that there were other reasons too, such as wanting to add more diversity to the list of winners. It probably doesn't go quite that far, but you never know. The vote steering can have the opposite effect at times, however. If enoguh fans of someone like, say, Jennifer Hudson, can be steered to another choice (and if they feel she's safe enough to continue), you end up with the results "shocker" that we're all so familiar with.
At the start of the finals round of Season 5, I told my wife that who will win American Idol that year depended on what kind of album Cowell wanted to produce. If he wanted another true pop star, it would be Kat McPhee. If he wanted to try his hand with a rock album, Chris Daughtry was a lock. Of course the joke was on me (and Cowell) as it turns out that Taylor Hicks was an unstoppable force from Day 1. Of course, Daughtry and McPhee both have hits on Top 40 radio right now, and I've yet to hear anything memorable from Hicks (though that could be due to the stations I listen to). Hicks win was partly due to a strong fan base back home (and loyal voters), and partly because of how many votes he was able to pick up from departing finalists. But arguably, the fans had their minds made up about Hicks from the get-go adding more to the argument over how "pure" the contest really is.
That brings us to Season 6, and the story this time around is that one of the Hollywood Hopefuls has a gigantic and arguably unfair advantage going into the voting (should she make it past the semi-finals). Robyn Troup has confirmed that she auditioned for Season 6, but could not say if she made it to Hollywood ... which of course means that she did (her NDA wouldn't bar her from saying that she didn't make it). If you don't know who Robyn Troup is, you probably didn't watch the Grammy Awards last night, where Robyn won a contest to sing with Justin Timberlake on the show and wowed the audience. If Robyn makes it to the Final 12, what are the odds that she won't win the entire thing? I suppose that depends on the story they want to tell, or if the audience has their mind made up at the beginning.
Addendum: As I've mentioned in previous blog posts, the producers have ways to steer the voting, from lighting and song availability in the "genre weeks", down to who performs first and last. If you think that the performance order is random, you're kidding yourself ... it's no surprise when one of the best performances of each week is the last to perform. "Send the audience home happy" is one of the old adages of showmanship. When they get to the finals, pay close attention to background and lighting for the performances, and see if you can pick out who the people behind the show want to win.
Also, as commenter Sue mentions below, I failed to acknowledge that Hicks' album went platinum one month after its release, though I credit my omission to the fact that it did so before releasing a single, which is likely why I hadn't heard anything from it on the radio. And to clarify, I'm not pointing out Hicks as an example of the fans getting it wrong, but more of a point to show that the judges failed to sway the fans away from Hicks. I've updated the post with a link to my blog post from last season explaining how DialIdol.com had Hicks picked to win by a landslide.
(You can find all the American Idol 6 posts here.)
© Gear Live Media, LLC. 2007 – User-posted content, unless source is quoted, is licensed under a Creative Commons Public Domain License. Gear Live graphics, logos, designs, page headers, button icons, videos, articles, blogs, forums, scripts and other service names are the trademarks of Gear Live Inc.