Saturday February 23, 2008 12:52 pm
Game Show AMNE$IA Premieres On NBC

Tweet
Posted by Jacci Lewis Categories: Games, Prime Time, NBC, Editorial,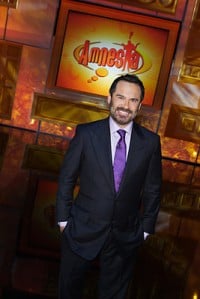 Amne$ia premiered on NBC last night and all I can say is - this is not your father's game show nor is it a cheap ripoff of This is Your Life.
Game shows are inherently cheesy. The whole premise of doing some odd collection of tasks in order to win a prize precludes any sophistication or real style. Not that it isn't entertaining to say, watch someone figure out how much Top Ramen, pantyhose and a coffee maker cost (The Price is Right), but generally the viewer agrees to suspend any expectation of real humor or insight in order to watch someone try to make a few bucks or win a new car.
Amne$ia is different somehow. Maybe it is the delightfully droll host Dennis Miller or a better crop of contestants, but this show may just be an exception to the cheesy game show rule.
First of all, the premise is interesting: one contestant, all the most important people in his or her life and the chance to win big bucks by remembering the most minute details of their past. Sounds easy, right? I mean afterall who knows you better than yourself? But would you recall your 3rd grade music teacher's name? How about her classroom number or even where you sat? Those are the kinds of facts that Amne$ia producers mine from contestant's lives to try to stump them.
The structure of the show begins with a "You in 60 seconds" segment where Miller fires off a series of trivia questions about the contestant's life. The questions are fairly straightforward: What did you bring your wife on your first date? Which one of your children were born on a Sunday? Each correct answer nets you $1000; you can answer up to 7 in one minute. That money is yours to keep no matter what happens in the rest of the show.
Next, Miller brings out three people touted as the 'most important' in the contestant's life. The contestant is then put into a glass isolation booth with headphones on while Miller quizzes the contestant's family member or friend. From that, and obviously lots of other research, the contestant then comes out and answers questions pertaining to that important person. They get $5000 for every correct answer, money that goes into what is annoyingly called the "memory bank".
The next round ups the ante to $10,000. In the third round of this segment, correct answers are worth $20,000. In last night's episode, the contestant had to remember everything from the name of the Indian in his favorite childhood book, The Indian in the Cupboard. Despite saying he'd used that book a number of times for school book reports, he answered 'Sitting Bull' when the answer was actually 'Little Bull'. In another question, Miller showed the contestant a business card he'd made up for fun as a teenager. The card used the man's childhood nickname "Wil-da-beast'; he had to remember what the second line said. He guessed correctly: 'Daddy of the Mack'. Obviously, all of these moments offer Dennis Miller ample opportunity to make wise cracks. In this case, he called the card "wrong on about 8 different levels".
Finally, the last part of the game offers the contestant the chance to walk away with money already collected in the "memory bank" or to try for up to $175,000 more. The way to earn the money is to correctly answer 3 questions: the first worth $25K, the second worth $50K and the third worth $100K. The only catch here is that if you get the question wrong, the total amount is deducted from your "memory bank". Once you hit zero, you're done in the game.
Last night's contestant lost $25K when he couldn't remember what his Dad's science classroom number was. He made $50K back though after correctly naming the actress who played Nic Cage's love interest in a movie he'd once seen with his wife, Captain Corelli's Mandolin.
So the stakes aren't quite as high as say Deal or No Deal, but the delving into someone's past and memories is far more entertaining. Dennis Miller brings levity to the concept, too, by making fun of the game's lighting and dramatic music. It gives Miller a chance to shine at what he does best, which is bring in the obscure references. At one point last night, he mentioned Burt Lancaster and Deborah Kerr while talking about a beach memory the contestant had. At another time, he called the contestant's Dad "freaky-deeky". Miller says what we are thinking or wish we could think of on the fly.
Another charming aspect of the show is that Miller comes across as genuinely liking and rooting for the contestants. That may end up being the magic in this show. The contestants have to be interesting and entertaining for their lives to have so many funny memories and Miller seems to bring out the best in them. He also knows how to poke fun at the cheesier aspects of their lives without being insulting.
The only drawback I'd say about Amne$ia is the tedius number of commercial breaks. That's not really the show's fault, but it is annoying and may drive some viewers away.
Friday night tends to be a wasteland on network TV; shows that may have a devoted following but often end up cancelled, news magazine shows and musical specials. But Amne$ia may just be an entertaining and hip alternative to all of that. Will it end up being a watercooler show? Hard to say - but it is at least worth a look and may make you wonder what you don't remember about yourself.
Amne$ia is produced by Mark Burnett Productions. It airs Friday night's on NBC at 9 p.m. ET/PT.
© Gear Live Media, LLC. 2007 – User-posted content, unless source is quoted, is licensed under a Creative Commons Public Domain License. Gear Live graphics, logos, designs, page headers, button icons, videos, articles, blogs, forums, scripts and other service names are the trademarks of Gear Live Inc.