Tuesday October 9, 2007 1:41 am
Dancing With The Stars: Week 3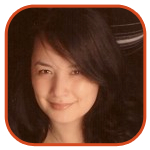 Tweet
Posted by Veronica Santiago Categories: Prime Time, Reality, ABC, Dancing With The Stars,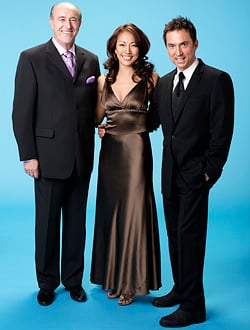 Tonight, the Final 10 competitors danced either a sexy jive or a sultry tango. Read on to see how they fared:
SABRINA BRYAN (partner Mark Ballas)
(Dance: Jive/ Song: 'Shake, Rattle and Roll')
We already know the girl can do ballroom—but what would she do with something more age-appropriate? Not surprisingly, her jive was flirty and fun. I'm constantly amazed by how well she can turn; I would be dizzy nauseous. Len didn't like a few of her 'bizarre' steps but thought it was her best dance so far. Bruno said she was like a 'seismic' event; her incredible power gave 'aftershocks'. Carrie Ann said the youthful, vibrant dance completely suited her. Score: 9/9/9 (27)
CAMERON MATHISON (partner Edyta Sliwinska)
(Dance: Tango/ Song: 'The Beat Goes On')
Thank goodness Cameron got to suit himself up this time around. I think he looks confident in this dance; he appears like he's actually taking charge. Carrie Ann said the dance was more G-rated rather than sexy and smoldering, but she liked the chances they took with it. Len complimented his posture and hold but wasn't a huge fan of the interpretation. He thought the dance had 'too much attack' and 'not enough slow'. Bruno thought Cameron was a lady killer tonight. He said he was much improved. Score: 8/7/8 (23)
MARK CUBAN (partner Kym Johnson)
(Dance: Jive/ Song: 'New Shoes')
Even if Mark Cuban doesn't make it past this week, he should be pleased about his transformation alone. He's lost so much weight, he looks like a completely different person! He's may not be the most precise dancer in the world, but he looks like he's having a lot of fun. Bruno said this performance was much cleaner. He thought Cuban was getting better at controlling himself, though he still needed to be lighter on his feet. Carrie Ann thought the dance was still a bit awkward; she recommended he watch his shoulders. Although Mark lost a bit of his timing, Len said his dancing development was apparent. Score: 6/7/7 (20)
JENNIE GARTH (partner Derek Hough)
(Dance: Tango)
Okay Mark Cuban needed the weight loss; Jennie Garth didn't. Could she get any thinner? She's coming back from a disastrous spill last week and putting her all into it tonight. Although I wish the dance was a bit less serious, Jennie looks great. She too can pull off some great turns…and I loved that floor spin! Len said that she was 'sharp and tangy like a pickle'. Although he criticized her posture, he loved her slow, deliberate movement. Carrie Ann thought the dancing was passionate and elegant. Bruno applauded her for the 'comeback of the season'. Score: 9/8/9 (26)
MELANIE BROWN (partner Maksim Chmerkovskiy)
(Dance: Jive/ Song: 'Sweet Soul Music')
Mel looked and danced like a bunny rabbit in her fringe dress tonight. She was lively, bouncy and energetic. I especially loved the twists and turns she and Maksim did in the end. Bruno said she was a 'bouncing bombshell'. He thought she had great control. Len thought this was her best dance to date. Carrie Ann simply agreed with the two gentlemen. Score: 9/9/9 (27)
WAYNE NEWTON (partner Cheryl Burke)
(Dance: Tango)
Wayne's pulling a George Hamilton tonight and going for the cheesy charm (at least I hope that's why he has the ponytail and mustache). This is a great dance for the two of them; it allows Wayne to play a suave, older gentlemen while Cheryl does all the dancing around him. I honestly believe Cheryl is trying to get kicked off tonight. If the audience doesn't realize that Wayne can't dance by now, they never will. Carrie Ann loved Wayne's commitment to his character; he went for a laugh and stuck with it. Bruno said he was a cross between Errol Flynn and Captain Hook. Unfortunately, he said it was obvious Cheryl was doing the leading tonight. Len said the mood of the character was great….he was just sad that the dance element disappeared. Score: 6/6/6 (18)
FLOYD MAYWEATHER (partner Karina Smirnoff)
(Dance: Jive/ Song: 'Mess Around')
I really like that they are playing up his bouncing abilities; unfortunately, I'm not sure if there's a lot of skill there. He can definitely spin and stick out his butt, but his technique needs more work. Regardless, the jive suits his character well. Len thought the dance was fun and energetic, but he disappointed by Floyd's footwork. Carrie Ann advised him to pay more attention to the structure of the dance and the proper placement of his body. Bruno said he has so much potential that just needs to be polished. Score: 7/7/7 (21)
JANE SEYMOUR (partner Tony Dovolani)
(Dance: Tango)
Okay—the dedication to her mother already made me cry, I'm not sure what the actual dancing will do to me. She looks absolutely fabulous in her low-cut black dress and sassy wig. What an actress. Despite everything that's happened to her this past week, she just pulled off a very sexy, emotional dance. Bruno said she gave the performance of silent movie queen; she had pathos, passion and great technique. Len said her dance could have been on 'pay-per-view'. Carrie said she witnessed a very special moment. It was one of the most gorgeous dances she's seen. Score: 9/9/9 (27)
HELIO CASTRONEVES (partner Julianne Hough)
(Dance: Jive/ Song: 'Kids in America')
I never would have guessed he had a previous ankle injury—he's throwing himself into the dance as always. His enthusiasm and charm could mask any flaws he might be throwing out there. Carrie Ann said there were moments where his body was 'open' and great, but also times when he'd 'crumble' just a bit. Bruno said it was not as technically clean and precise as his previous dances. Len loved his sparkling personality but criticized the faulty kick/ball changes. Score: 8/8/8 (24)
MARIE OSMOND (partner Jonathan Roberts)
(Dance: Tango)
Marie looks saucy with her red rose and dress tonight. Her stage experience is really helping her with this dance; she knows how to get into the role of her character. Len said it was a marvelous musical interpretation. He thought she absolutely elegant but advised her to lift her rib cage a bit more. Carrie Ann said Marie reminded of her Lucille Ball (in a good way). Bruno said that she was a 'mistress of characters'/ the 'Meryl Streep' of dance. Score: 9/8/9 (26)
Related Tags:
90210, abc, albert reed, all my children, ballroom, bruno tonioli, cameron mathison, carrie ann inaba, celebrities, cheetah girl, co-host, dancing with the stars, dr. quinn medicine woman, drew lachey, dwts, floyd mayweather, foxtrot, helio castroneves, jane seymour, jennie garth, len goodman, lisa rinna, mambo, marie osmond, mark cuban, melanie brown, mr. las vegas, pregnant, quickstep, reality competition, sabrina bryan, samantha harris, scary spice, surfer, tom bergeron, wayne newton
© Gear Live Media, LLC. 2007 – User-posted content, unless source is quoted, is licensed under a Creative Commons Public Domain License. Gear Live graphics, logos, designs, page headers, button icons, videos, articles, blogs, forums, scripts and other service names are the trademarks of Gear Live Inc.