Tuesday October 2, 2007 3:14 am
Dancing With The Stars: Week 2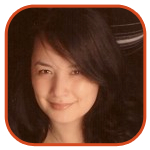 Tweet
Posted by Veronica Santiago Categories: Prime Time, Reality, ABC, Dancing With The Stars,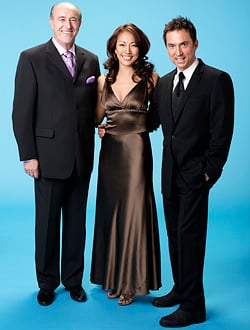 Enough with the separation of the sexes. Monday's show gave us what we wanted to see: the men and women competing on the same playing field. Did Mark Cuban do enough last night to raise his dancing profile? Were Helio and Sabrina able to outdo their own performances from last week? Read on!

MELANIE BROWN (partner Maksim Chmerkovskiy)
(Dance: Foxtrot/ Song: 'Take On Me')
Scary looked beautiful in her pink dress tonight. Despite any grief Maksim may give Mel about her dancing ability, I thought she glided effortlessly across the floor. Len said the 'B' stood for 'ballroom'; he never imagined she would be able to hold her posture so beautifully. Bruno compared her classy look to Lena Horne and her toes to Ginger Rogers. Carrie Ann complimented her posture but advised her to watch her shoulders. Score: 7/8/8 (23)

MARK CUBAN (partner Kym Johnson)
(Dance: Mambo/ Song: 'Ride Wit Me')
While I was slightly disturbed to see him in a sleeveless shirt, I was pleasantly surprised by how fit he looked. And thank goodness the facial hair was gone—what a dramatic difference! He appeared to have a lot of fun with his dance tonight. Carrie Ann wasn't sure if he did a proper mambo, but was certain he made her laugh. Len thought Mark's lower half was a bit wooden—but gave him props for his hard work and will to win. Bruno said it looked like a 'bulldog chasing a squirrel'. Score: 6/6/6 (18)
WAYNE NEWTON (partner Cheryl Burke)
(Dance: Quickstep/ Song: 'Viva Las Vegas')
What a great song choice for Mr. Las Vegas. Unfortunately, his perma-grin was the only thing that looked good. If he wasn't skipping or shuffling around, he was looking to Cheryl for his next move. Bruno said it looked like a red carpet walk; the dance was simply not quick enough for the 'quickstep'. Carrie Ann said Newton finally brought the hip action—unfortunately he brought it to the wrong dance. She was pleased to see his Vegas showmanship though. Len said the 2nd week performance did not reflect any improvement. Score: 5/5/5 (15)
MARIE OSMOND (partner Jonathan Roberts)
(Dance: Mambo/ Song: '??')
Marie was quite the sexy, seductive momma! She looked fabulous and shook all she got. Len thought the dance was absolutely great. He said Marie worked to her strengths: her attitude and ability to give a performance. Bruno said she was hot ala Rita Moreno in West Side Story. Carrie Ann called her one hot cougar. Score: 8/8/8 (24)
ALBERT REED (partner Anna Trebunskaya)
(Dance: Quickstep/ Song: '99 Luft (Red) Balloons')
Thankfully Albert's easy on the eyes because his dancing wasn't. His footwork did not appear to be in sync with Anna's at all. Carrie Ann said she really liked Albert's exuberance—though he needed to maintain it throughout. Len thought Albert had potential but criticized him for skipping through his quickstep. Bruno complimented Albert's posture but said his energy faltered in the middle of the dance. Score: 7/7/7 (21)
HELIO CASTRONEVES (partner Julianne Hough)
(Dance: Mambo/ Song: '??')
Helio was smooth and amazing from beat one. He threw himself into his dance (and on the floor) and really had fun while doing it. Simply a great performer. Bruno said it was exhilarating and hot. He said Helio managed to do things professionals would have found difficult. Carrie Ann labeled him the 'real deal'. She was convinced he actually lead Julianne through that performance. Len said Helio went into overdrive tonight. Score: 9/9/9 (27)
JENNIE GARTH (partner Derek Hough)
(Dance: Quickstep/ Song: 'Suddenly I See')
Jennie looked fabulous in her frothy pink gown. She also gave a great, playful performance—right up until a disastrous spill at the end of the dance. I'm not sure if her bum or ego hurt more at that point. Len thought she moved around the floor really well, but advised her to work on the posture. Bruno said the dance started off nicely and agreed with Len's critique. Carrie Ann warned Jennie to stop overthinking her performance; she needs to focus on her partner throughout. Score: 7/7/7 (21)
CAMERON MATHISON (partner Edyta Sliwinska)
(Dance: Mambo/ Song: 'Mas Que Nada')
I'm not sure who was more revealing—Edyta in her Pocahantas dress or Cameron with his open-shirt. Cameron's performance seemed a bit cheesy tonight, though I don't know whether his outfit or overacting was to blame. Carrie Ann complimented Cameron's nice lines but criticized his lack of musicality. Len said he was a bit wooden at the start but became more rhythmic as the dance progressed. Bruno said he 'looked like Superman but danced like Clark Kent'. Score: 7/7/7 (21)
FLOYD MAYWEATHER (partner Karina Smirnoff)
(Dance: Quickstep/ Song: 'Signed, Sealed, Delivered')
I think Floyd actually managed to make the quickstep a bit too bouncy. He almost looked like he was dancing around in a ring. Bruno liked that he was light on his feet but said his posture needed improving. Carrie Ann appreciated his spunk but advised him to open up his chest. Len said he needed to get rid of his boxing stance. Score: 7/7/7 (21)
JANE SEYMOUR (partner Tony Dovolani)
(Dance: Mambo/ Song: 'Cuban Pete')
Jane was a sexy kitten in her pink dress; I could only hope to have her legs at that age. Unfortunately, her performance looked a bit tentative despite a few great stunt moves. Len said the dance was very precise and neat—it unfortunately lacked raunch and sizzle for a South American mambo. Bruno also felt Jane needed to get her fangs out and 'bite into it'. Carrie Ann disagreed with the men; she thought Jane's elegance worked on her behalf. She was playing to her strengths. Score: 7/7/7 (21)

SABRINA BRYAN (partner Mark Ballas)
(Dance: Quickstep/ Song: 'They're Red Hot')
Her dance was fiery from the get-go. I was concerned she wouldn't be able to maneuver around in that long dress, but she delivered a great performance. Carrie Ann said Sabrina didn't miss a beat; she loved her power and her ability to control it. Len advised her on the levels of dynamics. Bruno thought it was a blistering performance. He said she looked like a professional. Score: 9/8/9 (26)
Related Tags:
90210, abc, albert reed, all my children, ballroom, bruno tonioli, cameron mathison, carrie ann inaba, celebrities, cheetah girl, co-host, dancing with the stars, dr. quinn medicine woman, drew lachey, dwts, floyd mayweather, foxtrot, helio castroneves, jane seymour, jennie garth, len goodman, lisa rinna, mambo, marie osmond, mark cuban, melanie brown, mr. las vegas, pregnant, quickstep, reality competition, sabrina bryan, samantha harris, scary spice, surfer, tom bergeron, wayne newton
© Gear Live Media, LLC. 2007 – User-posted content, unless source is quoted, is licensed under a Creative Commons Public Domain License. Gear Live graphics, logos, designs, page headers, button icons, videos, articles, blogs, forums, scripts and other service names are the trademarks of Gear Live Inc.