Thursday March 6, 2008 12:43 am
Christian Siriano Wins Project Runway Season 4

Tweet
Posted by Jacci Lewis Categories: Prime Time, Reality, Bravo, Cable, Editorial, News,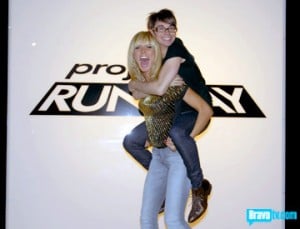 Christian Siriano is officially kind of a big deal tonight. The 21-year-old freelance fashion designer accomplished two major goals: his collection won Project Runway: Season 4 and he made guest judge Victoria "Posh Spice" Beckham smile. In fact, the usually enigmatic pop star told Siriano she'd love to wear anything he designed.
It is no secret that Season 4 of Project Runway lacked the drama and suspense of past years. There was no big twist in the final show either- no extra "look" to cobble together in the 11th hour, no scandals involving outside sewing help and no shouting matches between fellow designers. But what the show lacked in reality TV drama it more than made up for in sophistication and style. Each of the three remaining designers offered something new and fresh to the usually jaded fashion world.
The only real drama leading up to the final runway show at New York Fashion Week was Jillian's crisis over whether she picked the right models for her show. She wanted to switch at the last minute, but it was too late. Other than that, the first half hour or so focused on the designer's nerves, their hair and makeup choices and the final fittings of their models. Each designer had only kind words to say about their fellow competitors' collections. Rami's only negative comment was that Christian designs too much for models and not enough for real women.
Tim Gunn gathered the designers around for the final time, not to throw them a curve ball but to simply tell them how incredibly impressed he was with their work. He also gave them the order they'd appear in the show: Jillian, Rami then Christian.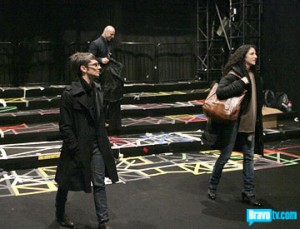 The day of the runway show, the three remaining designers get to see the Bryant Park tent they'll be showing in for the first time. All three seem genuinely awed by the experience and humbled by it as well. Even the always-confident Christian seemed like a little kid who had stumbled into something he is not sure he can pull off.
We also get to see a bevy of Bravo reality stars in the crowd, past Project Runway contestants and hosts from other Bravo reality shows as well. In fact, at one point we hear who Top Chef host Padma Lakshmi thinks will win; she liked Jillian's collection best. (The new season of Top Chef replaces Project Runway beginning next Wednesday night at 10 p.m. ET/PT on Bravo.)
Once the runway show begins, we understand what a difficult job the judges must have had picking only one winner. Each collection was totally unique. First an overview of each collection:
Jillian Lewis: Her collection was inspired by the same 15th century Florentine painting she chose for the previous "Art to Fashion Challenge". Her garments represented a mix of strong jackets and knits coupled with meticulously pleated skirts and slim fitting pants. Some of the looks did remind me a bit of vintage Ralph Lauren. (Lewis works as an illustrator for that label according to the Bravo website.) Jillian's colors were mostly muted with a few gold pieces and some red accents here and there. One of the most interesting pieces, in my opinion, was her strapless evening gown which featured soft, billowy, floor-length pleated pants instead of a skirt. My other favorite look in her collection was a black-and-white short equestrian-style jacket with a softly ruffled collar over trim camel-colored riding pants.

Rami Kashou: Rami's collection was probably the most cohesive of the three, in my opinion. His inspiration was Joan of Arc the 15th century French saint. Rami showed his full-range of talents with interestingly draped but structured cocktail dresses in jewel tones, some incredible woven pieces and an amazing top and long skirt made of softly-layered antique lace. Rami's colors were a bit more lively than the other two, with punches of silky red and vibrant blue.

Christian Siriano: Last, but certainly not least, was Christian's collection. How a 21-year-old can design something so totally out of the box and sophisticated is beyond me. Christian says his collection represents an interplay between the hard and the soft. It featured strong, powerful jackets, mostly in black, over slim fitting pants and skirts. The dark, intricate jackets were accented at times with ruffles and soft layers. Some of the pieces were covered in delicate feathers, others in yards and yards of ruffles. While most of the pieces were black, he did mix in a lovely beige tone. His pieces seemed far more conceptual and haute couture than the other two collections, but still you could see how his lines and textures could be translated into everyday clothing.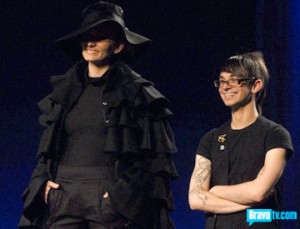 The judges seemed floored by all three collections. The usually wry Michael Kors had no snarky remarks, only praise. Victoria Beckham said she was truly impressed by all three collections and Elle magazine fashion director Nina Garcia said those three shows could have fit into anything else she saw at Mercedes-Benz Fashion Week this year.
Here is how they critiqued each collection:
On Jillian Lewis: Michael Kors loved the knit pieces she created, calling her collection fun and feminine and totally accessible; clothes that most women would want to wear. Victoria Beckham thought Jillian created stunning and surprising new silhouettes, she loved her attention to detail. Nina applauded the fact that Jillian took chances but thought perhaps she had too many inspirations in the collection and lost some cohesiveness because of it.
On Rami Kashou: Heidi Klum loved the woven pieces he did and thought Rami's collection was fresh and different. Michael Kors called Rami's clothes the most cerebral. Kors wasn't as hot on some of the color choices which he called "Brady Bunch" colors. Victoria Beckham thought Rami's collection was lovely and that the workmanship on each piece shone through. Nina Garcia said Rami's clothes had the strongest point of view but that he should have played up his strong points (evening wear) more and perhaps made fewer separates. Nina also questioned some of the color choices.
On Christian Soriano: Probably the most sterling endorsement of Christian's collection came from fashion icon Victoria Beckham. She said she loved everything Christian designed, that it was completely her taste and that she would wear any of his clothes. Beckham also said Christian's collection, "made me smile, and I'm not easy to make smile." Michael Kors thought Christian's collection was powerful and cohesive. Kors did wonder if all of Christian's spectacular workmanship was lost a bit because the colors were so dark and monotonous. Judging from my TV screen, it was hard to get a handle on some of the details of his pieces because the black didn't have a lot of contrast to it.
In the end, though, it was Christian's drama, attention to detail and innovation that made him the clear winner of Project Runway: Season 4. Heidi called him uber-fierce, Victoria Beckham asked to wear something Christian designed. Christian walks away with a featured spread in Elle magazine, a Saturn, an agent to represent him, the chance to sell his collection on Bluefly.com and, of course, $100,000 to kick start his fashion career. Christian's model Leigh also gets a spread in Elle magazine.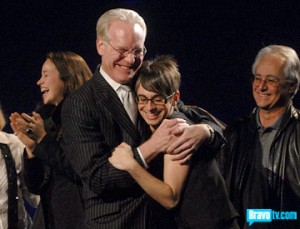 Christian Siriano is the youngest designer to win Project Runway so far. Don't worry about whether there will be a Project Runway: Season 5 either. The show is already sending out the casting call for the next round. Information on that can be found by clicking Bravotv.com.
© Gear Live Media, LLC. 2007 – User-posted content, unless source is quoted, is licensed under a Creative Commons Public Domain License. Gear Live graphics, logos, designs, page headers, button icons, videos, articles, blogs, forums, scripts and other service names are the trademarks of Gear Live Inc.