Thursday February 28, 2008 12:07 am
Big Brother 9: Amanda and Alex Evicted

Tweet
Posted by Jacci Lewis Categories: Prime Time, Reality, CBS, Editorial, News,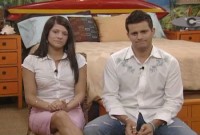 Time to bid a fond, or perhaps relieved, farewell to Alex and Amanda. By a unanimous vote the DJ from New York and the paralegal from Minnesota were kicked out of the Big Brother 9 house. The other big headline from tonight's live show was that Sharon and Joshuah won Head of Household by being the only couple to think ahead and read all of those annoying love quotes the BB9 cameras are always panning to and from.
The show began with a recap of Allison and Amanda's dramatic medical emergencies last Friday. Allison had a severe allergic reaction and Amanda collapsed nearly simultaneously from an unrelated blood sugar condition. Both women went to the hospital as a precaution but are now fine. Amanda's scare may have even helped her stock in the house, albeit briefly. It seems like the other house guests were more tolerant of her Betty Boop voice, penchant for gossip and disastrously inappropriate clothes after they thought she might die or at least go home prematurely.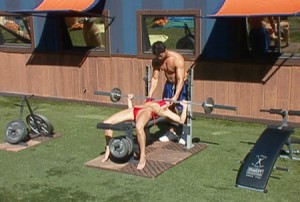 After watching the ever perky and perfectly proportioned Natalie lift weights with Matt as her spotter, Allison floated the idea that maybe Natalie and Matt should be the couple to go home since they are the strongest in the BB9 house. (As viewers of the 24/7 Big Brother feed know, Natalie is particularly popular for her willingness to do and reveal just about anything to anyone in the house while wearing little more on than a smile, gnarly looking knee socks and high heels.)
Allison quietly explained her idea to Adam, Sheila, James, Chelsia and Ryan. Adam was reluctant, saying he has formed the strongest bond with Matt and does not care for Amanda at all. Plus, he thought they were going to stick to James' "Operation Condor" plan to first take out the couples whose pictures sit on the top row in the house. Those pictures belong to the already evicted Jen and Parker and Alex and Amanda. The ever-versatile James thought maybe they could put that plan on hold and instead launch the equally dumb sounding "Operation Bro-down" to get rid of Matt and Natalie instead. (It should be noted that James and Chelsia could not vote to evict either couple anyway since they were this past week's HOH couple.)
During the live chat with Julie Chen it was clear that Sheila is still bitter that Allison betrayed her, at least in her own mind since there really isn't much proof of that theory. She looked tense and basically said 'it's a game, you can't really trust anyone'. James was again applauded for quickly jumping into action when Amanda collapsed. He said he honestly believed she was going to die. The guests also lamented the fact that they lost drinking cups and hot water during last week's HOH competition though Sheila says she has lost 5 pounds because she is stuck eating slop after the food competition.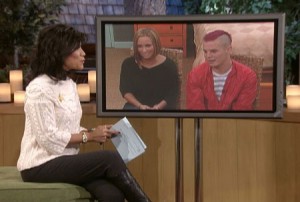 Next, there was a 'kindred spirits' montage featuring James and Chelsia with commentary from their friends. (Cue soft, hopeful music.) We learned a bit more about "crazy" James and his mission to bike around the world on little more than $100. His mission is called "Peace and Prosperity" and it is to prove that people still care about each other. Chelsia's friends say she is also a kind-hearted but competitive girl who is open-minded enough to appreciate someone like James. In a live, private chat with host Julie Chen, James admitted that he double-crossed Matt when he nominated Matt and Natalie for eviction; he and Chelsia agreed that their only regret is that the house guests won't trust them as much as before. James also railed against his fellow house guests saying they are the type of people he is against because they're too materialistic, too greedy and too shallow. He says if he wins his share of the $500,000 prize, he'll use the money to "inspire" people and to keep riding his bike around the world.
When it came time for the live vote, the two nominated couples made their last plea to stay. In a moment of maturity, Amanda said that Alex didn't deserve to go home because of her mistakes which she also apologized for. Natalie said for the umpteenth time that she doesn't want to go home to the "Beaver State" (Oregon). Matt agreed that the house guests had a "wicked haaaard" decision to make (add Boston accent here).
In the end Joshuah and Sharon, Ryan and Allison and Sheila and Adam all agreed it was time for Alex and Amanda to go.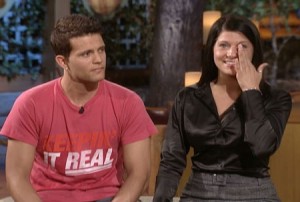 During Alex and Amanda's post-eviction chat with host Julie Chen, they seemed resolved to their fate though both agreed that you can no longer take anyone at their word. The taped goodbyes to the ousted pair were a mix of regret and bitterness. Allison told them her feelings were hurt because they didn't try to get to know her (what's to know, but that's for another day). Ryan agreed and said he was pretty much glad they were leaving. Joshuah apologized again to Amanda for insulting her and her family during their now-famous backyard brawl. Natalie said she'd miss them both and Matt vowed to avenge what happened to his brother from another mother Alex.
Finally, the guests were sent out back for the HOH contest. The game tested how much they knew about the love quotes all over the walls of the Big Brother house. Sharon and Joshuah smoked the other guests getting every question right. Not a super smart bunch to begin with, but it turns out Joshuah and Sharon memorized all the quotes right before the HOH competition just in case. Very smart. I'm actually kinda liking those two and their whole Will and Grace vibe. The next episode will put Sharon and Joshuah's loyalties to the test when they nominate two couples for eviction.
The next Big Brother 9 airs Sunday night at 8 p.m. ET/PT on CBS.
© Gear Live Media, LLC. 2007 – User-posted content, unless source is quoted, is licensed under a Creative Commons Public Domain License. Gear Live graphics, logos, designs, page headers, button icons, videos, articles, blogs, forums, scripts and other service names are the trademarks of Gear Live Inc.