Thursday April 24, 2008 12:36 pm
America's Next Top Model Cycle 10: Viva Italia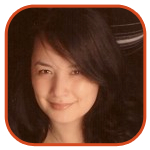 Tweet
Posted by Veronica Santiago Categories: Prime Time, Reality, The CW, America's Next Top Model, Editorial, Features,

>
On this week's episode of America's Next Top Model: Cycle 10, the remaining six girls traveled to Rome for the final stretch of the competition. Although this was a time for inspiration and renewal, several of them quickly discovered their flaws didn't translate well in Italian. (Note to future contestants: It doesn't matter which language you're speaking, people know what 'bad' looks like.)
Who stepped up even when they were feeling down…and who didn't even bother trying? Read on!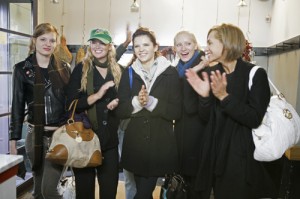 During their ride from the airport, the ladies had a chance to explore the city and let the whole experience sink in. The season was quickly coming to an end, and it was now time to put on their game faces. Lauren – who never expected to go this far – said she was definitely going to try her best. ("Whatever happens, happens.") Anya, who's always so appreciate of everything, made her Rome debut by falling out of her tour bus. Fatima, who knew she was lucky to be there, was determined to prove that the judges did not make a mistake. Meanwhile, Whitney – the only plus-sized girl to make it this far – was hoping to make a mark for all the other women like her.
After a quick tour of the area, the girls were brought to their new home. (Apparently models must have the ability to swim wherever they are because their plush pad once again had a indoor pool.) The most interesting thing I noticed during this segment was Katarzyna's personal comments. Up until now, that girl has flown under the radar – during the catfights, judges comments, etc – without saying a peep. I think those were the most words I have ever heard from her.
Later that night, Fatima was feeling too sick to join the ladies at the dinner table. Sometime during the traveling she had acquired a cold that kept her in bed. Of course, Dominique used this opportunity to criticize her competitor while she was away. "She has so much potential but she's nowhere near where she needs to be as a model." Anya, fed up with all the nastiness, walked away to bring her roomie a plate of food.
The next morning, the girls arrived at a piazza to meet Claudio Brassini, an assistant designer for Gai Mattiolo. From their first location, the high-heeled ladies all hopped on their own Segways to take a tour of the city. (On a side note: I've done a Segway tour of Paris. It's an absolute must. The best way to see the sights.) During their route, Claudio pointed out the fashionable women of Rome conveniently strewn about for them. It was important for the gals to note how the women of the region dressed. They were sexy and glamorous yet simple and conservative all at once.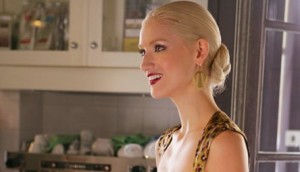 They finally arrived at the designer's studio where they were all given an Italian makeover. When their transformations were complete, Gai Mattiolo came out to personally judge the women on their looks and walks. Fatima – who was still clearly sick – was told she walked arrogantly. Dominique had a nice, natural walk but (in Gai's eyes) didn't "look fresh." He thought Katarzyna had a beautiful face and body. Whitney was told she had a very "American" look. (He said she could get what she wanted in her life with that face.) Meanwhile, Lauren embarrassed everyone as always with her stick-up-her-butt routine.
When it came time to pick a challenge winner, Gai chose Anya. He liked that she was "so blonde," skinny, young and fresh. For this win, the lucky girl got to add a red carpet-worthy dress to the $10,000 she had just won last week.
That night, the ladies got a piece of Tyra Mail hinting about their next photo shoot. Although it was written in Italian, brainy Katarzyna was able to figure out that they were set to do a CoverGirl commercial in Italian. The thought of this happening completely freaked Lauren out. "Crap, crap. I've been dreading this the whole time. I know I'm gonna suck. I'm not a CoverGirl. I mean, that's just not me." So what the frick are you doing there then?? Didn't you know that this was about being a spokesmodel??
The next day, the girls met with Jay Manuel and a cosmetic rep. Then they were officially told that they would be shooting a 30-second spot for CG Queen Collection's Vibrant Hues lip color. And yes, not only would they have to walk and talk – they'd be doing it in Italian. (Cue Lauren's petrified reaction.)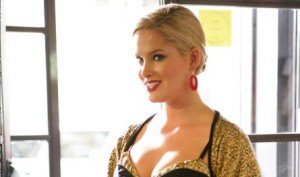 First up was Anya. Despite the provided cue cards, her Italian was horrible. You could tell she didn't know what was going on; she looked completely lost. The only thing that saved her was that she managed to look flirty and cute at the very end when she was supposed to be with her 'boyfriend.'
Katarzyna – who actually speaks several languages – had a much better time getting the words out and looking much more comfortable. Unfortunately, Jay felt her performance looked completely flat and lifeless.
Dominique, who admitted she would make up words she didn't know, made up words no one knew. (I actually believed she said "Nintendo" and "Brazil" at some point.) Although she definitely had energy, her spot was completely laughable. The director even said she might as well have been speaking Chinese.
Lauren….oh, Lauren. It's one thing to be scared, it's another thing to not even try. It was like she had an attitude from the get-go. She stiffly walked about and muttered her words quickly, as if it was best to get them all out over with. The whole thing was absolutely painful to watch. She couldn't even manage to kiss her boyfriend as if she even liked him!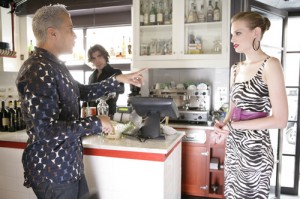 Fatima – who was working with the shell of a voice – managed to surprise everyone with her amazing speaking skills. Not only was she fluid, she could actually pronounce the words correctly. And despite her illness, she looked extremely relaxed. The director noted that he fell in love with her right away.
Last up was Whitney. Once again, she tried to stand out by overcompensating. She walked in like a beauty queen with an attitude. She was fake and disingenuous the whole way through. And that laugh! That sorority girl I'm-laughing-at-you giggle just made me want to pull my hair out. As Jay put it, Whitney has a tendency to quickly turn into "Bitcherina." Ouch.
When it came time for evaluations, Fatima came back from behind to take another first place finish. They believed it was probably the best work she had done to date; she actually looked like a CoverGirl. Second place went to Katarzyna. The panel was split on her. Some felt she was a bit boring in her spot, but others (Paulina, the director) thought her commercial was the best. Regardless, they were all impressed that she was starting to show a bit more personality. (She made a point of listening to their comments about her and spoke up this week when they once again mispronounced her name.)
Falling in this week's Bottom Two were Whitney and Lauren. Although Whitney obviously knew how to take beautiful pics, this wasn't the first week critics had complained about her phonyness. On the other hand, Lauren was as real as it could get. Unfortunately, no one could manage to get her to cover that up even if they paid her.
In the end, the judges felt it was probably better to stick with a girl who at least wanted to try. LOSER: Lauren.
(You can review last week's episode here.)
(You can read next week's episode here.)
Related Tags:
americas next top model, americas next top model cycle 10, antm, anya, atalya, cw, cycle 10, dominique, fatima, jay godfrey, jay manuel, judges, katarzyna, lara spencer, miss j, miss j alexander, models, nigel barker, paulina porizkova, photo shoots, reality, recap, ric ocasek, sidefeatured, the insider, tyra banks
© Gear Live Media, LLC. 2007 – User-posted content, unless source is quoted, is licensed under a Creative Commons Public Domain License. Gear Live graphics, logos, designs, page headers, button icons, videos, articles, blogs, forums, scripts and other service names are the trademarks of Gear Live Inc.