Thursday November 13, 2008 1:51 am
America's Next Top Model 11: Good Times & Windmills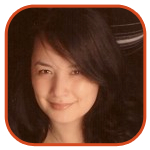 Tweet
Posted by Veronica Santiago Categories: Prime Time, Reality, The CW, America's Next Top Model,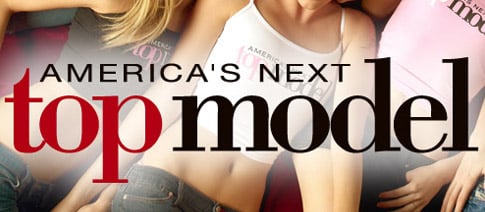 On this week's episode of America's Next Top Model, the four remaining ladies - Analeigh, McKey, Marjorie and Samantha - got to to take things to a whole new physical level. When they weren't learning to sell products with gestures and facial expressions, they were busy planting their lips on a hunky male model. One girl even spent some of her free time kissing someone who wasn't in the industry. But we'll get to that drunken story a little later…
For this week's lesson, the women got a little more one-on-one time with Paulina Porizkova. It was the former supermodel's job to show the ladies how to sell products without using their voices. How does a spokesmodel sell fish when no one can smell it? How can they make toilet paper look soft when consumers can't touch it? How can they make phone conversations seem exciting when the reader can't hear them?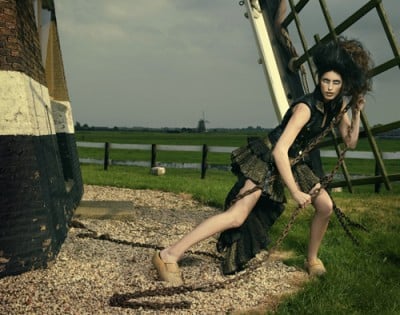 Surprisingly, the ladies were all successful to some degree. McKey was very model-like with her gestures; she turned everything into a pose. Marjorie was good at making her emotions feel believable and accessible. Analeigh proved to be a very natural actress, though she was forgetful about the camera. Meanwhile, Samantha was borderline clown-like with her performances; she somehow managed to turn every situation into a happy one.
The next day, the girls met Paulina at one of Amsterdam's top boutique ad agencies. The ladies were now going to "audition" for a 30-second sport shoe commercial. To win a $10,000 shopping spree, the contestants would have to demonstrate their ability to run, flirt…and kiss. Who were they going to embrace? Mark Vanderloo.
Although she seemed eager to tongue the Calvin Klein model, Samantha thankfully showed restraint during her turn. The blonde was extremely adorable through slightly cheesy. Analeigh turned on her sweet charm and threw a little passion into her smooch. Although she did a nice job with the flirtation aspect, McKey's supposedly spontaneous kiss looked quite planned. Then there was Marjorie. The girl who vowed to finally enjoy the moment produced a very refreshing take on the commercial. Even though she was slightly neurotic, her approach was the most honest of the bunch. It really looked like she was kissing this random stranger out of the blue. For this reason, the director picked the European as the best of the bunch.
Later that night, Marjorie decided to invite a few men (guys they met during their go-see boat tour) over to the house. Apparently embracing a whole new "live in the moment" attitude meant it was time for the girl to party. Unfortunately, she did enough celebrating for every model in the place. (Surprisingly, she was the only drinker in the bunch.) Glasses of wine evolved into a game of Charades…that turned into more drinking…that lead into a 10-second kissing dare….and that eventually spun into a fully-clothed bathtub pit stop with one of her guests. Thankfully, Analeigh was around to rescue her friend before anything truly embarrassing happened.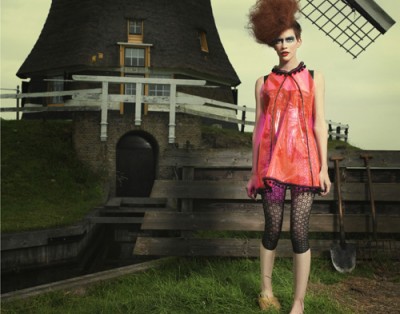 The next day, the ladies traveled to the Dutch countryside for an avant garde photo shoot. Analeigh, who was the first one deck, gave Jay Manuel a wide variety of pics to choose from. The dynamic skater was not afraid to try different things. She was also willing to use her athleticism to jump up and down for some action shots. Despite her promise to have fun, Marjorie's presence lacked motivation. Although she was usually good at tapping into a character, she only managed to produce a few good shots. Even though she found herself on top last week, Samantha found herself being criticized by Jay this time around. In her first 53 frames, she came off looking like she was weak and in pain. (She said her clogs hurt.) When Manuel pointed out her mistakes, she finally gave him something to work with during her last 7 tries. Last up was McKey. The dark-haired beauty, like Analeigh, gave her crew a lot of options. If she wasn't gripping a chain, she was climbing a windmill or working a wall.
When it came time for the evaluations, Analeigh was chosen as this week's winner. The judges found it interesting to see such a sweet girl look so bad ass in her photo. They especially loved her "leap of madness." McKey with her fantastic still came in second.
Falling in this week's Bottom Two were Marjorie and Samantha. Although Marjorie did her best to dial down her ticks, her attempts completely backfired. Now instead of looking like a nervous wreck, the model - in person and in her photo - was coming off as boring. Meanwhile, Samantha was also dealing with issues related to her presence. The judges weren't sure if she quite understood what it meant to look like, stand like and project like a model.
In the end, the judges decided they'd rather deal with a girl who was a little more emotionally consistent. LOSER: Marjorie.
(You can review last week's episode here.)
(You can read next week's episode here.)
Related Tags:
americas next top model, americas next top model 11, americas next top model cycle 11, amsterdam, antm, antm 11, antm cycle 11, cw, cycle 11, holland, j alexander, j. alexander, jay manuel, mark vanderloo, mckey, miss j, models, netherlands, nigel barker, paulina porizkova, photo shoots, reality, reality show, reality shows, recap, recaps, sidefeatured, the netherlands, tyra banks
© Gear Live Media, LLC. 2007 – User-posted content, unless source is quoted, is licensed under a Creative Commons Public Domain License. Gear Live graphics, logos, designs, page headers, button icons, videos, articles, blogs, forums, scripts and other service names are the trademarks of Gear Live Inc.