Friday May 15, 2009 1:14 am
American Idol 8: Top 3 Results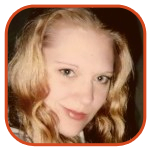 Tweet
Posted by K.C. Morgan Categories: Music, Prime Time, Reality, FOX, American Idol, Gossip,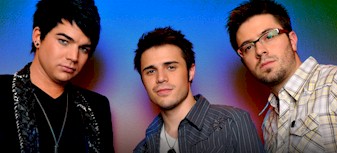 Ben Stiller, of all people, opened the Top 3 results show of American Idol 8. This odd skit was a tribute to the judges' table and featured some pretty good comedy from Stiller, SNL regular Will Forte and Simpsons cast member Hank Azaria. Jonah Hill, looking rather dapper with a short haircut, also had a few lines.
All of this, of course, was one long and boring promotion for Stiller's new movie. Guess which movie company is behind that flick? …
Anyway, there would be many more promotions before the episode was over. Soon enough, Ryan Seacrest was standing on stage touting the fact that the Idol desk is going into the Smithsonian. Don't get excited. This is just another cross-promotion. The name of the Stiller movie contains the word "Smithsonian," and Freemantle is figuring they can use reality success to translate into more movie tickets for a sequel that probably won't break box office records.
Idol is not supposed to be about promotion, however, but singing. Eighty-eight million votes were recorded for this Top 3 evening, but only 1 million votes stood between the Top 2. But how many votes stood between second and third? No way are they revealing that one.
The Ford video this week took viewers into fairly poor animation and was very similar to last week's video, but there's no doubt these three guys sound great when they sing.
Alicia Keys then appeared on the stage, not to sing but to talk about Idol Gives Back. This event did not occur this year, by the way….Idol's just warming us up for Season 9. If you'd like to donate to the cause, text the word "Alive" 90999.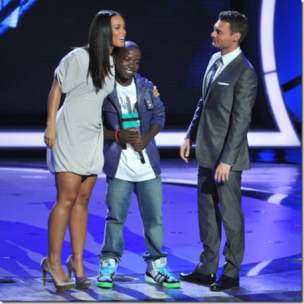 Keys introduced Noah from Rwanda, who sang "I'm the World's Greatest" with marked enthusiasm. I don't care if the song was impossible to understand and I don't mind that Noah isn't already an established star; I really liked the number. This was a nice break from aging recording artists and past Idol duds, which has made up most of the results show entertainment this season. This kid can sing, dance and he's got a great smile. Inspired to give money yet?
Sadly, the evening can't be all about singing and dancing. We still have some chaff in the wheat. The Top 3 stood backstage awaiting their results, with Danny Gokey being called to the stage first. He talked about his friend Jamar, who very nearly made it into the Top 12.
Clips of Gokey going back home to Milwaukee played. He was warmly received by masses of screaming fans and local media, part of his at-home press junket. At least once, Gokey was moved to tears by the excitement his visit generated.
But sweet moments can only last so long. The house lights dimmed. A suddenly somber Seacrest turned to Danny Gokey, who is currently being backed by Vote for the Worst. "We'll get to the nationwide vote in just a few," the suspense was to be drawn out a bit longer.
As Gokey shuffled off to the couch, Kris Allen stepped forward. "I'm nervous. I'm not gonna lie," he admitted. Allen returned to Arkansas for his visit, where he made an almost immediate appearance on the news. Very young girls greeted him there.
The crowd which greeted him on his own front yard, however, was practically just as huge. Allen shared a touching moment with his father and at some point performed at a huge concert hosted by the local University. Kris truly is from small town America, a little place called Conway. At the 2000 Census, this locale held less than 50,000. If you look at the bald facts, Kris Allen is what American Idol is all about (good-looking, clean-cut, small-town boy). "The couch is over there - take a seat and relax," Ryan wasn't giving anything away just yet.
No results would be given, you see, before everyone's clip played for the evening.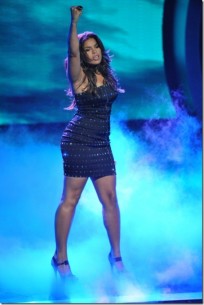 But first, Idol's Season 6 winner Jordin Sparks would take the stage. As the reigning champion, Sparks also appeared last year and will likely appear several more times. She looked great, and Sparks can still sing.…I'm just not a fan of her songs, that's all.
Adam Lambert was called to the stage. He returned to San Diego for his celebration. He did the weather girl's make-up, talked about his snakeskin boots and in general charmed everyone he met. He got streakers at Mt. Carmel high school and he got to sing patriotic songs at military base. All in all, it probably wasn't a bad trip home.
If you were looking closely between commercial breaks, you might have seen the Top 12 Idols in the audience. They're in town, of course, to perform during the finale.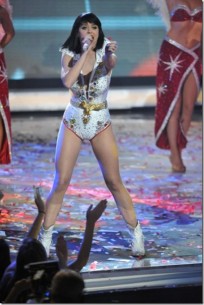 Katy Perry was the next to take the stage, singing "Waking Up in Vegas." She wore a cloak with "Adam Lambert" written across the back…and not much else. Performers like this make me feel totally out of touch with music. I'm not going to lie - I thought it was all awful.
Finally, the promotions were done. The performances were over. It was time for results.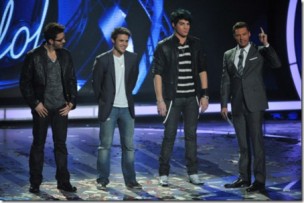 The three remaining contestants stood on stage. Ryan Seacrest announced one name right away, and suddenly Kris Allen was in the finals. Danny Gokey looked instantly crestfallen, Simon Cowell looked surprised and Adam Lambert acted happy. "Danny has never been in the Bottom Three," Ryan Seacrest told the crowd.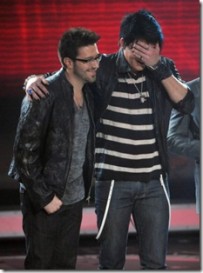 One more would be announced for the final position - and it became Adam Lambert. This was not at all unexpected, and my prediction proved to be true.
Danny Gokey's clip then played. He got a ton of praise from the judges throughout the year, and I'm sure Danny's fan base remains strong. There was just no way he could survive on the back of Kris Allen's heart-rendering acoustic performance from the evening before. Gokey sang his song, but don't think it will be his last. Of course, he's likely to return next week to perform at the finale.
"None of us would have predicted this, guys," Simon Cowell admitted. "Kris, your second song in particular made you a contender."
The Idol finale will air next week, with an hour's worth of performances on Tuesday and more than two hours of hooplah the following day.
(You can find all the American Idol 8 posts here.)
Related Tags:
adam lambert, alicia keys, american idol, american idol 8, danny gokey, danny gokey eliminated, elimination, finale, fox, jordin sparks, kara dioguardi, katy perry, kris allen, music, paula abdul, performances, randy jackson, reality, results, ryan seacrest, sidefeatured, simon cowell, singing, top 2, top 3, votes
© Gear Live Media, LLC. 2007 – User-posted content, unless source is quoted, is licensed under a Creative Commons Public Domain License. Gear Live graphics, logos, designs, page headers, button icons, videos, articles, blogs, forums, scripts and other service names are the trademarks of Gear Live Inc.