Wednesday September 3, 2008 2:50 pm
90210 Premiere: A Second Opinion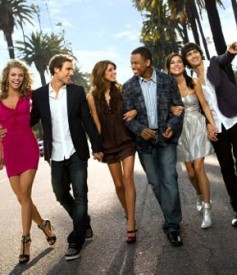 Okay - it's been 12+ hours now since 90210, and I think I've had a proper amount of time to digest that premiere. And while my impressions of the show haven't changed since last night night, it's taken me a while to quickly summarize why I was left disappointed:
90210 wants to be what Gossip Girl already is.
After reading a list of reviews today - including the one written by my TV Envy colleague - I felt there was still room to offer an opposing opinion.
In general, most of the critics agreed that the show was much better than feared. I mean - should we have expected more from a show that didn't offer any previews? No. But should we have expected more from a network that already offers quality catty fare? Yes.
Just to be clear, I was a huge Beverly Hills, 90210 fan. I remember hosting an in-house beach party with my friends (minus the sand) when the show's first summer season premiered. I also have to admit that I caught part of the Labor Day marathon on SOAPnet. But all this reminiscing has made me wonder: "Is it possible to relive your glory days?" Will the attempts to make 90210 another O.C. (or Gossip Girl) only make the original look like desperate rehash?
Despite the screeners controversy, I really did have high hopes for Tuesday's premiere. Unfortunately, the program brought nothing new to the table and gave me no reason to talk about it today (aside from my moaning). Now that wasn't the case with Gossip Girl's Season 2 debut just the day before. That show (which has far better clothing, btw) offered bitchiness and witty lines galore.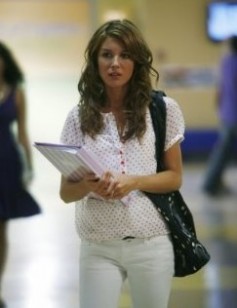 And while I went into the premiere knowing the show's premise would be repeated, I couldn't help but notice that most of these characters and scenarios have been done (better) elsewhere. Here are just a few of the gripes I had about Episode #1:
Aside from learning that the backstabbing comes fast, I didn't think that Annie and Dixon needed much adjustment to fit into Beverly Hills. I mean even Jenny Humphrey had to steal in order to buy clothes on GG.
Speaking of Annie, please don't get me started on Shenae Grimes' painful Spring Awakening performance. It was like watching Jessica Simpson dance and over-emote at the same time.
Although AnnaLynne McCord (Naomi) definitely had her bitchy moments last night, her level of evilness didn't come close to her work on Nip/Tuck. Let's just hope the actress' potential is fully utilized in the weeks to come.
Students using modern technology to talk about their fellow classmates? Oh, so hip. Oh, so Gossip Girl.
By the way - it was already made clear in the first 5 minutes that Tabitha (Jessica Walter) was the drunk in the family. We really didn't need to see a glass permanently attached to her hand to remind us of that.
When the lacrosse team pulled the lame pigs in jerseys stunt, did anyone else envision Steve Sanders asking his friend Herbert to hack into the school's computer system? Random, I know. But it's what I saw.
Unless I am mistaken, the story about Erin Silver and her former friend Naomi is totally off. Erin was just a child (if not a baby) when her dad cheated on her mom in the original series.
And last, but not least - let's talk about that Rob Estes storyline. Could they have tried to cram in more drama in just the first week? Not only was his I-may-have-fathered-another-child so mid-season, I found it hard to believe that Lori Loughlin was so nice about the whole thing! Couldn't they have shown her dropped jaw for at least one second?
So what does this all mean? Will I watch the program again? Probably. But if the show continues to disappoint - or if I lack space on my DVR - it will be out of my queue fast.
(NOTE: An encore of the two-hour premiere will air on Thursday, Sept. 4.)
© Gear Live Media, LLC. 2007 – User-posted content, unless source is quoted, is licensed under a Creative Commons Public Domain License. Gear Live graphics, logos, designs, page headers, button icons, videos, articles, blogs, forums, scripts and other service names are the trademarks of Gear Live Inc.