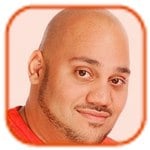 Posted by Andru Edwards Categories: Handhelds, Rumors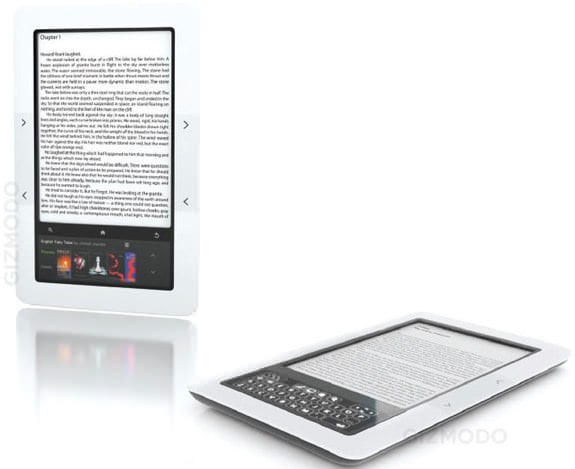 Looks like Barnes & Noble is set to take the wraps off of their ebook reader tomorrow, and according to the Wall Street Journal, it'll be the Barnes & Noble Nook that they'll be unveiling. The Nook, pictured above (thanks Giz,) is unique because it has a standard e-ink display like the Kindle, but also sports a color touchscreen beneath the traditional display. Why? Well, try typing anything of length on an Amazon Kindle, and you'll quickly realize that even that task could use some help. The Barnes & Noble Nook will sell for $259 (same price as the Kindle,) and will also allow users to lend e-books to friends. Obviously, we can't wait to see it. We've got one more image for you after the jump.
Click to continue reading Barnes & Noble Nook e-reader set to launch tomorrow, color touchscreen, $259
Read More

| WSJ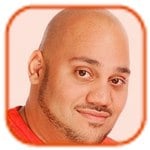 Posted by Andru Edwards Categories: Apple, Handhelds, Rumors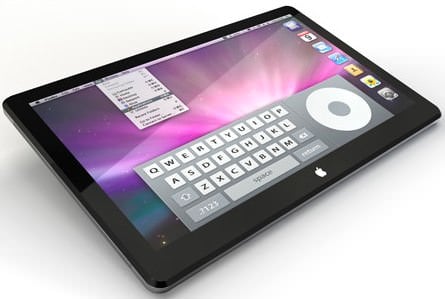 You'll definitely wanna file this one under "rumor," but if DigiTimes is to be believed, that Apple Tablet that we've all been waiting for with baited breath will be manufactured by Foxconn. The peeps at DigiTimes are saying that Foxconn will be shipping up to 400,000 devices by April 2010, and that these devices will have a 10.6-inch display.
Hey, it's fun monitoring these rumors, but I'm tired of having my emotions played with, Apple. Give me a touch-sensitive tablet next in the first quarter of 2010, okay?
Read More

| DigiTimes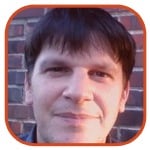 Posted by Mark Rollins Categories: Cell Phones, Rumors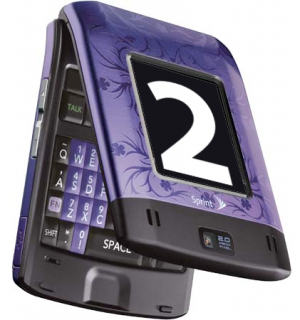 We never expected to see a basic phone like the LG Lotus get a sequel, but that's apparently what's happening, and the Lotus 2 seems to be upon us. The phone should be launching sometime in January, and will have the same QWERTY keyboard as featured on the original. As for differences, the Lotus 2 will replace the outer info screen with a touchscreen display, although, how useful a display that small will be with the added touch controls is questionable. In addition, the Lotus 2 will support 32GB microSD cards, up from 12GB on the original.
Read More

| MobileCrunch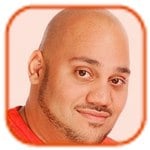 Posted by Andru Edwards Categories: Design, Displays, Handhelds, Microsoft, Rumors
Remember that Microsoft Courier video we showed you last week? Well our friends at Gizmodo were able to uncover a bit more about the mysterious and astonishing Microsoft tablet device. In the leaked video above, you get a look at the way that the fine folks in Redmond think you'll integrate the Courier tablet device into your everyday life. We must say, it's insanely slick, and we hope that it works exactly as shown. Of course, this is just a demo, and it doesn't even feature a real hand or stylus.
That said, we are big fans of the "infinite journal" approach, and we can certainly see a lot of professional uses for such a device with a natural input system. What we are still curious about, though, is if this thing is also meant to be a multimedia device. You know, movies, games, music? The things that we are expecting the Apple tablet to excel at? Or is this a case of Microsoft recognizing that Apple has a stronghold in that area, and as such, they'll focus on a different, underserved demographic? Time will tell.
Read More

| Gizmodo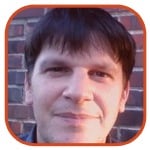 Posted by Mark Rollins Categories: Design, Displays, Handhelds, Microsoft, Rumors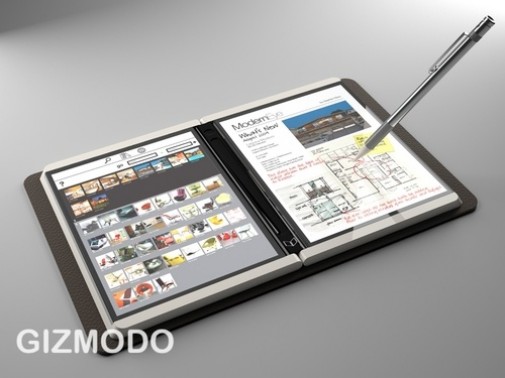 Our friends at Gizmodo recently got a fantastic scoop, revealing a project that Microsoft has been working on, known as the Courier tablet. This device has been a secret for the Microsoft for a long time now. According to Giz, this is more than just a concept device, but rather, Courier is in the "late prototype" stage.
Courier has two 7-inch screens that are touch sensitive, and are designed to be interacted by touch or with the very pen-like stylus. On its hinge is a home button like the iPhone, and this hinge serves as a virtual "pocket" to hold items that are moved from one screen to the other.
No word on price or availability just yet, but you have to admit that it looks quite sexy. Of course, this may not even come to fruition, but it's a bold challenge to Apple's dominance in the sexy multitouch devices department.
Read More

| Gizmodo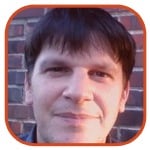 Posted by Mark Rollins Categories: Accessories, Cell Phones, Design, Rumors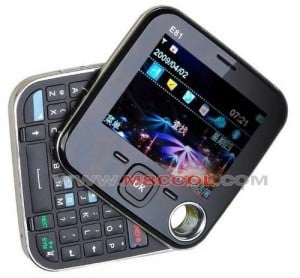 I like it when mobile phone designers start thinking outside of the box, . It would appear that some knockoff designer from Nokla is trying for female appeal with their E81 concept, a phone that swivels like a compact. This creates a phone with less volume, for certain, and the back even has a mirror, perfect for those quick make-up checks and applications.
Read More

| Justamp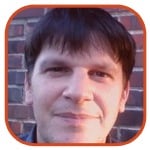 Posted by Mark Rollins Categories: Cell Phones, Handhelds, Rumors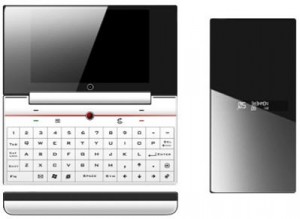 HTC continues their move towards nice, high end luxury phones with the HTC Leo, and we've just gotten our hands on the specs of the upcoming device, and figured it was time to share. It's a pretty nice phone, isn't it? Well, this highly anticipated phone was recently spotlighted on HTCpedia, and we are go for the specs:
Snapdragon MSM 8250 1GHz processor
4.3" capacitive touchscreen display with 480 x 800 pixels
Accelerometer, motion sensor and light sensor
HSDPA and Wi-Fi connectivity
A-GPS navigation
Bluetooth 2.1 support
3.5mm headset jack
512MB ROM
320MB RAM
8-megapixel autofocus camera
microSD memory card slot
Word on the street is that the HTC Leo should be appearing on the Orange UK cell network before the end of the year.
Read More

| HTCPedia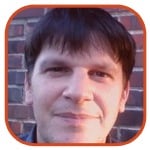 Posted by Mark Rollins Categories: Corporate News, Rumors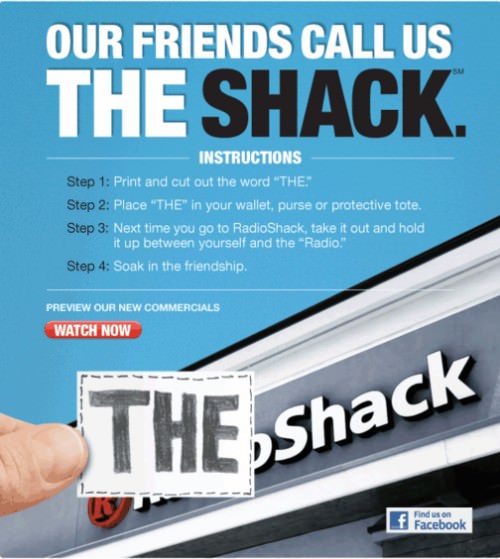 There has been many a rumor floating around the old intertubes that Radio Shack, long time electronics goods retail shop, would be changing its name to "The Shack" - not to be confused with Pizza Hut's rebranding to "The Hut." Well, as we thought, the rumors were certainly true. This attempt to be hip is going to be kicked off by The Shack Summer Netogether, an event running August 6th through the 8th, featuring two 17-foot laptops placed in New York's Times Square and San Francisco's Justin Herman Plaza. I don't know if this new marketing strategy will work, but if it keeps The Shack from becoming like Circuit City, then it is worth a try.
Read More

| The Shack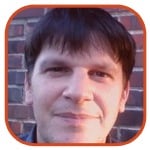 Posted by Mark Rollins Categories: Cell Phones, Handhelds, Hot Deals, Rumors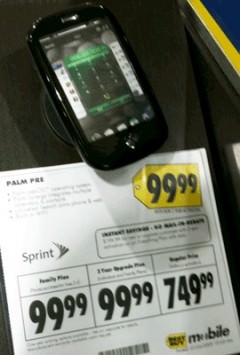 Looks like Best Buy is the latest company that has to deal with a mis-printed price, as they've had the $199 Palm Pre listed at half the price.
This morning they posted an ad for a $99 Pre. Internet sites everywhere went ablaze at the sight of this deal, but a tweet by John Bernier, Best Buy marketing manager, said that the "error is being corrected." Too bad, but if you were able to get ahold of one for $99, Best Buy will honor that price.
Read More

| PreCentral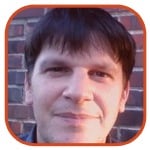 Posted by Mark Rollins Categories: Accessories, Cell Phones, Rumors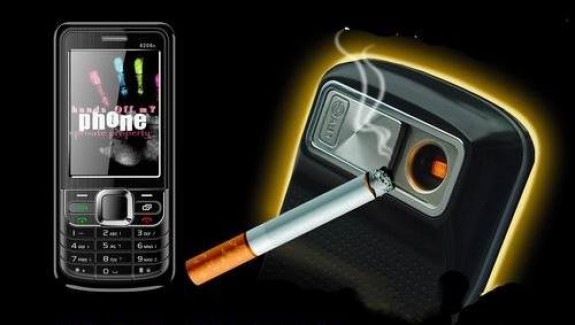 We haven't really covered many cigarette-related products here at Gear Live, and this next product is one that my source cannot confirm its existence. This SB6309 Lighter Phone has a feature that would have been on all the cellular phones of the sixties: a cigarette lighter. Of course, this was back before we learned that cigarettes are bad for you (presumably).
All the user/smoker has to do is slide back the cover and light their cig on the red hot square. Hopefully, the cover is good, or this device will literally burn a hole in your pocket.
Well, I think I've finished making all the jokes I can about a product that may or may not exist. The only "fact" that I know for sure is that it comes in red, brown, and black. I wonder if the red is Marlboro red. Okay, I still had one cig joke left in me.
Read More

| Seabright via Engadget
© Gear Live Inc. – User-posted content, unless source is quoted, is licensed under a Creative Commons Public Domain License. Gear Live graphics, logos, designs, page headers, button icons, videos, articles, blogs, forums, scripts and other service names are the trademarks of Gear Live Inc.