Friday November 6, 2009 12:48 pm
Legend Of The Seeker 2nd Season: Seek It Out!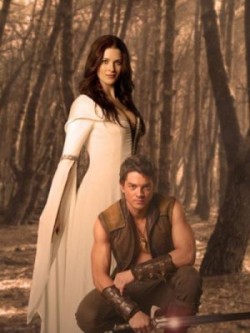 Back in the go-go 1990s of television syndication, everybody and his international production company was making hour-long adventure series. My weekend afternoons were filled with two of the best, Hercules: The Legendary Journeys and Xena: Warrior Princess. They were fun, action-packed, never took themselves too seriously and both were thoroughly enjoyable. And they had two things in common: Sam Raimi (that's right, the Evil Dead/Darkman/Spider-Man guy) and Robert Tapert.
But the market shifted and independent programming took a beating for a few years. Then last year, there was a surprise on my widescreen plasma: Legend of the Seeker. And it too had something in common with Hercules and Xena: Raimi and Tapert. They'd returned to New Zealand where their previous shows were filmed, and drew from the Wizard's First Rule novels of fantasy author Terry Goodkind to craft another terrific action hour with edge-of-the-seat appeal and really nice FX. It fills that gap for me when BBC America isn't showing Robin Hood.
Now it's back for season 2, and the first new episode debuts this weekend (either November 7 or November 8, depending on your local listings). For me, it's KTLA (Channel 5) at Sunday, 3pm. If you're in NYC (which is where I always dream of being), it's 4pm Saturday on WPIX. You can find out your own local times and station at the official LOTS website.
Legend of the Seeker is epic journey stuff, like all great fantasy. In season one, Richard Cypher (Craig Horner) was recruited by Kahlan Amnell (Bridget Regan), and a wizard named Zeddicus Zu'l Zorander (played by Bruce Spence) to stop the evil Darken Rahl (Craig Parker). Why Cypher? He's a Seeker, the first in 1000 years, and only he can wield the necessary Sword of Truth and emerge victorious.
That was Season 1, now it's Season 2 and Cypher and his companions have to live with the consequences of their actions. They've inadvertently opened a rift in the Underworld and only the Stone of Tears can seal it before fantastical heck is unleashed. Seek it, they must! Otherwise, we'll all be seeing dead people. And as the second season begins, you'll want to note that a number of Star Trek veterans are on the writing staff. Ken Biller is the showrunner and he and Mike Sussman have been on board since the pilot. Andre Bormanis and Raf Green have joined for Season 2. You're in good hands.
So not only is this a good jumping on point for folks who've missed the first season, but the producers also front-loaded the premiere with a genre fave: Charisma Carpenter from Buffy the Vampire Slayer and Angel. And, since this is Raimi-land, there's a scene with her and a spa-tub full of nubiles and yes, there's some girl-on-girl kissing involving Charisma's character. You've already looked up your local station by now, right?
iTunes currently has the entire first season of Legend of the Seeker available for free downloading. I recommend the season finale just to get warmed up. As for me, I know where I'm going to be November 8: parked in my favorite chair with the TiVo fired up and ready to go. I suggest you do the same. In your own house, of course. And if you're a comic book publisher - I'm looking at you, IDW - you might want to look into this thing.
Oh, and before I forget: You might know Bruce Spence from Dark City or Lord of the Rings: Return of the King or even Star Wars III: Revenge of the Sith, but to me he'll always be the gyro captain from The Road Warrior.
[Artwork: Promotional photo from Legend of the Seeker.]
Related Tags:
bridget regan, bruce spence, buffy the vampire slayer, charisma carpenter, craig horner, kahlan amnell, kenneth biller, legend of the seeker, new zealand, richard cypher, robert tapert, sam raimi, star trek, stone of tears, television, terry goodkind, the sword of truth, wizard's first rule, zeddicus zu
© Gear Live Media, LLC. 2007 – User-posted content, unless source is quoted, is licensed under a Creative Commons Public Domain License. Gear Live graphics, logos, designs, page headers, button icons, videos, articles, blogs, forums, scripts and other service names are the trademarks of Gear Live Inc.