« Game Publishers: Stop Overpromising! | Main | palmOne Launches Treo 650 »
October 24, 2004
Try XM Satellite Radio For Free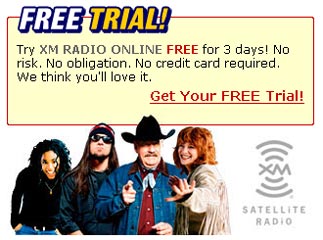 If you have been on the fence about paying for a satellite radio subscription (or if you just like free stuff), you may be pleased to know that XM Satellite Radio is offering a free 3 day trial subscription to anyone interested. The best part? You don't even need a credit card to sign up.
There are a few drawbacks, however. I signed up for the trial to see how the online version worked. First of all, although it's XM Satellite Radio online, know in advance that you will not be getting satellite quality sound. Instead, you will have access to a myriad of station at 33 kbps. In addition, if you are a Firefox fanboy, be prepared to fire up Internet Explorer if you want to use XM Online. Also, you will only have access to 75 XM channels. This is about 50 channels shy of XM's full satellite radio offering.
Still, it's nice to have so many selections available right at your desktop.

Read More

| XM Radio
Posted by Andru at October 24, 2004 01:30 PM
RECENT GEAR LIVE STORIES:
Gear Live Giveaway: Three DVD's of Your Choice

Gamer Buys Virtual Island for $26,500

Gear Live 2004 Holiday Gift Guide

SCOTTeVEST Solar Finetex Jacket Review

Pod Shield Contest Results

Trackback Pings
TrackBack URL for this entry:
http://WWW.WRISTDREAMS.COM/mt/mt-tb.cgi/381
Comments
There's also a 64k stream, but it defaults to 32k when you first start it up.
Posted by: Geoff at October 24, 2004 02:35 PM
Post a comment