« Motorola and Apple Bring iTunes to Mobile Phones | Main | Nintendo DS Design Finalized »
July 27, 2004
Sony Wega Received: Free Flat Screens Proves To Be True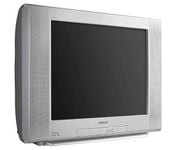 When the free iPods site became known, many were quick to write it off as a scam, even after proof was presented to show otherwise. Soon after, the free flatscreens promotion started, and again people cried foul. Well, to all the doubters (along with the hopefuls), Gear Live brings you proof of the validity of this promotion. Click for more.
So my freeflatscreens.com account had been in a "Pending" status since 7/19. On 7/26 it finally changed to a "Shipped" status. I expected the unit to arrive in about a week or two - however, this showed up today: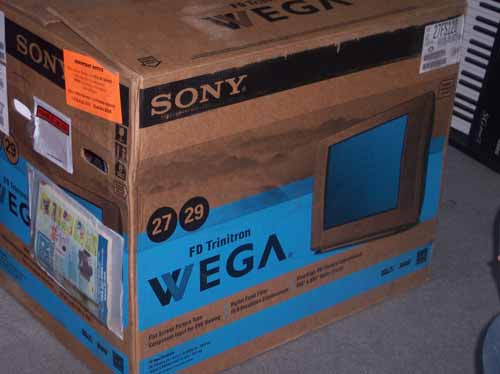 This package arrived today via DHL. The driver recruited my wife to carry the box up the stairs, since apparently, DHL doesn't believe in handtrucks.

Another view of the box, shipping label and J&R Music World catalogue attached.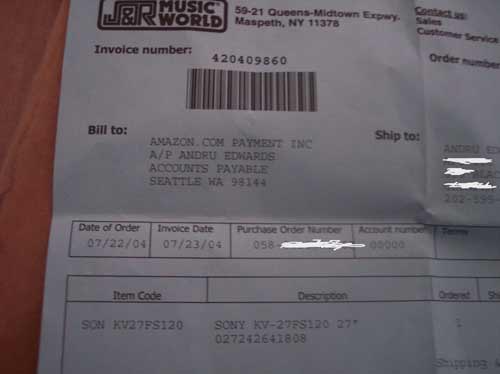 This is the invoice from the box. As you can see, it shipped from Maspeth, NY. It was billed to an Amazon Payments account, and shipped to me direct. The invoice shows the Sony KV-27FS120 costs 379.99 plus $82.96 shipping and insurance - a total of $462.95, and I didn't pay a cent.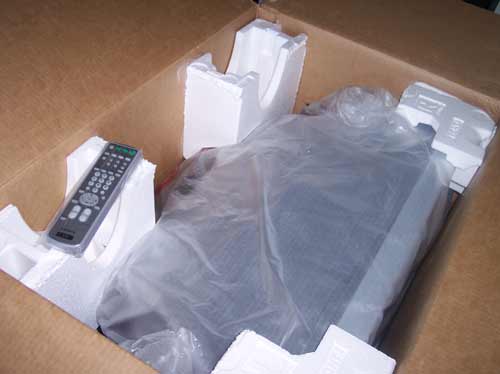 A view of the open box, brand new TV inside along with the remote.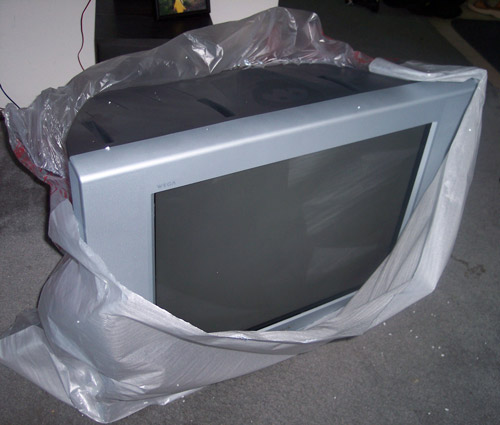 Out of the box, and unwrapped - a brand new Sony Wega 27" Trinitron Flatscreen TV.
If you want to get in on the action and pick up a free flatscreen monitor or TV yourself, check out the Gear Live Boards to grab some referals.
Posted by Andru at July 27, 2004 10:01 PM
RECENT GEAR LIVE STORIES:
SCOTTeVEST Solar Finetex Jacket Review

Pod Shield Contest Results

iRiver H10 Surfaces

Nokia to Introduce Hologram Labels for Cell Phone Batteries

Sprint and Nextel Announce $36B Merger

Trackback Pings
TrackBack URL for this entry:
http://WWW.WRISTDREAMS.COM/mt/mt-tb.cgi/133
Listed below are links to weblogs that reference Sony Wega Received: Free Flat Screens Proves To Be True:
» Freeflatscreens.com from Forever Geek
I was going to wait till my iPod shipped before I wrote an entry on this, but since I am caught up in the freeipods onslaught and probably the limited shortage of new 20GB iPods out there, I figured I... [Read More]
Tracked on July 27, 2004 10:37 PM
» One step closer from Arsenic.net
So thanks to all of you and a few emails to Customer Service, I've completed all the requirements for my free iPod. Here's proof. That and getting paid today has more them made up for spending the morning holding down... [Read More]
Tracked on July 30, 2004 12:50 PM
» re: Dave Wecker, Architect - Mobile Platforms Division this week on .NET Rocks! from Carl Franklin
[Read More]
Tracked on September 10, 2004 10:18 AM
» re: Dave Wecker, Architect - Mobile Platforms Division this week on .NET Rocks! from Carl Franklin
[Read More]
Tracked on September 10, 2004 10:34 AM
Comments
Hey did the tv arrive ok? by the looks of it they send it with the original box which you should never do! You always put the original box inside a bigger box!
Well was it beat up? or did it arrive ok??
Thanks! I just completed my referals so i have to wait 2 days for it to approve..
Posted by: Chris at July 28, 2004 08:05 PM
Yeah good point, Chris. Despite all the insurance and whatnot, did the TV arrive in good shape?
Posted by: Alex at July 29, 2004 06:52 PM
Argh - now why can't we have an offer like this in the UK?
Posted by: Oliver Mather at July 30, 2004 04:17 AM
I e-mail Andru and he said he arrived in perfect condition! So no need to worry :)
Posted by: Chris at August 3, 2004 10:19 PM
why isn't this worldwide?????
i live in belgium and they don't do this here....
Posted by: Franky at August 6, 2004 07:31 AM
Looks like FFSGuide.tk linked to you too. There needs to be more good FFS sites out there.
Posted by: S. Donovan at August 17, 2004 09:01 PM
this has to be a scam, give me a guarantee please
Posted by: Jason at August 24, 2004 10:38 PM
i read somewhere that this dude got one of these tv's, only it was a monkey. and the monkey gave the guy herpes. the dude ended up being okay but he never got the tv. only a raging case of monkey herpes
Posted by: Trevor Lyn at September 1, 2004 11:22 AM
thank i like PS2 and Vega sony
Posted by: yurnal at September 2, 2004 04:25 AM
Post a comment