« T-Mobile Hotspots Do Great Business For Starbucks | Main | Japan To Get Major Internet Speed Upgrade »
July 08, 2004
SCOTTeVEST Three.0 Spring Review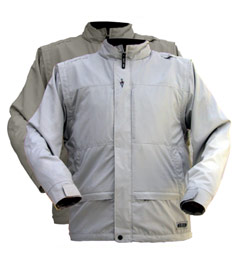 If you are like me, then you have more things to carry around than you have pockets for. From a PDA, to an MP3 player, add on the cell phone, maybe a digital camera, don't forget the wallet, etc. SCOTTeVEST has come up with a solution that is both stylish and creative. We take a look at their Three.0 Spring "Technology Enabled" Jacket. It has 31 pockets, which should be more than enough for all your gadgets. Is it a gimmick, or are they the real thing? Click below to find out.

DESCRIPTION

Specialized pockets: earbud pocket, pen/stylus pockets, and bottle holder.

Some pockets can be combined to form larger ones by unzipping the pocket separators.

Teflon material is excellent at repelling water - very important for gadget protection.

Huge back pocket is great for magazines, files, and even a small laptop computer.

Two-way front zipper can be zipped up or down, giving you access to any internal pocket at any time.

Available in two colors: Stone (beige) and Olive (olive green).
SCOTTeVEST truly is Technology Enabled Clothing, as the company touts. Using this philosophy, SCOTTeVEST has developed a full line of clothing specially geared toward those who need to carry multiple gadgets but never had the pockets to do so.
The SCOTTeVEST Three.0 Spring is a lighter, thinner version of the normal SCOTTeVEST system. The sleeves can be removed to make it a true vest, while maintaining all 31 pockets. Yes, this jacket has 31 integrated pockets of varying sizes. Each pocket includes a card giving examples of what it can be used for. These are very convenient, as you soon begin to get a feel for how best to use the jacket.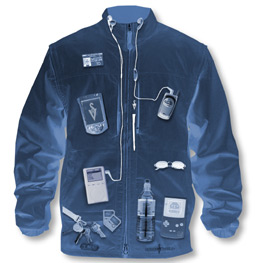 The major selling point is the Personal Area Network (PAN). This is a set of pockets that are all connected through the jackets inner lining, up through the collar. This allows you to wire together different devices internally, eliminating the wires from getting caught or tangled like they normally would. I used the PAN to wire my earbuds through the collar to the chest pocket where I kept my iPod. I then kept the buds in the special holding area near the collar. This is a great feature.
The Three.0 Spring also boasts a weight management system, which distributes weight evenly across you shoulders. The problem here is that, even though it's even, it's still heavy after adding just a few items. Although there are 31 pockets, I wouldn't recommend stuffing them all with gadgets - however, you now have the option of having a dedicated pocket for all your receipts, change, pack of tissues, mints, etc. Don't think of it as strictly a gadget jacket. The placement of the pockets allows for great personal customization. Pick and choose the ones that work best for you.
The SCOTTeVEST Three.0 Spring also pays close attention to the little things, and the more you wear it, the easier it becomes to appreciate the attention to detail along with the revolutionary design. For example, there is a flap to cover the zipper. Instead of buttons, it uses magnets that are woven into the fabric. This makes it easy to open, but also makes it stay shut without any effort at all. The epaulets give you much better access to devices you would other have on your belt.
According to President/CEO Scott Jordan, "We believe the use of hidden epaulets, together with the patent pending Personal Area Network from TEC, will forever change the way people think about clothing. The product allows you to easily use your gadgets (snap a picture, listen to music, talk on the phone) while leaving your hands free. Wearing devices on your belt is inherently flawed – you can't feel your device vibrate, devices fall off when getting in and out of vehicles, and not all clothes are intended to be worn with belts."
So true.
PROS

With 31 pockets, you will always have a place to put any of your gadgets.

The Personal Area Network makes wired gear feel wireless.

The sleeves are easily removed for wear in warm weather.
CONS

With so many pockets, it is easy to "lose" items in the jacket.

Filling the jacket with a few items begins to weigh it down, despite "weight management system".

The "Stone" color looks good, but can get dirty easily.

FINAL VERDICT

Despite it's flaws (which are very few, and very minor), the SCOTTeVEST Three.0 Spring is at the top of the line in portable entertainment gear. Unlike all the gadgets you will be carrying around, this peice of technology won't make you look like a geek. Instead, I received numerous compliments on how great the jacket looked. Think of it as the ultimate carrying case for any portable you own.
Related:
Gear Live Interviews Scott Jordan, SCOTTeVEST CEO and Founder
SCOTTeVEST Official Site
Posted by Andru at July 8, 2004 08:11 AM
RECENT GEAR LIVE STORIES:
SCOTTeVEST Solar Finetex Jacket Review

Pod Shield Contest Results

iRiver H10 Surfaces

Nokia to Introduce Hologram Labels for Cell Phone Batteries

Sprint and Nextel Announce $36B Merger

Trackback Pings
TrackBack URL for this entry:
http://WWW.WRISTDREAMS.COM/mt/mt-tb.cgi/93
Comments
very good site!!
Posted by: troyan download at July 9, 2004 05:46 PM
It even makes it feel somewhat less doomed. Slight, mail and slightly weird, but worth a look. One thing I'm direct tv going to do: make a list of really great moments yahoo map in music that I've experienced or been witness to. yahoo messenger Several come imediately to mind. It makes me think web hosting of something out of High Fidelity, which is a movie poker I liked, although a part of that is certainly because web design it was a movie about, partially for, and potentially circuit city
Posted by: nascar at July 22, 2004 08:47 PM
Really Nice Blog, Keep up the good work.
Posted by: Online Casinos at September 5, 2004 11:31 AM
Post a comment