« Game Boy Advance SP Review | Main | NEC 61-Inch Plasma TV Reviewed »
July 05, 2004
Michael Moore Wants You To Download Fahrenheit 9/11 Via P2P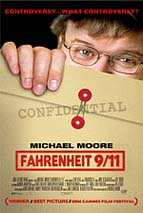 It seems that Michael Moore is either a really brash SOB, or really has it out for Bush to the point where he doesn't even care about profit:
"I don't agree with copyright laws, and I don't have a problem with people downloading the movie and sharing it ... as long as they're not trying to make a profit off my labor," Moore said in a recent interview. "I make these movies and books and TV shows because I want things to change, and so the more people who get to see them, the better."
Okay Michael, if you say so.
Posted by Andru at July 5, 2004 09:34 AM
RECENT GEAR LIVE STORIES:
SCOTTeVEST Solar Finetex Jacket Review

Pod Shield Contest Results

iRiver H10 Surfaces

Nokia to Introduce Hologram Labels for Cell Phone Batteries

Sprint and Nextel Announce $36B Merger

Trackback Pings
TrackBack URL for this entry:
http://WWW.WRISTDREAMS.COM/mt/mt-tb.cgi/85
Listed below are links to weblogs that reference Michael Moore Wants You To Download Fahrenheit 9/11 Via P2P:
» Fahrenheit 911 available for FREE from BRiNET
Marc Perkel is offering Fahrenheit 911 for download on his website. He's taking Moore up on the offer of pirating the film. "I don't agree with the copyright laws and I don't have a problem with people downloading the movie and sharing it wi... [Read More]
Tracked on October 30, 2004 02:11 PM
Comments
Uh, no offense, but if you're just catching on to the fact that "Michael Moore really has it out for George W. Bush", I think you might want to pull your head of the sand a little more often.
I know it's a crazy thought, especially while we live under the rule of the current administration, but there are still some people in this country who believe in some things more than money.
Of course, notice that Michael Moore also said all of this AFTER his movie was already an enormous success. Would be nice to see someone stand up and make such a statement before the movie even opened.
But I'm not holding my breath for that day to come anytime soon.
Posted by: Max Power at July 5, 2004 12:12 PM
Thank you for this site. Hope to get information.
Posted by: exploit java at July 9, 2004 05:44 PM
is there any precedent for a corporate movie being released for download? haven't heard of any others, just bands releasing music online...
Posted by: jess17a at July 23, 2004 01:14 PM
Post a comment