Saturday September 3, 2016 8:36 am
Bleeding Edge TV 587: What's in my Tech Bag? OVERKILL EDITION - Ghostek NRG review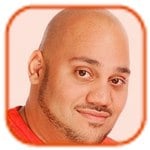 Tweet
Posted by Andru Edwards Categories: Accessories, USB, Apple, Cell Phones, Wearables, Features, Handhelds, Music, PC / Laptop, Peripherals, Podcasts, Portable Audio / Video, Product Reviews, Videocasts, Videos,
It's time for me to give you a look at What's in my Tech Bag! You've asked me to show you what I carry with me when I'm on the go, and this video will give you a glimpse into what tech and gadgets come with me everywhere I go, and why I like them. Everything is carried in the Ghostek NRG Bag, which has a 7000 mAh battery which can charge my gadgets even when I'm on the go, which is definitely a plus!
Here's a list of everything that's in my bag, and links to where you can pick them up yourself:
You can pick up the Ghostek NRG Backpack now.
Don't forget to subscribe to Gear Live's YouTube channel--also, we are giving away awesome perks for our Patreon backers - thanks for your support!
Here's how to get the show:
[
Download
] - iPod-formatted H.264
[
Download
] - High Definition H.264
[
Download
] - MPEG-4
[
Download
] - MP3
| Subscribe to Bleeding Edge TV… | iTunes | Others |
| --- | --- | --- |
| Standard version | | |
| 720p HDTV M4V version | | |
| 1080p HDTV MP4 version | | |
Video Transcript:
BAG RUNDOWN
This is the Ghostek NRG bag. I'm gonna leave a link to this, as well as everything in the bag, in the description below, but if you're wanting to look this up on your own, it's spelled N-R-G. Here's what's special about it. This is a bag built for gadgets. It's ridiculously spacious, water resistant, and can charge your gadgets when you're on the go. More on that in a bit.
You might be wondering why I called this the What's in my Bag: Overkill edition, and you're about to find out. As most of you know, I work from home, and creating tech content like this video is what I do for a living. What that means is, when I am on the go, it's because I am leaving town - and that means I need everything necessary to keep the content flowing for you guys. Let's start in the front pocket.
Oh, and remember how I said this bag can charge up your gadgets? There's a 7000mAh removable battery built in to this bag. It can be removed to be charged, or you can just open up the power port on the side of the bag and plug the AC adapter into there. The battery powers the USB port on the side of the backpack, which can charge up any smartphone or tablet. Even cooler, on the inside you'll find built-in Lightning, microUSB, and Apple 30-pin charging cables, all of which are directly connected to the power in the bag as well. So, you are covered regardless of the device you have on you, and that's pretty cool.
MACBOOK
Of course, when I'm on the go, I need my mobile workstation, and in this instance, that's the 2016 MacBook. I've got the Rose Gold model with the upgraded 1.3GHz Intel Core M7 processor and 512GB of storage. I'll be bringing you my review of Apple's latest MacBook soon, but in my early tests it beats last years model easily.
IPAD PRO
In addition to the MacBook, I also keep a 12.9-inch LTE iPad Pro in my bag as well. Sometimes I just wanna use iOS apps to connect to my TiVo to watch shows, or stream Netflix, Hulu, or just play a game. Of course I've got the smart keyboard connected in case I also wanna get some work done...
But yes, sometimes I don't need the larger form factor, and therefore I ALSO have the 9.7-inch LTE iPad Pro with me as well. The larger model pretty much needs to be on a table or desk to be useable, and this smaller version is fine in the hands, and has that fresh True Tone display as well, which is great for reading.
KINDLE OASIS
That said, if I really wanna get some reading done without distractions or the temptation of other apps, I also have a Kindle e-reader in my bag at all times. RIght now, it's the brand new Kindle Oasis, which Amazon just released last week. I'm a fan of this because it includes a leather charging cover, and a fully charged Kindle Oasis and Oasis case provides a ridiculous multi-month battery life.
APPLE PENCIL
Since I've got two iPad Pro units in my bag, it only makes sense that I'd also bring along the accessories that make the iPad Pro an iPad Pro. The Apple Pencil is definitely part of that equation, coming in handy when I'm making those sick YouTube thumbnails on the go.
PowerAdd Slim2 CHARGER
This small charger by PowerAdd sports 5000mAh of power, enough to recharge a current smartphone almost twice, and it's not too big to fit into a pocket if you need to charge up while using your device. It's also not too expensive at all at just $10.
ANKER CHARGER
But when I need more power, or to charge more than one device, this Anker charger is my go to. It's sleek and slim, looks great, has 3 USB ports, a built-in flashlight, and has an incredible 20100mAh battery on the inside. You can even use this to charge the MacBook over USB-C.
NINTENDO 3DS
I've got the New Nintendo 3DS to take care of boredom on flights, as well as to give me an opportunity to get some gaming in since I'm so busy as home making videos nonstop. Specifically, this is the limited edition Legend of Zelda Majora's Mask console.
CABLES
Of course, I need to have every cable that I may possibly need, because, you never know, right? Ethernet, Lightning, microUSB, mini USB, USB-C, etc. I've also got some USB-C dongles for the MacBook, in case I need to plug in a standard USB device or HDMI cable.
IPHONE SE - VRS Design Case
In the back pocket found on the rear of the NRG bag, I usually store a couple of extra smartphones. I'm usually reviewing and testing multiple models, and this is a great place to keep them protected. Here I have the iPhone SE, although you probably wouldn't know it due to the unique case. This is actually another case from VRS Design, which can also hold some card or cash. Just like the LG G5, VRS design makes some sweet cases for iPhones as well. I'll have more on these iPhone SE cases in a future video, so look out for that one.
LG G5 - VRS Design Case
Here I've got the LG G5, the latest flagship from LG. I keep that on me in order to compare smartphones when I am doing reviews on the go. If you're thinking about picking up the LG G5, I'll leave a link to my full review video for you to check out. Oh, and to keep it protected, I've got it in a case from VRS Design. This one is called the High Pro Shield, and it's two pieces - one soft piece that protects the phone from shock, and a hard bumper that goes around it. I've been trying out a bunch of different cases from VRS Design lately, and I'm a big fan of both the look and the quality of their designs. In fact, I'll show you another one a little later on. If you need a case for your LG G5, VRS Design cases start at about $11.
HTC 10
This is the HTC 10, and if you've been following my channel, you know that I picked my review unit up from the launch party that took place in New York City a couple of weeks ago. I'm just about done with my full review of the HTC 10, and while you wait for that, feel free to check out my coverage from the launch party, as well as my picks for the top 5 features on this device.
NECTAR GLASSES: Dank
Depending on where I'm going, sunglasses could be a necessity. I like to keep a pair of stylish but inexpensive shades with me at all times, just in case. I keep my more expensive sunglasses in my car, so when I'm on the go, I'm all about Nectar Sunglasses. Here you see the Dank edition Sunnies, which cost just $30.
Moment Case and Lenses
Moment Lenses and the accompanying Moment Case are invaluable tools for getting fantastic photos and videos using my iPhone 6S Plus (which isn't in my bag because it's home is my back pocket.) You insert the iPhone into the Moment Case, which is communicates with over Bluetooth, and provides a nice camera grip and shutter button. I have three lenses, all of which are premium glass. One is a wide angle, one is telephoto, and the last is a macro.
Earin headphones
I'm testing these Earin headphones. They are completely wireless Bluetooth earbuds. No wire to plug into your device, and no wire connected the two ear pieces. They're decent so far, but audio drop outs on one ear or the other can get annoying. Still, many think wireless earbuds are the future, so I'm keeping my eye on this space.
LSTN Wembley bamboo earbuds
These LSTN Wembley earbuds are some of the best in-ears I have ever had the pleasure of listening to, which is why I'm not totally sold on the idea of completely wireless buds just yet. I'm usually more a fan of over-ear headphones, but I agreed to try out the LSTN buds and was immediately blown away by how great they sound - and the bamboo wood construction is beautiful. They're noise-isolating and electro-acoustically tuned to produce high-end sounds quality at any volume, and the real wood housing provides a rich, full sound. Even better, your purchase helps support LSTN and Starkey Hearing Foundation's mission to help restore hearing worldwide.
Belkin SurgePlus USB Swivel Charger
The Belkin SurgePlus has been a lifesaver, and it has had a spot in my travel bag for about 8 years. It plugs into a standard outlet, and provides you with three surge-protected AC outlets, as well as two USB charging ports. WHen you're in a hotel room and outlets are scarce, the SurgePlus quickly becomes your best friend.
Mophie Juice Pack
When I'm on the go and don't need to carry my bag with me, I look to the Mophie Juice Pack to keep my iPhone 6S running all day. It does double as a protective case, but that's not why I use it - I just wanna be able to go from morning til late at night when I'm at these influencer events, and the Juice Pack means I don't need to find an outlet.
Audeze EL-8 Titanium
This might be my favorite thing in my bag - the Audeze EL-8 headphones. World's First Headphones With Fully Integrated Apple Lightning Cable. The EL-8 Titanium headphones come with an exclusive lightning cable that streams a complete 24-bit digital signal through a high quality DSP and DAC to offer better sound quality. The built in microphone can be used for phone calls and is SIRI compatible. An accompanying Audeze app can be used to apply EQ and sound presets. For non- Apple device compatibility, the headphones also include a standard analog cable.
PlugBug
PlugBug piggybacks onto your MacBook Power Adapter, creating a one-of-a-kind, dual charger for MacBook + USB devices like an iPhone or iPad, or really any USB-powered device. A newer model includes five international snap-on plugs and doubles as an international, stand-alone USB charger for iPhone and iPad.
SanDisk USB-C Dual Flash Drive
It has 32GB of storage, and the cool thing is that it can be plugged into both standard USB ports, as well as newer USB-C ports like the one found on the MacBook. That makes it easy to get files from one system to another, regardless of which USB type it supports.
There you have it guys, that was your look inside my tech bag. I'm curious what you thought - I know I said it was overkill, but do you agree? Do you keep your bag nice and light, or are you hauling around even more stuff than I am? Hit me in the comments and let me know. Also, big shout out to Ghostek and VRS Designs for making this video happen, you'll find links to the their products, as well as everything else I showed in this video, in the description below. If you need some new tech, be sure to hit our Gadget Giveaways playlist in order to see what giveaway we're currently running, so that you can enter to win. If you liked what you saw today and if you wanna see more of these types of videos, please do hit that Like button, and if you loved it, be sure to Subscribe in order to find out about future video release. Thanks for watching as always, I definitely appreciate your support. I'm Andru Edwards, and I'll catch you in the next video.
You can also find us on:
© Gear Live Media, LLC. 2007 – User-posted content, unless source is quoted, is licensed under a Creative Commons Public Domain License. Gear Live graphics, logos, designs, page headers, button icons, videos, articles, blogs, forums, scripts and other service names are the trademarks of Gear Live Inc.