« FreeiPods.com Offering Free iPods and iTunes Gift Certificates | Main | XBOX Live Hits 1 Million Subscribers »
July 15, 2004
Samsung SCH-A670 Review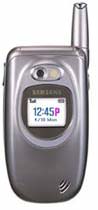 Gear Live contributing reporter Hector Martinez was able to spend some time testing the Samsing SCH-A670 mobile phone. While it appears stylish on the outside, you can never judge a book by its cover. Hector gives us the down low on how it performs.
SAMSUNG'S SCH-A670 IS FULL OF COOL SURPRISES
The SCH-A670 is my third cell phone, and my first camera phone. Everyday Iím discovering something new with it, so I was compelled to write a review. My motivation is to personally reflect on its capabilities--and its few shortcomings--as much as it is to inform the consumer.
The reason I got the phone in the first place was because my wife needed a new one, and we thought it would be good to share the same phone network to save on our minutes. I switched over from Sprint in the NYC area, and after taking home the phone I immediately noticed how much stronger the signal strength was. It felt great knowing I could walk around freely in my apartment, and not have to worry about staying near the window. After transferring all my old numbers into it, I delved into its features.

THE CAMERA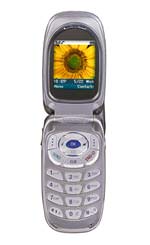 It can take up to VGA-quality shots, though at that quality youíd only be able to store about 30 pictures. As an alternative, you can lower the resolution setting to store about 180 pictures on the phone. Yes, they would look tiny on a monitor, but they look great on the phoneís screen! The camera does a very nice job adjusting to darker lighting, and can even take sepia, black and white, and embossed images if you set them on the camera menu. You can flip the phone shut in order to take pictures of yourself and still see the image through the external LCD as well.

THE SCREEN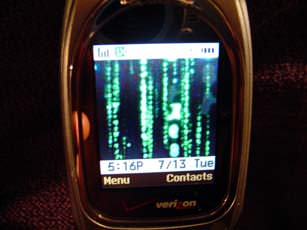 Wow, this thing can show some really beautiful images! Both the internal and the external screens display 65K colors, so images are really crisp. This feature above all others was the reason my wife and I gravitated to this model at the Verizon store. I had a monochrome screen in my old phone, so this was like a breath of fresh air. Very, very nice indeed.

BUILD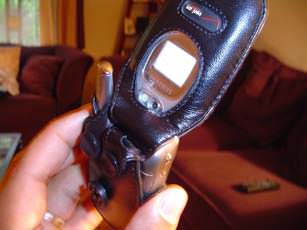 The phone is encased in a durable metallic finish. It feels substantial and expensive in your hand, though it sure is small. Iíd have no trouble slipping it into my pocket, but the included leather case and belt clip-on do just fine. I like how the clip click-rotates around so that you can adjust it to your liking. My last phone popped out my waist and got run over by a bus, so I appreciate a good leather holder.

DOWNLOADS
You can get all kinds of new ring-tones through Verizonís ďGet It NowĒ download menu. They help to complement the included ring tones which, frankly, arenít good. You only get 5 ring-tones by default, and the rest sound like little marching-bands. Better grab that Beyonce flava from the network! There are quite a few contemporary artists featured, including Cold Play, Eminem, and Usher. Songs sound really nice, though donít expect the actual vocals to pop out the thing. Remember also that there is a small charge, about $2, to download each song.
I really cannot comment on the quality of the games you can download because there arenít that many free demos available. JamDat Bowling appears to be the most popular, but I canít expect much compared to my GameBoy, or even my Palm M515. Iíd recommend you skip the games. However, the MapQuest download was really impressive, and could come in quite handy if youíre in a bind. It gives driving directions and full-color, zoomable maps. It is one of the most expensive apps though, so again, use only in case of emergency.

WALLPAPERS AND SCREENSAVERS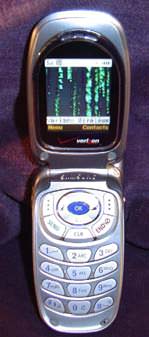 This phone is such a blast when it comes to taking pictures and making them either start-up or shut-down images, or the default screen saver. You can also assign any image to any person on your contacts list. Itís all quite easy. The phone also records movies, though they canít be sent via text-messaging. Still you can record any movie for about 12 seconds, and make that your wallpaper. Itís how I got actual moving ďMatrix CodeĒ to cycle on the screen whenever itís turned on. I also have another Matrix scene assigned for when the phone shuts down. This is one of my favorite features because I was stuck with whatever the phone company offered as screensavers and images on my previous phone.

TEXT MESSAGING
The latest craze. You can send messages of about 160 characters in length to anyone on your contacts with a text-phone. This is pretty universal at this point. But you can also send picture messages with any image you have just taken, or have stored on the phone. If you really want to go crazy, you can send a picture image with a sound recording (up to 30 seconds) along with regular text, all in one message. Pretty sweet, but then again most of my friends donít have a picture phone to accept the images. Bah, get with the program!
I subscribed to a cheap plan for text messages at least, and I love talking to people without having to make the actual phone call. Itís also a good idea to use the predictive T9 text input, although sometimes it will give you the unusual word and youíll have to backtrack a bit.

OTHER FEATURES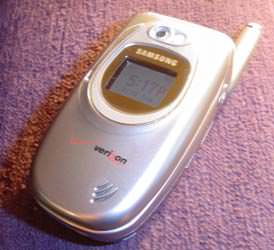 The phone includes a calendar, as well as a calculator, though I donít use these since they are so much more cumbersome than my Palm's. You can also go online with it, and the connection speeds appear reasonable (read: much slower than the DSL you are accustomed to) but again, the text and images should look great. You can also record a series of voice memos as reminders, and set a shortcut to a function for the ďupĒ direction on your directional pad. The keys light up a nice fluorescent blue when you flip open the phone. Finally, the messages menu will keep a store of your latest voice and text messages, though you will have to delete a few once you have about 70 texts.

BATTERY LIFE
This is a weird one, but the battery indicator appears to drain quickly. However, once it reaches a single bar, that bar can last you literally for hours, so itís a little misleading. It hasnít run out on me yet, though I wish it didnít jump to a single bar so quick. Makes me nervous.

FINAL THOUGHTS

I use the phone most with my family: my wife and brother. Sending text is always a blast, as well as taking great image-quality photos that I can assign to many of its functions. Itís not the perfect phone; I wish it had better default ringtones, as well as integrated Bluetooth. It can also get a little warm over extended use ó but I really find it to be excellent all around. Voice quality is great, as well as signal strength, and it offers plenty of potential customization.
- Hector Martinez, Contributing Reporter
RELATED:
Verizon Wireless Get It Now Review - Gear Live

Posted by Andru at July 15, 2004 11:33 AM
RECENT GEAR LIVE STORIES:
Gear Live Holiday Music Guide 2004

Are Cell Phones Harmful?

Gear Live Giveaway: Three DVD's of Your Choice

Gamer Buys Virtual Island for $26,500

Gear Live 2004 Holiday Gift Guide

Trackback Pings
TrackBack URL for this entry:
http://WWW.WRISTDREAMS.COM/mt/mt-tb.cgi/107
Listed below are links to weblogs that reference Samsung SCH-A670 Review:
» What will they think of next? from Patio Pundit
The Patio Pundit reviews the Samsung SCH-A670. [Read More]
Tracked on July 17, 2004 02:24 PM
Comments
I need a Antenna adapter cable for the a670, cant seem to find one though there is a port. What gives? HELP
Posted by: Mike Morsette at July 22, 2004 06:09 PM
I just bought this phone for $310.00 at a local Verizon Store. Nice looking phone. Im disappointed it does not play any ringtones with voices. Other than that its great. So many display messages and great fun.
Posted by: CK at October 5, 2004 01:43 AM
Post a comment