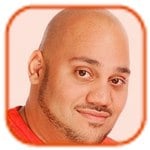 Posted by Andru Edwards Categories: Location Services, Marketing, Startups,
Groupon has launched an instant, location-based mobile deal offering service called Groupon Now. The service offers various deals throughout the day via a mobile application or on the Web, rather than a single deal delivered to your inbox.
It's similar to the way services like Foursquare or Facebook Places offer discounts and deals, tapping into your device's GPS to peddle coupons in real-time. When you enter your location, Groupon Now lets you choose the type of deal you'd like, whether it's a half-price salsa lesson or a discount on a cheeseburger. Using your existing Groupon account, you can purchase the deal with one click, present a barcode for the vendor to scan, and claim your discount.
Click to continue reading 'Groupon Now' brings instant, spur-of-moment, location-based deals
Read More

| Groupon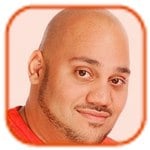 Posted by Andru Edwards Categories: Apple, Cell Phones, GPS, Software,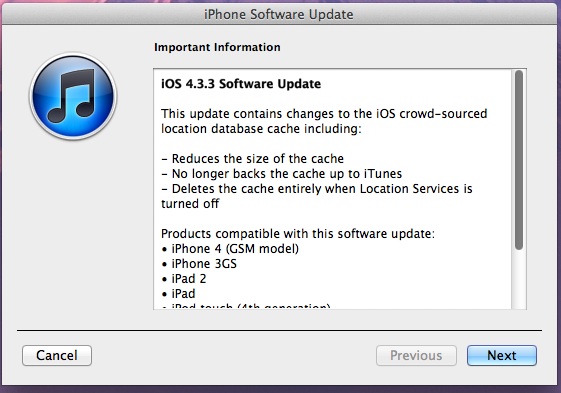 Apple just released iOS 4.3.3, an update aimed to fix the location tracking issue that raised a bunch of concerns over the last couple of weeks. With this update, the consolidated.db database that stores the location data will be reduced in size, and that database will no longer be backed up to iTunes. In addition, if you turn Location Services off, the cache gets deleted entirely. Plug your iPhone in and have iTunes check for the update when you get a chance--jailbreakers, you'll wanna wait until there's a compatible fix.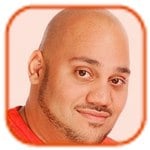 Posted by Andru Edwards Categories: Apple, Cell Phones, Software,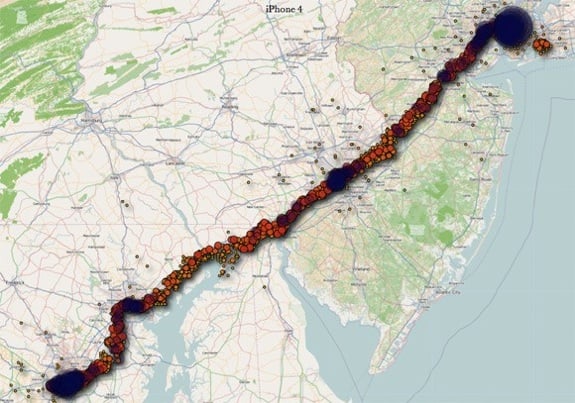 As promised last week, Apple will fix location-tracking software on the iPhone and other devices in an update to its iOS mobile operating system in the next few weeks.
Apple will release iOS version 4.3.3 "within the next two weeks, possibly sooner," BGR reported Monday, citing a company source.
The update for iPhones and iPad tablets will address several location-tracking issues that came to light in April when two researchers publicized the existence of an unencrypted, hidden file on iPhones that stores location data taken from nearby cell towers and Wi-Fi hotspots. The cached data is also timestamped, backed up on iTunes and although associated with Apple's Location Services, cannot be shut off by users when they opted out of the service.
The iOS 4.3.3 update promises to end the backing up of the location database when devices are synched to iTunes, reduce the size of the cached data file and delete the database when users turn off Location Services, according to BGR.com.
Click to continue reading iOS 4.3.3 coming soon, will fix iPhone location bug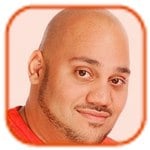 Posted by Andru Edwards Categories: Cell Phones, GPS, Microsoft,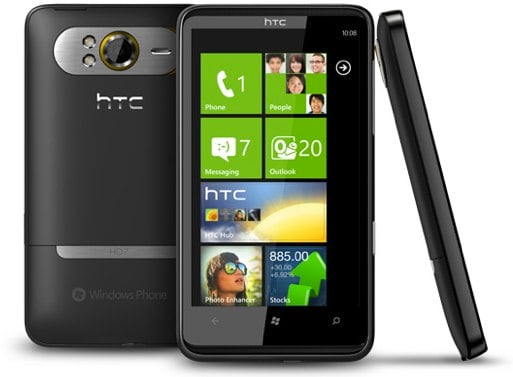 Microsoft has confirmed that Windows Phones don't store location history in a manner similar to the iPhone, which records the location data in an unencrypted file. The news that some iOS devices keep location data came to light last week, although Apple warns users of the practice (if not the precise methods) in the fine print of the phone's terms of service.
Microsoft told us unequivocally that phones running Windows Phone 7 do not store location history. Like most other phones, the platform offers plenty of location-based apps, and those apps require user consent before they begin tracking. Windows Phones also offer the common feature of a "global switch" that lets the user disable all location services, and Microsoft says its "Find My Phone" service keeps only the phone's most recent location.
We also contacted Nokia, RIM, Google, and HP about how the companies' mobile platforms store location data, and none, save Microsoft, have responded. It's been confirmed independently that Google Android also tracks and stores location data.
Click to continue reading Microsoft says Windows Phones don't store location history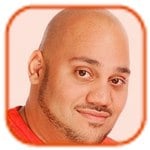 Posted by Andru Edwards Categories: Apple, Cell Phones, Editorial, Features,
Coverage of the iPhone tracking "feature" has ranged from concern to outrage. "I don't know about you, but the fact that this feature exists on an iPhone is a deal-killer," wrote PCMag Columnist John Dvorak, shortly after news broke. Editor Dan Costa drew a softer line, writing, "Apple may not be actively tracking you, but it did turn your phone into a tracking device without telling you."
As frustrating as it is to learn that your iPhone has been spying on you, collecting an unencrypted treasure trove of your travels, the truth is we knew this was happening. Last June we reported that Apple updated its privacy policy, stating that it could, "collect, use, and share precise location data, including real-time geographic location of your Apple computer or device." How precise that location data is remains in question. What is clear, however, is that the update arrived alongside the release of iOS 4—the OS affected by the tracking feature—and identified the four devices (iPhone 3G, iPhone 3GS, iPhone 4, and iPad with 3G) affected by the tracking feature.
I'm not about to give Apple a pass on disclosure or execution. Who combs through an Apple privacy statement when the latest iOS software awaits? And, to "collect" and "share" user data is one thing; to retain it in an unprotected file is quite another.
However, I think it's important that, with a few days' hindsight, we move beyond the bombast, pin down the facts, and see what's actually there. To do this, I've taken a close look at what's at risk and, in empirical spirit, borrowed fellow PCMag software analyst Jeff Wilson's iPhone 3GS to see what I could learn of the man and the travels using Pete Warden's iPhoneTracker app.
Click to continue reading How to view the tracking data in your iPhone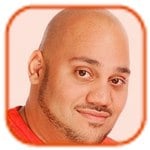 Posted by Andru Edwards Categories: Apple, Cell Phones, Corporate News,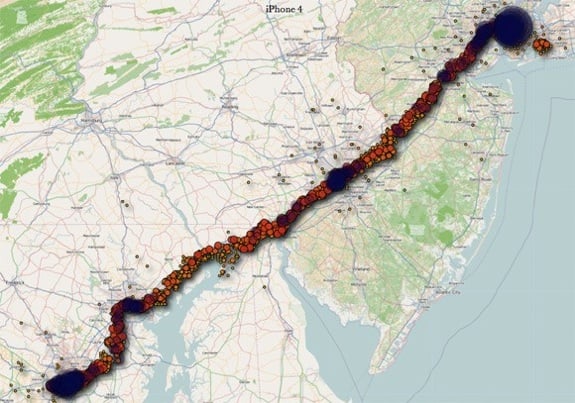 A pair of mobile forensic researchers who independently identified a location tracking system on the iPhone 4 several months before it was publicized earlier this week say that law enforcement agencies are currently using data from a hidden iOS file called "consolidated.db" in criminal investigations.
Evidence from the location tracking database stored on iPhones "has been used in actual criminal investigations and yes, it's led to convictions," said Alex Levinson, a Rochester Institute of Technology researcher and technical lead for iOS forensics consultant Katana Forensics.
But Levinson and Christopher Vance, a Marshall University digital forensics specialist, also contend that Apple probably included the technology in its iOS operating system to deliver location-based services like iAds rather than to create dossiers on the whereabouts of iPhone users.
A great deal of buzz has surrounded a Wednesday O'Reilly Radar blog post by researchers Pete Warden and Alasdair Allan that highlighted a hidden file on iOS devices like the iPhone and iPad which includes latitude-longitude coordinates and a timestamp to track where such devices have been geographically and when.
But Warden and Allan apparently weren't the first to discover the file.
Click to continue reading Researchers say police already use iPhone tracking data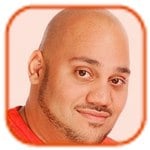 Posted by Andru Edwards Categories: Apple, Cell Phones, Features, GPS, Videos,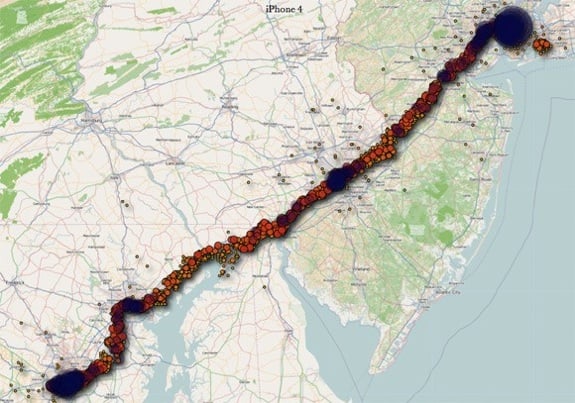 Did you know that Apple is tracking your every move with your iPhone and iPad? A blog post published today on O'Reilly Radar claims that devices running iOS 4 are gathering location and storing it in an unencrypted manner.
"What makes this issue worse is that the file is unencrypted and unprotected, and it's on any machine you've synched with your iOS device. It can also be easily accessed on the device itself if it falls into the wrong hands. Anybody with access to this file knows where you've been over the last year, since iOS 4 was released," wrote Pete Warden, founder of the Data Science Toolkit, and Alasdair Allan, a senior research fellow at the University of Exeter.
The data is being stored to a file known as "consolidated.db," which includes latitude-longitude coordinates and a timestamp.
Of course, this shouldn't surprise anyone who read the entire 45-page EULA, as it clearly states the following clause when going into detail on the type of "non-personal information" that Apple can "collect, use, transfer, and disclose … for any purpose."
We may collect information such as occupation, language, zip code, area code, unique device identifier, location, and the time zone where an Apple product is used so that we can better understand customer behavior and improve our products, services, and advertising.
What that means is that Apple made it clear (or, as clear as you can make it when buried in the middle of a lengthy privacy policy) that it would be doing this, and we've all agreed to it.
Click to continue reading You gave Apple permission to track your whereabouts via your iPhone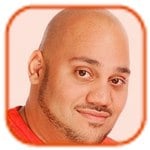 Posted by Andru Edwards Categories: Location Services, Marketing, Mobile, Product Offers,
Google took aim at Foursquare on Thursday with the addition of checkin rewards for its Latitude app for Google Maps, while replacing 'mayors' with "gurus" and "VIPs".
Google's location class warfare didn't stop there: there are a poor, middle, and elite class under Google's hierarchy, known as "Regulars," "VIPs," and "Gurus," respectively. Users who check in for the first time might not receive any special designation.
Users will need to update to Google Maps 5.2 via the Android Market, join Latitude, then tap "check in here" from the menu. Google said a version for the iPhone would be coming soon.
The new rewards will be rolled out - where else? - at the South by Southwest Interactive (SXSWi) show in Austin, Texas this weekend, where discounts will be offered at restaurants, bars, and other venues around the downtown area.
The new checkins scheme provides a sort of game-like approach to rewards, with additional checkins propelling users to new social rankings - and new discounts, to boot. "Footprint" icons let users track their progress. As an example, a restaurant could offer a free drink to a regular, free breadsticks to a VIP, and possibly a free dessert to a "guru".
Google began offering checkins on Latitude in February.
Click to continue reading Google Latitude adds check-in deals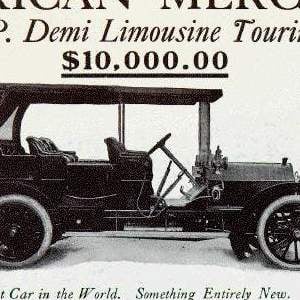 Posted by Drea Avellan Categories: Games, New Apps, Free Apps,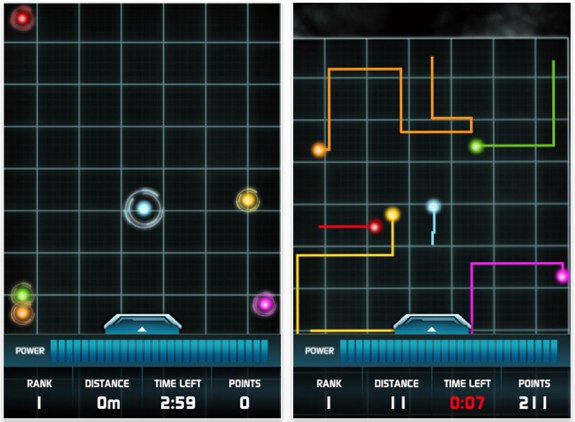 Who knew Coke Zero would be in the forefront of gaming innovation? Last week, Coca-Cola released "the first ever location-based videogame" called LiveCycle.
LiveCyle is based on Disney's TRON: Legacy film and the premise of the game is to move around the real world real to create a Light Wall and derezz your opponents, and avoid being derezzed by theirs. The Coke Zero websites offers a trailer of the game which makes it seem like a pretty fun idea, though there is a lack of actually gameplay. Real gaming innovation or interactive advertising? You decide! Play the game and let us know in the comments!
Live Cycle is available in the iTunes stores for the low, low price of $0.00. Download it here.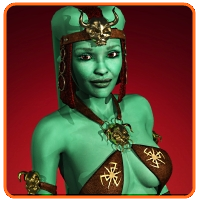 Posted by Patrick Lambert Categories: Google, Internet,

Google is once again trying to show that location services are really important to them with the release of Google Hotpot, a social recommendation engine for Places. According to Google, this service will provide recommendations "powered by you and your friends" to businesses and locations you happen to be near. Right now, Google Places mostly provides information and facts about restaurants, clubs, banks, or anything you can find on a map, as well as imported ratings from outside sources like Yelp. Hotpot adds the ability to like or dislike a location on the spot, and provide your opinion. Then, the engine will present that additional information from your social circle. The new feature is available on Android phones now and on the web, and uses your Google account to allow you to rate businesses.
Read More

| Google Hotpot

© Gear Live Inc. – User-posted content, unless source is quoted, is licensed under a Creative Commons Public Domain License. Gear Live graphics, logos, designs, page headers, button icons, videos, articles, blogs, forums, scripts and other service names are the trademarks of Gear Live Inc.