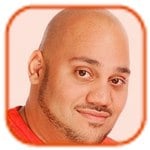 Posted by Andru Edwards Categories: Cameras, Hot Deals, Portable Audio / Video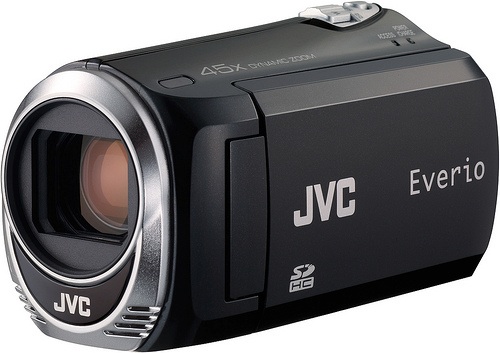 This Deal of the Day from eBay offers 50% off the JVC Everio GZ-MS110 camcorder. This camera sports a 39x optical zoom, can uploads videos directly to YouTube, and is an all around good buy at full price. These usually sell for $199, and this deal brings it down to $99, saving you a full $100. That's a discount of 50%. Even better? Shipping is free. If you're interested, head on over:
Save 50% on JVC Everio GZ-MS110 camcorder
Don't forget, if you're looking for other deals, be sure to check out our Newegg Promo Code thread. Oh, and if you're on Twitter, be sure to follow @TechPromos for the latest deals, or you can Like TechPromos on Facebook.
Read More

| JVC Everio GZ-MS110 sale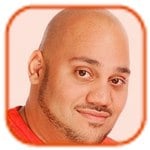 Posted by Andru Edwards Categories: HDTV, Home Entertainment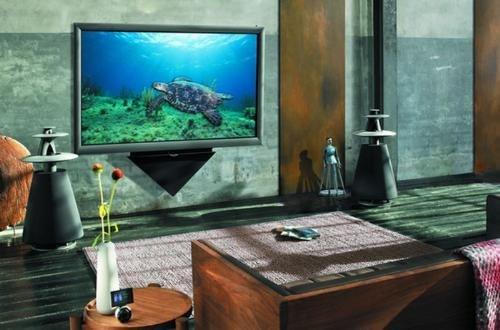 Luxury home audio and video company Bang & Olufsen is entering the 3D HDTV market. The new BeoVision 4 is an 85-inch plasma HDTV with active shutter 3D, a massive profile, and a massive price tag.
The 85-inch screen weighs a whopping 300 pounds, with a motorized stand that weighs an additional 600 pounds. The screen can automatically lift up from the floor to viewing position, rotate left and right 20 degrees, and even tilt up and down slightly. The stand includes a B&O BeoLab 10 center channel speaker that gives it high-end dialog levels. The BeoVision 4 offers all of this for a whopping $85,000. Yes, that's five digits.
Don't think you can just hand over a check for $85,000 and get the HDTV, though. Bang & Olufsen requires its dealers to inspect the place where you plan to put the HDTV to make sure that the floor can handle the heavy screen and the wiring can deliver the required 220 volts to run the screen. So be prepared to entertain structural and electrical engineers in your home before you can even hope to get one of these HDTVs.
Click to continue reading Bang & Olufsen's first 3D HDTV costs just $85,000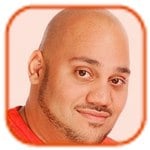 Posted by Andru Edwards Categories: Displays, HDTV, Home Entertainment, Hot Deals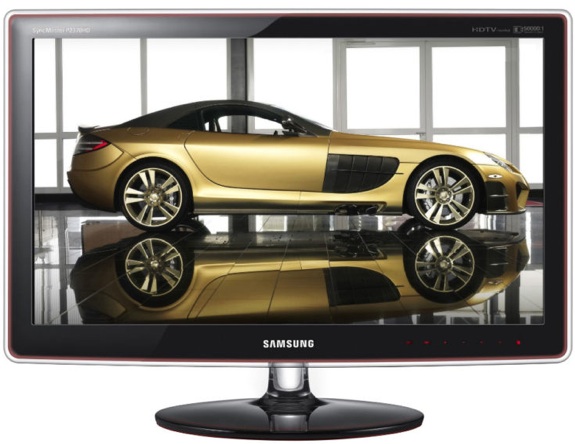 If you're in need of a spare HDTV set, peep this deal from eBay on the Samsung P2370HD-1 set. It's a 23-inch 1080p LCD HDTV, and it's being sold at a 61% discount. They typically sell for $482, but through this deal, you get the television for $189, saving you $293 - and that includes shipping. They've got limited stock, and again, this only lasts for a few hours. If you're interested, head on over:
Save $293 on Samsung P2370HD-1 HDTV
Don't forget, if you're looking for other deals, be sure to check out our Newegg Promo Code thread. Oh, and if you're on Twitter, be sure to follow @TechPromos for the latest deals.
Read More

| Samsung LCD HDTV sale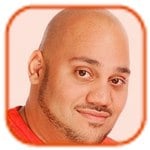 Posted by Andru Edwards Categories: Apple, Home Entertainment, Hot Deals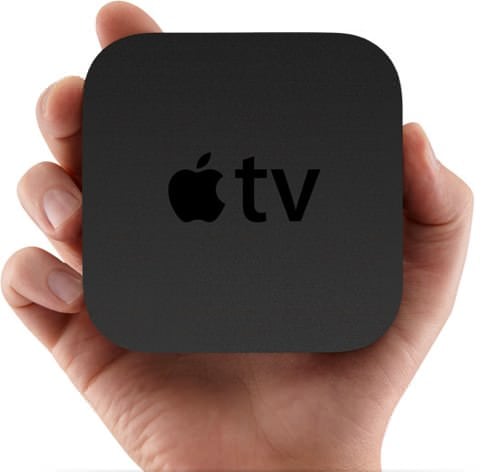 Just a quick public service announcement for anyone interested in the second-generation Apple TV--we noticed this morning that a bunch of them are on eBay starting at $79 brand new (20% off) with Buy It Now prices of $89 (which is still 10% off.) With all the new AirPlay-enabled apps that have been dropping lately, we're finding that the Apple TV is becoming a must-have device for anyone who owns an iPad, iPod touch, or iPhone. Check out the Apple TV on eBay for some great deals.
Read More

| Apple TV 2nd Gen on eBay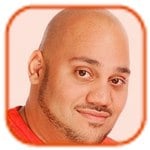 Posted by Andru Edwards Categories: Cameras, Editorial, Features, Handhelds, HDTV, Portable Audio / Video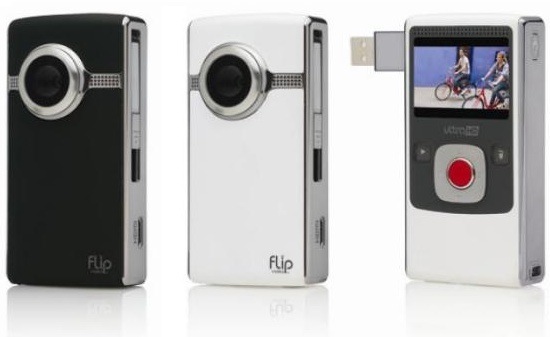 The Flip was never my favorite pocket camcorder. That's partly because it was the darling of everyone else and also because I found more powerful options elsewhere, like the Kodak Zi6 (and then Zi8). Both offer HD video capture, a microphone-in jack and removable media. Flip didn't offer any of that; the Flip team always told me that those features would likely confuse consumers who just wanted to capture video.
Now I realize they were right. In fact more right than any of us had imagined.
A day after Cisco unceremoniously dumped its $590 million purchase in favor of a pure business strategy, Flip owners and even the Flip CEO are busy licking their wounds and wondering exactly what happened. I'll tell you what happened: A device came along that made video capture and sharing even easier than the Flip—end of story.
Flip's demise has to be one of the most spectacular flameouts in recent tech history. When I met with Flip last year (just prior to the launch of the ill-fated Flip SlideHD), Flip had marketshare numbers that looked not only unbeatable, but unstoppable. According to Cisco executives:
Flip sales grew by 300 percent between 2008 and 2009.
Flip led the category throughout the 2009 holiday buying season.
Flip sold more units than Sony, Canon, Kodak, and JVC combined.
Flip cameras were number nine out of Amazon's top 10 selling products.
The "Shoot and Share market" grew over 35 percent in 2009 and and Flip's share of that? A whopping 93 percent.
On CNN's popular iReport user-generated news section, 70 percent of the user-gen video was shot with a Flip.
This was the success story to beat all success stories. And while I complained even then that Cisco wasn't innovating enough with the Flip brand—I wanted a microphone jack and was begging for them to be the first to offer optical zoom—I could not argue with its success.
Click to continue reading Why the Flip camera failed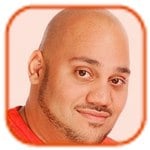 Posted by Andru Edwards Categories: Accessories, HDTV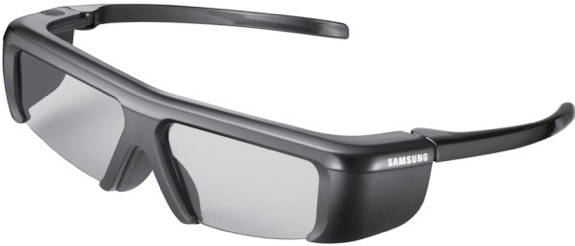 Samsung announced an upcoming price drop for its current 3D glasses, which will complement its recently redesigned and streamlined active shutter glasses. The SSG-3100GB 3D glasses are now $129, but starting May 1 they will retail for $50 per pair. They don't need recharging and can run for up to 70 hours before the battery has to be replaced.
The $50 glasses aren't only a new low point in the cost of active shutter 3D glasses, but they're also the key to letting users enjoy their 3D HDTVs with no additional investment. Samsung will include two pairs of SSG-3100GB glasses with all of its 3D HDTVs for free.
This does not include the D7000 and higher LED TVs and D6500 and higher plasma TVs, which will continue to include the SSG-3100M 3D starter kit with which they were already bundled, which also includes the two pairs of glasses and a 3D Dreamworks movie.
Click to continue reading Samsung drops prices of 3D glasses to $50, packing in two pairs with TV purchase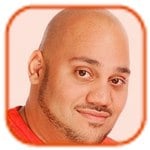 Posted by Andru Edwards Categories: Corporate News, Displays, HDTV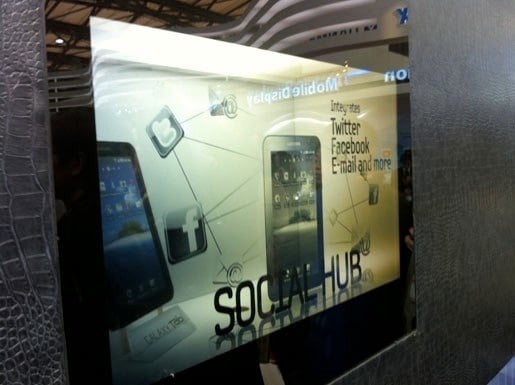 Samsung announced today that it has become the first company to begin mass production of transparent LCD panels.
The panels, which measure 22 inches across the diagonal, support resolutions up to 1,680-by-1,050, have 500:1 contrast ratios, and are available in both color and black-and-white models.
Samsung claims that the panels offer the world's highest transparency rate: over 20 percent for the black-and-white variety, and over 15 percent for color. (The company says that conventional LCD panels with a backlight unit have only 5 percent transparency.)
According to Samsung, because panels with higher transparency rates are better able to utilize ambient light, the company's new panels consume up to 90 percent less electricity compared to traditional LCD monitors.
Click to continue reading Samsung starts mass producing transparent LCD panels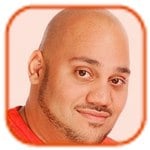 Posted by Andru Edwards Categories: HDTV, Home Entertainment, Movies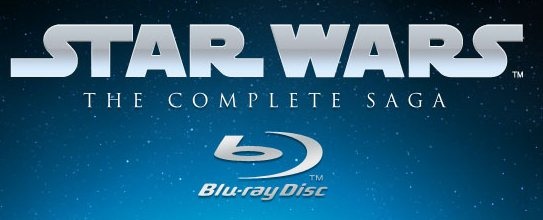 We know a ton of Star Wars fans have been waiting for confirmation of when the series would be available for purchase on Blu-ray, and we finally have a date that's set in stone. You'll be able to pick up Star Wars: The Complete Saga, Star Wars: Original Trilogy, and Star Wars: Prequel Trilogy on September 16, 2011. In an interesting move, this is a Friday. Movie releases tend to fall on Tuesdays, but we're guessing that there are people hardcore enough to camp out for this thing and take time off work to tear through it, so having the weekend to do so is an added bonus.
You can pre-order the Star Wars Blu-ray set from Amazon at a significant discount:
May the Force be with you.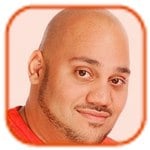 Posted by Andru Edwards Categories: Cell Phones, Editorial, Features, Video Games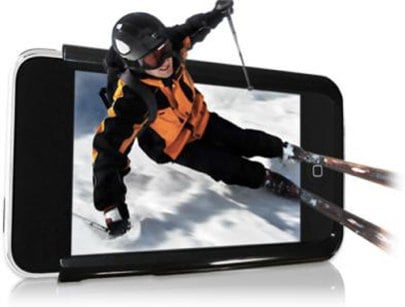 The new Nintendo 3DS promises to be a success not only because it actually works well and does indeed provide a 3D image without any glasses or aid whatsoever, but because it takes amusing 3D photos and is just fun to play with.
When all is said and done, the Nintendo 3DS may actually accomplish what Fuji has been promoting and what many 3D hobbyists have tried: popularizing 3D photography for everyday use.
And, yes, we know that it's a gimmick. But it's a cool gimmick.
After taking a few 3D pictures of just about anything, you'll find that they are so compelling that it is hard to express the odd joy you get from them. This is the key to the eventual success of home 3D. It has always failed in the past, because it was somebody else's 3D. It was never personal.
Photography itself never flourished as a hobby when the cameras were the big bulky clunkers utilized by Matthew Brady and others. Think about this. Photography was nothing new during the Civil War in the 1860's, but all the photos were done by a limited number of pros. You have to wonder what the Civil War would have been like if everyone had a cell phone camera like we do today.
Then Kodak produced the Brownie and gave photography to everyman. Next thing you knew, photography became the number one hobby in the world. 3D is following that same pattern. It's just odd that a game company, Nintendo, is the Kodak and the 3DS is the Brownie.
Click to continue reading Will the Nintendo 3DS pave the way for a 3D iPhone?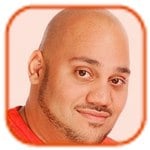 Posted by Andru Edwards Categories: HDTV, Home Entertainment

Comcast has launched its long-awaited (by some) 24-hour 3D channel, Xfinity 3D. This adds to Comcast's other 3D offerings like ESPN 3D, the 3D events channel, and the 3D on demand movies. The channel launched with broadcasts of a Kings of Leon concert and the NHL Heritage Classic 2011 hockey game.
You can expect 3D nature documentaries, animated features, concerts, sporting events, and performances, although the schedule doesn't look to include too many hit movies or concerts at the moment. That said, this could be similar to years ago when a few HD channels were first lit up with nature shows and soccer games, giving HDTV owners something to watch. What do you think? Will dedicated 3D channels spur sales of 3D television sets?
© Gear Live Inc. – User-posted content, unless source is quoted, is licensed under a Creative Commons Public Domain License. Gear Live graphics, logos, designs, page headers, button icons, videos, articles, blogs, forums, scripts and other service names are the trademarks of Gear Live Inc.