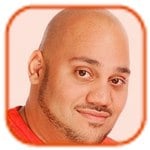 Posted by Andru Edwards Categories: Cell Phones, Hot Deals,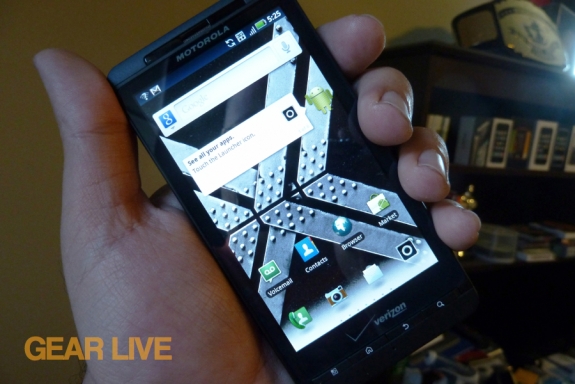 Our Deal of the Day today with focuses on an 82% discount on the Motorola Droid X2. Seriously, this is a newly-released dual-core Android device selling at just $89.99 with shipping included. How could we not post this?:
Don't forget, if you're looking for other deals, be sure to check out our Newegg Promo Code thread. Oh, and if you're on Twitter, be sure to follow @TechPromos for the latest deals, or you can Like TechPromos on Facebook.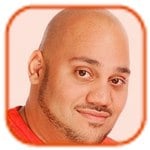 Posted by Andru Edwards Categories: Cell Phones, Google, Software,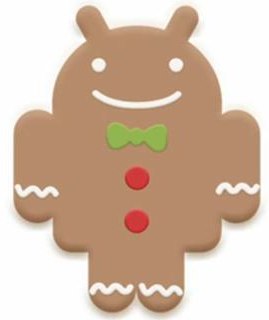 A Motorola employee says Droid phones running Android 2.2 (Froyo), will be updated to Android 2.3 (Gingerbread) by the third quarter of the year—as long as Verizon gives it the go-ahead.
In response to impatient customer questions on the Motorola Support forum, an employee responded that the company "cannot provide exact dates."
"I can say that the Droid X update is currently scheduled to be released before the end of the second quarter of this year or sooner. The other updates are currently scheduled to be released before the end of the third quarter or sooner."
"The above estimates are dependant on Verizon approving the OTA (over the air) updates," the spokesperson continued.
Click to continue reading Motorola addresses slow Gingerbread rollout, updates coming in Q3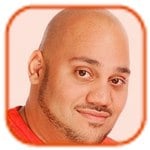 Posted by Andru Edwards Categories: Cell Phones, Features, Galleries, Handhelds,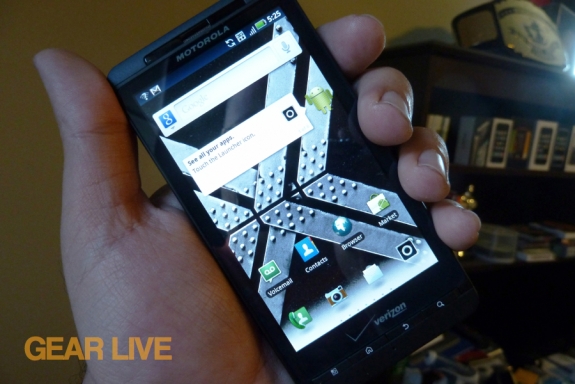 The Droid X2 is the follow-up to the popular (and large) Motorola Droid X. What's changed? Well, the big thing here is that the Droid X2 is the first dual-core Android smartphone available on Verizon. That means that this thing is fast, but we'll talk more about that in our Droid X2 review. For now, though, we've put together a Droid X2 unboxing gallery for you to feast your eyes on. We figured while you waited for our review, you might at least wanna get a look at what the thing looks like, y'know? As you can see, the display is still large (it's a 4.3-inch qHD screen,) and it's also pretty thin. Jump over to the gallery for all the details.
Gallery: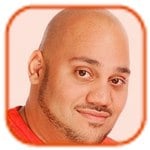 Posted by Andru Edwards Categories: Cell Phones, Editorial, Features, Google, Software,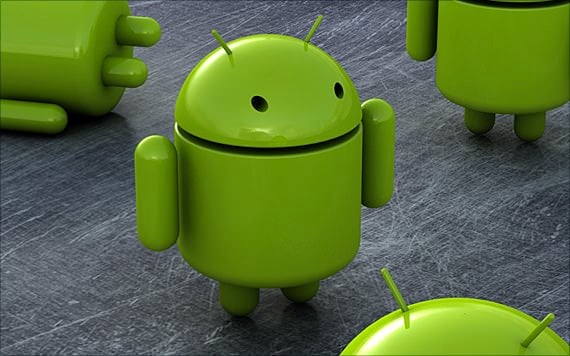 Two and a half years ago, Sergey Brin, Larry Page and T-Mobile introduced the world to the very first phone, the G1. It was a good phone with a workmanlike design, decent keyboard, an average screen and lots of Google goodness built right into it. No one, least of all me, thought it stood much of a chance against the surging Apple iPhone.
For a solid year, the platform looked like a dud. But a funny thing happened on the way to the morgue.
Seven months later, T-Mobile unveiled the keyboard-less MyTouch 3G. As before, it was a nice looking, though slightly curvier, Android phone. It wasn't until the fall of 2009, more than a year after the G1 and Android's launch, that the platform got interesting. That was when Motorola started talking openly about the Droid. By casting aside just two letters and joining with the leading mobile carrier that didn't get the iPhone, Motorola and Google signaled their intention to make Android bolder, sexier and far more desirable.
Click to continue reading A look at the remarkable rise of Android, and where it goes from here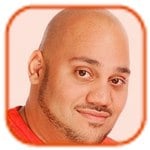 Posted by Andru Edwards Categories: Cell Phones, Handhelds,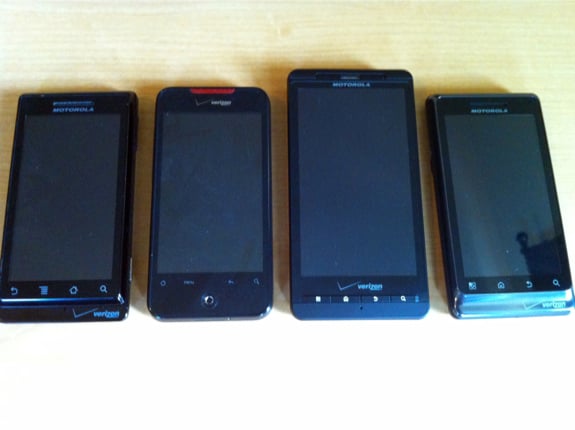 With the release of the Motorola Droid 2, what you see above is the complete and current Verizon Droid smartphone lineup. Of course, now that the Droid 2 is available, the original Droid is no longer being sold, although you can find it as a refurbished unit still. The Droid Incredible from HTC is still my favorite Android device, and it'll get even better once Android 2.2 arrives in a few days on the Incredible. The Droid X is the monster that's figuring out if it wants to be a smartphone or a mini tablet, and the Droid 2 gives us a powerful (seriously, it's fast) QWERTY slider that ships with Froyo already installed.
Now here is the interesting thing. The original Droid was Verizon's first Android device, and it launched on November 6, 2009. A little over 6 months later, the Incredible launched. Three months later, the Droid X arrived from Motorola, and then a month after that, we got the Droid 2. Verizon launched four Droid devices in under a year, and it took Apple three years to do the same. When you look at it that way, it's only logical that Android phones will outsell iPhone handsets, as there are way more of them to go around (not to mention that they're available on all four carriers as well.)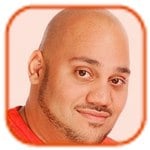 Posted by Andru Edwards Categories: Apple, Cell Phones, Displays, Handhelds,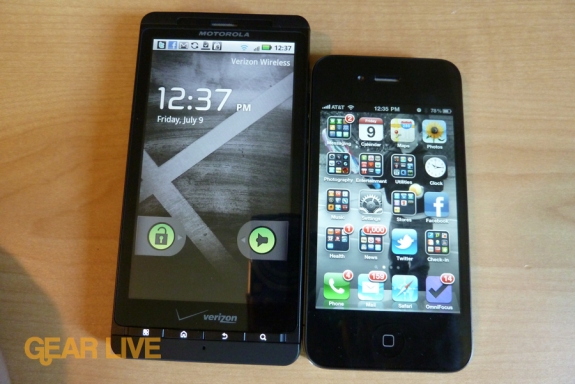 Here's an image of the Motorola Droid X next to the iPhone 4. We thought it was interesting because the Droid X has a monstrous 4.3-inch display, compared to the iPhone 4 and it's 3.5-inch screen. However, the smaller iPhone Retina Display actually packs more pixels in, despite its smaller size. The iPhone 4 display resolution is 960x640. Over on the Droid X side of things, it's 854x480. Sometimes size doesn't matter—it's what do you with the size you've got. That said, it's way easier to watch video content on the Droid X than it is the iPhone 4, just because the screen has so much more room.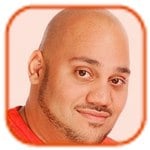 Posted by Andru Edwards Categories: Cell Phones, Features, Galleries, Handhelds,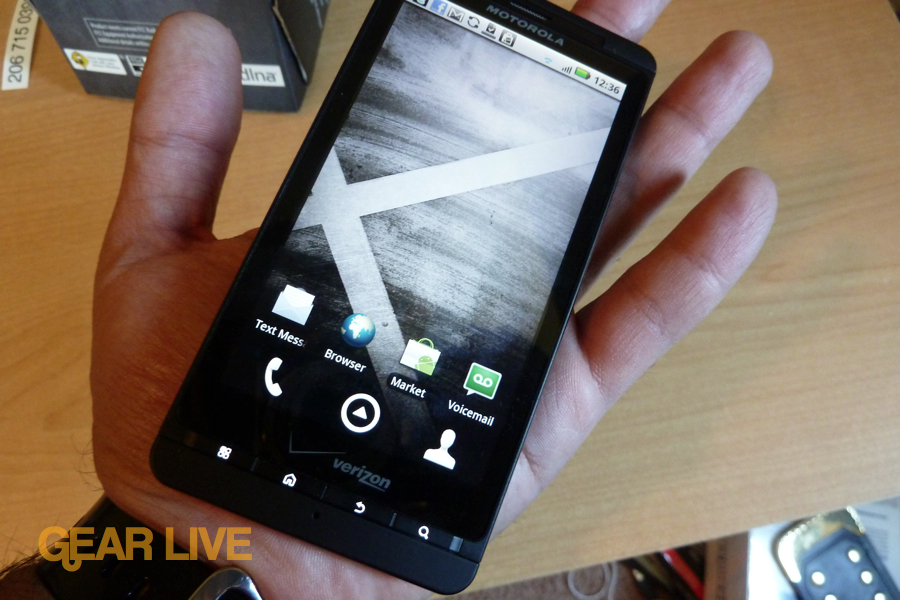 The Motorola Droid X gets released next week, and we were able to get our hands on the device a bit early to bring you some coverage. In case you're unfamiliar, the Droid X will be available on Verizon, and sports a 4.3-inch 480x854 display, 8 megapixel camera, and can record 720p HD. It also has the ability to act as a mobile 3G hotspot for up to 8 devices, and can connect to an external display using HDMI. Take a look at the images in our Motorola Droid X unboxing gallery, and look out for our review soon!
Gallery: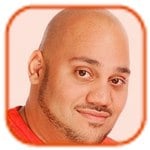 Posted by Andru Edwards Categories: Cell Phones, Corporate News, Handhelds,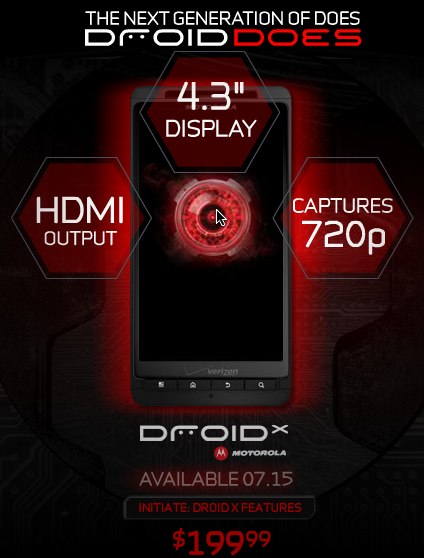 A few minutes ago Verizon and Motorola got together to announced the new Droid X Android smartphone, and we've got all the details for you. First and foremost, the Droid X will ship with Android 2.1 and a new customized UI. It boasts a 4.3-inch 854x480 display, 1GHz TI OMAP 3640 processor, 8 megapixel camera with dual LED flash, 720p video capture, and 8GB internal storage. It's also got a flash card port that supports up to 32GB of storage, and the phone does ship with a 16GB card. The Droid X can also act as a mobile hotspot, providing WiFi access to up to five other devices, multitouch keyboard (thank you!), DLNA support, and even an HDMI out.
We know you are wondering when Froyo (Android 2.2) will hit the phone, and Verizon says that will happen later this summer, alongside Flash 10.1 support. You'll be able to pick up the Droid X on July 15th from Verizon Wireless for $199.99 with two-year contract after rebate (rebate? really? still?) and if you wanna add the hotspot feature, that will be an extra $20 per month with a 2GB cap. Similar to how AT&T made all customers with upgrade dates through 2010 eligible for the iPhone 4 right away, Verizon is doing the same for the Droid X.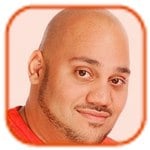 Posted by Andru Edwards Categories: Cell Phones, Handhelds, Rumors,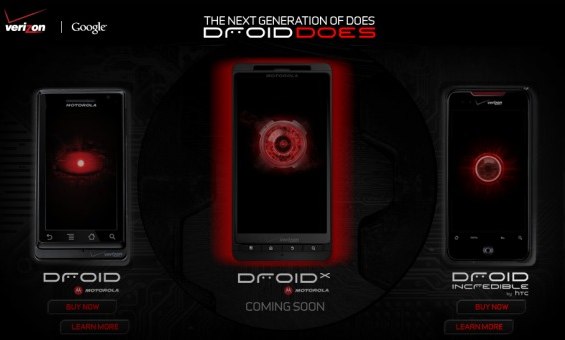 One day before the iPhone 4 arrives to take over the world, Verizon is set to reveal the Motorola Droid X in an official capacity. As you can see from the image above, they aren't exactly keeping it under wraps—hey, you gotta take all the buzz you can get when you launch one day before the iPhone 4, which has sold over 600,000 units already. So, we will get the full meal deal on June 23 as far as the Droid X goes, but in the meantime we do know that the display on this thing is 4.3-inches in screen size. Definitely very EVO 4G-ish with a display that size. Verizon is also touting the Droid X as having a 720p high definition display, which we are wondering if that's a mistake. Don't get us wrong, we'd love to see it, but earlier prototypes had 854x480 screens, and the EVO 4G itself has an 800x480 display. If we find out that the Droid X has a 1080x720 on June 23, we'll have to bow down to Motorola. This Droid X also has a built-in HDMI port, allowing you to display content on a big screen with the appropriate cable.
We will be keeping an eye out for more Droid X tidbits from now through the 23rd, when everything gets revealed.
UPDATE: Verizon just updated their Droid X teaser, and it now shows "702p Capture." In other words, it can record 720p HD video, but the screen isn't HD. So, that's that!
Read More

| Verizon

© Gear Live Inc. – User-posted content, unless source is quoted, is licensed under a Creative Commons Public Domain License. Gear Live graphics, logos, designs, page headers, button icons, videos, articles, blogs, forums, scripts and other service names are the trademarks of Gear Live Inc.