Find Our Latest Video Reviews on YouTube!
If you want to stay on top of all of our video reviews of the latest tech, be sure to check out and subscribe to the Gear Live YouTube channel, hosted by Andru Edwards! It's free!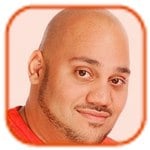 Posted by Andru Edwards Categories: Apple, PC / Laptop, Software,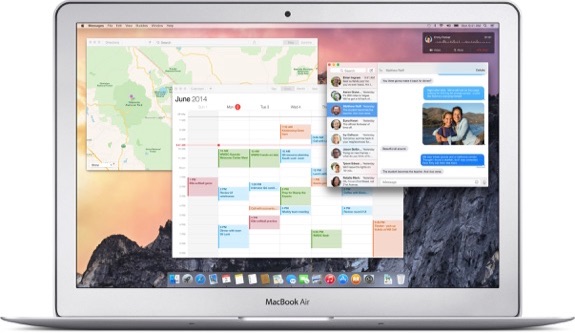 Apple has released OS X Yosemite Developer Preview 8, alongside OS X Yosemite Public Beta 3, the latest updates for the pre-release builds of OS X 10.10 Yosemite. Developers and AppleSeed customers that are part of one or the other programs will find the 917MB update available now in the Mac App Store Updates section. The public release of Yosemite is expected to come sometime in October.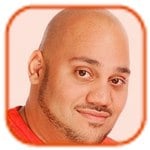 Posted by Andru Edwards Categories: Apple, Cell Phones, Software,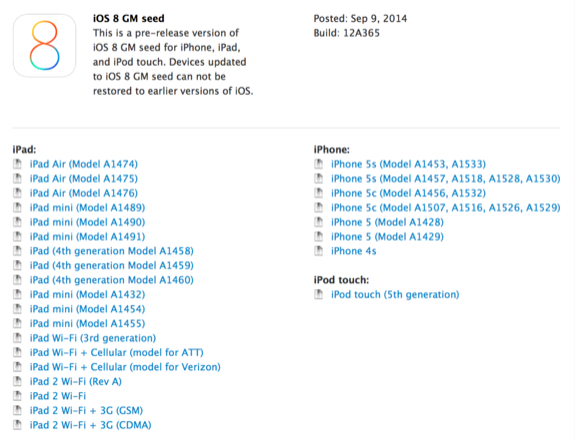 After all of the We Wish We Could Say More announcements from Apple today that saw the unveiling of the iPhone 6, iPhone 6 Plus, Apple Watch, and Apple Pay, the company released the Golden Master seed of iOS 8 to developers. Build 12A365 should be the same version that is pushed to the world when iOS 8 is released on September 17th via an over-the-air update. Registered iOS developers can grab the download in the iOS Developer Center now.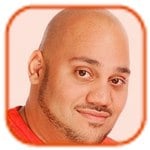 Posted by Andru Edwards Categories: Apple, Cell Phones, Handhelds, Software,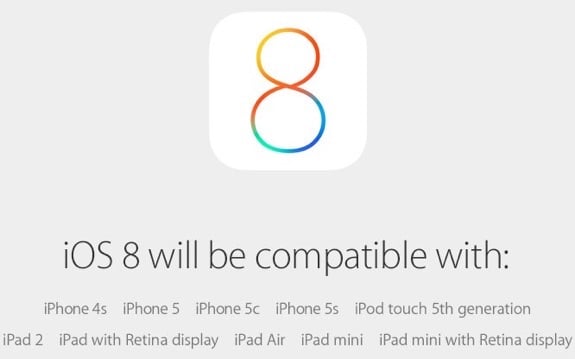 During today's We Wish We Could Say More event, Apple announced that iOS 8 would be released to consumers as a free update on September 17th. If you're curious if your device supports the next Apple mobile operating system, check out the image above which details all of the iOS device it will run on. iOS 8 brings with it a host of new features, including:
Photos: The new Photos app will allow you to access your entire photo collection with the iCloud Photo Library. New editing tools also make it easy to make your shots look even better, with all edits syncing back to the cloud and available on all your other devices.
Messages: In iOS 8, Messages will allow you to easily send voice messages, quick selfies, and videos to your contacts. Easily share your location and see the location of friends you've chosen to share that info with as well.
Keyboard: There are a few notable improvements to the keyboard in iOS 8. First, Apple now has a predictive typing system that learns the way you talk, offering up a quicker typing experience. Even more exciting, though, is that you will be able to download third-party keyboards from the App Store that will take the place of Apple's keyboard entirely. If you've been waiting for Swype on iPhone, it's almost here.
Interactive Notifications: Notifications are interactive in iOS 8. For example, you can reply to a message right from the notification without having to switch over to the Messages app, or accept/decline a calendar invite right from the dropdown. Notifications are also interactive on the Lock screen as well.
Family Sharing: Family Sharing makes it easy for up to six people in your family to share each other's iTunes, iBooks, and App Store purchases. Whenever one person buys a new song, movie, or app, everybody gets access to that content. Accounts must all share the same credit card number to be added to a family account. Members of a Family Sharing account also get access to a family Photo Stream, calendar, Reminders list, and can share location.
iCloud Drive: Apple is finally allowing access to data stored on iCloud with the iCloud Drive feature. You can use iCloud as a storage folder for anything you'd like to put there, and can add storage space by upgrading to a higher tier.
Health: Fitness tracking is one of the pillar features in iOS 8
Continuity: Continuity will allow your Apple devices to talk to each other over Bluetooth. Start an email on your Mac, and continue it on your iPhone. Start messaging someone on your Apple Watch, and continue on your iPhone 6 Plus.
Apple also released the iOS 8 GM seed today.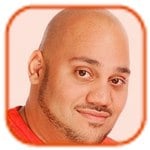 Posted by Andru Edwards Categories: Cell Phones, Corporate News, Software,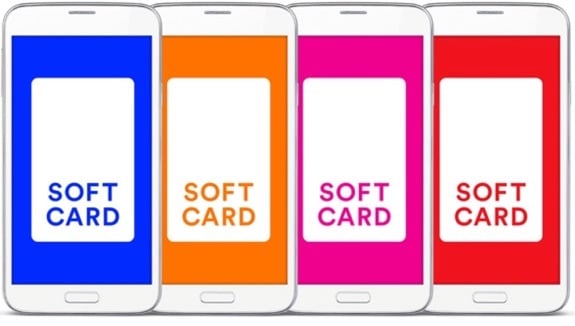 The folks behind the Isis Wallet recently announced that the company would rebrand and change its name due to the rise of the ISIS Middle Eastern terrorist group in the public eye. A great decision to be sure, the company announced today that the Isis Wallet will shortly be known as Softcard. An app update will be pushed to the various app stores where Isis Wallet is available within a few weeks, and Softcard will take its place. No word on any new features at this time, as the company is looking to swiftly get the name change in place to distance itself from the militant group of a similar moniker.
Read More

| Softcard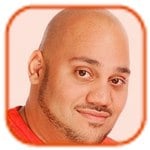 Posted by Andru Edwards Categories: Cell Phones, Hot Deals, Internet, Software,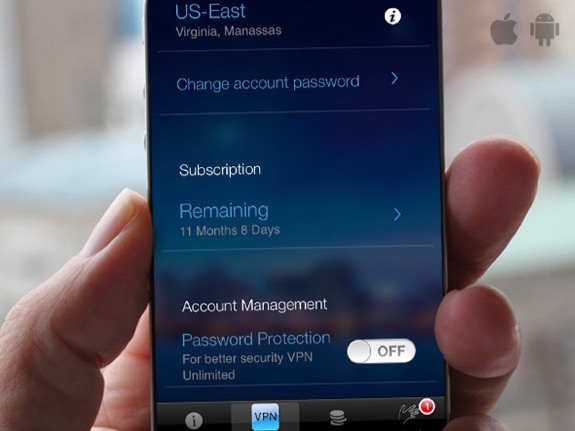 Today in the Gear Live Deals Shop we've got 70% off VPN Unlimited Premium as our Deal of the Day. For the next 6 days, VPN Unlimited is offering 3 years of VPN access for just $19. That is 36 months of VPN access, for roughly 53 cents per month. You'd be hard-pressed to find a better price anywhere. It's a full account, so any upgrades or new features added over the next 3 years, you'd get access to them as well.
For those curious what a VPN is, it is a Virtual Private Network. It allows you to connect to any website anytime you have Internet access. All data sent through VPN is encrypted, which means your information is hidden from hackers or identity thieves. The other benefit is you get to choose the country of origin for your data. For example, means that if you are in Canada putting up with the abysmal WWE Network issues up there, you can instead connect with a VPN, set your country as USA, and get the full experience. Or if you're a Netflix subscriber traveling abroad, you can still access the content.
Aside from accessing the VPN on your PC or Mac, VPN Unlimited also has apps for Android, iPhone, iPad, and even Linux.
Head on over to the Gear Live Deals Shop to grab the 3-year VPN Unlimited offer for $19.
Don't forget, if you're looking for other deals, be sure to check out our Newegg Promo Code thread. Oh, and if you're on Twitter, be sure to follow @TechPromos for the latest deals.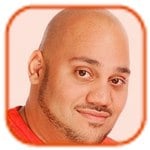 Posted by Andru Edwards Categories: Cell Phones, Features, Handhelds, PC / Laptop, Software,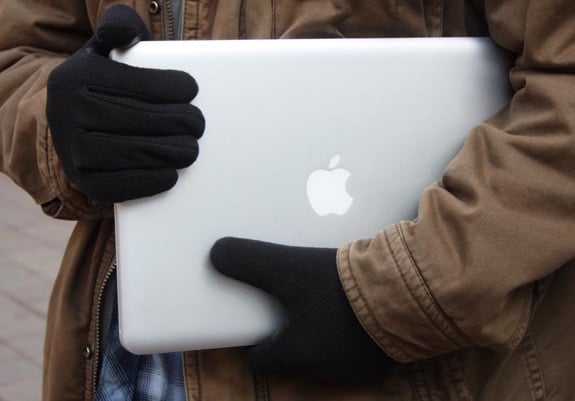 As we close out Device Theft Awareness Month, we wanted to talk about laptop security. We've already covered the device theft statistics, alongside a bunch of ways to protect yourself from smartphone theft. Some may argue that notebooks are even more of a danger to lose than a smartphone, due to the vast amount of personal data stored on them that can be lost or fall into the wrong hands, as well as the cost of replacement. Let's talk about some of the ways to protect both your investment and your data.
1. Password protect your computer. Regardless of whether you use a PC, Mac, or Linux, you have the option of settings up a lock screen barrier where you'll need to enter a password, custom swipe, image touch, or other secure option. It's a small step that some may find to be an annoyance, but it's an easy (and free) first line of defense in case someone is able to snatch up your device.
Click to continue reading 4 Ways to Protect Yourself from Laptop Theft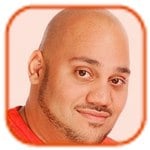 Posted by Andru Edwards Categories: Cell Phones, Features, Handhelds, PC / Laptop, Software,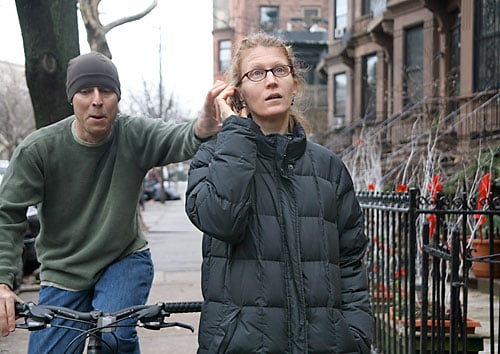 As we mentioned last week, we're celebrating Device Theft Awareness Month in conjunction with Absolute LoJack. We gave you a rundown of just how big a problem device theft is nowadays, with over 3 million people becoming victims of smartphone theft just last year alone. It's a growing problem that you can protect yourself from, and this week we wanted to share three tips that you can do to avoid permanently losing your device or data in the event of loss.
1. Create a passcode for your device. This is a simple method of protecting the data that lives on your device in the event of loss or theft. Some Android devices will allow you to set a pattern instead of an alphanumeric code, and the iPhone 5s and later lets you use Touch ID fingerprint recognition. Any of these are a better option than not protecting the home screen of your device, which will let prying eyes get to anything on your product.
Click to continue reading 4 Ways to Protect Yourself from Smartphone Theft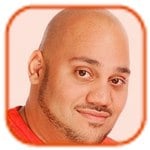 Posted by Andru Edwards Categories: Cell Phones, Features, Handhelds, PC / Laptop, Software,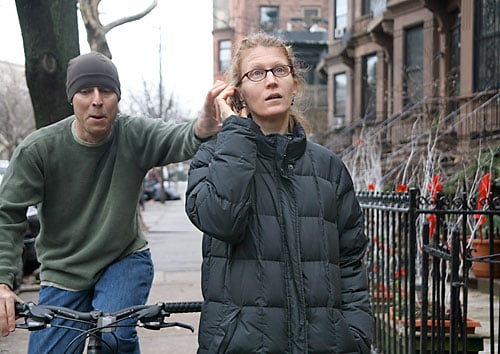 A few weeks ago we talked about what what you can do to protect yourself in the event that your smartphone, tablet, or laptop gets lost or stolen. We even took a 24-hour #DigitallyDark challenge where we gave up our smartphones for 24 hours to see how it would feel. Well, August is Device Theft Awareness Month, and we wanna talk more about what you can do if you find that you're one of over 3.1 million Americans who'll likely fall victim to smartphone theft this year. A staggering 1.4 million people who lost their devices in 2013 never got them back--that is 4.5 million lost and stolen smartphones (and that doesn't include tablets or laptops,) and is enough to make us want to do something about it. This month, follow the hashtag #AbsoluteUncovered as we dive deep into this topic.
Back in June we introduced you to Absolute LoJack, a data protection software product that is tailored to help you keep your mobile data safe, track your devices in the event of loss or theft, and even an option for assistance with recovery so you can get them back. We are taking part in Device Theft Awareness Month by bringing you a series of articles in order to keep you more informed on the issue and how you can protect yourself from becoming another statistic.
Click to continue reading Kicking off Device Theft Awareness Month with #AbsoluteUncovered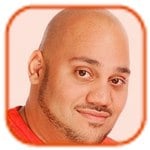 Posted by Andru Edwards Categories: Cell Phones, Features, Hot Deals, Software,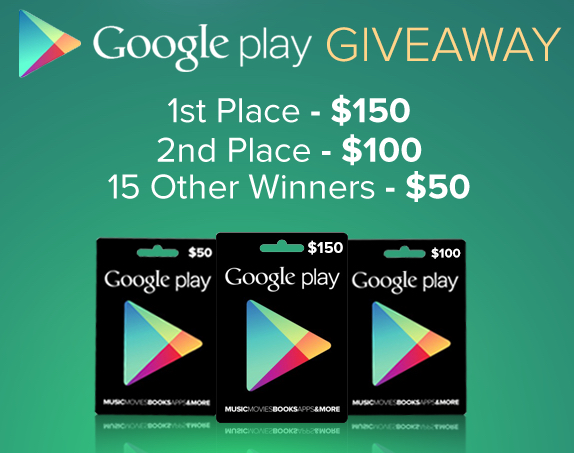 Today in the Gear Live Deals Shop you can enter our $1000 Google Play giveaway! You can't get better than free money, right? That makes this our Deal of the Day.
Here's how this is gonna go down: The grand prize winner will talk away with $150 in Google Play store credit. Second place gets $100. 15 other winners will each get $50 in credit. Ready to enter? Go get it:
Enter our $1000 Google Play credit giveaway
Don't forget, if you're looking for other deals, be sure to check out our Newegg Promo Code thread. Oh, and if you're on Twitter, be sure to follow @TechPromos for the latest deals.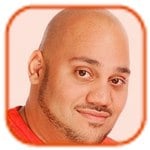 Posted by Andru Edwards Categories: Apple, Editorial, Features, PC / Laptop, Software,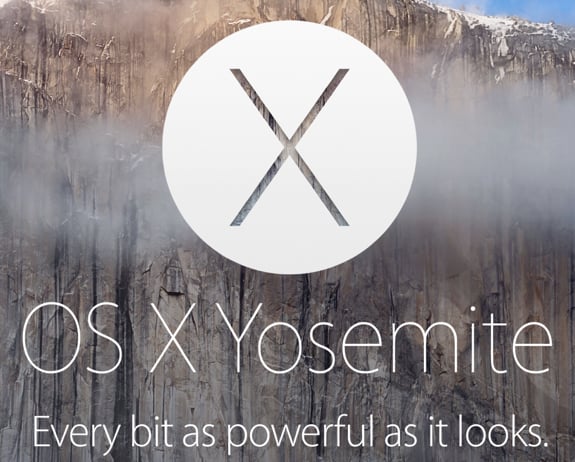 OS X 10.10, better known as Yosemite, represents the next-generation in Apple's desktop operating system. Yosemite brings a new look to the desktop experience, and also ties OS X and iOS together through a feature called Continuity that I bet will make work a lot easier for Apple users. With any big change, customers will wonder if their older hardware will be supported. We recently received this question from a reader named Steve:
Q: I'm excited to check out OS X Yosemite once it launches, the redesigned interface looks great! My MacBook Air is from 2010, and I was curious if you knew if it would run Yosemite without any issues, or if I have to upgrade my computer?
A: I agree--I think the look and feel of OS X Yosemite is a breath of fresh air. I've been using the Developer Preview since it was made available at WWDC 2014, and when I use a Mac that is running Mavericks or earlier, it already feels like a big step backwards from a design perspective. Now, on to system requirements! The nice thing about Yosemite is that Apple hasn't changed any of the system requirements from what was required to run Mavericks. In other words, all Macintosh products capable of running OS X Mavericks will be supported by Yosemite; as with Mavericks, 2 GB of RAM, 8 GB of available storage, and OS X 10.6.8 (Snow Leopard) or later are required to upgrade. To make it easier to figure out if you're specific Mac is compatible, here is a listing of all the Apple hardware that is Yosemite-capable:
iMac Mid-2007 or newer
MacBook (13-inch Aluminum, Late 2008), (13-inch, Early 2009 or later)
MacBook Pro (13-inch, Mid-2009 or later), (15-inch, Mid/Late 2007 or later), (17-inch, Late 2007 or later)
MacBook Air (Late 2008 or later)
Mac Mini (Early 2009 or later)
Mac Pro (Early 2008 or later)
Xserve (Early 2009)
As you can see, anyone who has bought a Mac within the past five years is covered and will be able to run OS X Yosemite. Mac Pro, MacBook Air, and MacBook aluminum buyers as far back as 2008 are also good. In fact, some MacBook Pro and iMac buyers from back in 2007 can even get in on the Yosemite action, and those computers are now 7 years old! This is a pretty large blanket of Mac users that will be able to enjoy the next generation of OS X, and I comment Apple for including as many Macs as it did.
OS X 10.10 Yosemite is set to launch later this fall, and will be available exclusively on the Mac App Store. At WWDC, Apple announced that it will be made available completely free to its users. Can't beat that!
© Gear Live Inc. – User-posted content, unless source is quoted, is licensed under a Creative Commons Public Domain License. Gear Live graphics, logos, designs, page headers, button icons, videos, articles, blogs, forums, scripts and other service names are the trademarks of Gear Live Inc.