Find Our Latest Video Reviews on YouTube!
If you want to stay on top of all of our video reviews of the latest tech, be sure to check out and subscribe to the Gear Live YouTube channel, hosted by Andru Edwards! It's free!
Friday October 4, 2013 1:45 am
iPhone 5s review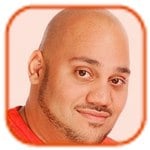 Tweet
Posted by Andru Edwards -
Categories: Apple, Cell Phones, Features, Handhelds, Product Reviews, Videos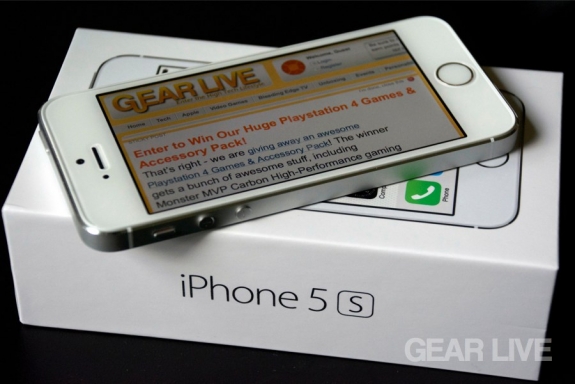 According to Apple, the iPhone 5s is the most forward thinking smartphone ever created. Of course, being that this is an S-model iPhone launching in a year that ends in an odd number, and that means that we'll find plenty of naysayers who dismiss Apple's flagship smartphone as simple and iterative. It looks just like last year's iPhone 5 on the outside, so what can be so different, right?
Well, being an S-class device, the iPhone 5s follows a now-familiar pattern. The iPhone 3GS in 2009 doubled the speed of the iPhone 3G from the year before and added video recording and basic voice commands. The iPhone 4S brought Siri, 1080p video, and dual-core processing. This year, Apple has highly focused the iPhone 5s on three big changes. The iPhone 5s is the first smartphone to ship with a 64-bit processor, and includes the first 64-bit version of iOS in iOS 7. It's also the first smartphone to ship with a capacitive fingerprint sensor, and includes a greatly improved camera system. Sure, these things may not be important to those who are just fine with their current iPhone (or competing device, for that matter,) but for Apple, these moves are a big deal and set up the future.
But is a phone so focused on a future worth your attention today? Join us for our full iPhone 5s review as we seek out the answer.
UNBOXING THE IPHONE 5s
While the iPhone 5c sports a new, clear packaging that mimics that of the iPod touch, the iPhone 5s continues to use the cardboard styling that we've seen since the original model. This year the boxes are white, and depict the face of the particular iPhone 5s model that you've purchased. Along with the device, Apple also includes a Lightning cable for charging and syncing, a USB AC adaptor, a pair of Apple EarPod headphones, and the typical stickers and Finger Tips booklet.
INITIAL IMPRESSIONS
At first glance, the iPhone 5s is easily mistaken for the previous year's iPhone 5. That's to be expected, because that is a pattern that Apple has been following for four years now. The benefit for Apple (and other companies that follow a similar practice) is that manufacturing, supply chain, and product management are simplified. For the consumer, it ensure accessory compatibility for another year--so, if you bought a case or external battery for your iPhone 5, you can use that same product for another year with your iPhone 5s without issue.
That said, there are some slight, slight differences in the outer appearance of the iPhone 5s. First, the Home button. It's no longer concave, and no longer sports the rounded-corner squircle icon. That would get in the way of Touch ID. Now, the home button is flat, and bordered by a stainless steel ring that matches the color of the iPhone metal (gold, silver, or space gray.) Another slight change is in the flash. It's now a vertical oval shape which holds the new True Tone flash--a pair of LED flash bulbs, one white and one amber.
COLORS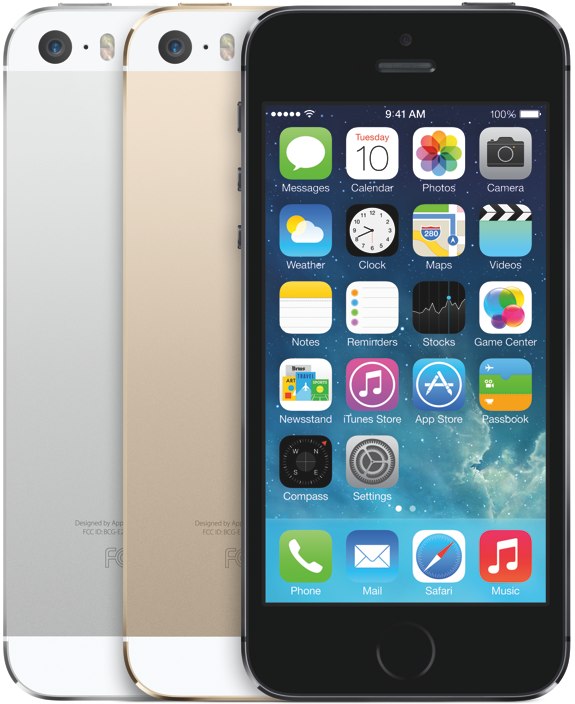 Perhaps as a way to further differentiate the iPhone 5s from the iPhone 5, Apple has also done away with one of the iPhone 5 colors, and has introduced two new color combinations to take its place. Gone is the black & slate iPhone 5 that seemed susceptible to chipping. Enter the new gold model, as well as the space gray hue. The hype has definitely been tied to the gold iPhone 5s, which has seen severe supply constraints since the device went on sale on September 20.
After getting my hands on all three, I thought that the gold version was the least appealing from a visual standpoint, reminding me of a dingy silver model due to its muted tone. The space gray model looks fantastic, but I decided to stick with the white & silver model.
Gallery:
HARDWARE
The iPhone 5s, like the 5, measures in at 123.8 x 58.6 x 7.6 mm, and weighs in at 112 grams. It sports a 4-inch 1136 x 640, 326ppi, LED backlit IPS Retina display. On the inside is the Apple A7 processor--the first 64-bit system-on-a-chip (SoC) to ever be placed into a smartphone, Apple or otherwise, and it's a big deal.
APPLE A7 PROCESSOR: THE FIRST 64-BIT SMARTPHONE CHIP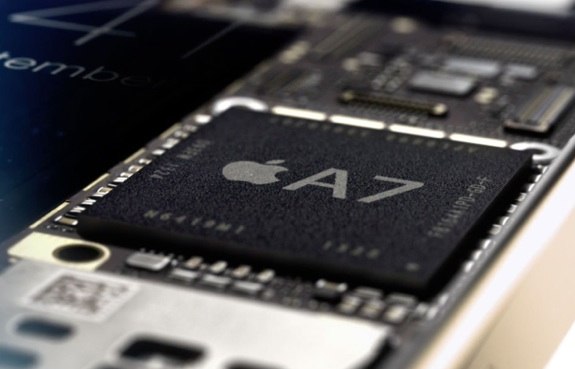 The A7 processor is twice as fast as the A6 that was included in last years iPhone 5 at both general purpose computing, as well as graphics processing (thanks to OpenGL ES 3.0 support), while remaining the same size. It's a dual-core 1.3GHz chip that's based on the new 64-bit ARMv8 ISA architecture with 1GB of DDR3 RAM.
Some may be left wondering what all that means in the real world of the iPhone 5s, so let's talk about some of the advantages. Up front, when using the iPhone 5s, you'll immediately feel the speed difference, thanks to the more efficient 64-bit ARMv8 instruction set, as compared to that of ARMv7. We mentioned that the A7 is twice as fast at general purpose computing and provides twice the floating point registers, which are the memory units inside the chip that store the bits of information that are being processed at the time. Holding that information in registers allowed for much faster processing than moving it out to RAM or storage.
iOS 7 has been upgraded for the iPhone 5s, which runs a 64-bit version of Apple's mobile operating system. That means you'll find all the expected 64-bit libraries, kernel, drivers, and most importantly, built-in apps. All first-party apps that run on the iPhone 5s are 64-bit apps, and you can feel the difference. Additionally, Apple has release tools to developers that make it easy to compile both 32- and 64-bit apps with both frameworks, making the transition from one to the other invisible to the end user.
Gallery:
APPLE M7 MOTION COPROCESSOR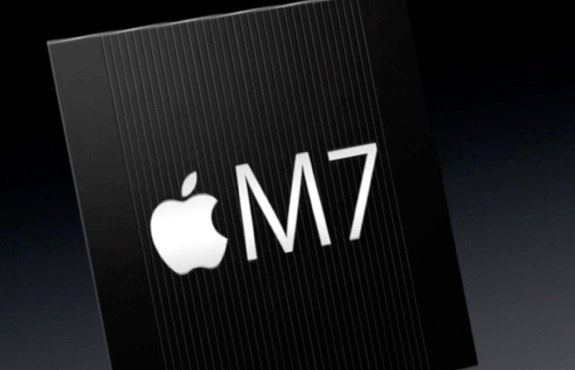 Another under-the-hood improvement this year is the inclusion of the new M7 motion coprocessor. In its simplest terms, the M7 chip captures and stores all motion-related data from the iPhone 5s, working in conjunction with the built-in gyroscope, accelerometer, and magnometer. So the M7 knows the motion state of your phone. How it's moving and when it is still, the direction it's facing, and it's orientation. There are some cool uses for this technology.
One example is using turn-by-turn directions. Since the iPhone 5s knows how it's moving, it will give you driving directions, and when you park and get out of the car and start walking, it will recognize that and automatically switch over to providing walking directions. Or imagine laying your phone down for hours (like overnight,) the iPhone will recognize that it isn't in use, and can preserve more battery.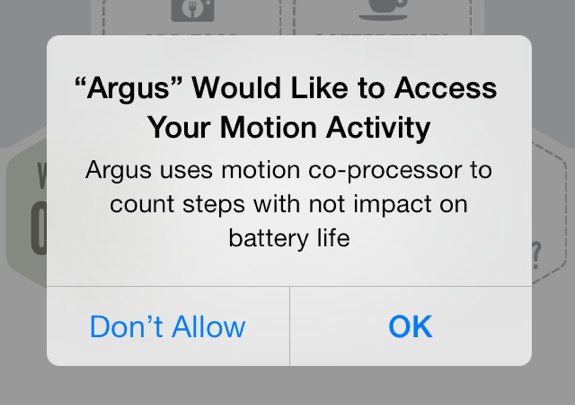 So, when an app wants to record fitness data, it no longer has to rely on itself. If you have multiple apps that rely on motion, this work is no longer the duty of the SoC. The M7 stores your motion data, and the apps can pull that data and analyze it from the central motion data store through the CoreMotion API.
Speaking of battery, the biggest improvement here is in battery life. If you use fitness apps, or other apps that rely on motion regularly, the work is no longer on the main processor to accomplish. Since the M7 handles it, you get a very, very significant battery life savings.
As with other items that customers likely want protected, the M7 motion data is protected on the iPhone 5s. If an app wants to use that data, it asks deliberately for permission, and you must take action to grant that permission before it can see your motion activity. You can also rescind that permission whenever you like.
Gallery:
TOUCH ID FINGERPRINT SENSOR
One of the major features of the iPhone 5s is Touch ID. This is Apple's technology that allows you to unlock your phone by using your fingerprint. Adding a fingerprint is quick and easy, consisting of about 30 seconds of lifting and placing your finger on the Home button sensor, following along with the on-screen instructions.
Once done, the scans of your fingerprint when unlocking your phone are quick. It's a fraction of a second, which is faster than any other fingerprint sensor that I've ever used on another device. As long as you are touching the metal ring that borders the Home button, you should get an accurate reading. If not, it'll ask you to try again.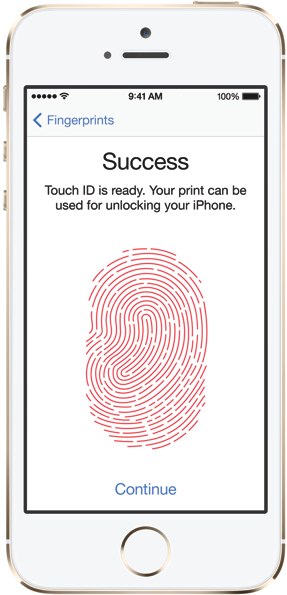 Some are concerned about the security of Touch ID. After all, who'd want their fingerprint stored, uploaded to the cloud, and given to the NSA, right? Luckily, Apple has detailed how it all works, and Touch ID is a completely sandboxed, offline feature. It's hosted on the device, with the data not stored anywhere but in the secure enclave on the A7 processor.
Further, your fingerprint is actually not stored anywhere. Instead, your fingerprint is used to create a cryptographically hashed figure, which also includes code that makes it unique to the device. In other words, if someone were to somehow break into the secure enclave and extract the data, all they'd get is a hashed series of numbers that will only work on the specific device it was set up on, with that specific Touch ID sensor. It's worthless anywhere else.
So all those other passwords you have saved on your iPhone would be more susceptible to the bad guys than would be the Touch ID hash.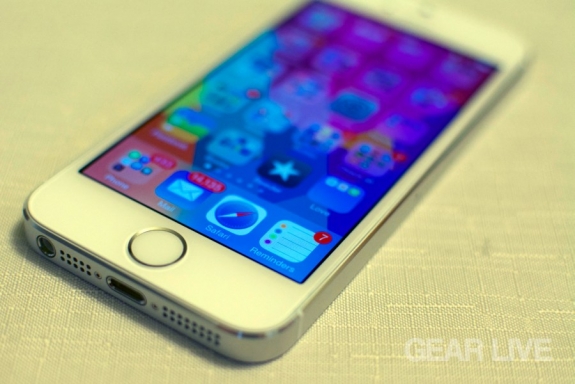 Touch ID has been a nice convenience in the two weeks we've been using the iPhone 5s. No longer do we need to constantly peck in the four-digit lock screen code, and it becomes such a part of your muscle memory that I found myself trying to use Touch ID on an iPad mini many times. I can't wait to see the technology makes its way to other Apple devices, including the Magic Trackpad for OS X integration.
CAMERA
The iPhone 5s camera is certainly an improvement over the one found in the iPhone 5, but is isn't a major shift (that'll likely come with next year's iPhone 6.) This year, we get an 8-megapixel camera with larger pixels in the camera sensor, and an aperture that is increased from f/2.4 to f/2.2. This is coupled with the new True Tone flash, a first for any camera. The two flashes, one white and one amber, work together to scan the scene and then each puts out enough light to form one of 1,000 combinations to match the photo. This all means that you'll see improved pictures in low-light environments, without that harsh flash effect. That's how it works, but I've never been a big fan of using the flash, and I am not sure that I'll start now.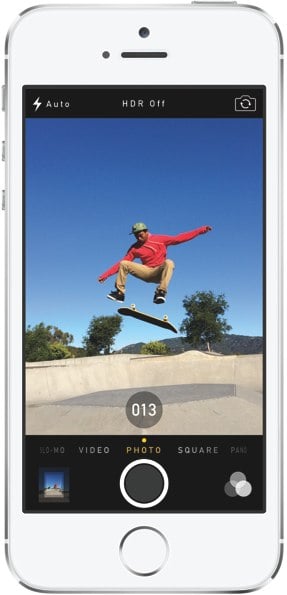 There a new slow motion (Slo Mo) video mode that captures video at 120 frames per second in 720p. You can then select the in and out points for where you want the video to slow down to 25% of the speed, and things will still look crystal clear, going at 30 frames per second.
There's also the new burst mode that lets you capture 10 images per second while you hold down the shutter button. Do this, and the entire burst of photos will appear as a single item in your Camera Roll. You can then go into the burst and iOS will show you what it thinks the best shots are, but you can also manually choose what to keep and what to save.
CONCLUSION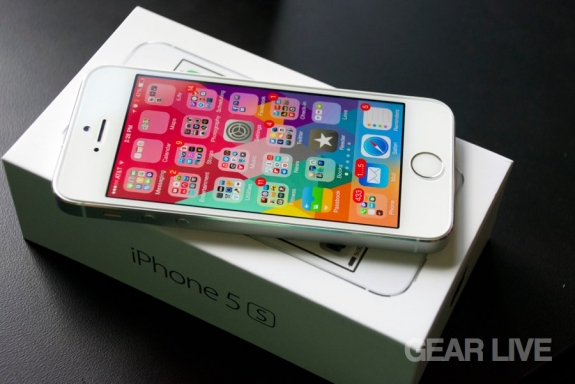 The question is, is the iPhone 5s worth your hard-earned cash? Has Apple created a compelling enough device? Well, it depends on what you currently use. The A7 processor in the iPhone 5s doubles performance without any effect on battery life. The M7 coprocessor allows those who like fitness tracking and other motion apps to use those features without killing the battery. 64-bit processing is a play for the future, with lots of current efficiency. Touch ID does away with the need to input a four-digit code at the Home screen in an effort to keep your phone secure. The camera has been improved with features that people who love taking pictures and video with the smartphones should love.
To say that the iPhone 5s lacks innovation is to judge a book solely by its cover. Forward thinking, indeed.
In our time spent with the device, we've found that the speed alone is enough to catch our attention. The camera app is snappier, and the pictures end up looking better, thanks to the improved optics. The Slo Mo video is cool, but not something we think that the average user would take advantage of with much regularity, but we've also seen the results of some of the more creative types out there, and it's impressive. Touch ID has proven to be a nice convenience, good enough to secure my device and convenient enough that my lock screen is now set to immediately require a passcode at all times, with no open time window like I had before.
We recommend that anyone who owns any device other than the iPhone 5 to seriously take a look at the iPhone 5s. If you own an iPhone 5, the 5s may not be as compelling an upgrade, especially if you're mid-cycle in your mobile contract. That said, if the features above have you drooling for an upgrade, you're gonna go for it anyway. If you own an iPhone 5c, the, well, you've made your decision for this hardware cycle (see our iPhone 5c review.)
You can buy the iPhone 5s now from Apple.
© Gear Live Inc. – User-posted content, unless source is quoted, is licensed under a Creative Commons Public Domain License. Gear Live graphics, logos, designs, page headers, button icons, videos, articles, blogs, forums, scripts and other service names are the trademarks of Gear Live Inc.