Monday October 1, 2012 9:44 pm
Mister Miracle #19: Why I Hate This Comic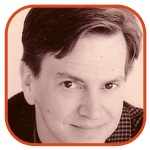 Tweet
Posted by Tom Mason Categories: Editorials, Reviews, DC Comics,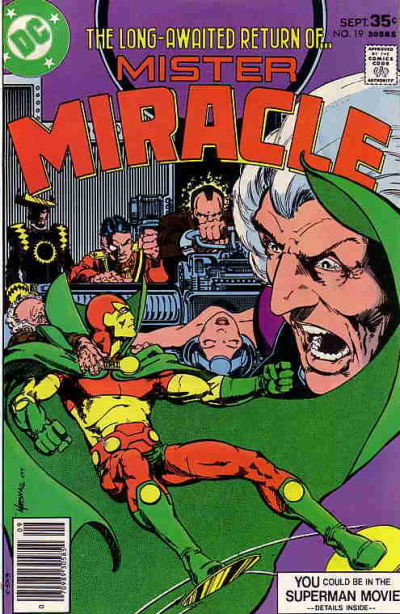 When my local comic book store bellied-up over the summer, I picked up some back issues at bargain prices.
One of them was Mister Miracle #19, a comic that I absolutely hate not because of the creative inside, but because of what it represents: everything wrong with corporate comics.
Mister Miracle #19 (September 1977) is the first issue of a reboot of the Jack Kirby title nearly 3 years after the series was cancelled at #18 (March 1974). When DC revived an old title back in the day, they preferred to keep the numbering intact because of the demands of newsstand distribution. Quite the opposite of what happens now.
It's a fun revival by Steve Englehart and Marshall Rogers, who'd achieve greater impact with their work on Detective Comics at around the same time. Their story in MM #19 picks up pretty much where #18 had left off and it reveals how comics used to be written.
Englehart starts off with a few recap pages that bring everyone up to speed, because there's the assumption that we can't go forward until all the old continuity has been explained and dealt with. Nowadays he'd hit the ground running and play catch up in the middle of some big action. Englehart remains Englehart and doesn't try to emulate Kirby, though he does toss in some Kirby-flavored bits of dialogue that made me smile: "Kanto, Darkseid's personal assassin, stands behind his ally!" and "We are coming, dearest Granny! Your own Vermin Vundabar will never fail you!"
Rogers art is a little stiff and his panel layouts are less dynamic than Kirby's. There's a scene where the Rogue's Gallery of Kirby Villains - Granny Goodness, Dr. Bedlam, Kanto and Vermin Vundabar - all burst in to attack Scott Free and steal his wife Big Barda. Rogers handles it in a tiny panel on a 6-panel page. Had it been Kirby, it would've been a double-page spread with the characters leaping toward the reader.
The team-up of evil kidnap Mister Miracle's wife and he's got to go get her and thus starts a quest with twists and turns that'll run for awhile. As I said, though, it's a fun little issue though definitely a product of its time. Mister Miracle was my favorite of the Kirby 4th World characters and it was a treat to see him come back, even if this revival proved short-lived. Steve Gerber would eventually take over the writing and the revival would un-revive with issue #25.
And yet, I hate this comic with all my heart.
And it has nothing to do with the creative. It's all business. Mister Miracle was one of the titles created by Jack Kirby when DC triumphantly gloated over his arrival from Marvel. I remember the big ad campaigns; for months DC touted "Kirby Is Coming!" followed by "Kirby Is Here!" It was a big deal and DC made the most of it, splashing Kirby's name in bold letters wherever and whenever possible.
Now with the revival, less than 36 months after the last Kirby issue, there's no mention of Jack anywhere at all. None.
That's right, but it's also so very wrong. Nowhere in this issue at all does anyone bother to credit or mention Jack Kirby.
DC had four chances - the cover, the credits page, the Daily Planet text page and the letters page (five if you count the Mister Miracle house ad that's inexplicably appearing in his own comic). Nowhere did they drop Jack's name. And in the letters page, the anonymous writer twists himself in all kinds of knots to not talk about Kirby. Never even mentioning him.
It's a huge slap in the face and they could've done much better by Jack and his creation.
Even the DC wikia which takes its credits from the printed comic, doesn't include a mention of Kirby.
[Artwork: Mister Miracle #19, ©DC Comics. Created by Jack Kirby]
© Gear Live Media, LLC. 2007 – User-posted content, unless source is quoted, is licensed under a Creative Commons Public Domain License. Gear Live graphics, logos, designs, page headers, button icons, videos, articles, blogs, forums, scripts and other service names are the trademarks of Gear Live Inc.